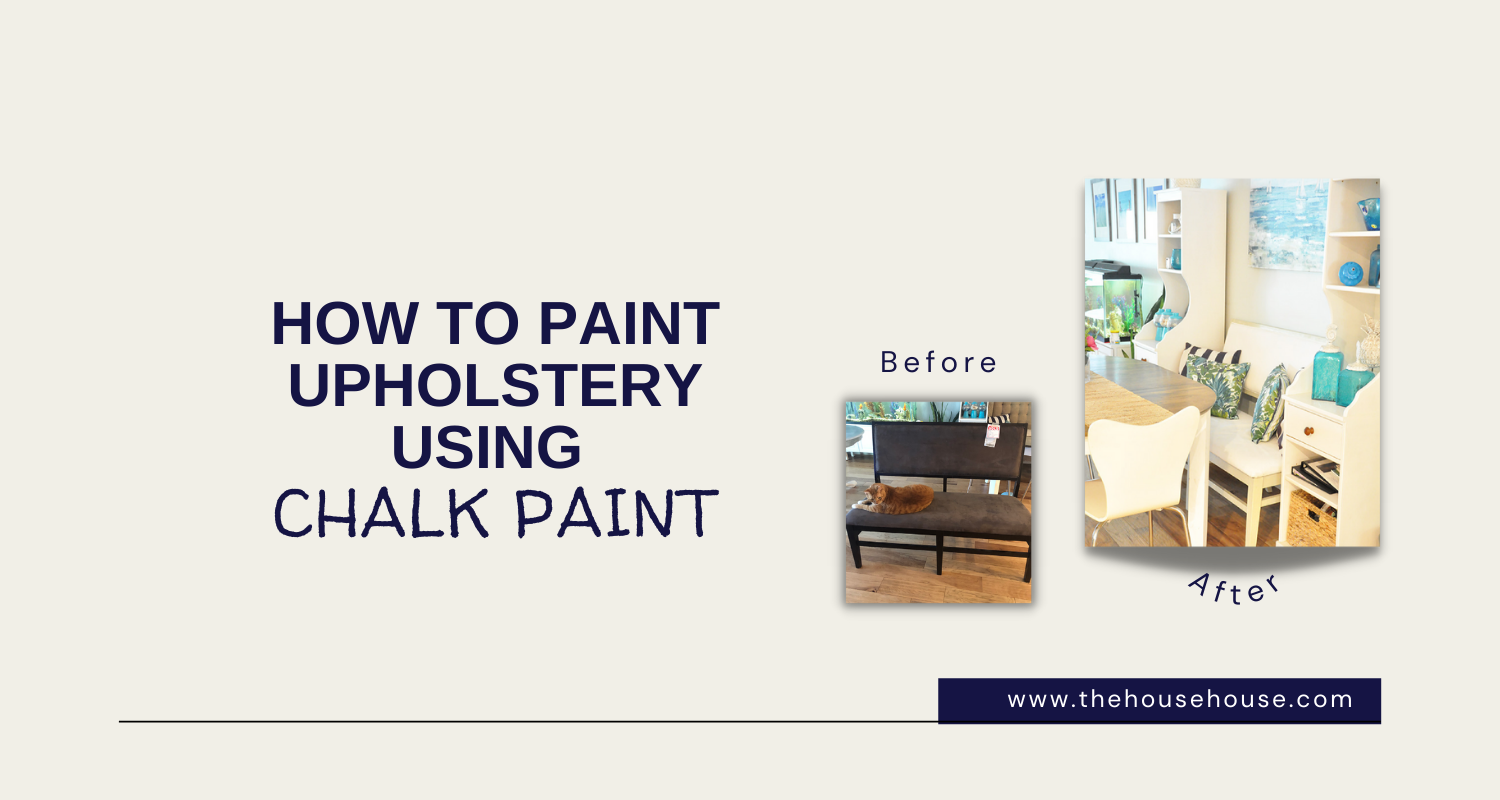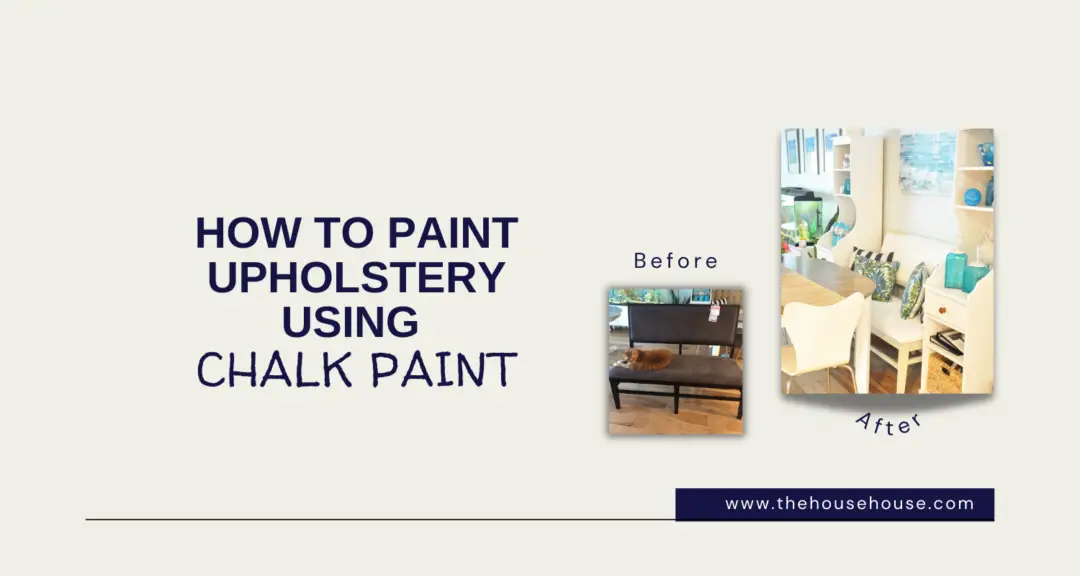 How to Paint Upholstery Using Chalk Paint
I have been searching for a new settee to replace the one you see in the picture below. This one was purchased at Tuesday Morning about 5 years ago, and has served us well. So well in fact that it is very beat up. Our cats seem to think it is a scratching post and my son likes to sit there everyday when we have dinner. It has seen it's share of spilled food and dirt. Therefore it is both dirty and very damaged.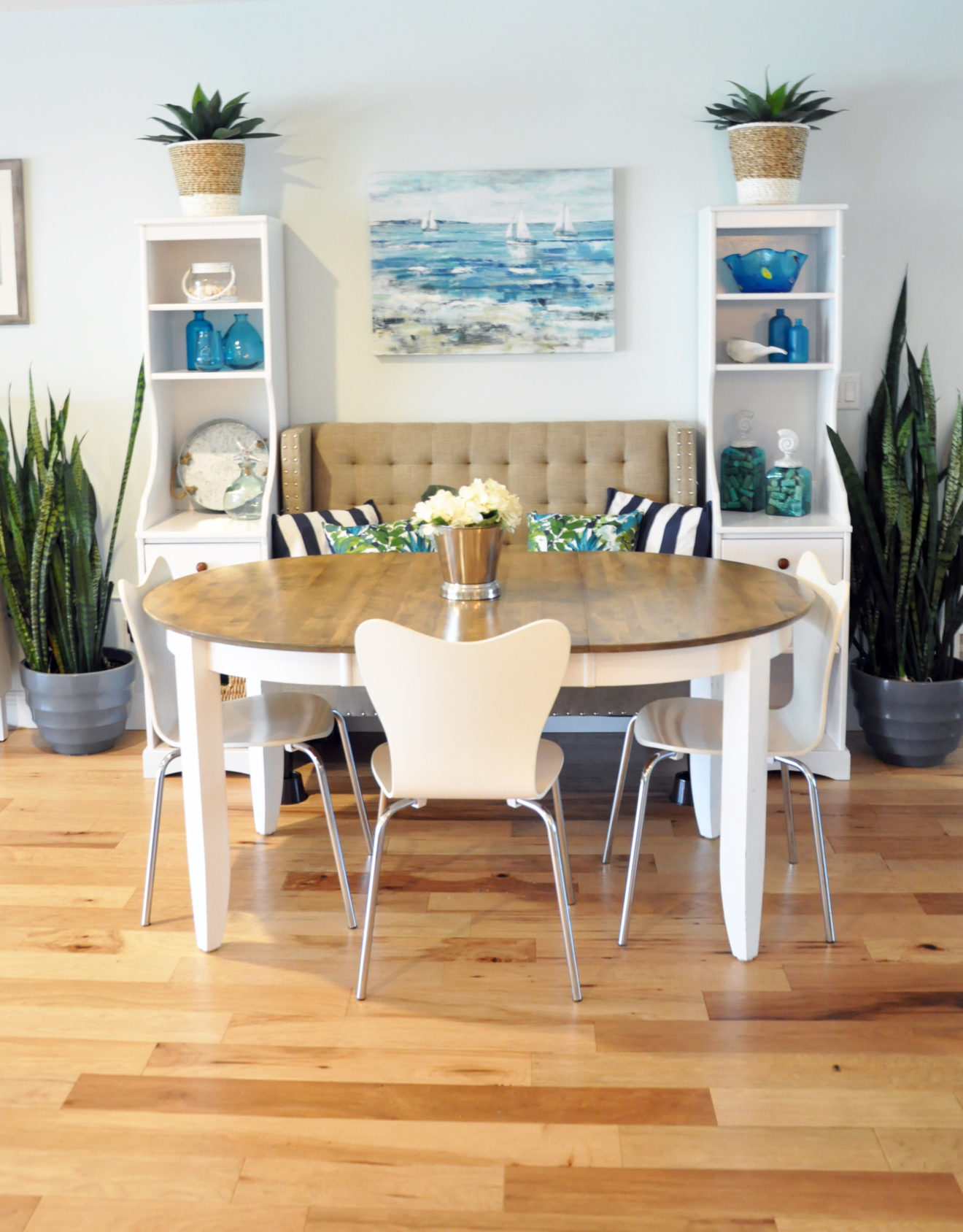 I spotted this bench at Goodwill last week and thought it might make a good replacement. Then I saw the price tag. Only $14.99! Yup, it was going home with me for sure.
I bought it and figured if I didn't like how it came out, I could always resell it. It just needed a makeover first. The wood was too dark for my taste and so was the fabric color. Soooooo, what to do, what to do???? PS – my cats always have to check anything new I bring home.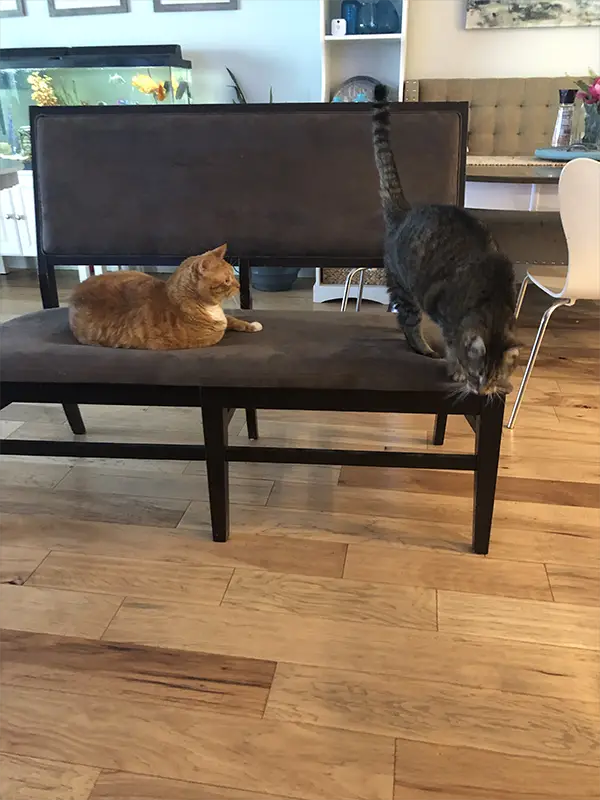 I searched the Serena & Lily catalog for some coastal inspiration and decided I was going to the paint the fabric white and try a techinque on the wood to make it look textured.
A few weeks ago I gave our entranceway a refresh using Fabric Spray Paint. I thought I'd pick up some more and paint the fabric on my new bench. Unfortunately, Home Depot was out of white fabric spray paint. After doing some research, I decided I'd try using Chalk Paint instead.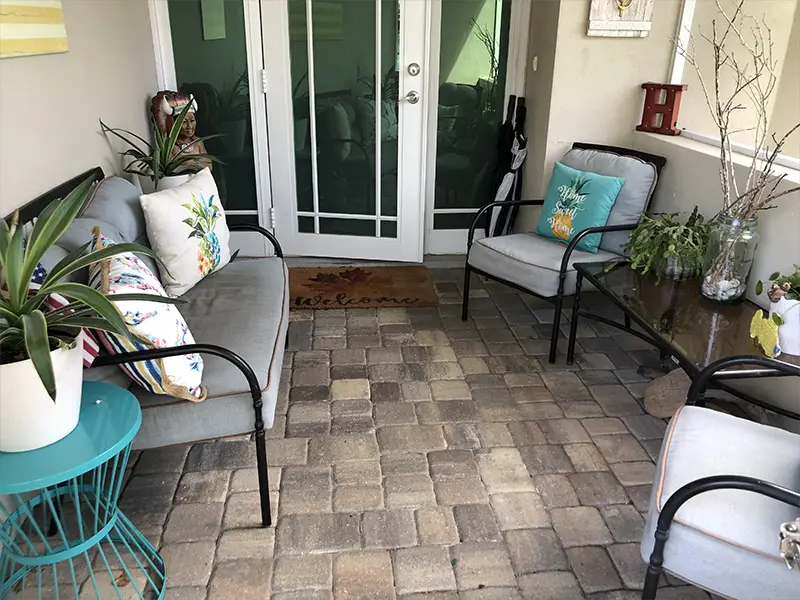 Here is how….
I took the seat cushion off but was not able to take off the back cushion. It was attached really well and I didn't want to mess with it.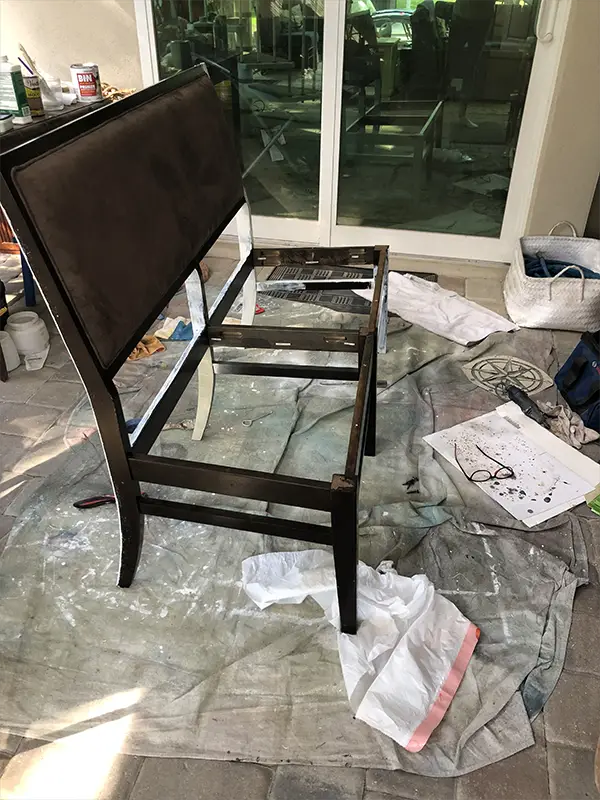 I started by painting the wood first using 2 quick coats of white primer. Then, working in small sections I spray painted over the primer (with a color called Almond), and quickly used a dry brush to create lines. I was trying to get the wood to look like linen. It is not perfect, but does look textured and since the bench is behind the table and sort of hidden, I wasn't too worried if it was perfect.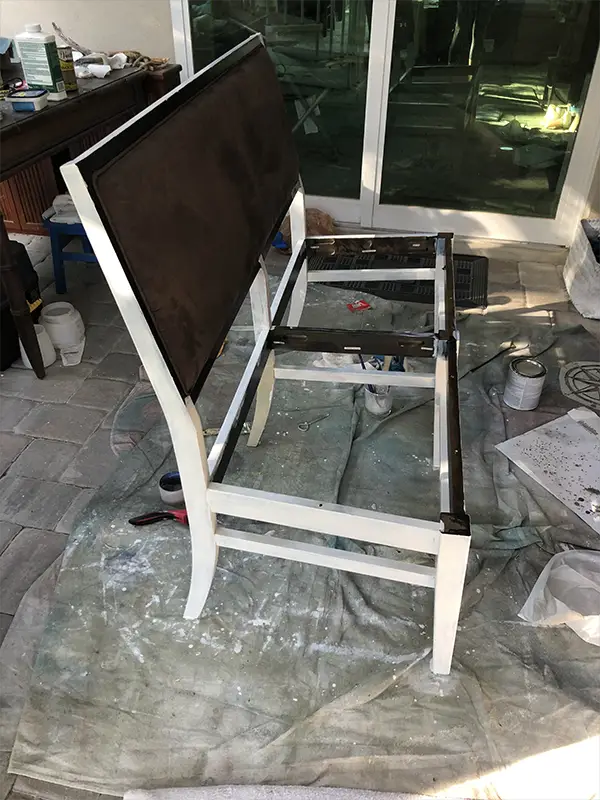 How did I paint the cushions?
Chalk Paint! Yes, chalk paint. I didn't know you could paint upholstery with this type of paint, did you? The trick is you need to wet down your fabric, and then paint. You are essentially dying the fabric. I went slowly in small sections, first wetting the fabric and then painting it. I waited at least a 1/2 hour for each coat to dry (I was working out in the sun so it dried pretty fast). In between each coat you need to sand a bit so you don't get a stiff and uncomfortable finish on the fabric. To do this, I used a sanding block.
Here are the cushions in stages. It took A LOT of coats. I'd say probably 6 or 7. I ended up using about half of the quart of paint I bought for this.
Here is a short video…
Here you can see it is starting to look better…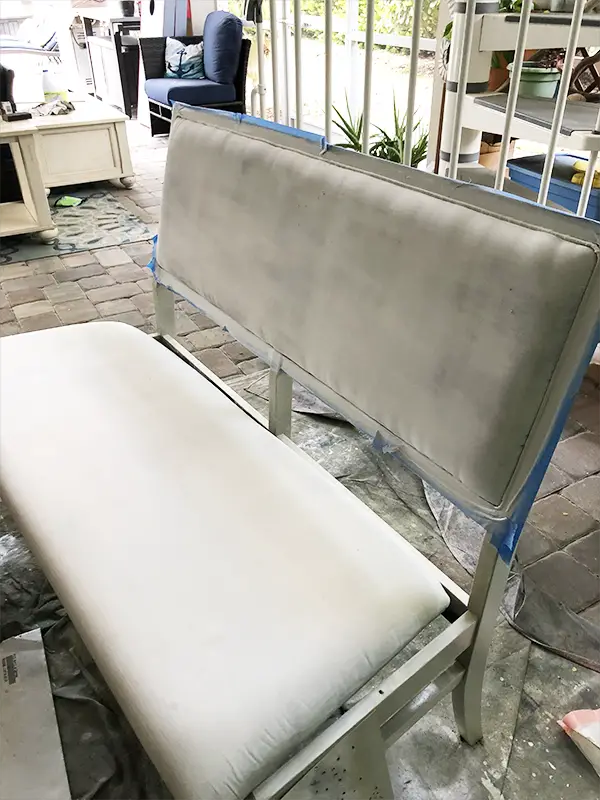 Here is the final look. I do prefer the look of the old settee better, but this will do for now. In case you are wondering, the fabric does not feel stiff and scratchy. We shall see how it holds up and if it will get super dirty or not. I'll keep you posted. Have you ever used chalk paint on fabric? I'd love to hear how it went and how it held up. Leave me a comment below.
You can see how I upcycled these shelves to make this look here, and how I refinished this table here.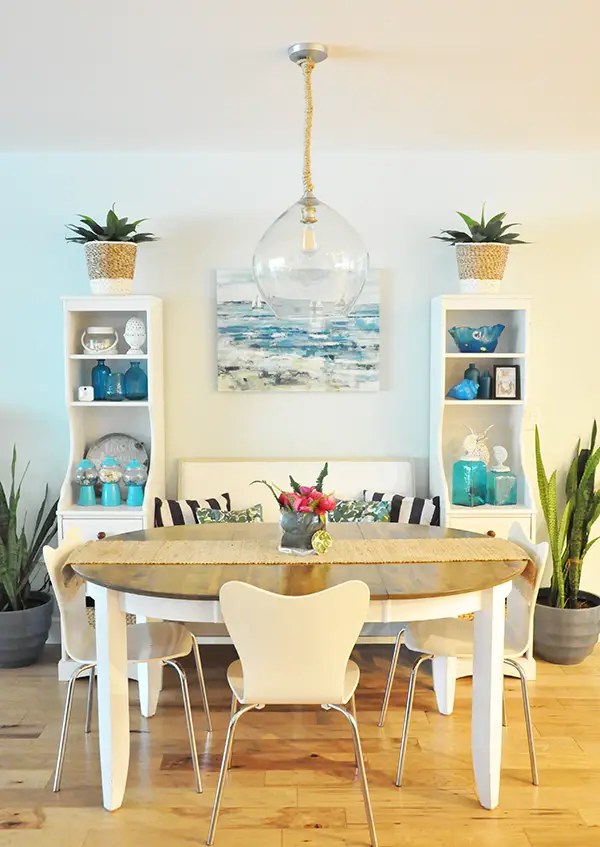 Check out my YouTube Channel for the full video…
https://youtube.com/shorts/wwGHJXpnp9I?feature=share
PIN FOR LATER…