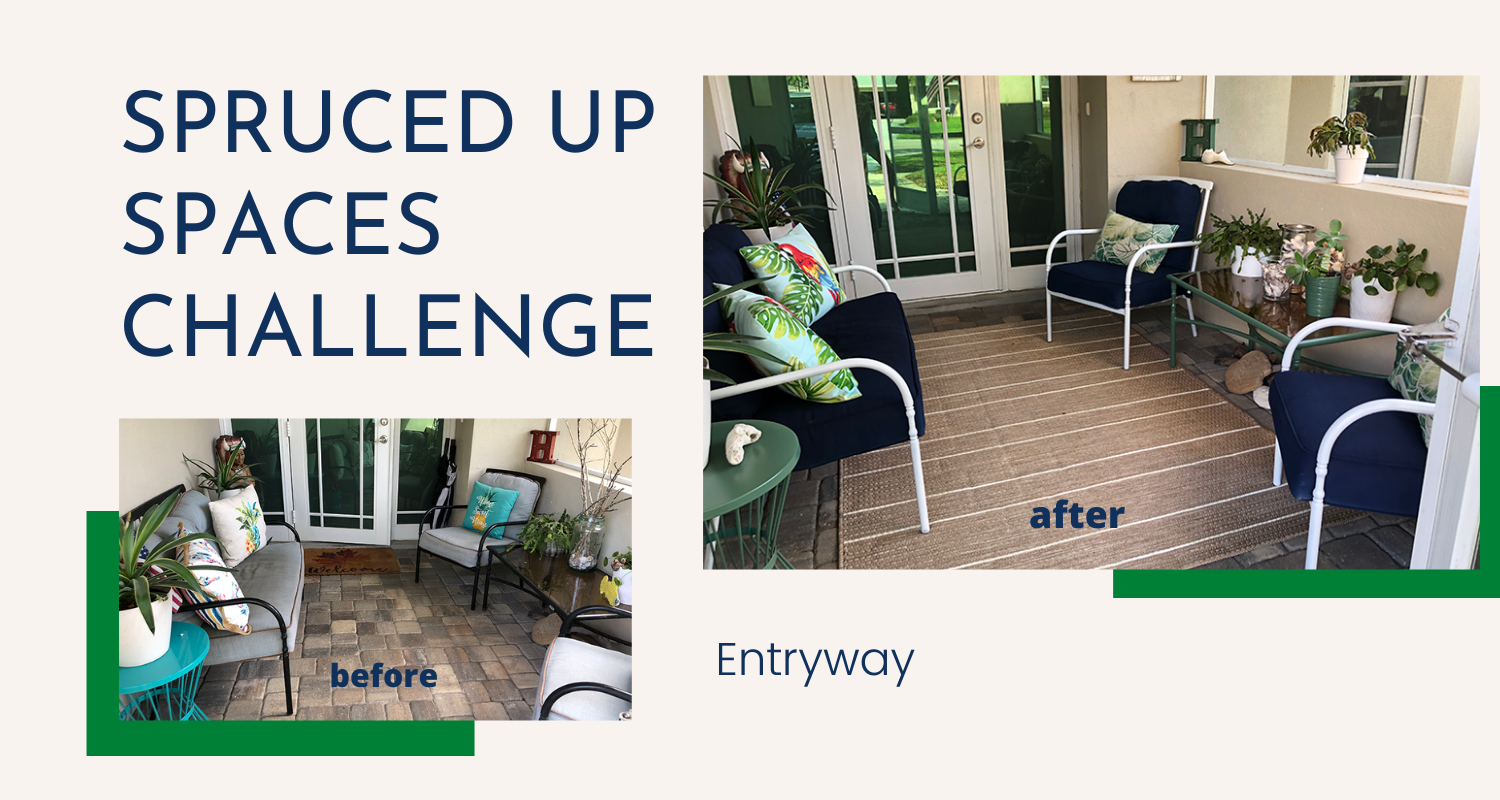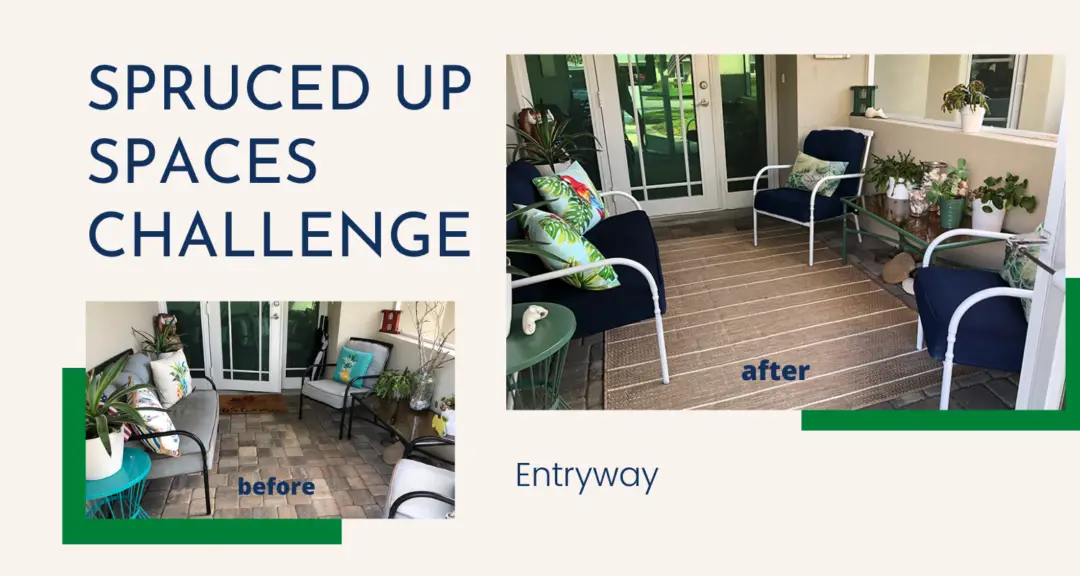 Entrance Way Refresh, Using Spray Paint
I am a part of an Instagram challenge called Spruced Up Spaces. We are a group of home decor bloggers and Instagrammers. The challenge this month is to Spruce Up an Entrance Way in our home. The winner of the challenge wins a $50 gift card to www.sprucedsurroundings.com. I will let you know if I win. Wish me luck.
You can see last month's challenge and results here. I did not win, but it was still super fun.
Give me a follow on Insta if you want to see all the participants in spruced up spaces. You can find me @thehousehouseblog
Which Entry Way did I makeover???
This area of my home has been dubbed 'the view' by my youngest son. When we first moved into this house, our backyard and pool were still being built. The kids would hang out in the driveway where we had a basketball hoop, or in our front yard. We would sit in this area and watch them, so we had 'a view' of the kids and could keep an eye on them. Anyway, the name stuck.
This area is good sized and is screened in. We placed this old set of Martha Stewart outdoor furniture in there that we have owned for over 15 years. It was looking old, kinda of tired, and a bit rusty in places too. When this challenge came up, I was like YES, I will finally update THE VIEW. I planned to do this as inexpensively as possible, of course, like all my DIY projects. Here is how it looked BEFORE….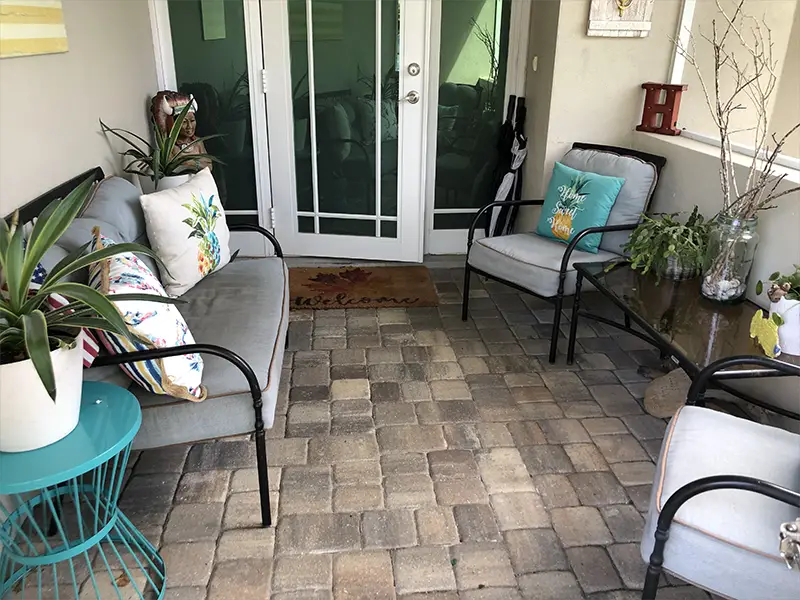 What did I do…..
So, what did I end up doing? Well, spray painting it all, of course. Here is the look I was going for…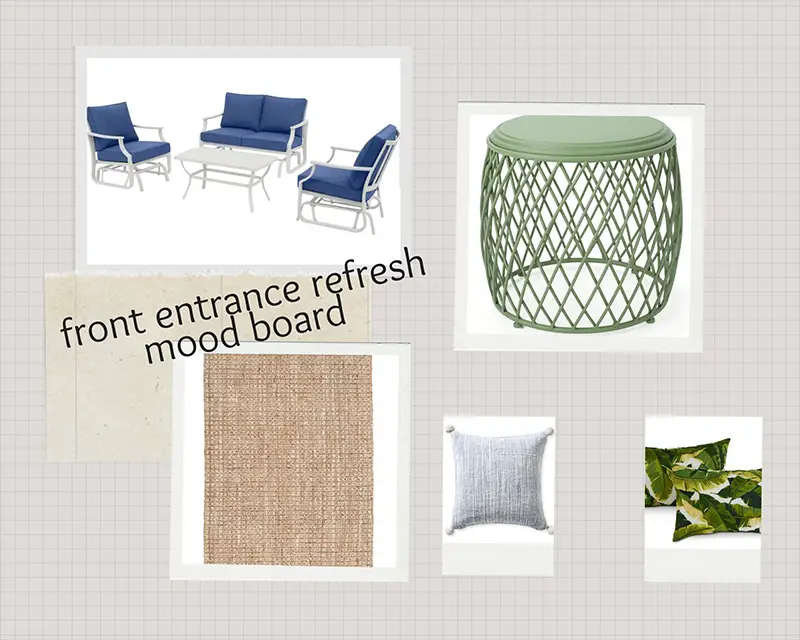 I headed to Home Depot for some supplies and while I was there I discovered this Fabric Spray Paint by Rust-oleum. It is pricier than regular spray paint at $15.99 a can, vs. $4.99 a can for regular. But, WOW, this stuff is amazing.
I was very nervous to try it! However, I figured it couldn't hurt to test a little out on the bottom of one of these old cushions. If it didn't look good I would just flip the cushion over and you'd never know. Happily, it worked great!!! Bonus, it was much cheaper than buying a whole new set of furniture, or new cushions.
Before I used this product, I made sure to clean the cushions and get rid of all the cat hair as best as I could. Then I brought them outside. I used 4 cans for all 4 chair cushions and both couch cushions. As for the furniture itself, I spray painted that white using Rust-oleum.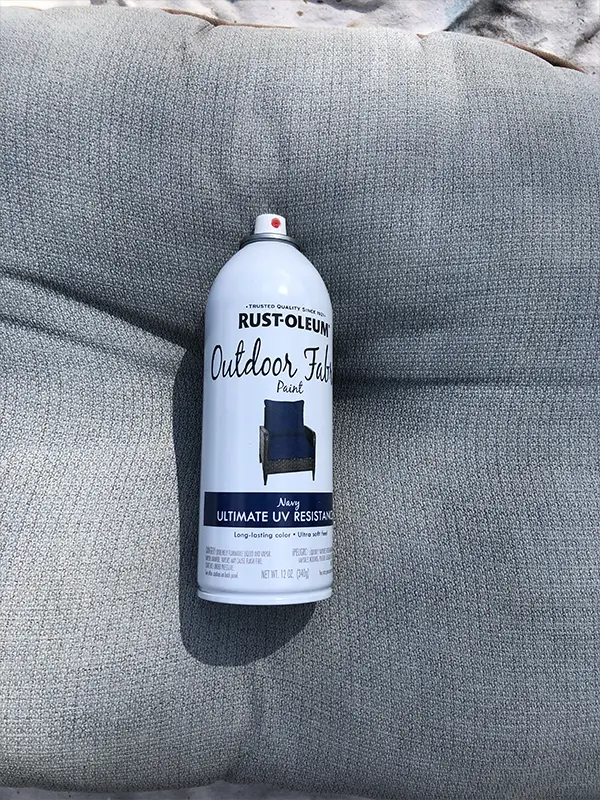 As for the side tables, well I spray painted those too. I chose Moss Green, by Rust-oleum.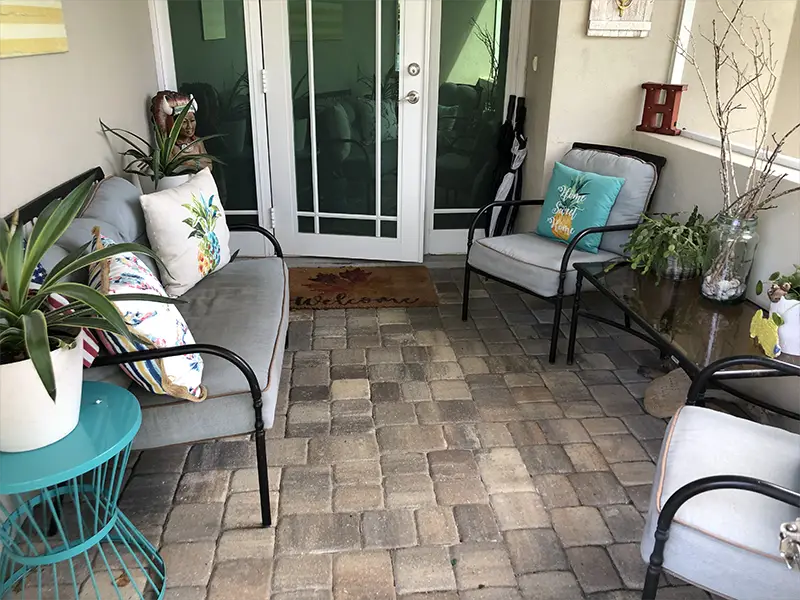 I found the new outdoor rug at Target and the throw pillows on the couch were an awesome yard sale find (I picked up both for $5). Here are the sames ones on Amazon. I shopped my home for the lumbar pillows on the 2 chairs. They have been in my bedroom, but definitely look better in this area.
Check out my cute mother on my newly painted couch. I had to take a picture of her because she matched perfectly with her navy shirt and white shorts. LOL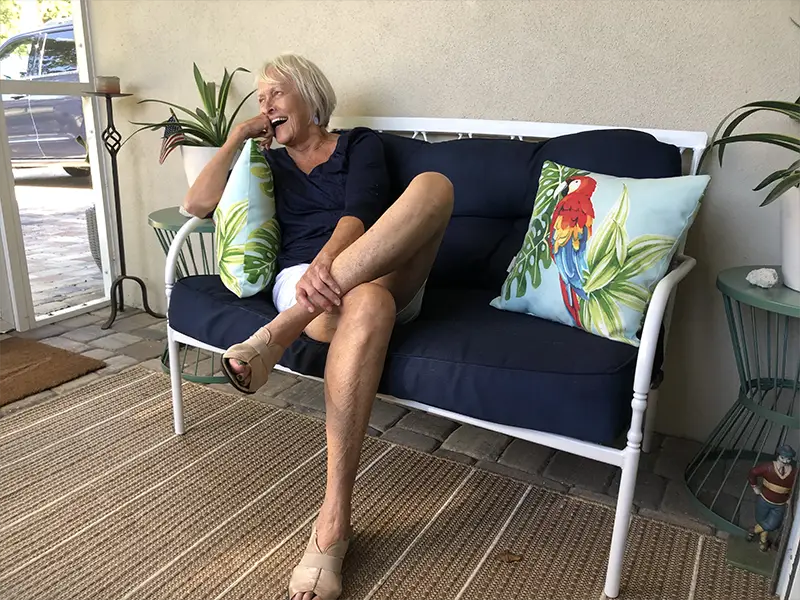 Here is a before and after photo. Same furniture, same layout. I just gave it a nice refresh. What do you think?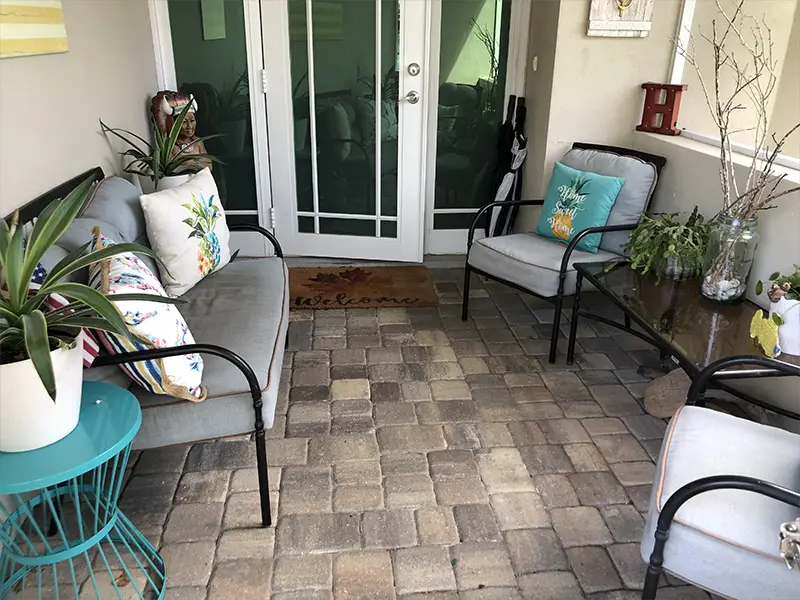 How does it feel???
For those wondering about the feel of this product after you use it, let me tell ya. Its not bad. The cushions are slightly 'stiffer' than before, but its really not that noticeable and it definitely doesn't stain your clothes after sitting on them. Have you ever used fabric spray paint?
Check out my quick video on this transformation…
PIN FOR LATER….