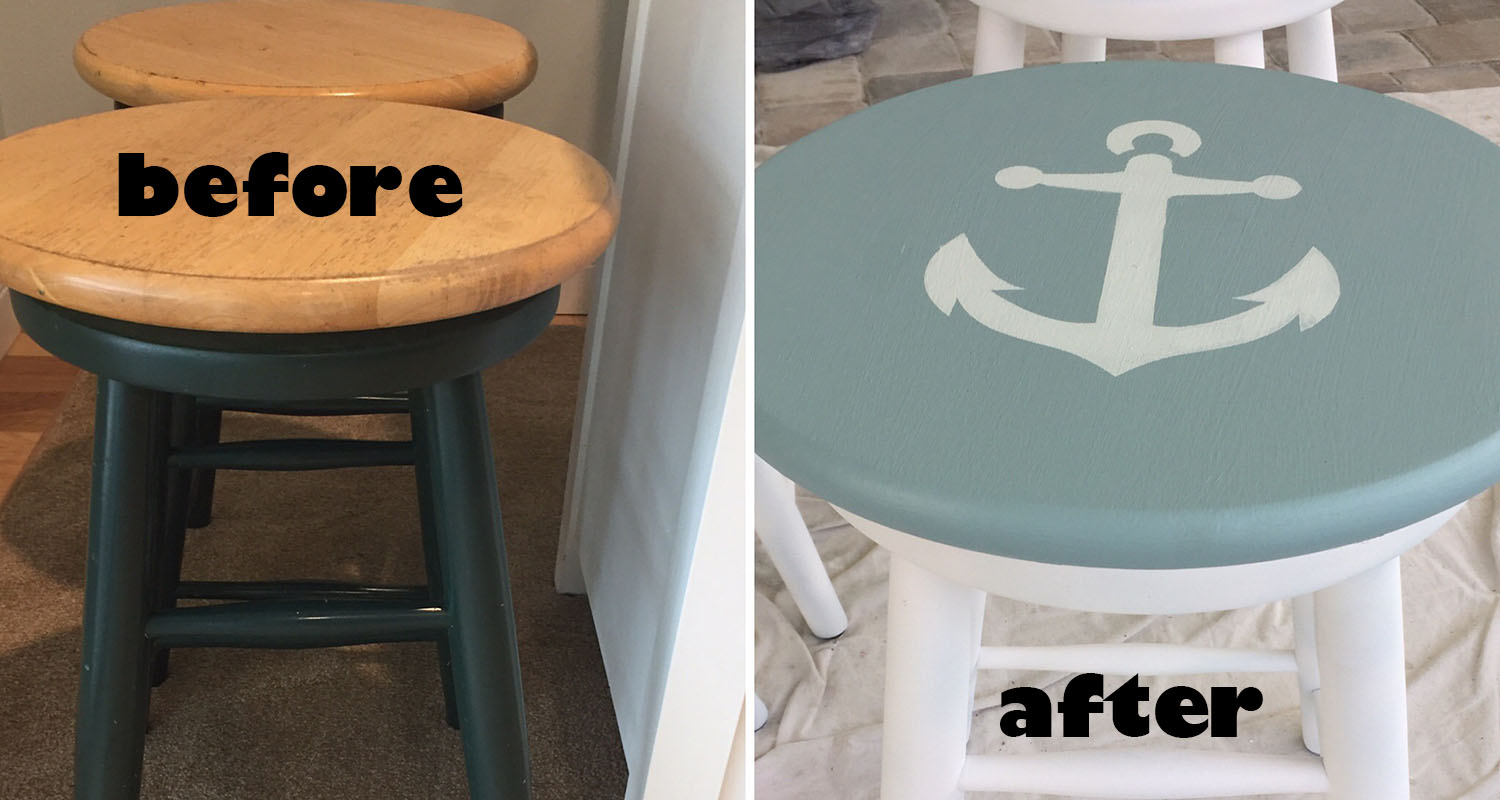 Refinishing Bar Stools to Look New Again
A weekend DIY project…
I posted these refinished bar stools on social media and people seemed to like them, so I thought I'd put together a short tutorial on how I refinished them.
This post contains some affiliate links for your convenience (which means if you make a purchase after clicking a link I will earn a small commission which helps keep my blog up and running but it won't cost you a penny more)!
We inherited these hunter green bars stools from a house we bought (and then later sold, but kept the stools).  The previous home owners had left them.  I've wanted to refinish them ever since, and I finally did it! Here is how….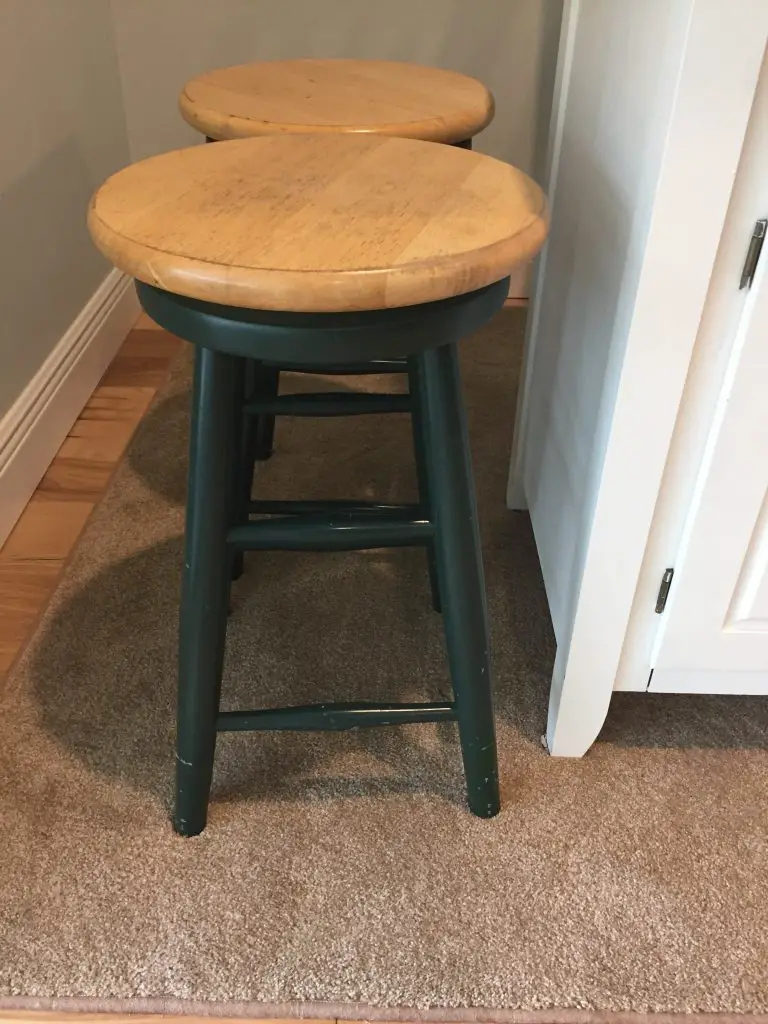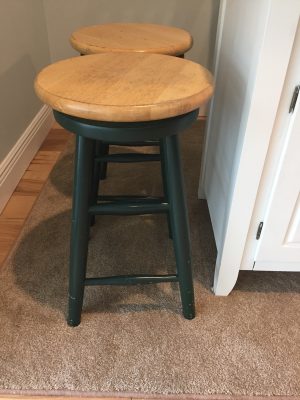 Step 1, Dealing with the legs…
First, we took the tops off.  These are the kind of stools that spin around.  The hardware needed some WD40 anyway since some of them didn't spin so good anymore. My husband took care of that while I did the rest.  All he really did was clean up the hardware and spray some WD40 on the moving parts.
I started by lightly sanding the stools legs.  I just wanted to scuff them up a bit so the paint would have something to stick to.
Then, I spray painted the legs using this Valspar paint with a built in primer.  I used one whole can per chair, and even bought an extra can, just in case, and used that whole can too doing touch ups. I flipped them upside down, sprayed, waited for them to dry, and then flipped them right side up and did the same, to make sure I didn't miss any spots.
Step 2, Dealing with the Tops…
I sanded the tops thinking that I'd try to stain them the same color as the top of this refinished table I did a while ago.  However, they looked terrible!  They just weren't taking the stain the same way the table did.  We have a lot of left over paint in the garage, so I took a look and decided to use the wall color from our dining room instead of the stain.  And yes, that looked much better!  You can see in the picture below the one top I hadn't yet painted.  Looked terrible, right? That was with at least 2 coats of stain. Maybe if I keep adding layers of stain it would have looked better?  I dunno. I didn't think so.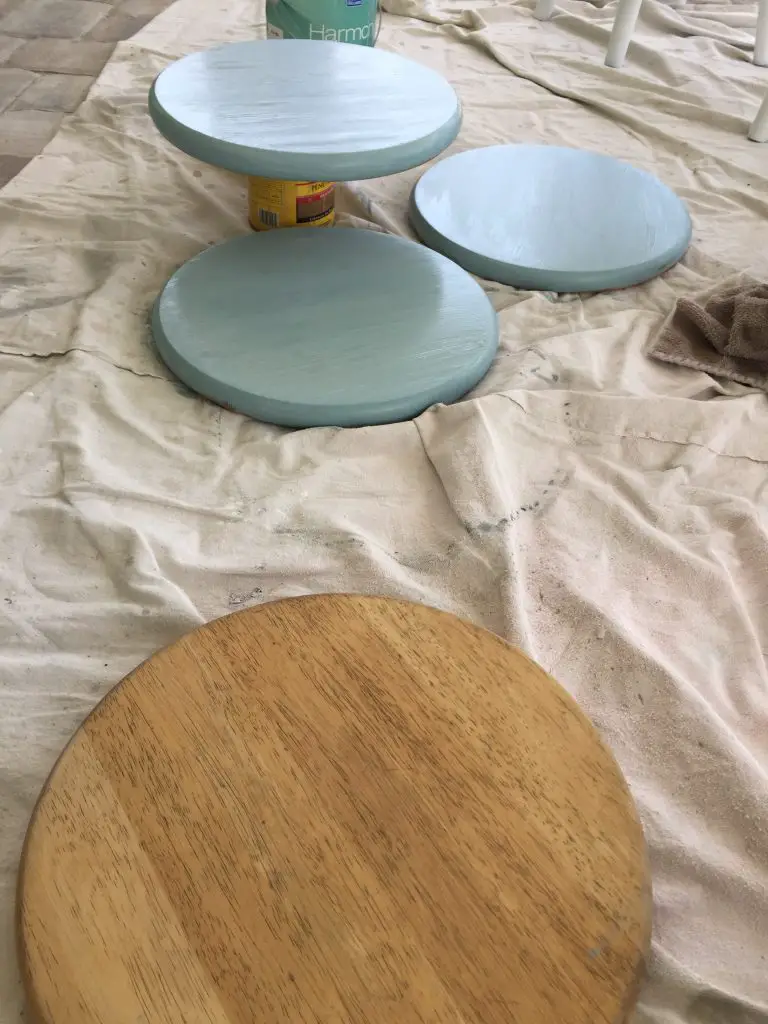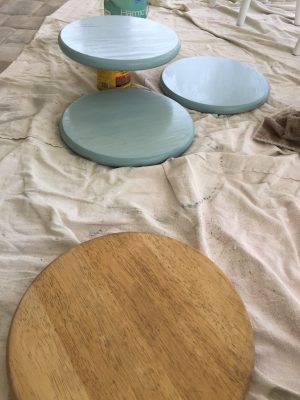 After I painted all of them I was thinking, hmmmm, it needs something more. They seemed a little boring.  So off to Hobby Lobby I went looking for a stencil.  I originally was looking for a shell, preferably a starfish, but they didn't have one.  Then I found this anchor and thought, bingo.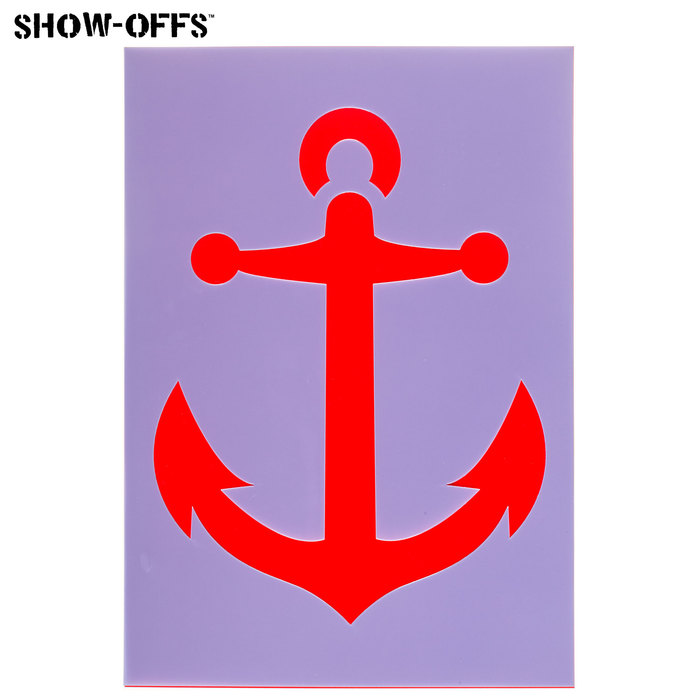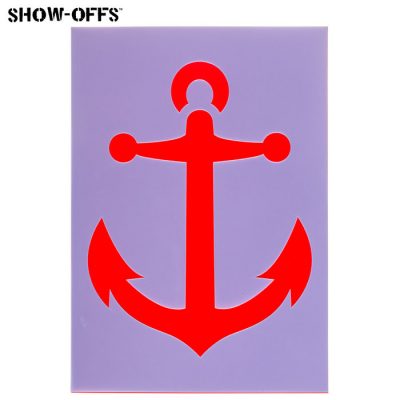 Back to our garage I went to figure out what color to use for the stencil.  I was going to use white but decided to use TopSail, which is the color in our living room, and such a pale blue that it looks almost white.  After they dried there were a few spots that needed to be touched up, which I did using a small paintbrush.  Easy peasy and they don't look half bad!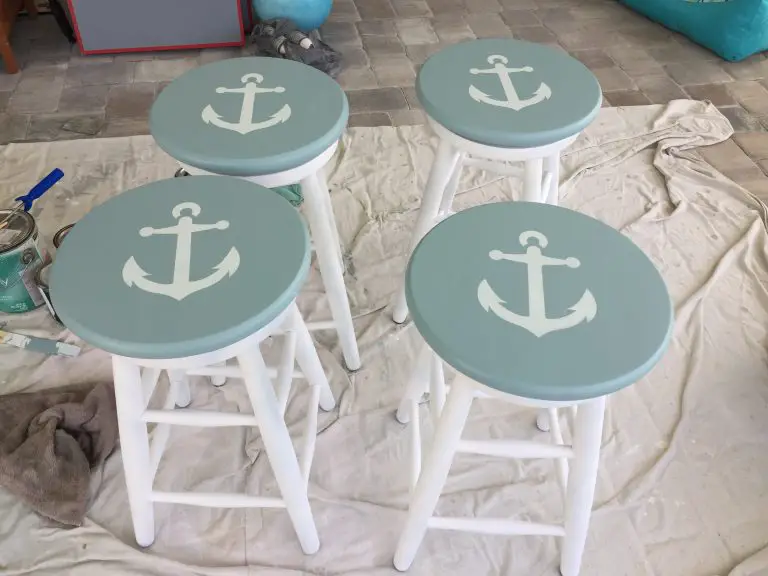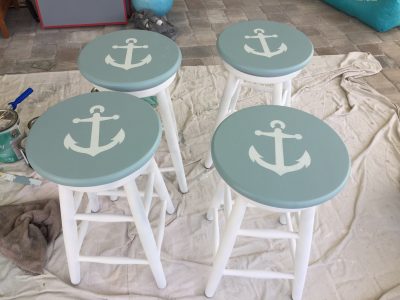 Last but not least…
I added a few coats of polycrylic polyurethane to prevent any chipping.  I was told to use water based, instead of oil based, to prevent yellowing.  We'll see how it holds up.
I really like how they came out and they will be perfect for extra seating when we are entertaining. Also, the kids like to sit in these stools in front of the aquarium and check out the fish.
If you like this project, you should check out this fun table I refinished too.
Like this project?  Please sign up for my email list to get a weekly newsletter full of DIY and home decor ideas.