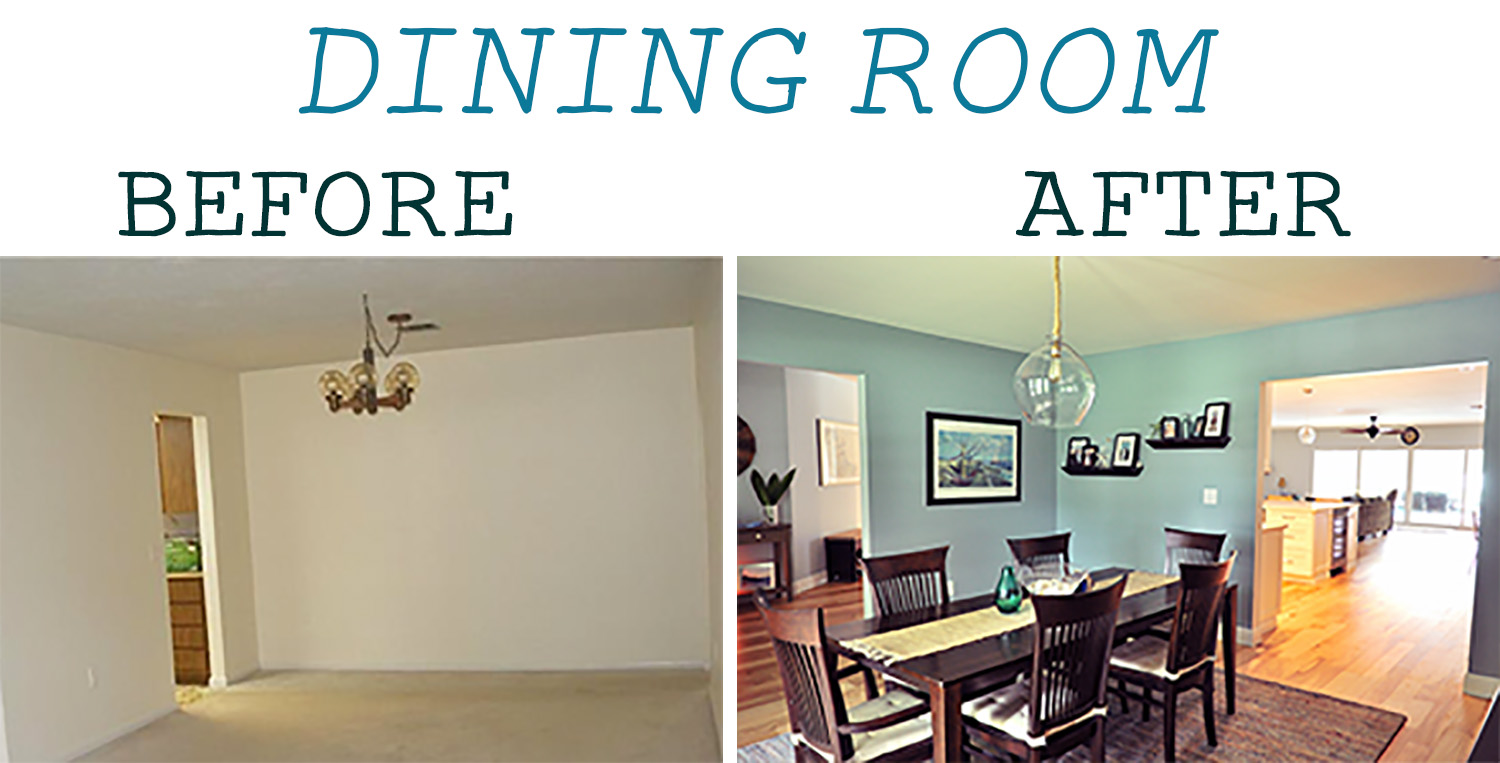 Dining Room Reveal at the House house…
Today I'm going to show you our dining room.  It is still a work in progress but I'm going to show you how it looks 'so far'.  This is not a room that we use that often but it is nice to have and will be great for Holidays.
Before and After…
I could only find a few 'before' pictures and one of them is below with my youngest son being a wild man, running straight at the camera.  Crazy kid.  I wanted to include it though because it is the same view as the picture next to it, but looks very different don't ya think?  We replaced the 3 windows with a beautiful bay window, changed the flooring, knocked down the wall that separated the dining and living room (I was standing at that wall when I took this first picture), got rid of the arches and made the openings bigger, and painted the walls (blue, of course….I love my blue!!).  We went back and forth about getting rid of the arches.  I liked the character of them but also thought they looked dated and more of a 'Spanish style' and didn't really go with our 'Beachy/Coastal theme', so we got rid of them and made the openings a lot wider.
We've had this furniture for a long time, but a whole new set is not in the budget at the moment so it'll have to do, for now.  We've also had this Pottery Barn rug for probably 12 years.  It has held up great and matches perfectly in here.
I tried to decorate my hutch so it is a little less formal.  I used to display my china in it.  I still do but have added other things too. You can see my obsession with blue runs deep.  Even my china, which is 11 years old now, has a blue rim and all my accent pieces/platters and stuff are all blue.  My bridemaid's all wore blue in my wedding too (and I had a beachy theme).  I have issues!  😉  The lowest shelf is my collection of wine decanters and ice buckets.  (I told ya I have issues…haha!)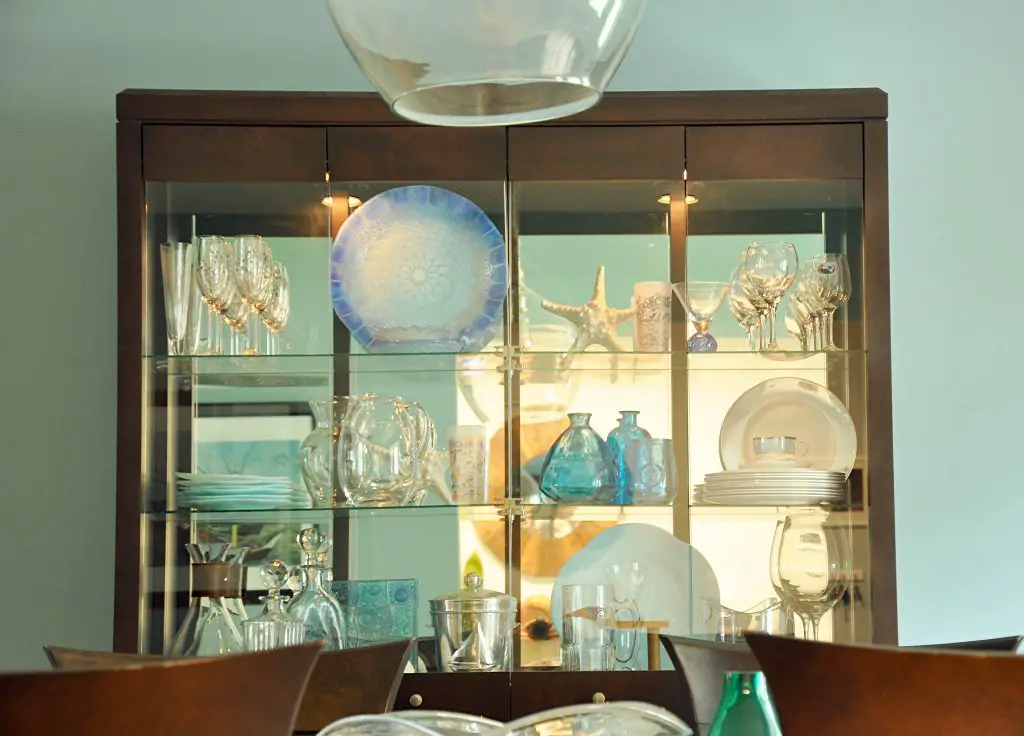 I had the hardest time finding a good chandelier.  All the ones I loved where crazy expensive.  I wanted something glass and not to 'formal' and found this one on Overstock.com for only $115, which is sold out at the moment.  I found a similar one here though if anyone is looking for a glass chandelier. Mine is huge but still seems maybe a little to small for the room, but it is hand blown glass and beautiful.  It also has the same shape as the hanging pendant lights over my kitchen island so thought it matched well and sort of tied the 2 rooms together.  I decided to put rope around the hanging cords since I didn't like how they looked.  It looks better than the cords, but may need another layer of rope.  I told ya it's a work in progress, right?
The maps…  
We ordered these maps online after I saw one of Naples in a local shop.  We got them online here. They are super cool 3D maps made out of wood. Last year for my birthday, my husband bought me the one of Cape Cod, Massachusetts because we spend lots of time there in the summer, and I have a thing for maps.  Once we hung it up we realized another one would look perfect on the other side of the hutch so we ordered one of Narraganset Bay/Newport, Rhode Island because we got married there, and have spent a lot of time there too.  I love them and our guests seem to too.
Overall I am happy with how my dining room looks, so far.  I still have a few things I want to tackle in this room, like maybe some crown molding, some slipcovers for my chairs, and possibly a window seat under that bay window similar to these below.  In due time…..
I hope you enjoyed my dining room reveal. Looks pretty different huh?