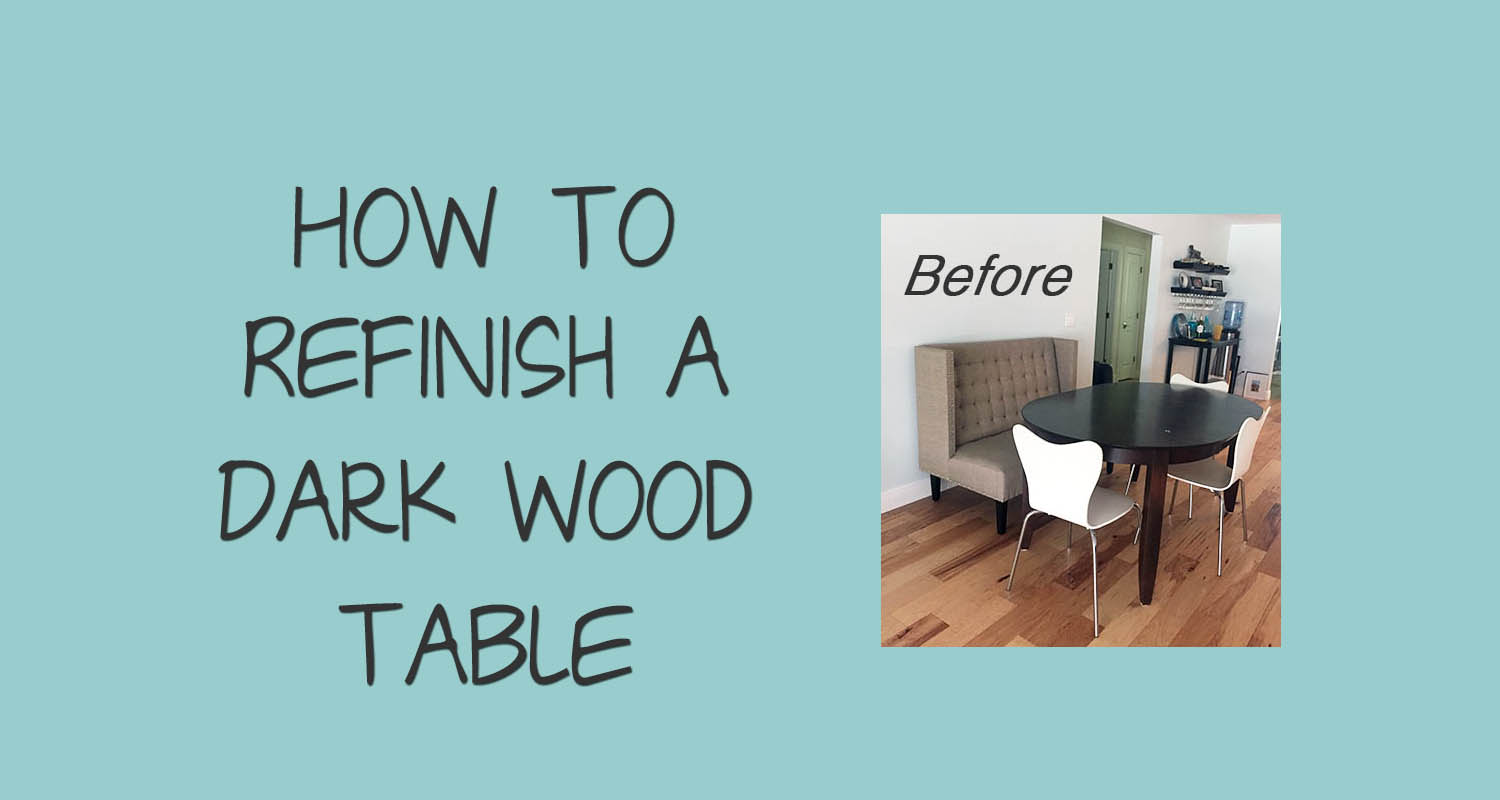 Refinishing a Dark Wood Table
Step by Step on How to Refinish a Dark Wood Table…
Refinishing our dark wood table was something I've wanted to do since we moved into the House house, but I was a little afraid of ruining it.  I loved this table, and it's color, when we first bought it over 14 years ago, but it just didn't look right in our new home.  We use it as a kitchen table for casual everyday meals when we are not sitting at our enormous kitchen island, or in our dining room.  It was a dark chocolate brown and I was unsure if I'd ever be able to lighten it up.  Well, thankfully I was, and I am so happy with the result.  Here is a step by step on how I did it.
This post contains some affiliate links for your convenience (which means if you make a purchase after clicking a link I will earn a small commission which helps keep my blog up and running but it won't cost you a penny more)!
Step 1:  Stripping the paint…
The first thing you need to do when refinishing a piece of furniture is strip off all the old paint using a paint stripper.  A very nice guy at Home Depot helped me pick one out.  He recommended Klean Strip, as shown below (update – since I completed this project, several readers suggested this Citristrip Product which is suppose to be less harsh smelling. I have not used it myself but several readers have recommended it).  You just apply a coat of it, wait a few minutes, then scrape it off.  I had to do this several times as I was working outside and it was very hot and humid so some of the stripper dried too quickly.  Make sure you are wearing safety googles and gloves. Discard the paint into a tin can. I only did the top of this table since I planned to paint the legs white.  Once you are done stripping the paint off, you then need to apply some Paint Stripper After Wash.  I used Klean-Strip.  This product essentially removes any paint residue left from the stripping process.  To use, follow the instructions on the back of the can and make sure you wear gloves and safety googles.
Here is how it looked after using the stripper and after wash.  Again, I used several coats. It was still too dark for my liking, so I started sanding.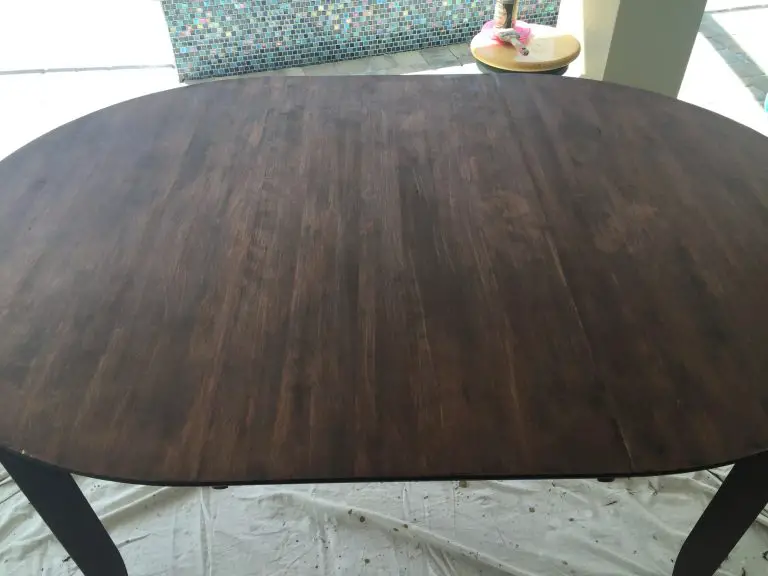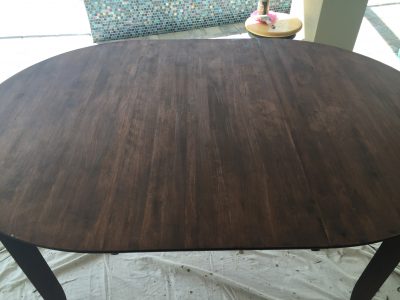 Step 2: Sanding…
Please make sure you wear a mask and safety googles if you attempt this. Thankfully, we have a hand sander and the thing is awesome.  Although it is very messy and very noisy.  I used a few different sand paper grits when doing this.  I started with 80 and then went up to 220 to finish it off.  Update – some readers have commented that I was crazy for doing this project indoors.  But, I wasn't indoors.  I was out by our pool in the lanai.
I continued to sand until I liked how it looked.  I was going for a 'farm house' feel.  I could have kept sanding until all the colors were even but I was happy with the uneven, weathered look.
Step 3: Staining…
Once I was done sanding I had to decide what stain color to use so I went back to Home Depot to pick one out.  I suppose I could have just left it the way it was but I thought using some stain would enhance the color.  First I tried using some left over white pickling stain (as you can see on the far right part of the table) that I had in the garage, but I wasn't happy with it.  I ended up choosing Weathered Oak by Minwax after searching Pinterest for ideas.
Before you begin applying the stain make sure to clean up all the dust. I used a damp rag, then a dry one to get rid of every last speck of dust.  To apply the stain you just paint it on, wait a few minutes for it to soak in, then wipe off.  You can do this as many times as you like, until you reach your desired color.
I applied 2 thin coats of stain and was happy with the way it looked.  Here is a picture of the different stages of color.
Step 4: Apply Polyurethane and Paint the Legs…  
I waited overnight for the stain to dry thoroughly before applying the polyurethane.  The back of the can said to apply at least 2 coats of poly, but I thought it needed at least 4.  This is a dining table after all,  and I wanted to protect it from getting water damage, scratches, etc.  This stage takes a while since you have to wait for it to dry for 3-4 hours in between coats.  You also need to sand lightly in between each coat.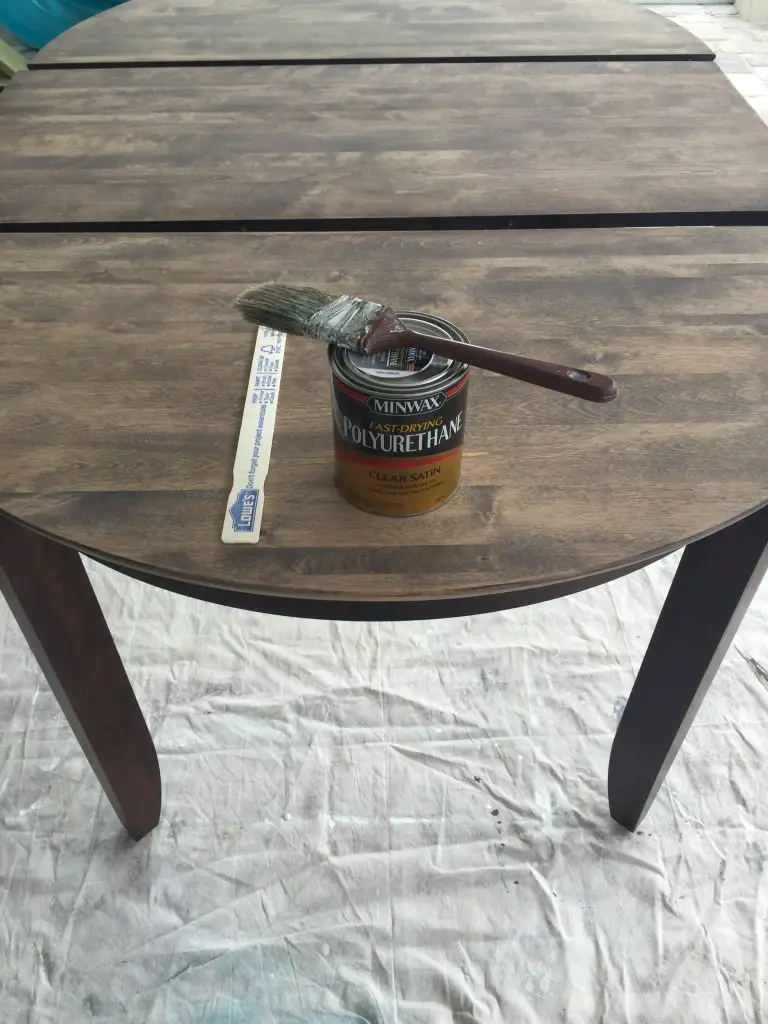 After I applied each coat of poly I started painting the legs white.  I used chalk paint that I mixed myself using this recipe that I found online, or can can purchase chalk paint at many hardware stores and online.
1/3 cup plaster of Paris
1/3 cup water
mix these 2 ingredients together first
then add 1 cup of paint
and stir until smooth and mixed thoroughly.
For those who don't know, chalk paint is awesome.  It allows you to paint most furniture without having to sand first. Since the wood was so dark the legs needed about 3-4 coats of paint. Once that was totally dry I brushed on a little wax sealer and I was done.
I love how it came out. This whole process took around 3 days since you have to wait for things to dry. There isn't much you can do to speed up the process, but it is worth it in the end.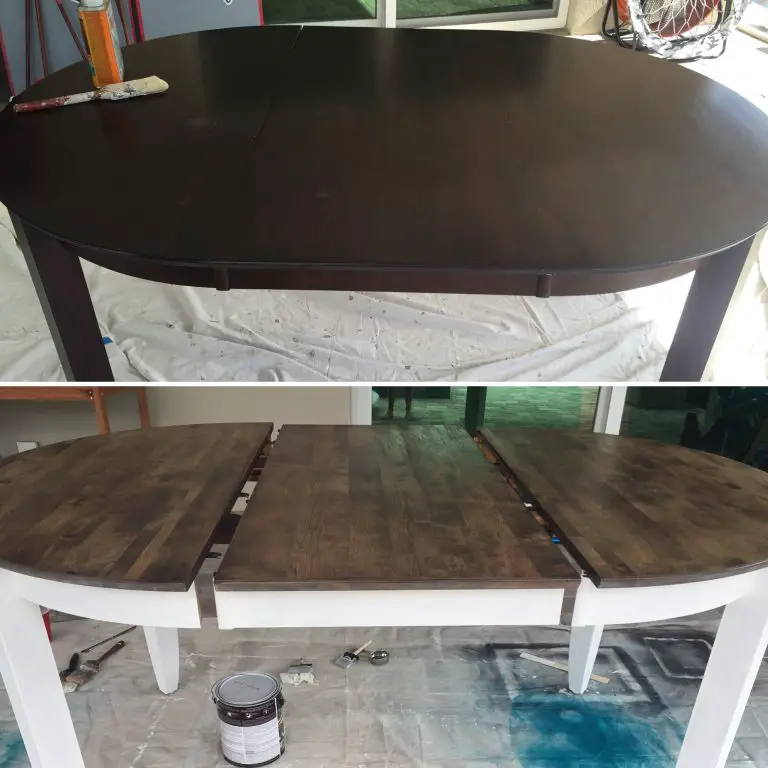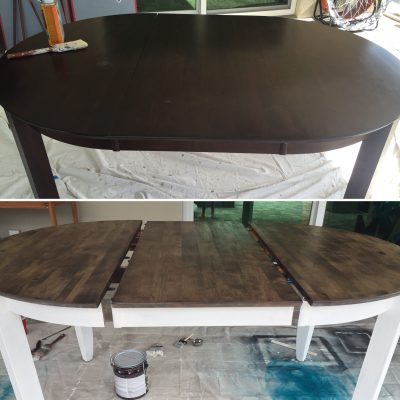 Finishing Touches…
I found this adorable settee at Tuesday Morning.  I had been eyeing the exact one online at Wayfair but a friend spotted this for me and I couldn't believe it.  It is perfect.  The artwork is from Home Goods.  I wasn't sure if I was crazy about the chairs, which are from West Elm, but I think they work, especially since this is our casual dining table.  The last thing I would like to do is add some sort of light fixture above the table, but I've got to convince my husband first.  Adding things means $$$.
Here is one more look at the Before and After.  Much better don't ya think?  (Yes, the lighting was a little better in the 'after' picture so the settee, and the entire room, looks a bit brighter. )
I am so happy with how it came out.
UPDATE – I refinished this table almost 2 years ago and am happy to report it has held up very well!  We use it every day and have not had any scratches or any problems.
What do you think? I hope you liked my tutorial.
Here is another refinishing project you might like
Pin this project…..