Our Living Room…Before and After…
The Before…
I decided to show you the entire living room hoping that you'd get a better idea of what our main living area looks like, and just how much it has changed since we bought this house.  This is where we spend most of our time.  You may remember my kitchen reveal, my dining table, bar area, and my aquarium post where you got a glimpse into this space, but today I am going to show you the entire thing.
I've been putting off showing you the entire living room space because I feel like it is still somewhat unfinished.  A new couch in this space would be sweet, and we definitely need a larger rug, and something to cover up the back of the sofa too.  For now I'm trying to make do with the stuff we already have (and have painted most of our old dark brown furniture white).
Anyway, here is how the living room and kitchen looked before.
The After…
Now, the living room is HUGE.  It measures approximately 26′ W x 31′ L (including the kitchen).  When we were renovating, we decided to add on to the back of the house by basically enclosing the old lanai.  This added about 10 feet to the back of the living room and the office/gym area.  We also tore down the wall and half wall you see in the before pictures that separated the dining room and living room.
This is how it looks today.  You can see it is much more open without that wall, and the room is large!
Decorating such a big room is challenging, especially when you don't have a zillion dollars to buy all new stuff or hire someone to help you out, and there are only so many pictures in magazines, Pinterest, Houzz, etc that you can look at for idea's and inspiration. I tried to keep a beachy/coastal vibe in here like the rest of the house.  I've painted all of our old dark brown furniture white, except a few things, which are on my to-do list.  The walls are a pale blue (Topsail by Sherwin Williams) and the floors are distressed light wood.
Half of the room is devoted to tv watching and so our couch faces the very large 75 inch tv (which actually doesn't look that large on this very long wall).  As you can see,  looking at the back of that very long couch is not ideal,  so we need to get something for the back of it.  A long bench maybe or a long console table? Any idea's?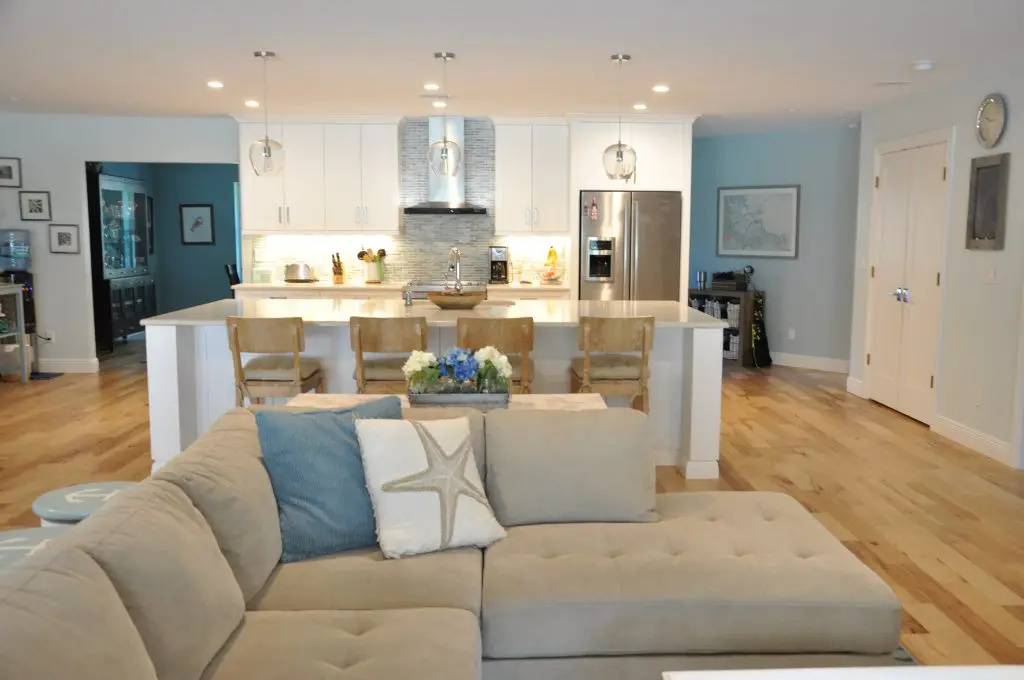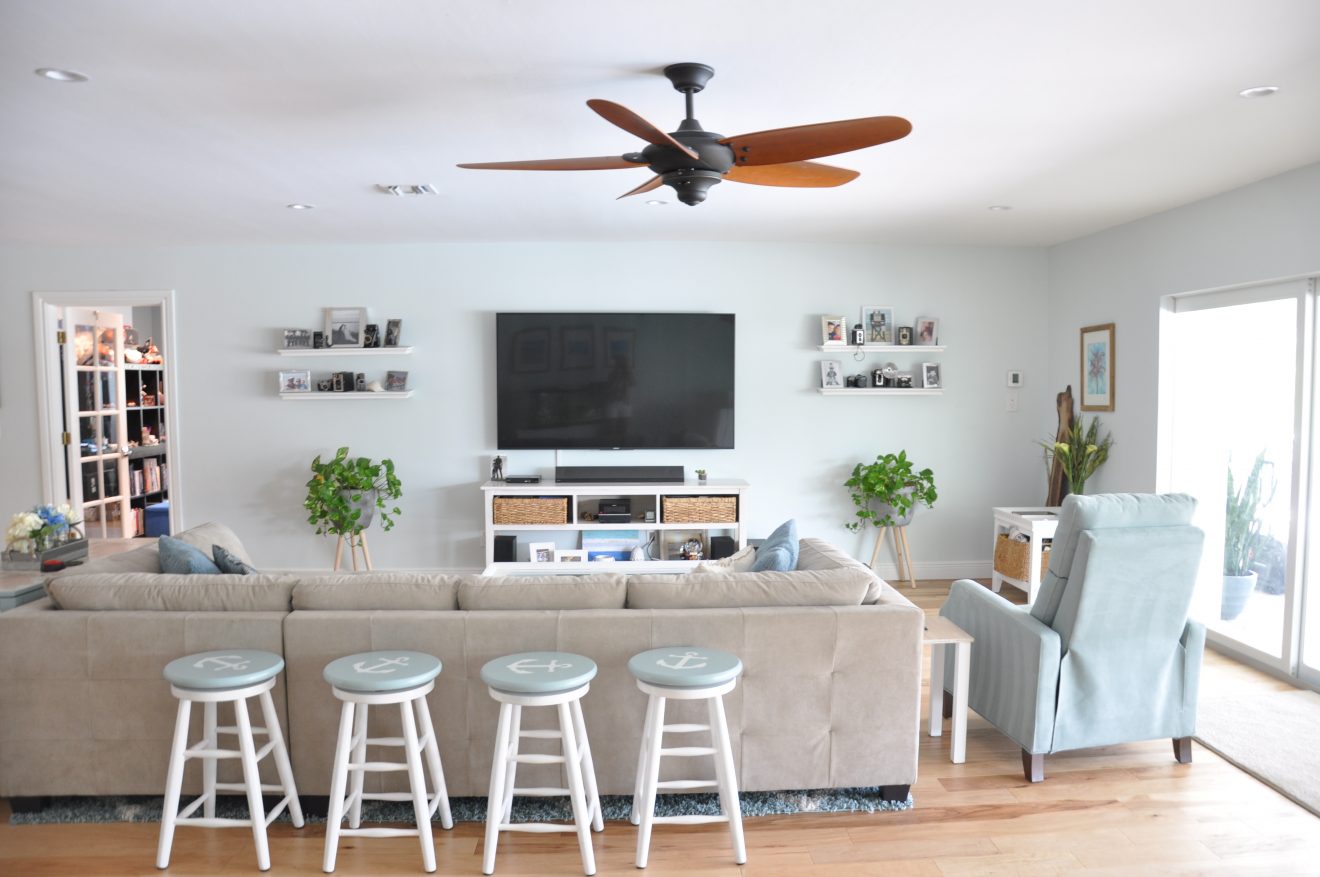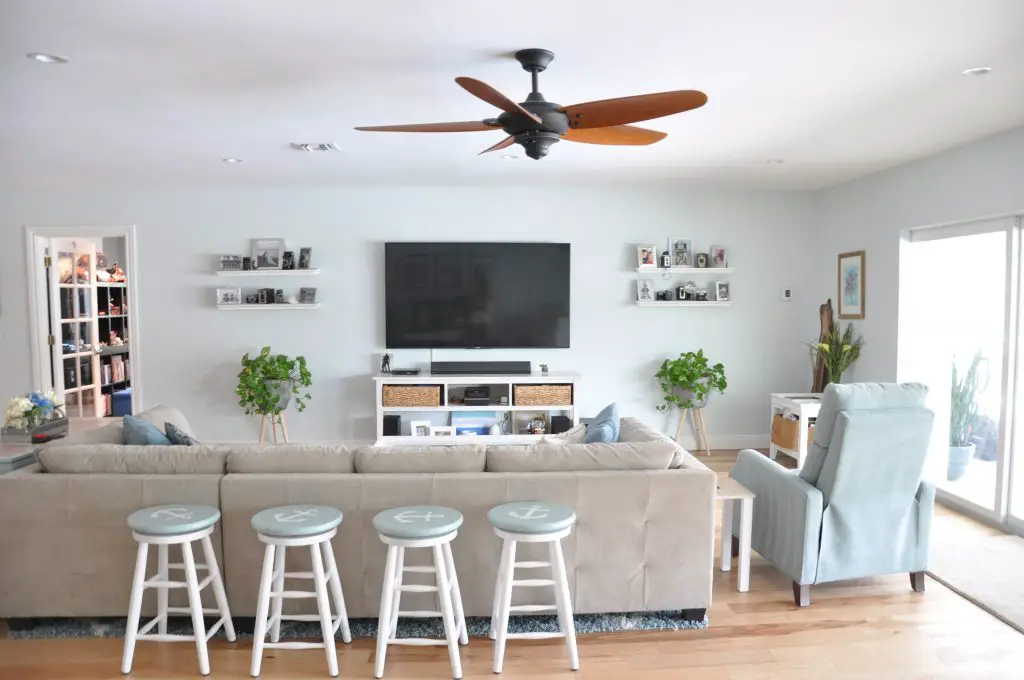 The other half of the room contains the bar, aquarium, and our kitchen dining area (where we eat most of our meals). Here is the room from just about every angle I could think of.
We had these white shelves so we put them up on either side of the tv to hold my vintage camera collection and some family photos.
This is how it looks from the kitchen sink.  Not a bad view of the pool and backyard huh? Those sliders open up completely which is amazing for entertaining and to experience true indoor/outdoor living year round here in Florida (except when its too hot, then we shut those babies and stay inside and crank the A/C).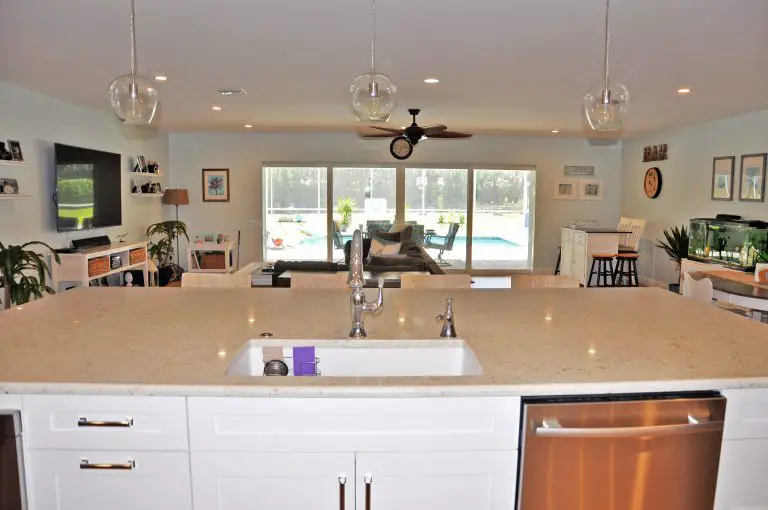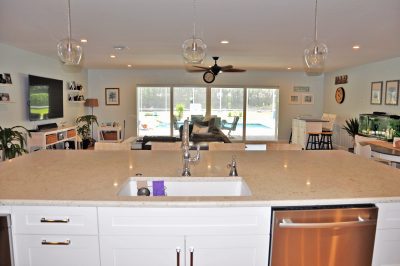 That is all I have for now.  I hope you enjoyed this post and now get a good sense of how this whole room looks and can appreciate all the work we did to this house. It truly looks completely different.
Any questions, comments?