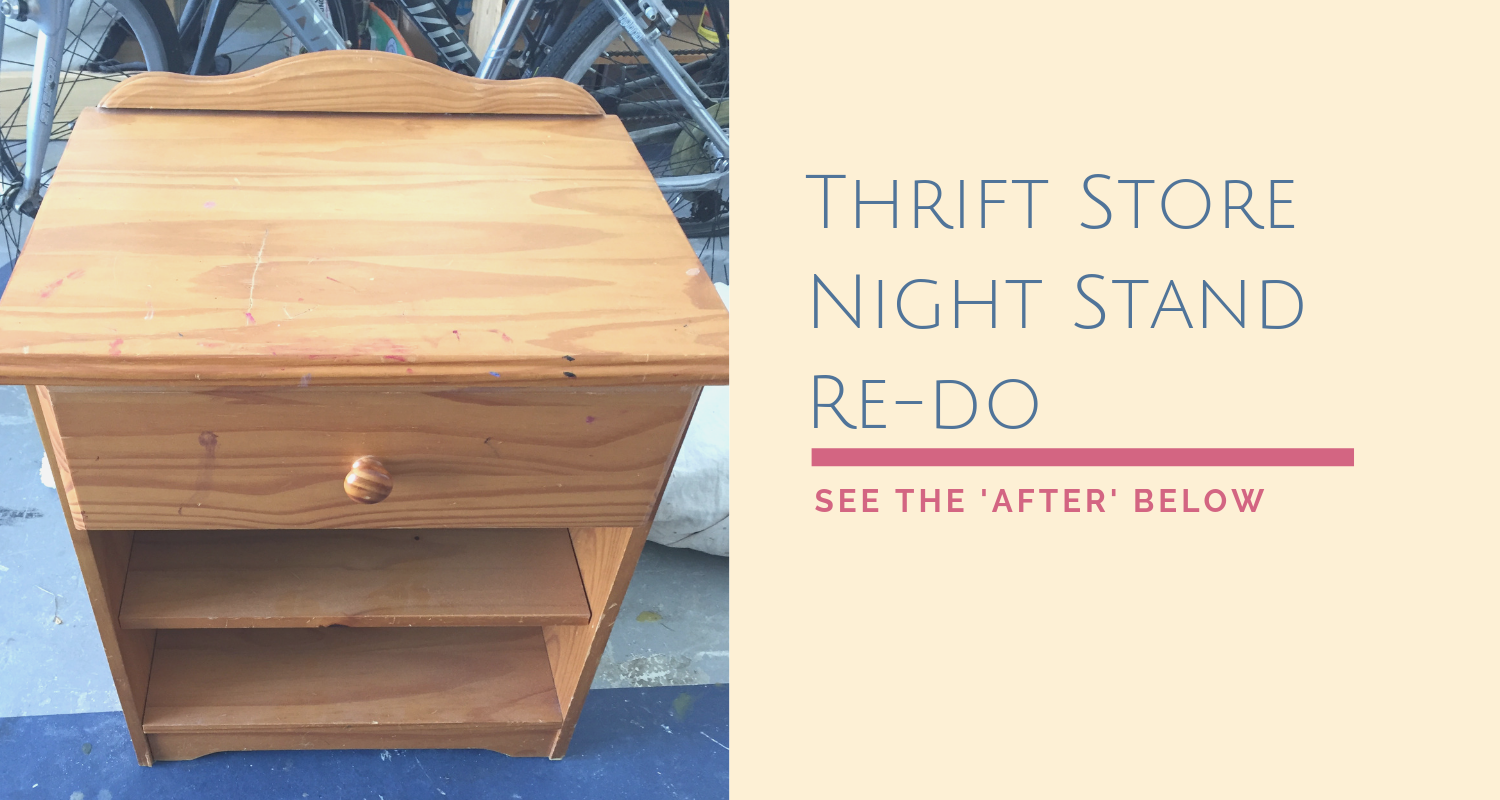 Thrift Store Night Stand Makeover
A few weeks ago my son and I rearranged his room.  Since I took the shelf he was using as a night stand and made it into this banquette area, he needed something to replace it.  We searched Target, Marshall's, Tuesday Morning and a few other stores and didn't find anything we liked.  I went to a local thrift store and found the perfect one for only $10, but it needed a makeover, of course.   Here is what it looked like and the instructions for my Thrift Store Night Stand Makeover.
Here are the steps and materials I took to do this makeover.
This post contains some affiliate links for your convenience (which means if you make a purchase after clicking a link I will earn a small commission which helps keep my blog up and running but it won't cost you a penny more)!
Materials Used for this Project…
Mod Podge
Spray Adhesive
This tool set to flatten out all the bubbles
This paper for the top
Paint
Paint Brushes
Hand Sander
Step 1, Cleaning it up…
The first thing I did was take this back piece off.  It was bent and falling off anyway.  I just unscrewed it and viola!  It looked so much better.  Then I cleaned up the entire piece with a damp rag, and tried to get as much crayon off as I could using a Magic Eraser.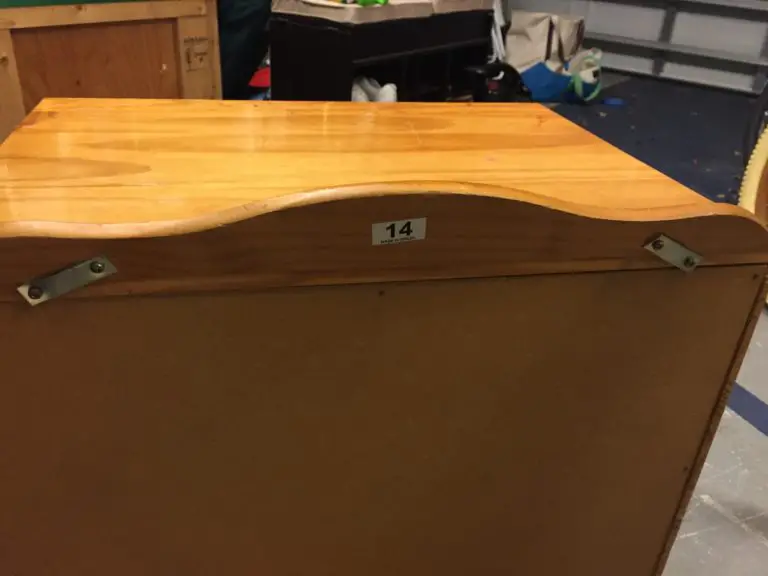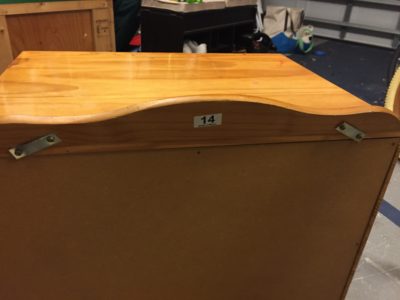 Step 2, Sanding…
I sanded down the entire piece with my hand sander concentrating on the top which had a few scratches on it.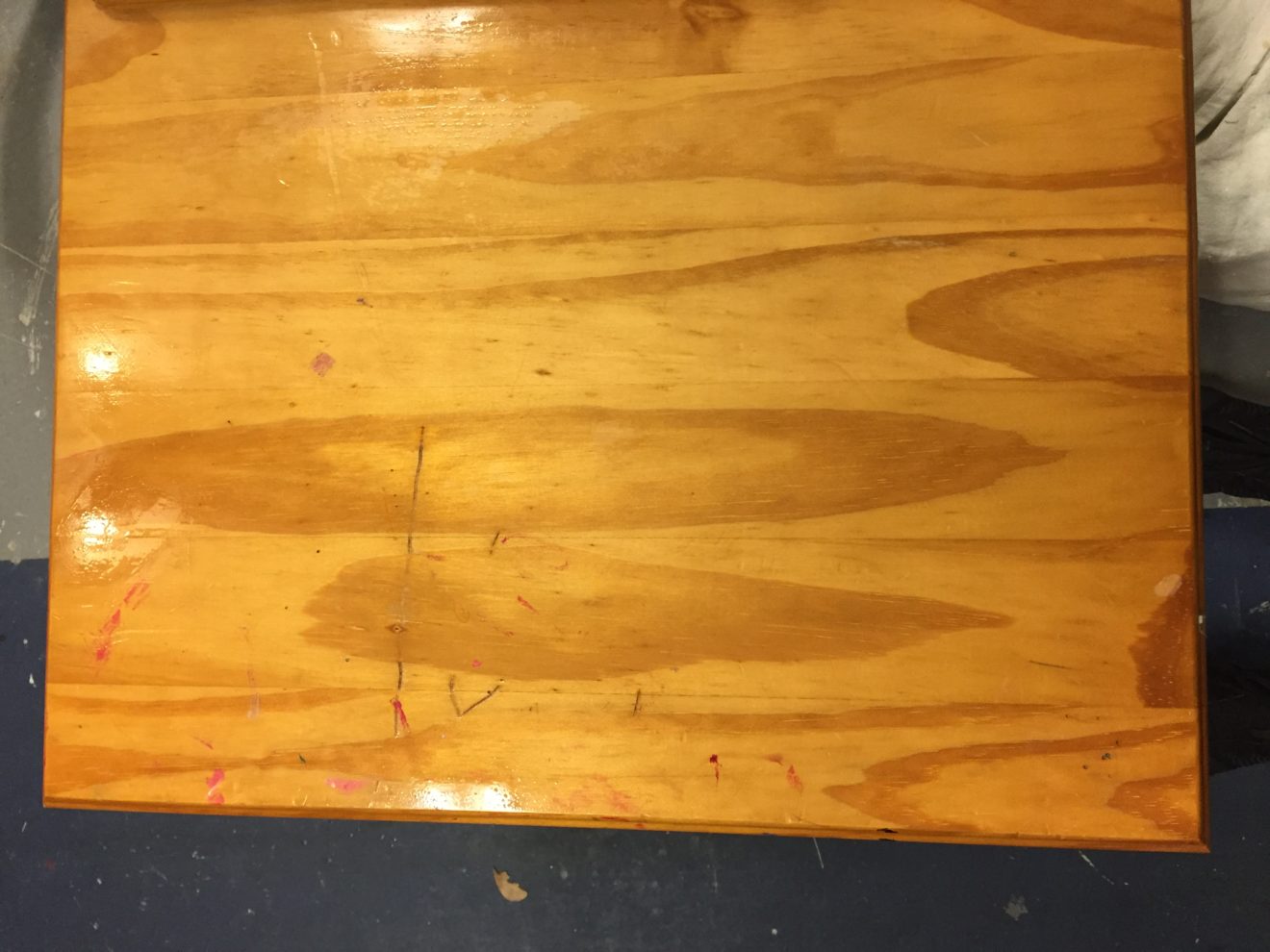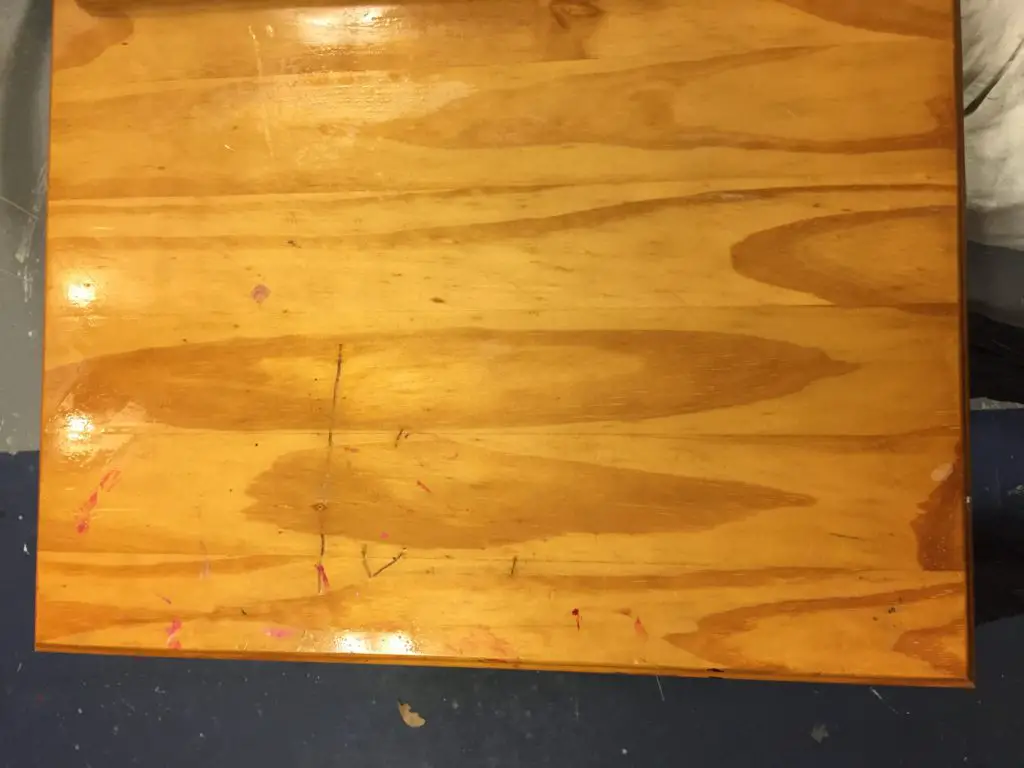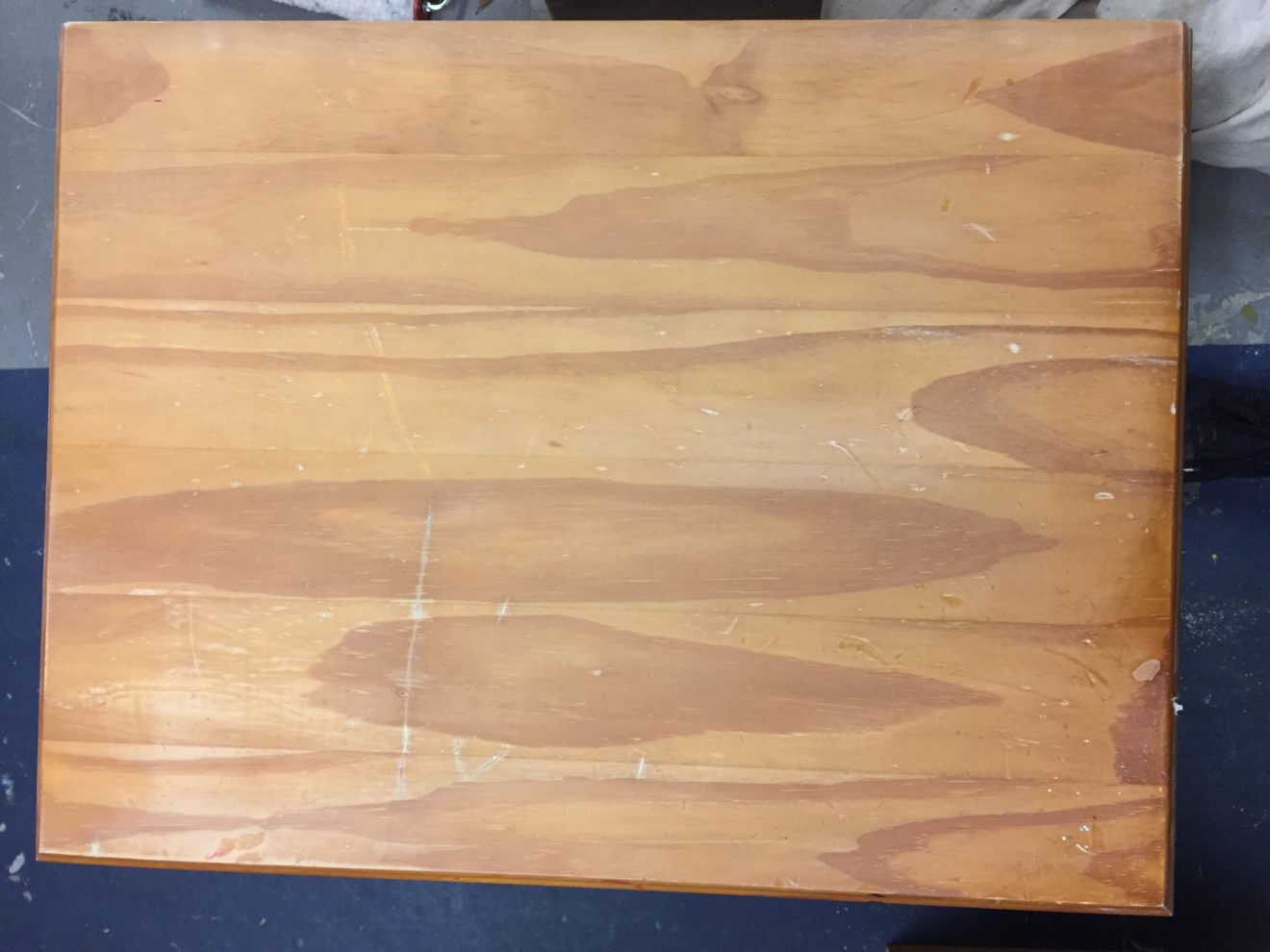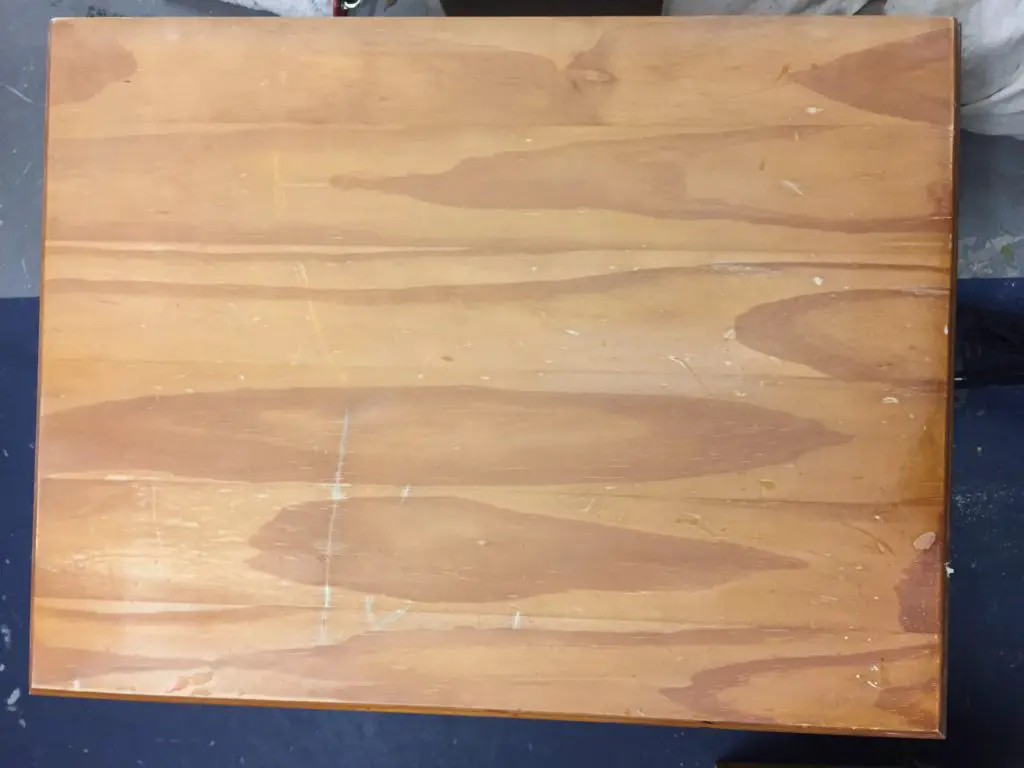 Step 3, Painting…
My son loves the color orange and has an orange pillow, chairs pad and desk accessories in his room, so I was trying to match those as best as I could.  I went to Home Depot and Lowes and picked up a bunch of paint chips.  We decided on the color, Spanish Dancer and used probably 4 coats of paint on the piece.   At one point the color was sort of worrying me.  I wanted it more orange-ish.  I ended up adding some red paint to the orange to try to darken it up, but all that did was making it more red-orange.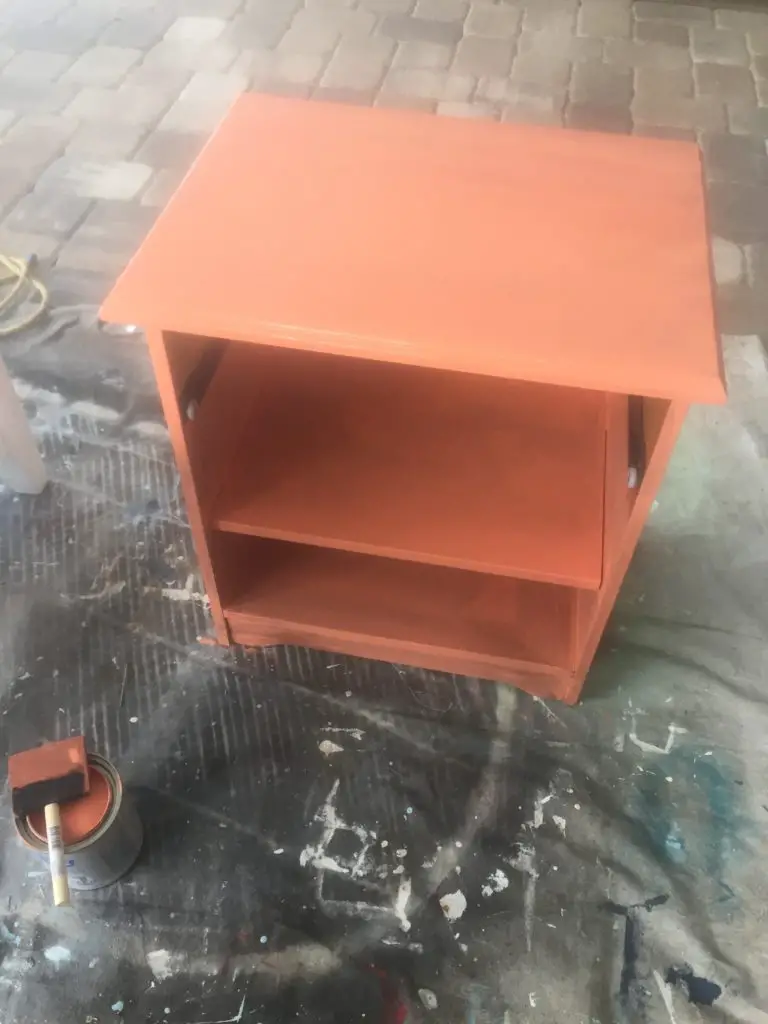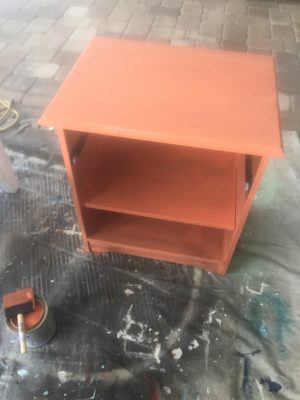 See?  It looked a little to red-orange at this point.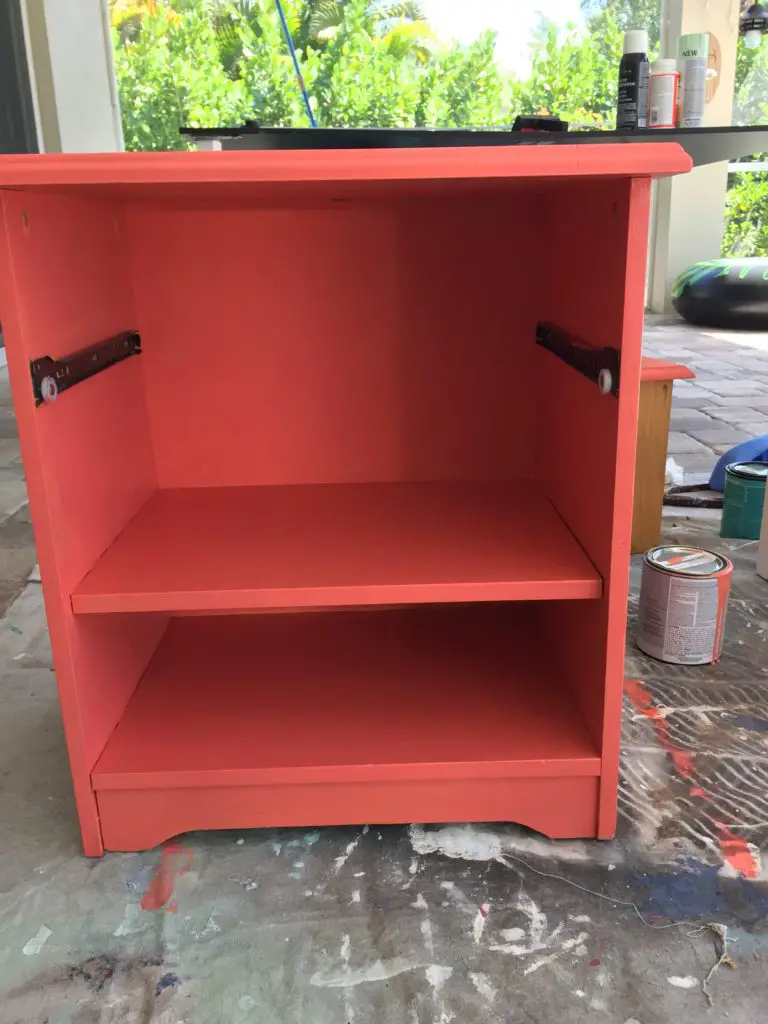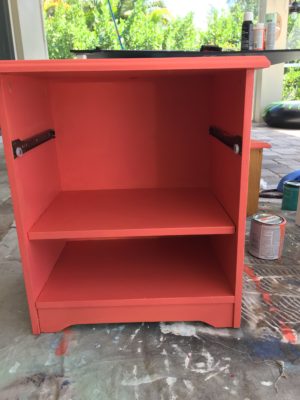 So I ended up painting over it in Spanish Dancer again.
Step 4, Addressing the top…
I wanted to apply something to the top to disguise the scratch. I had just done a similar treatment to this old end table with great results. My son had the idea to apply a 3D picture to the top.  We found this wrapping paper on Amazon and thought it was perfect since he has navy blue in his room too.  It was very pricey for what they ended up sending us, but I went for it anyway.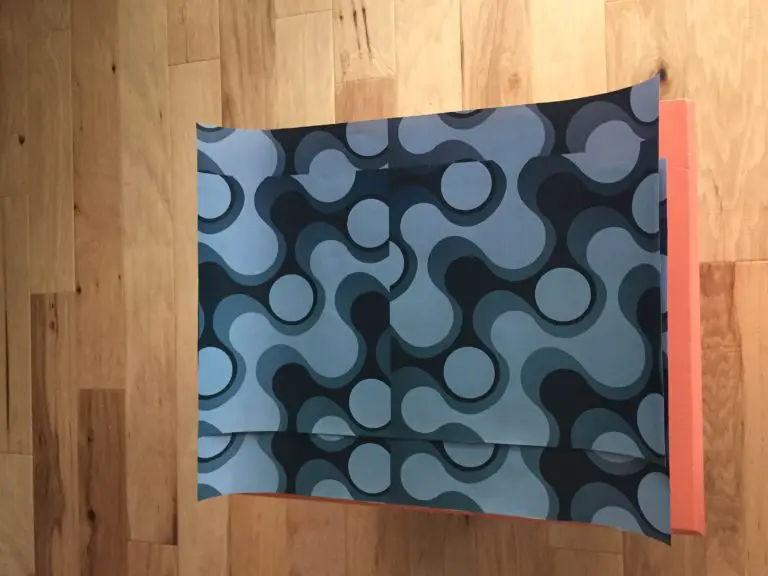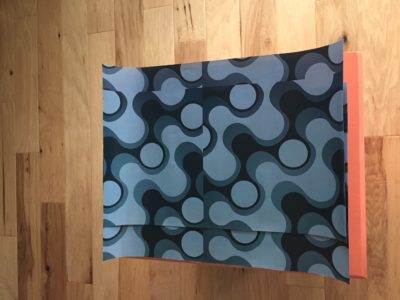 I sprayed the back of the paper with spray adhesive and slowly glued the paper to the top of the table, spraying the glue a little at a time.  I sort of messed it up, but there was no turning back…see all the bubbles?  I had to work those out with my smoothing tool.  Truthfully, it still doesn't look perfect, but does look a lot better then the picture below.  In my past experience using Mod Podge, the bubbles do end up 'laying down' over time.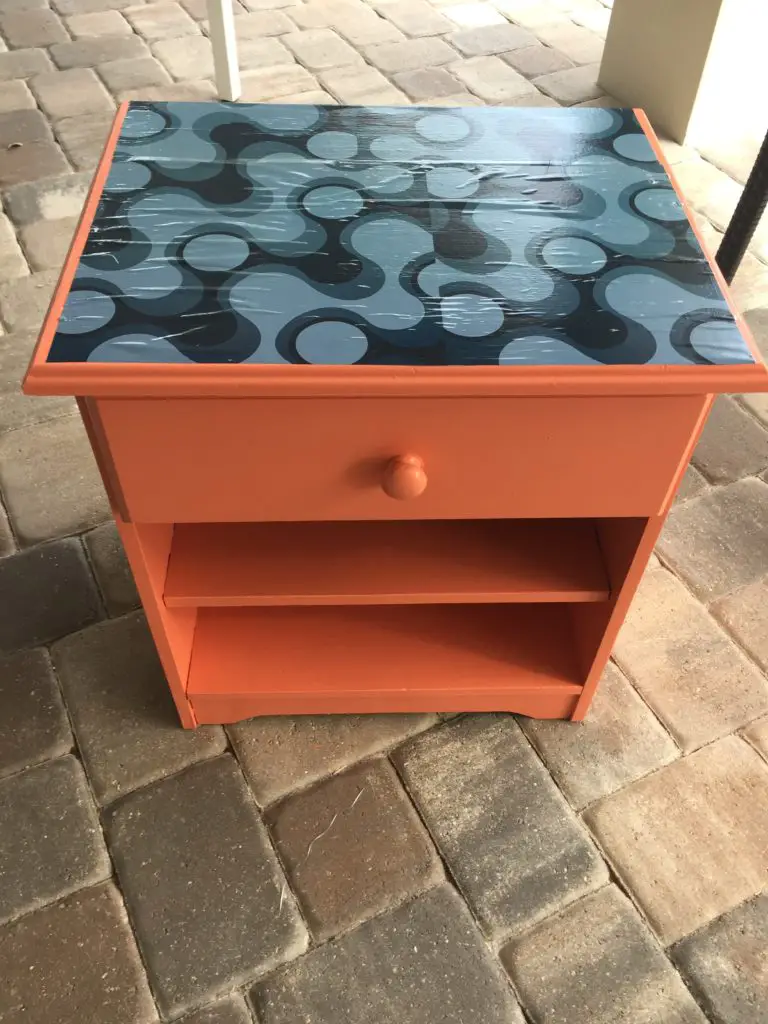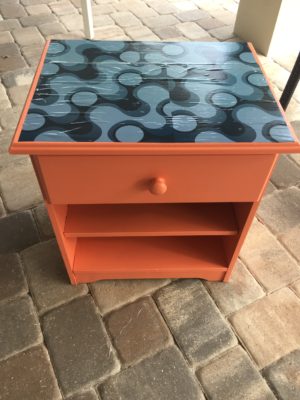 Finishing Touches…
I have to say, I was thinking this may not have been my best work.  However, once I put it in my son's bedroom and added some finishing touches, it ended up looking pretty darn good.   Now he has storage next to his bed for books, his glasses, a light, etc.  And most importantly, he loves it and thinks it's 'epic'.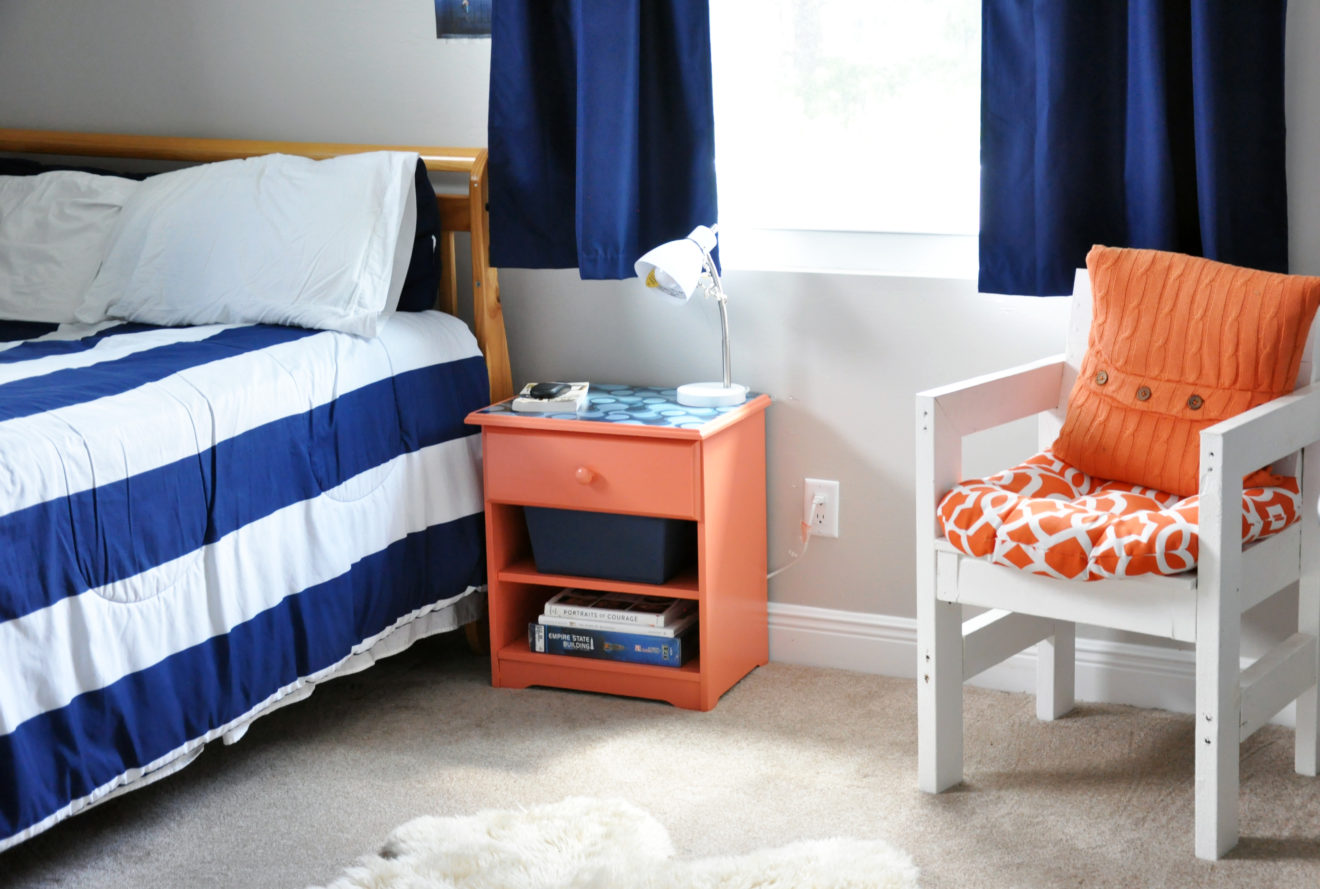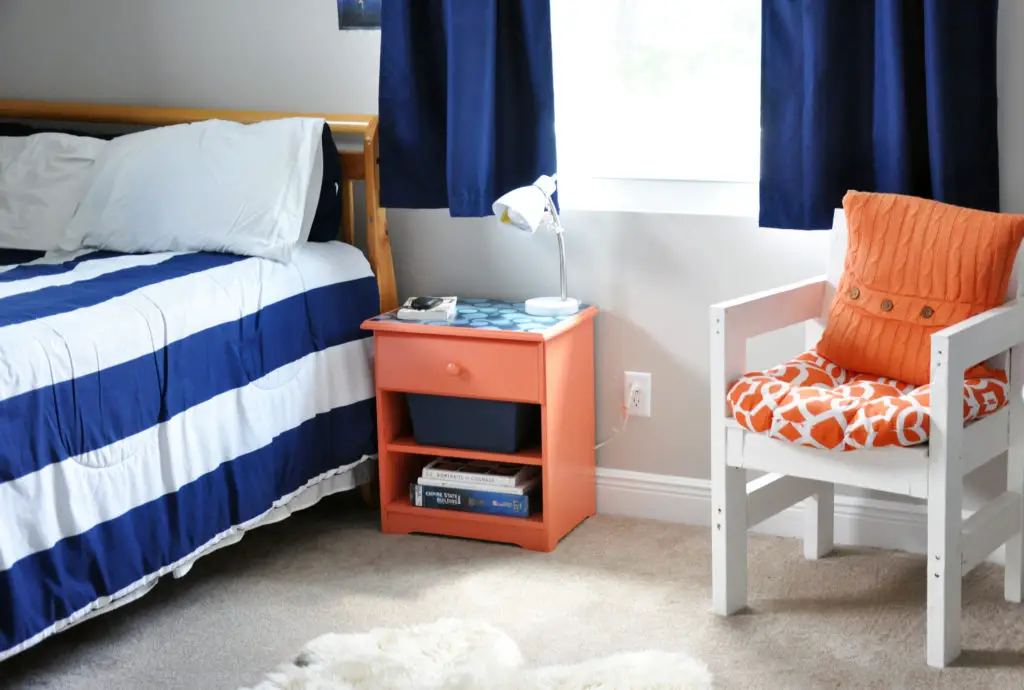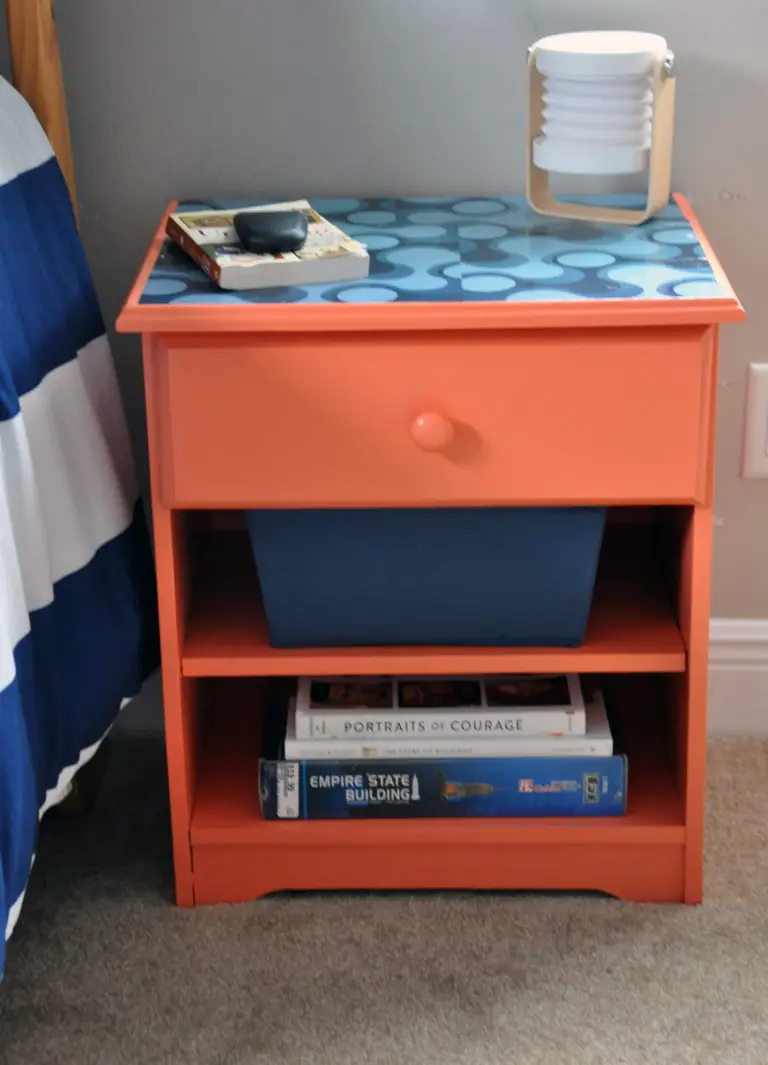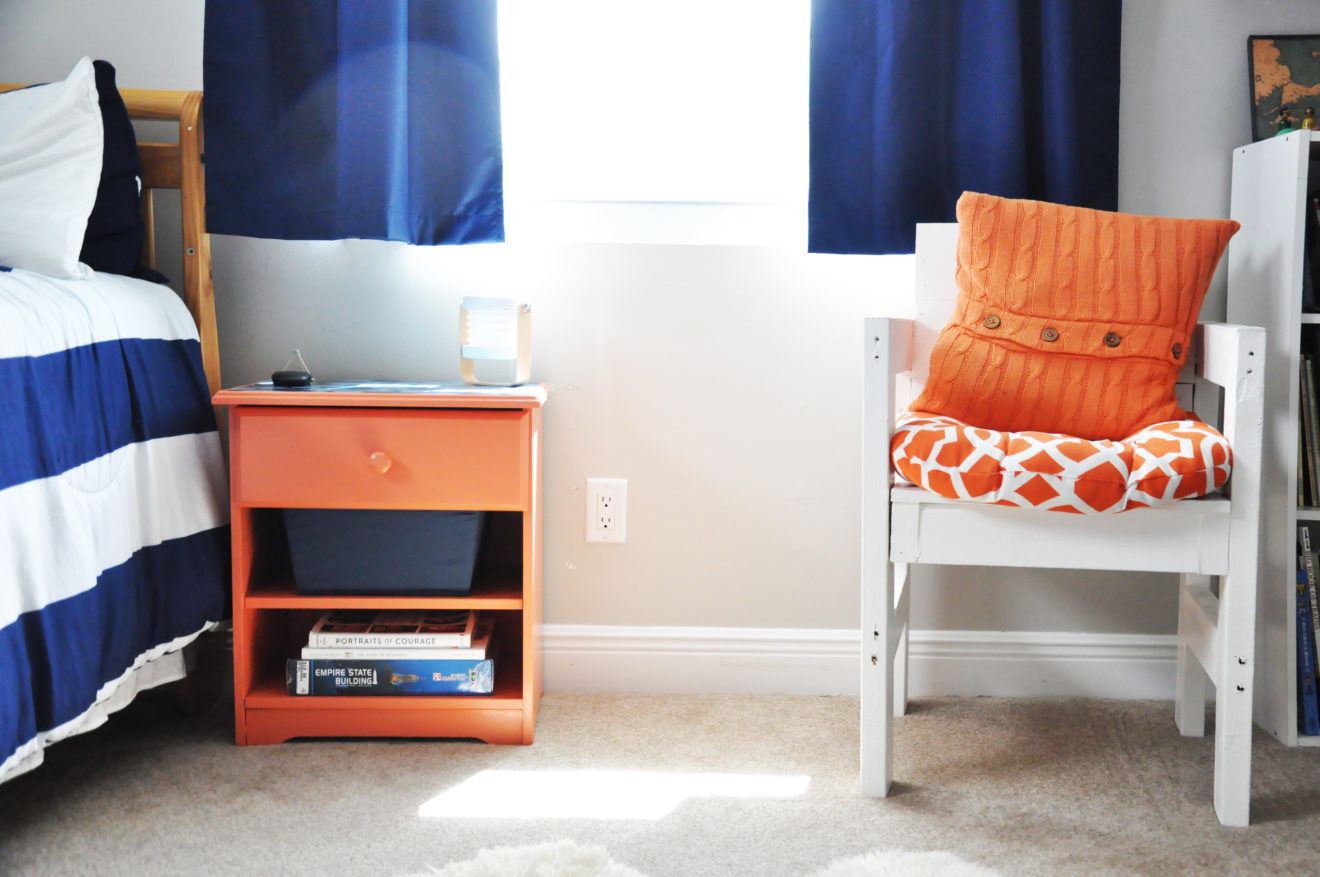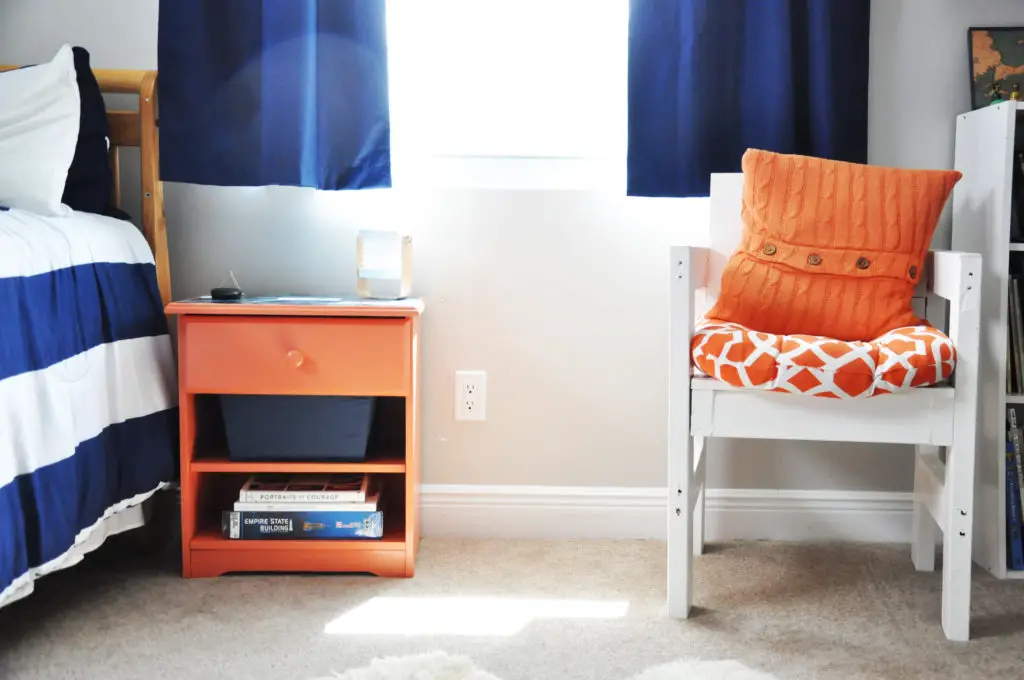 Overall, not bad for a $10 table.