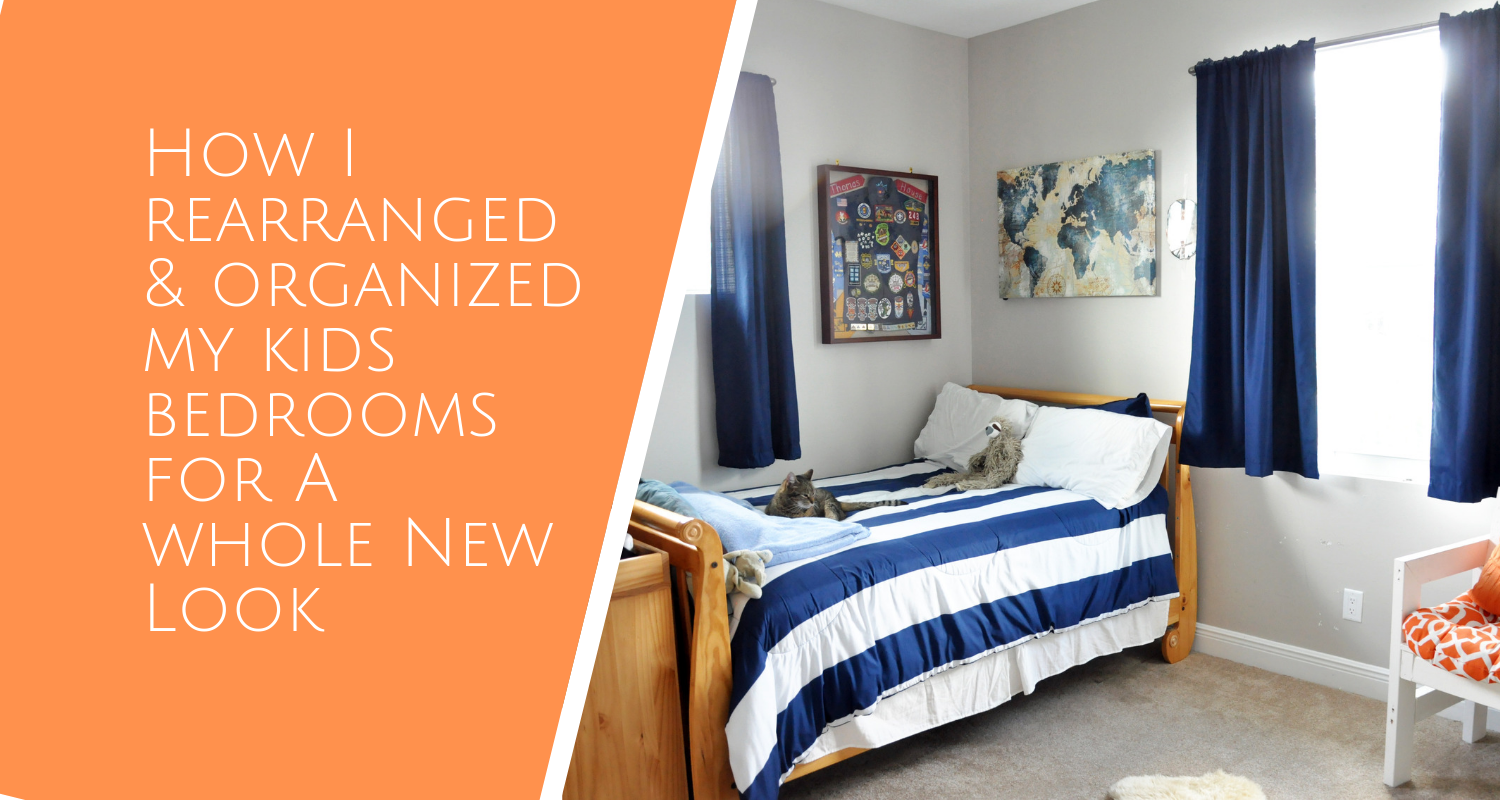 Rearranging my Kids Bedrooms
I feel like I am constantly moving accessories and little things around in my living area, but I never completely rearrange the big stuff.  However, one of the easiest things you can do to update your home is rearrange your furniture, purge and organize.  Best of all, it is completely free.
I have two sons in two different schools.  One is in a private middle school and the other is in public elementary school.  As a result they have 2 different school vacation weeks.  My middle schooler is off this whole week and wanted to rearrange his room.  We spent half the day yesterday doing this and it looks so amazing and feels like a whole new room!  And best of all he is so happy with it and it cost us nothing to do.  And when my younger son came home from school and saw what we had done, he said he wanted to do the same thing in his room too.
Here is how it looked when we started.  He is my MESSY child.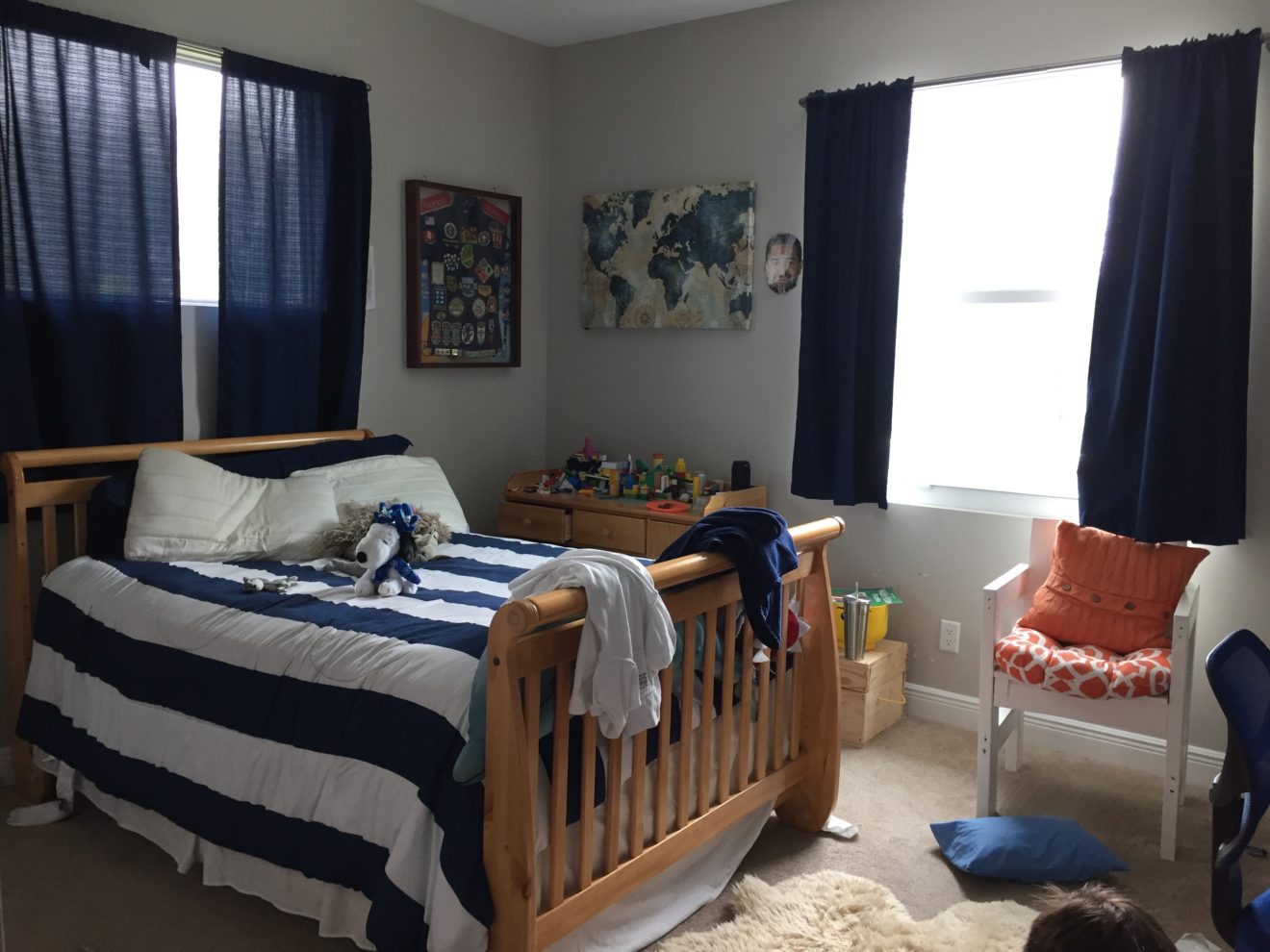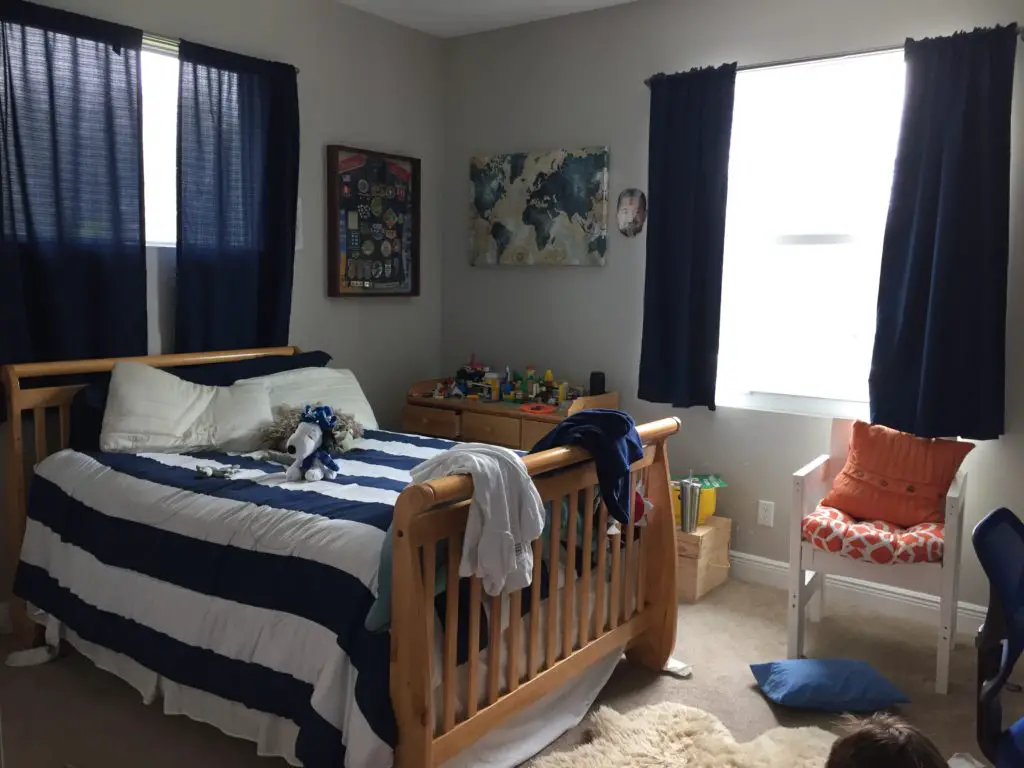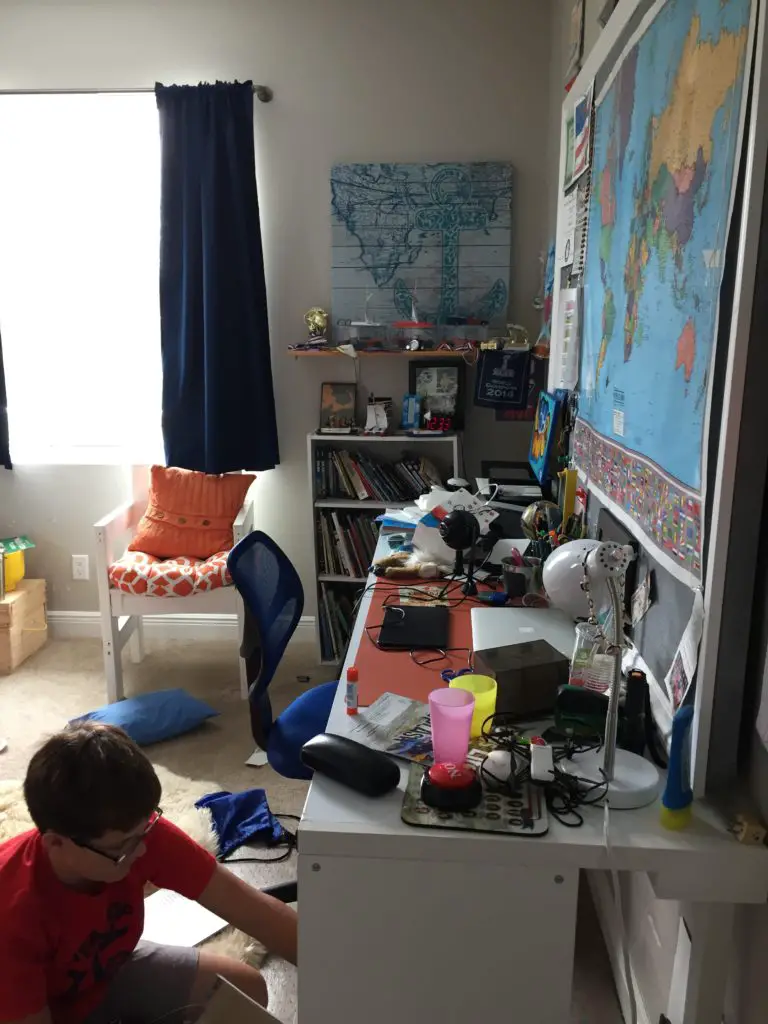 GAH!  I mean….what a mess, am I right?
Below is the DIY Desk my husband and I made for him using a hollow core door and some cube storage.  He loves it and does his homework on it every single night, which is why it is such a mess.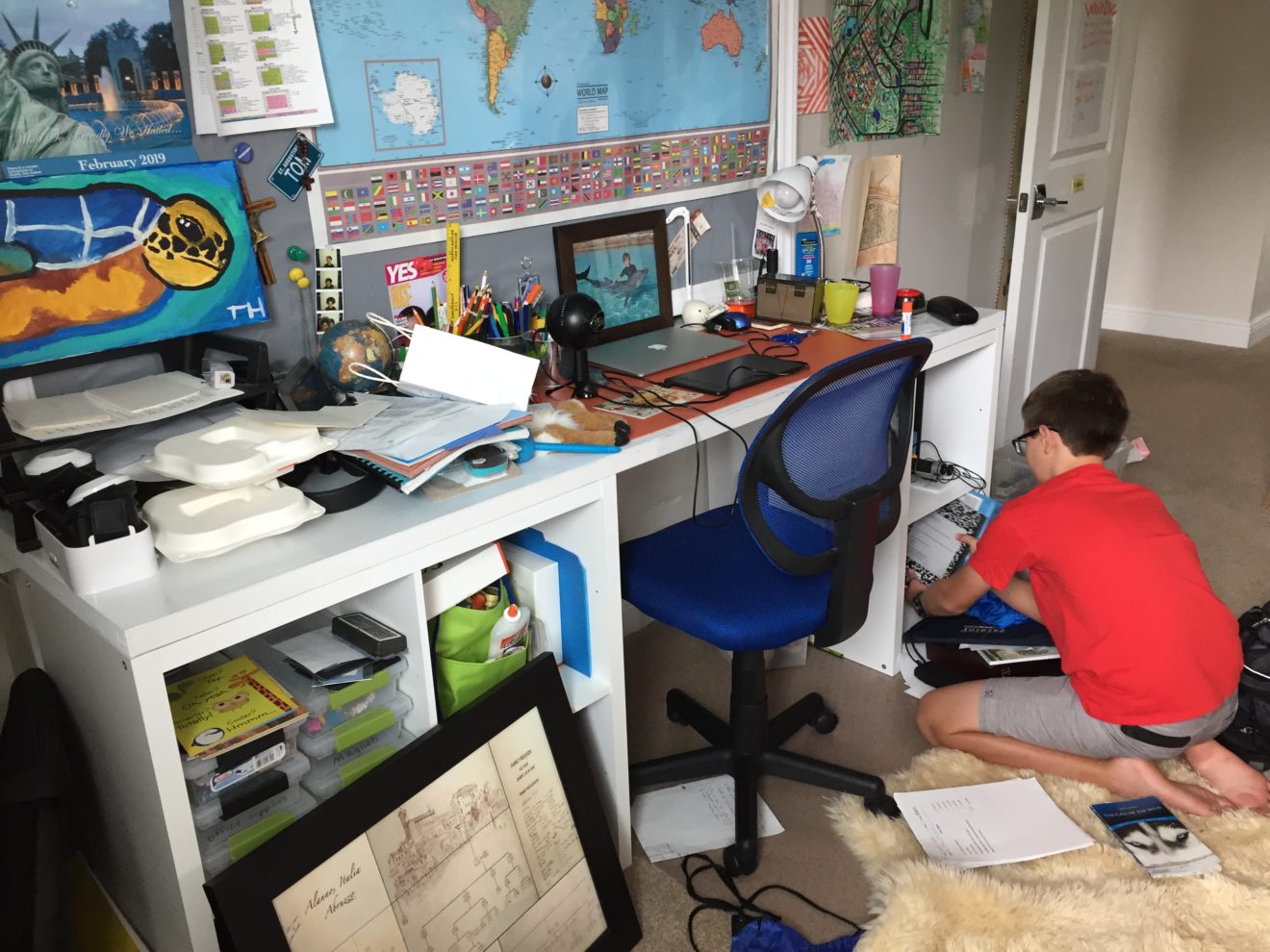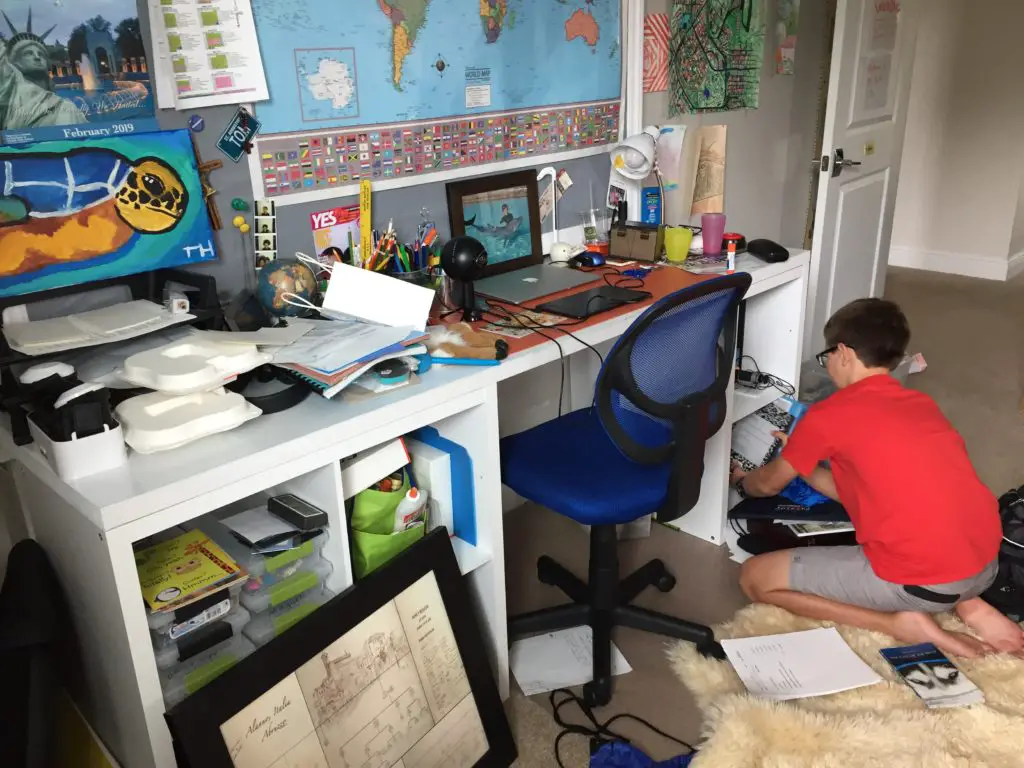 What we did…
He worked on organizing and getting rid of papers, junk, etc on his desk while I tackled the closet.  He threw away/recycled tons of old school papers and other junk.  I began on the closet and found a bunch of clothes that don't fit him anymore and lots of old junk/toys that we will either donate or toss.  They have very good sized closets with lots of shelves for storage.  I organized the shelves and all his stuff the best I could, putting like things together.  Games, etc on one shelf, all his scout stuff in a bin, wires/cords/etc. in an organizer, clothes hanging or folded neatly.  You get the idea.
How we Rearranged…
As for the furniture, all we really did was move the bed to the corner and move the bureau to the foot of the bed, and it totally opened up the space (see pic below)!  We measured the bed first to make sure it would fit, of course.  Then we got rid of one piece of furniture, a tall skinny shelf (that I will repurpose), which was in the corner and never really looked right in the space anyway!  (We've had this furniture set since the boys were babies.  They started as cribs that later turned into beds.  They are well loved, but buying a new set is not in the budget at the moment.)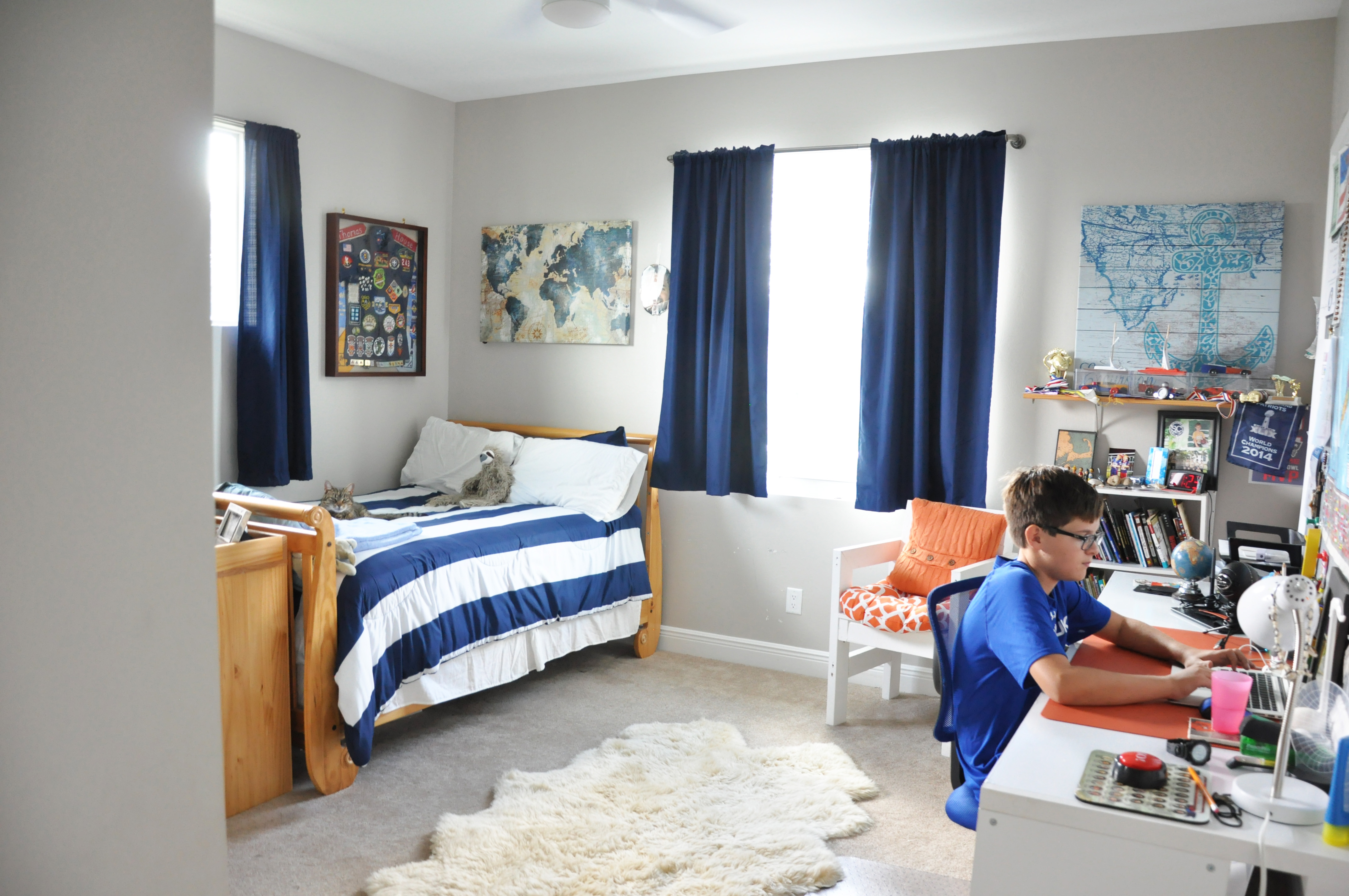 The OCD in me would prefer if he took all his artwork off the walls.  It looks so messy and cluttery but he thinks the opposite and wants to see 'all the color' on the walls so I let them stay.  It is his room after all and I want him to have a say in how it looks.  I even debated taking them all down for these photos, but then thought I should just 'keep it real'.  Also I am realizing after looking at these photos that I need to purge his bookshelf too.  I am sure there are lots of books that we can donate.  Anyway, looks so much better and cleaner.  Not sure how long it'll stay this way though.  Time will tell! HA!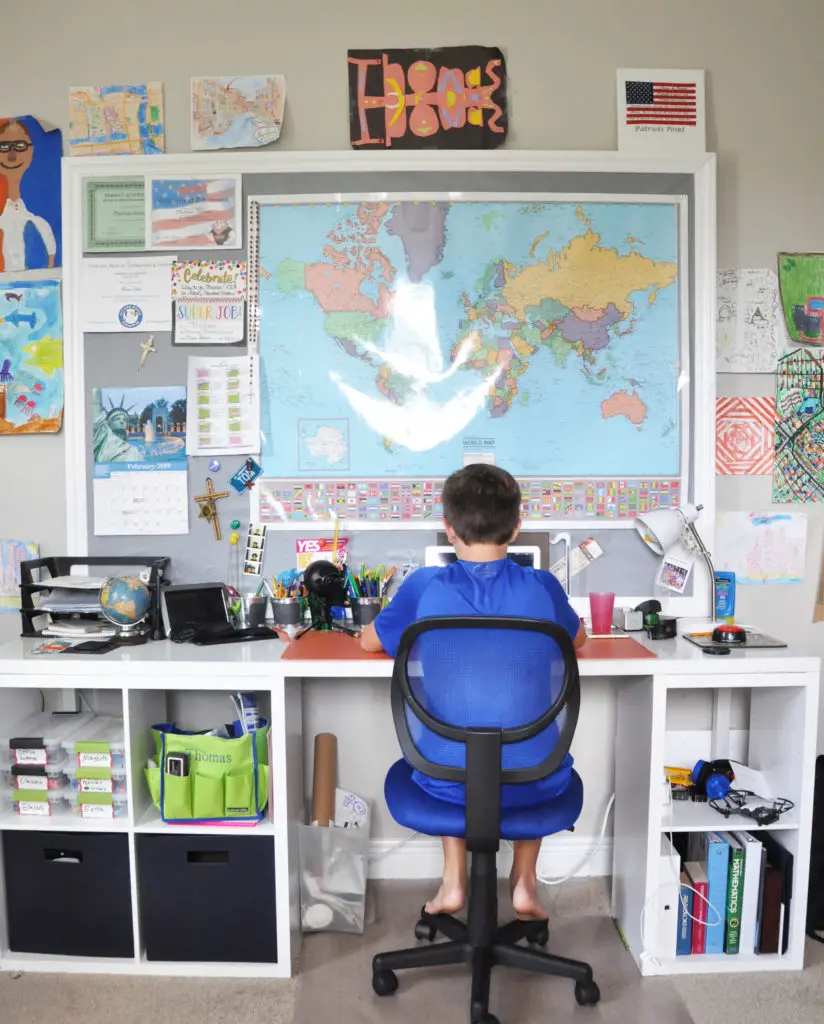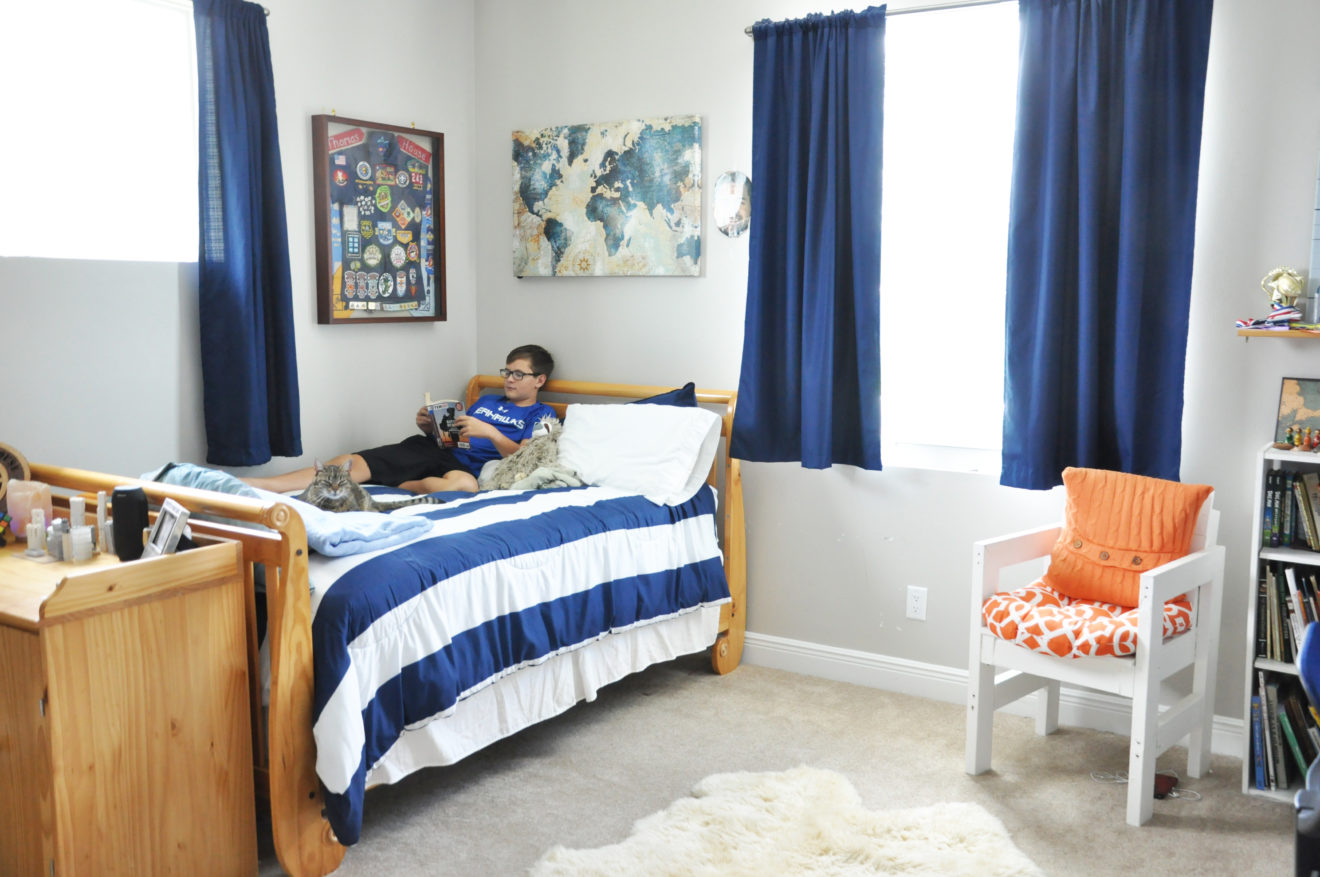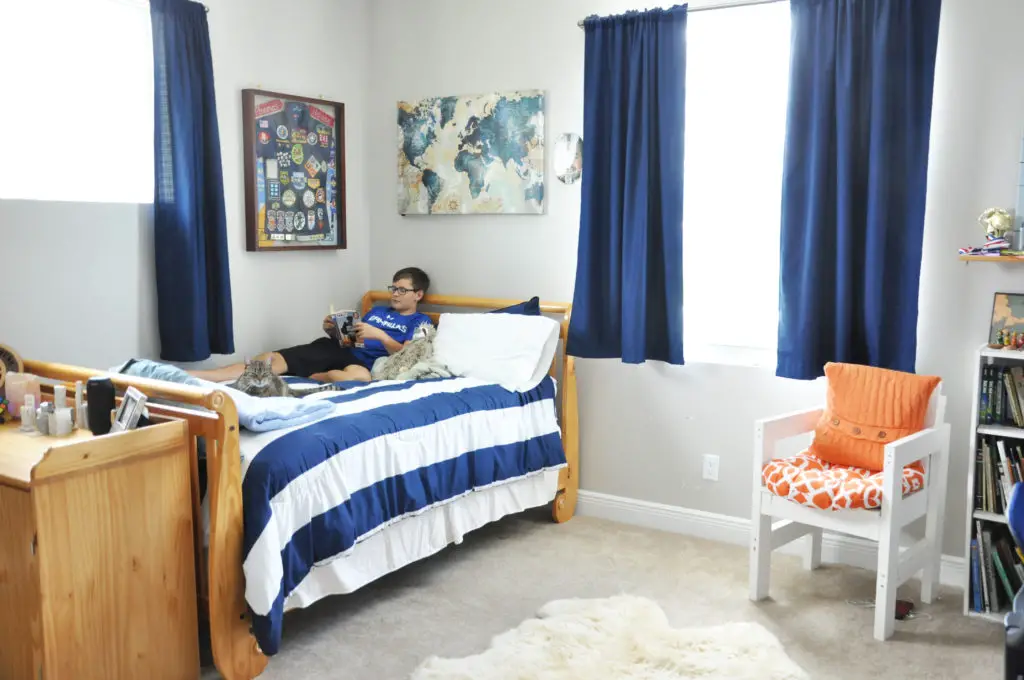 Below is a view from the bed.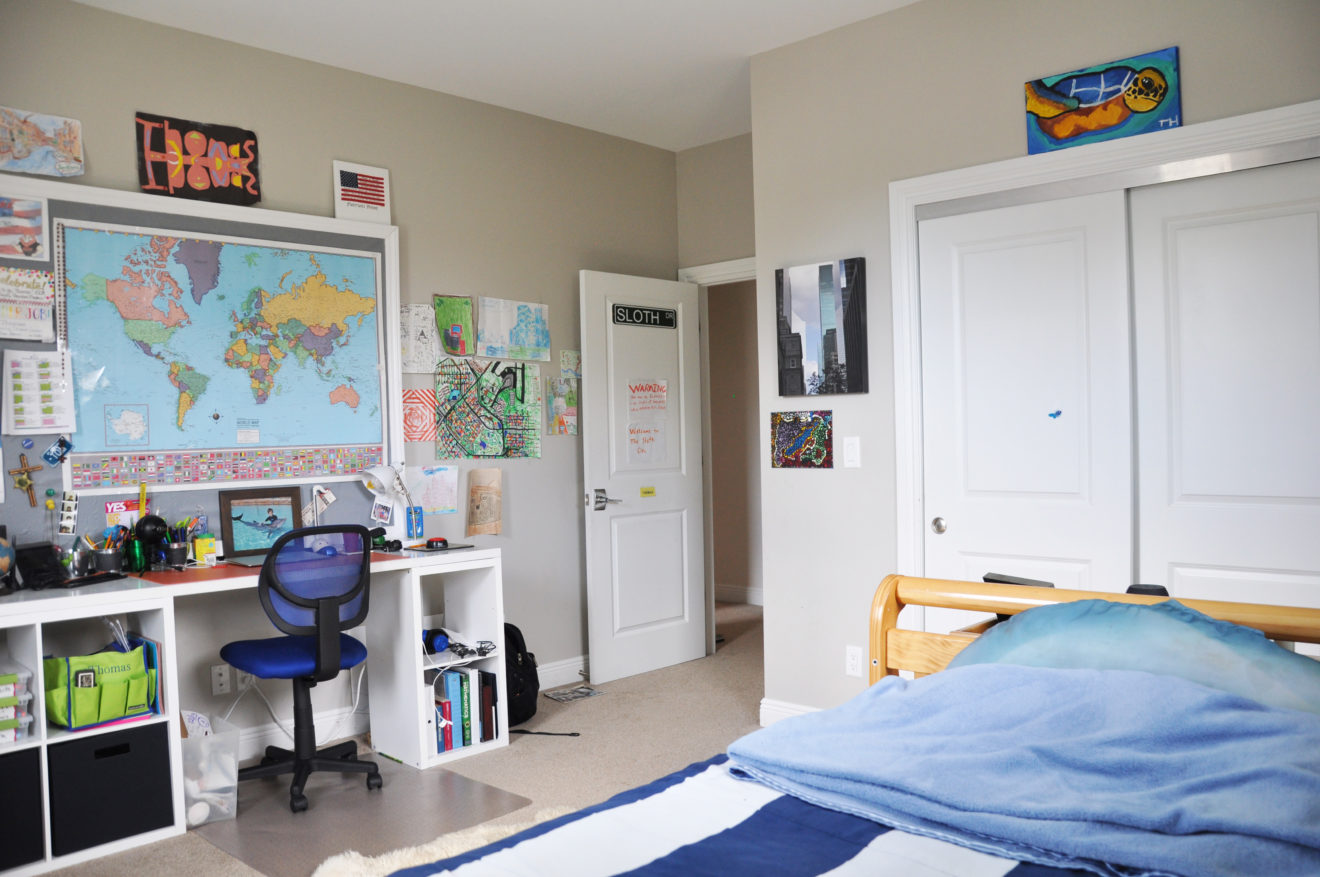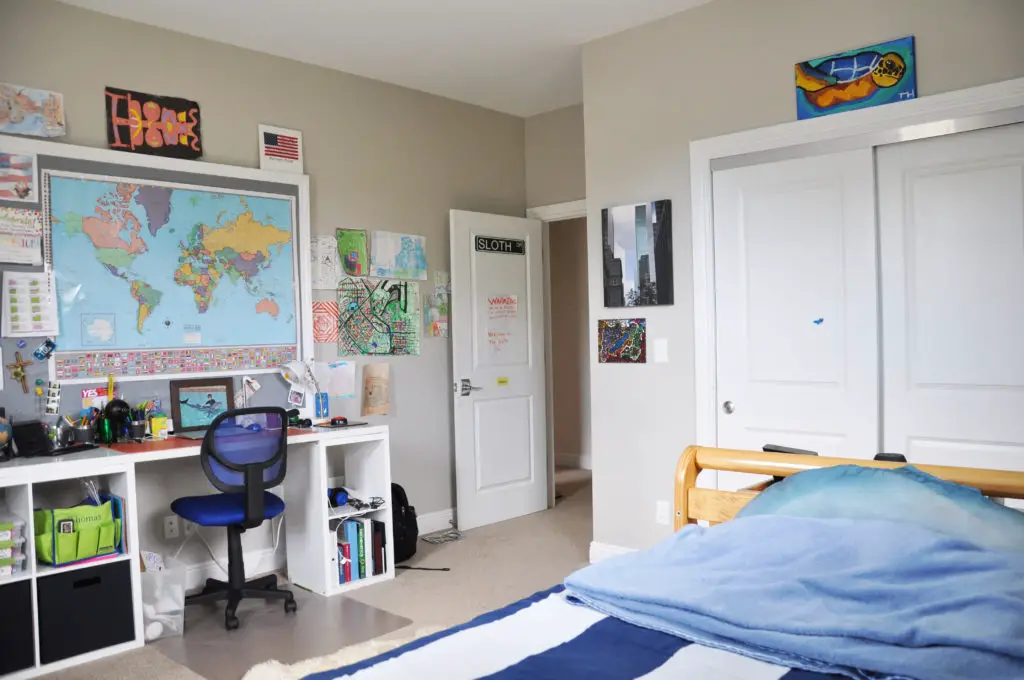 Here is a look inside the closet.  There is TONS of space in here.  It's not quite a walk in but plenty big and lots of shelving.
Our cat does not look impressed with my re-decorating skills.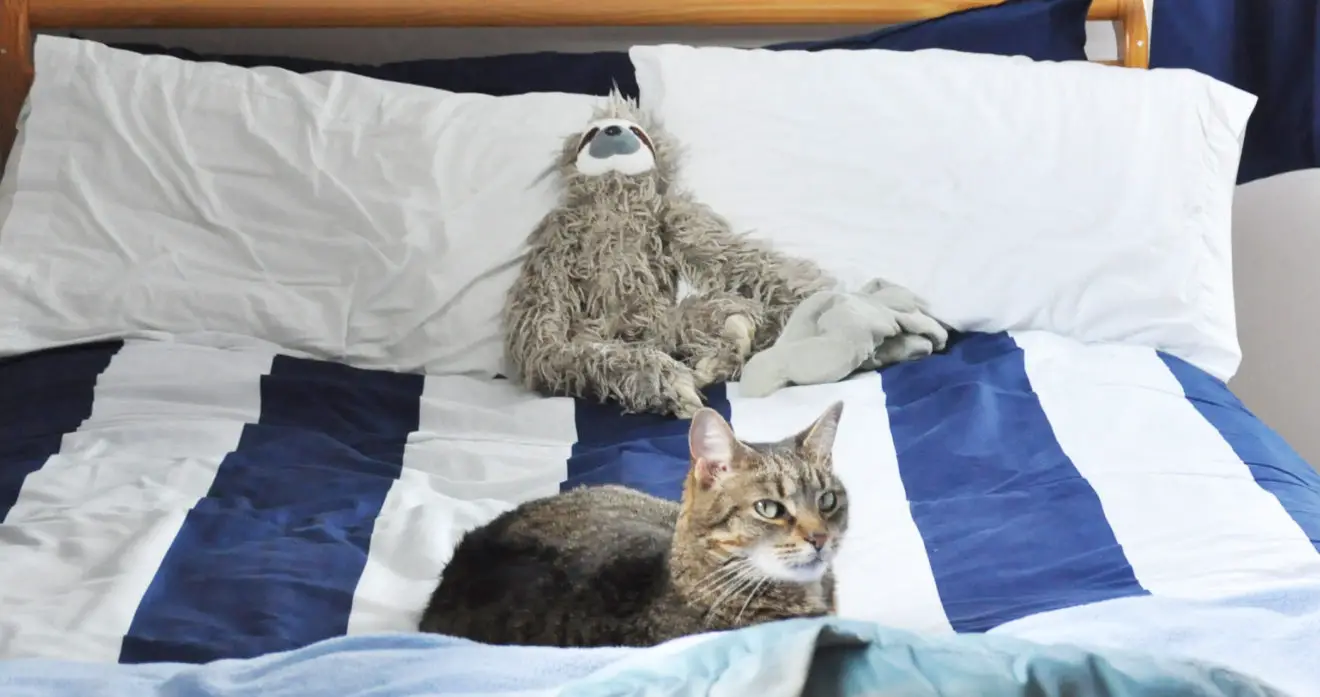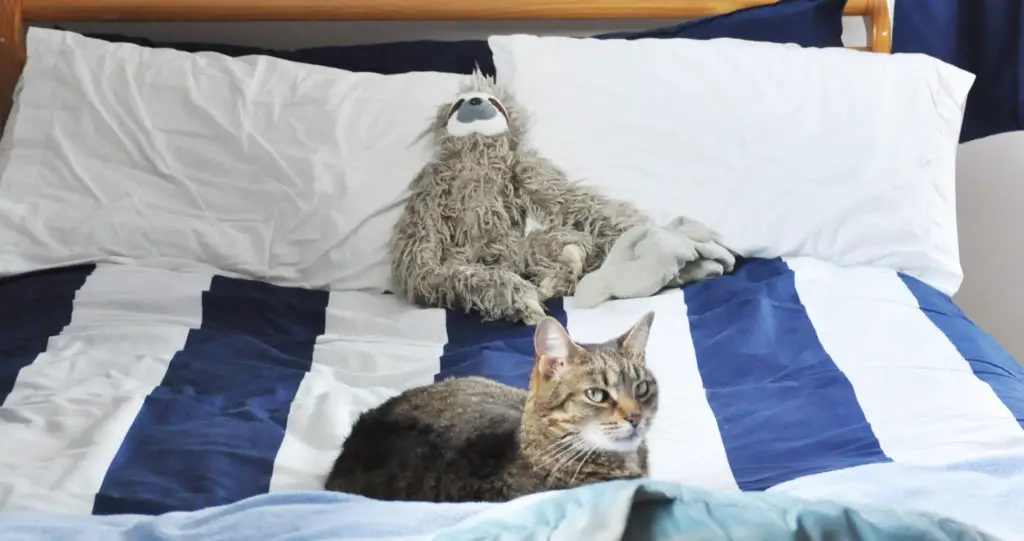 Anyhoooo….this was just a quick post to show you how easy it is to transform a room just by rearranging the furniture and getting rid of stuff.  All it takes is some time, patience, a little muscle, and some creativity and you can completely change the look of a room and it feels so good when you're done!
One more Before/After…
I hope you enjoyed this post!
In case you like anything in this room I made a shopping guide for you.