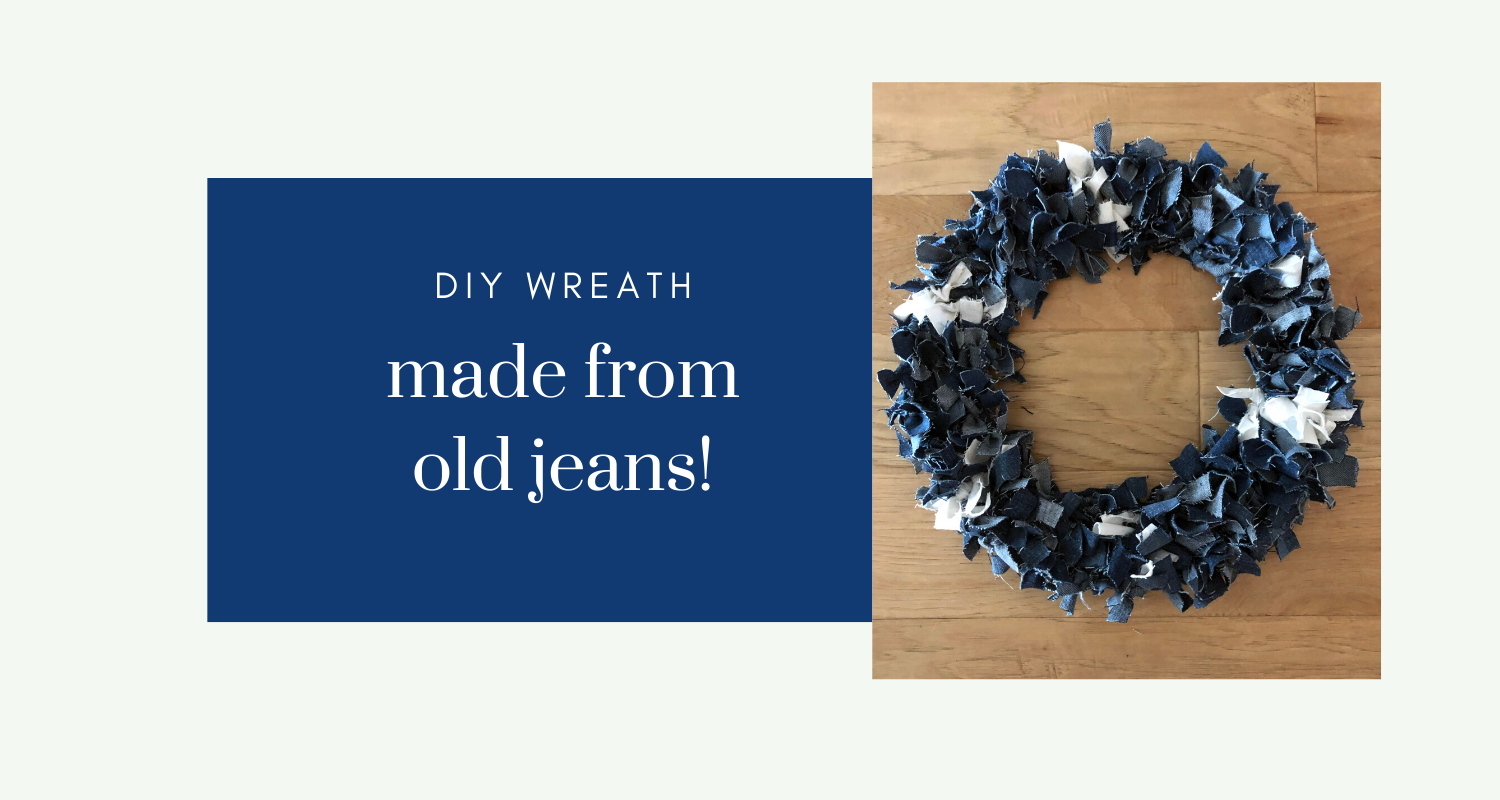 I wanted to create something for the Instagram #StopDropandDIY challenge.  The challenge was to make a DIY project using textiles for under $25.  You can check out all the other projects on Instagram by searching that hashtag.  There are some GOOD ones!   And please check out my past #StopDropandDIY challenges here and here.
Here is what I came up with..
Recently I was cleaning out my closet and found a bunch of pairs of jeans I didn't wear anymore.  I cut a few of them into shorts.  As a result, I had a bunch of left over denim pieces that I saved. What I was saving them for I didn't know yet, but I knew I'd find some use for them eventually.  When this challenge was announced I thought, hmmmm, I have all this denim material in my closet.  I should use that for my textile for the #StopDropandDIY challenge!  But, what could I make with them?  I checked Pinterest for ideas and found that others had made DIY denim rag wreaths out of old denim, and I thought BINGO.  That's it!  I will try making a wreath for myself.
Materials Used and Costs
Wreath form from Dollar Tree – $1
Denim pieces – Free
Total cost – $1!!!
Here is my version of DIY Denim Rag Wreath..
This post contains some affiliate links for your convenience (which means if you make a purchase after clicking a link I will earn a small commission which helps keep my blog up and running but it won't cost you a penny more)!
Step 1, Purchase Wreath Form…
First, I bought this wire wreath from the Dollar Tree, or you can get one on Amazon.  No time to make your own wreath, you can buy them on Etsy.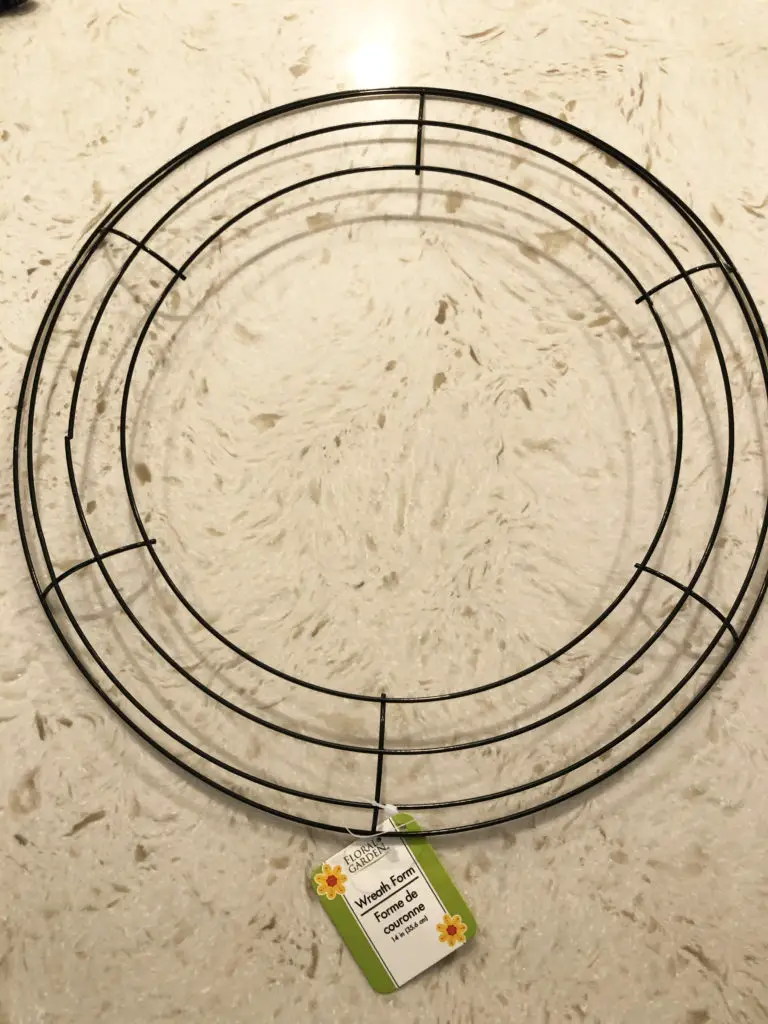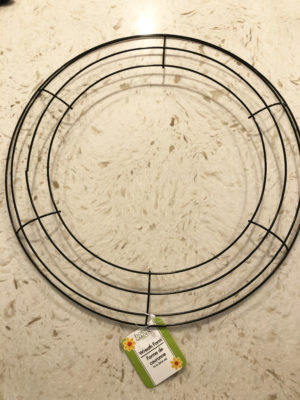 Step 2, Cut and Tie…
Next, I started cutting my denim pieces into strips.  I found that cutting them at least 6 inches (or longer) made them the easiest to tie, and you can always trim the excess off later.
Once I had a stack of denim cut into strips, I started tying them to the wire wreath, like this…and just kept tying, and tying, and tying….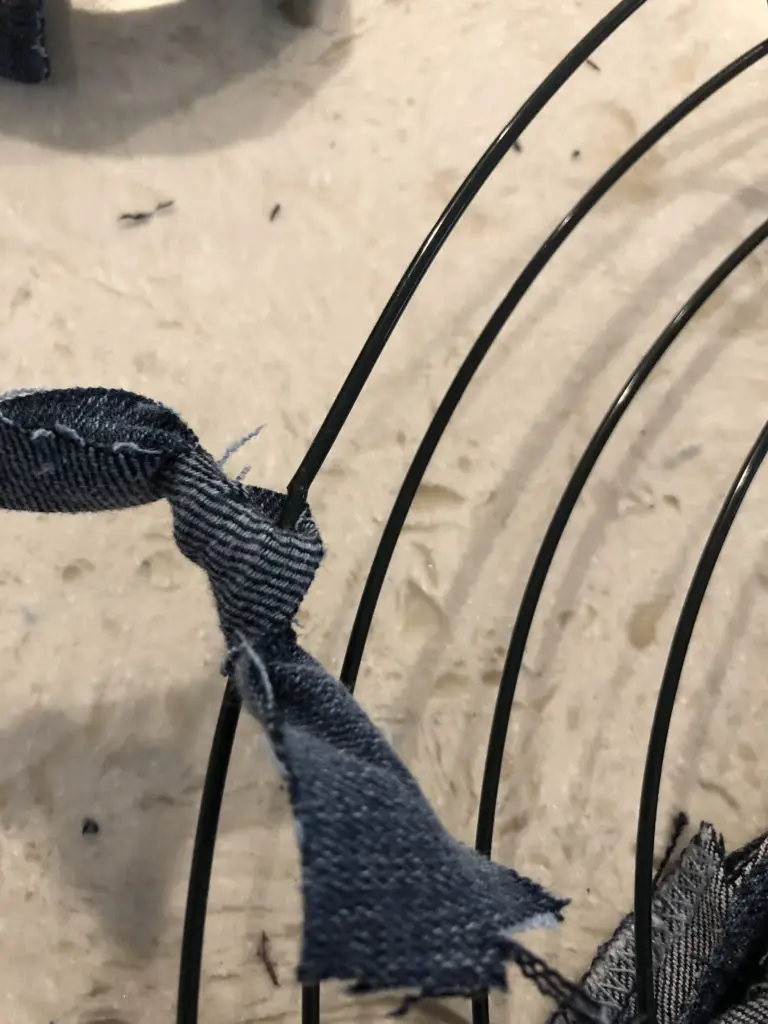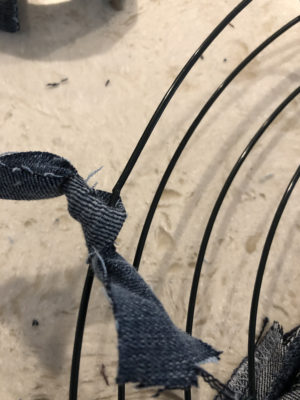 I had a few pieces of white denim too, so I decided to tie in some white on the part of the wreath where the wires cross (circled below)…
Here is how it looked in stages along the way.  I'm not gonna lie, this took a long time to make.  Probably close to 2 hours.  I kept cutting a huge stack of pieces, tying, then I'd run out and have to cut more.
Step 3, Trim Excess Material…
Once I was done tying, and since I was cutting the pieces pretty long, I had to trim them.  You could chose to keep them long if you like that look.  Lastly, I sort of fluffed them up all around the wreath until I was satisfied with how it looked.
Here is how it came out.  Looks pretty cute.  I thought about gluing a shell or starfish to it, but decided to keep it plain for now.  I can always add one later.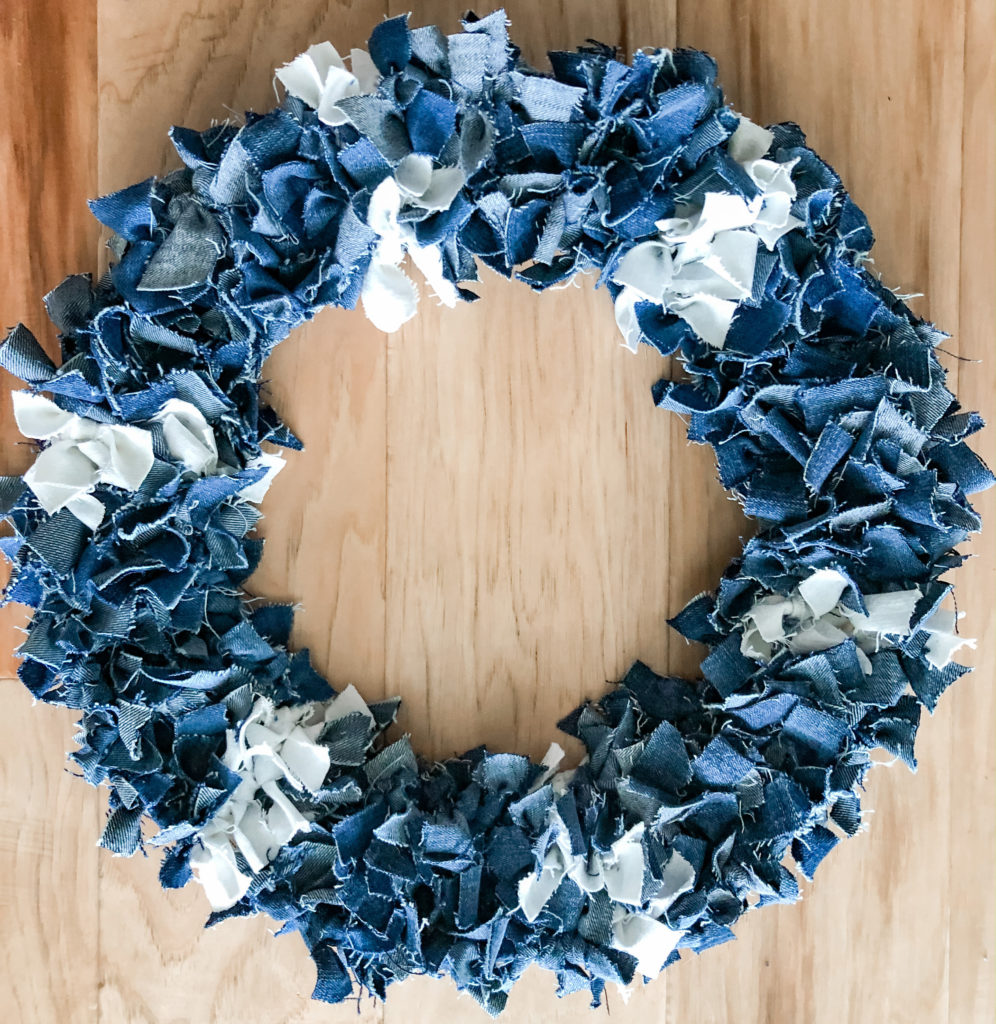 Here is how my DIY Denim Rag Wreath looks hung up in my kitchen.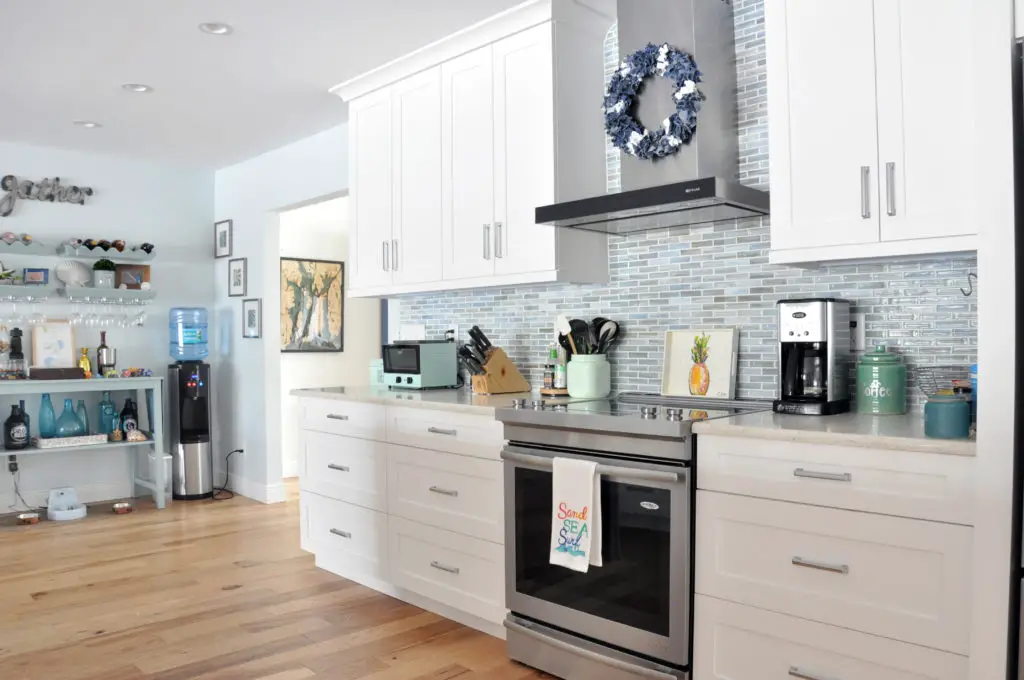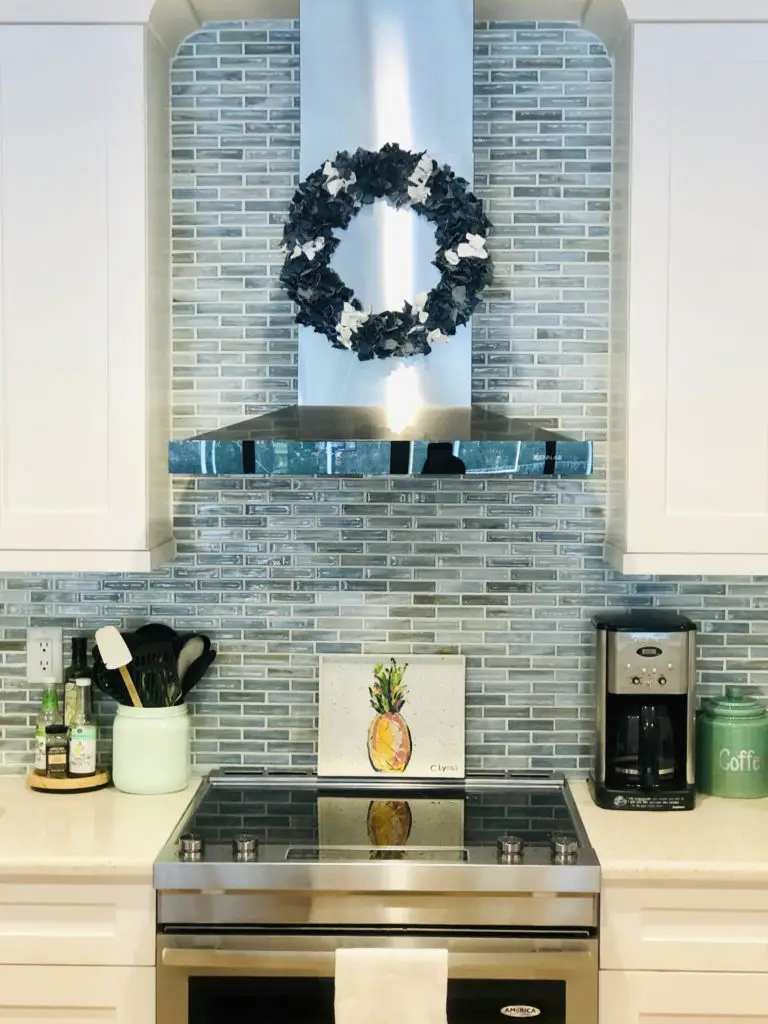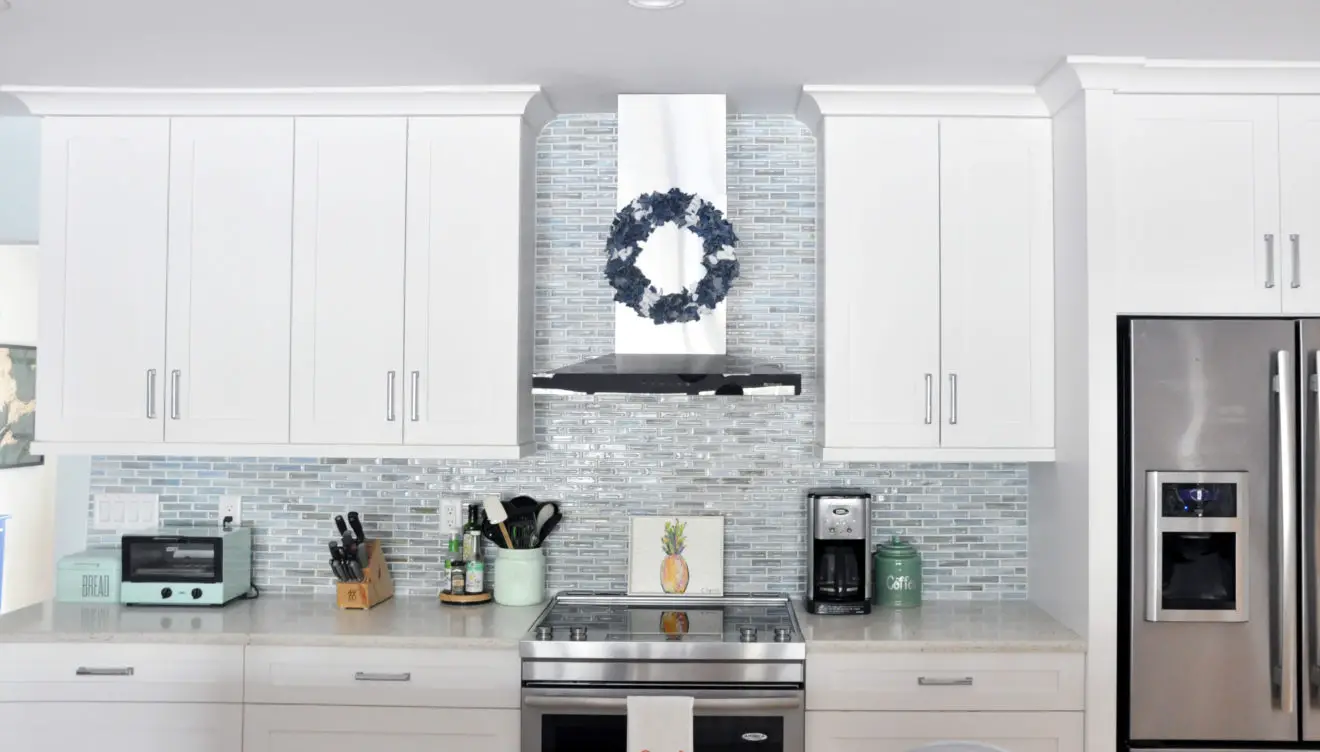 And here is how it looks on my front door…(although I think I like it inside better).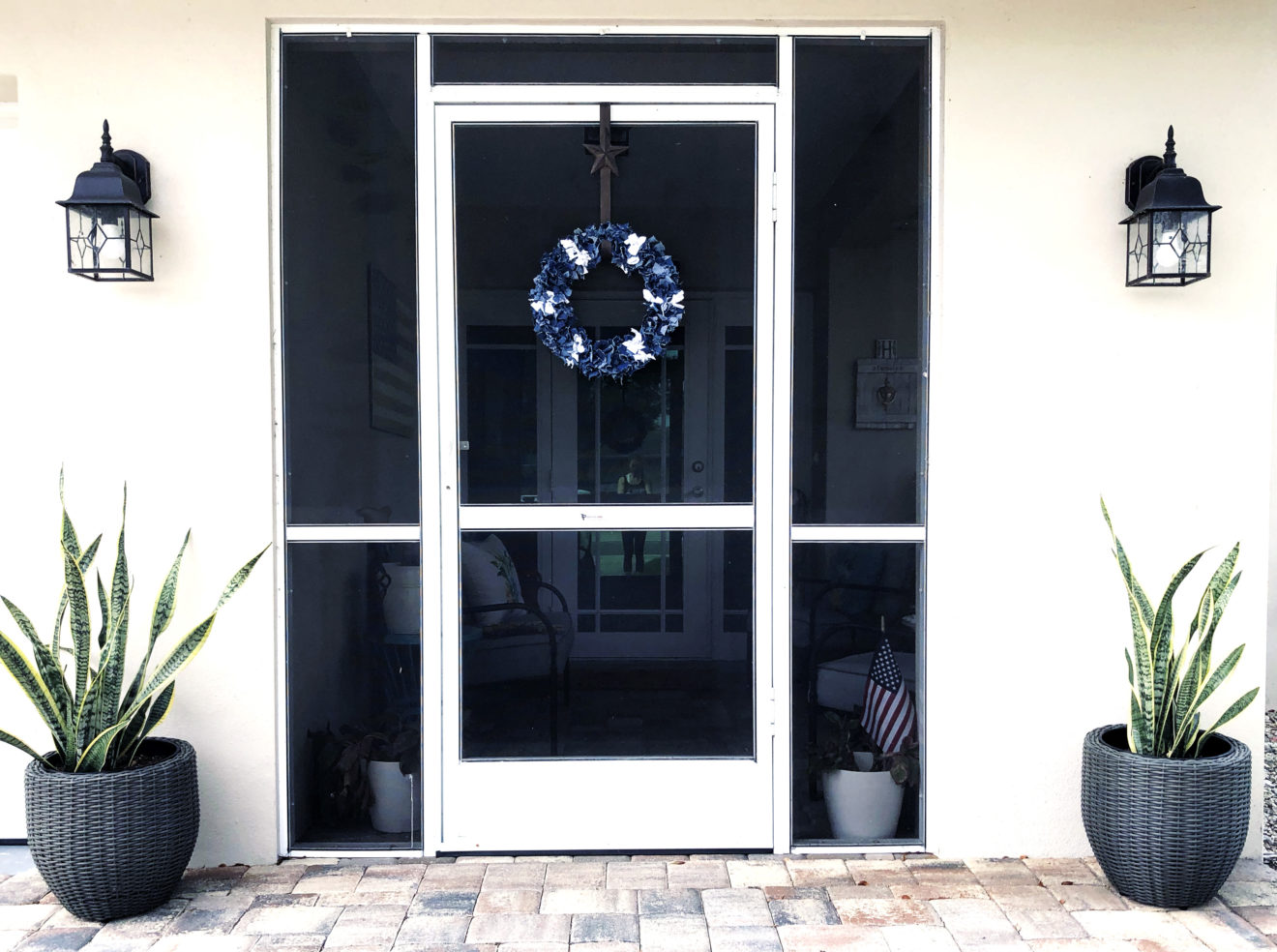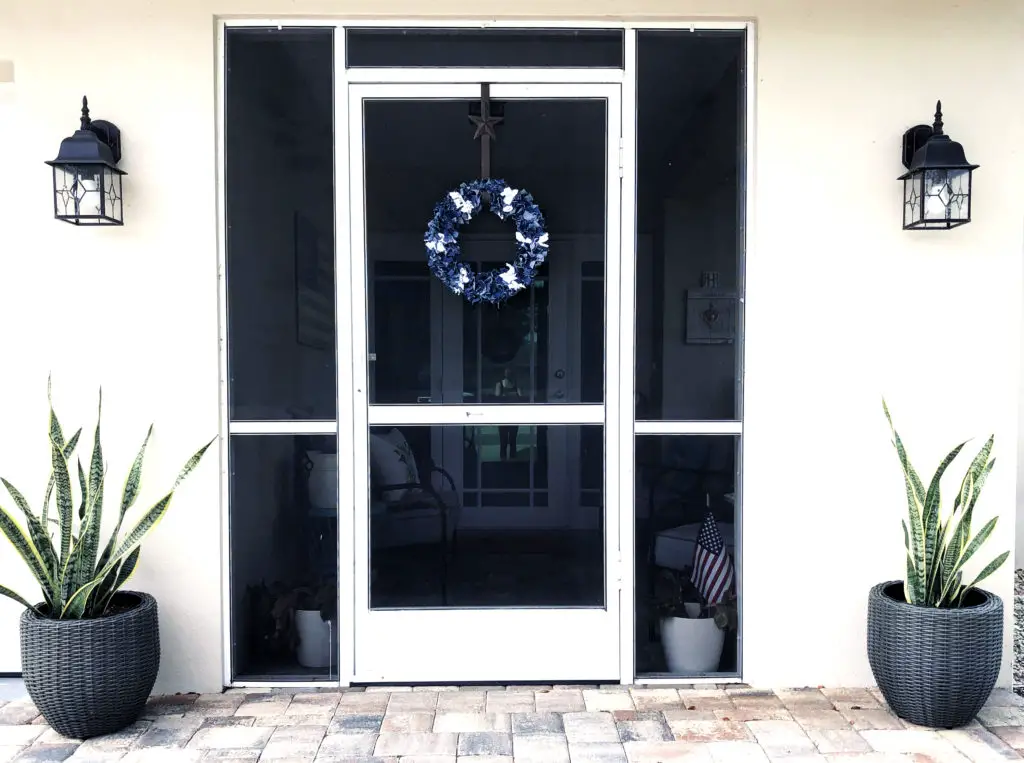 PIN for Later…