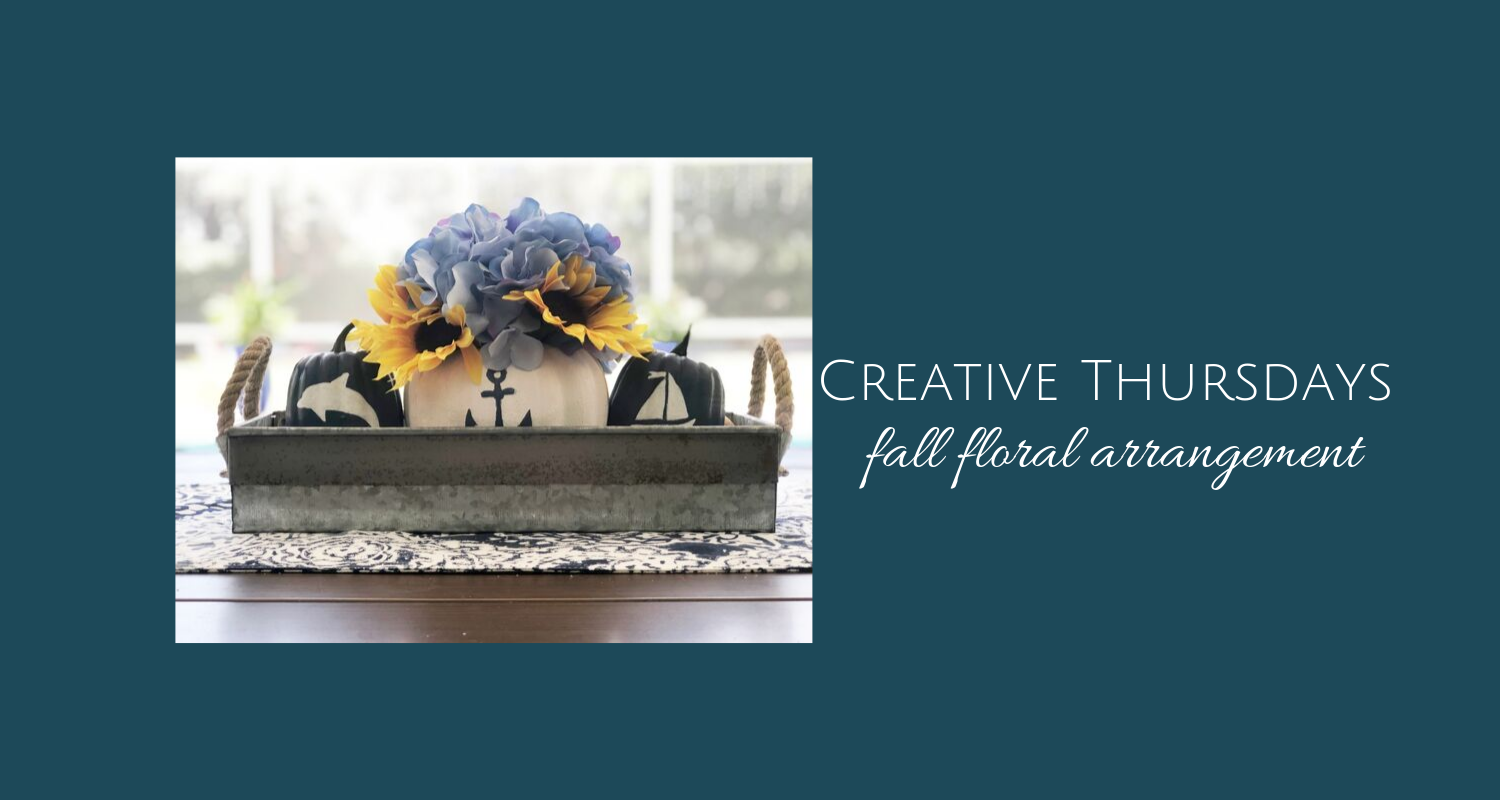 Creative Thursdays – Fall Floral Arrangement
This is the first month of a new monthly blog hop called Creative Thursdays.  Thanks to Tara from Stiletto's and Shiplap, Emily at LeCultivateur and Shae from Sweet Southern Grace for the invite.  I am more than happy to be working with such creative ladies.
This month's theme is to create a fall floral arrangement spending no more than $15, using a container we already had.  We could use both faux or real florals.  Please be sure to check out the other participants at the bottom on this post.  These ladies will amaze you.
Here is what I came up with…
Most of the items I used for this arrangement I already had at home, including the faux hydrangea, the faux sunflowers and the metal container.  I bought the 3 mini pumpkins (but only ended up using 2), the larger pumpkin and the white decorative rocks at the Dollar Tree.
I planned to make my arrangement more coastal than Fallish.  I started by painting the mini pumpkins English Channel, which was left over paint from this thrift store makeover.   Next, I carved a large hole into the larger pumpkin and then painted it white using some craft paint I had.
I also had some floral foam left over from when I made this DIY Monogrammed Succulent Garden, so I cut a piece down to size and placed it in the pumpkin.  Then I stuck the hydrangea in the middle and the sunflowers all around the sides.  I did have to cut the stem on the hydrangea pretty short using some wire cutters, and I cut each sunflower off the stems, and cut them pretty short too so they would fit into the small piece of floral foam.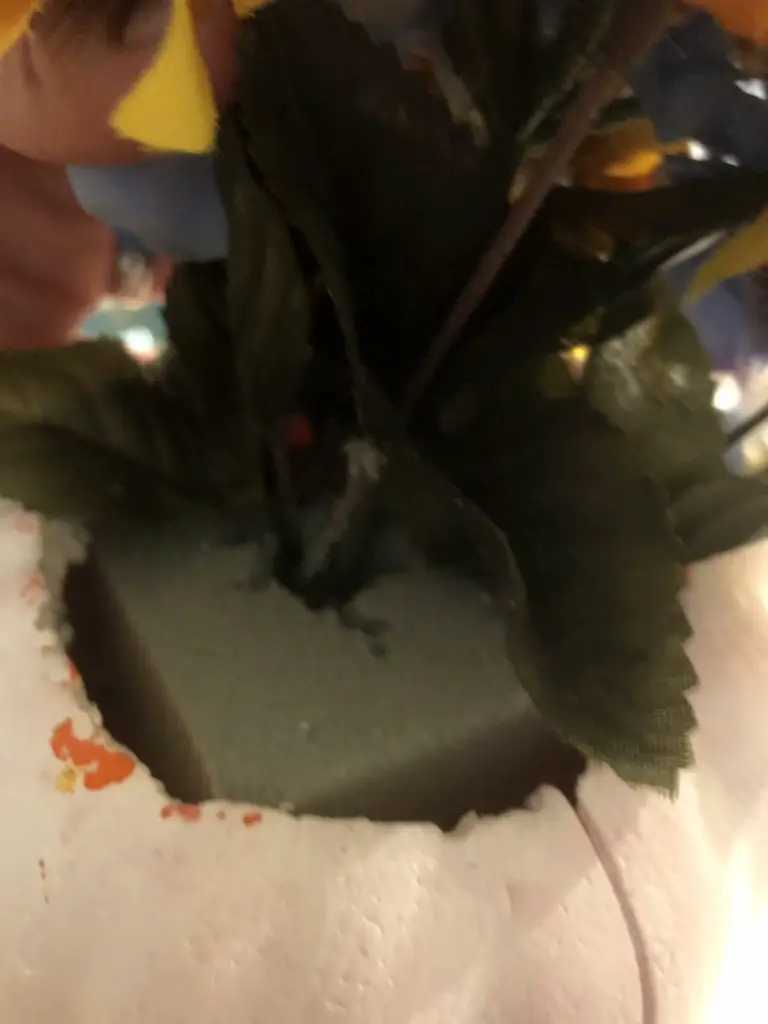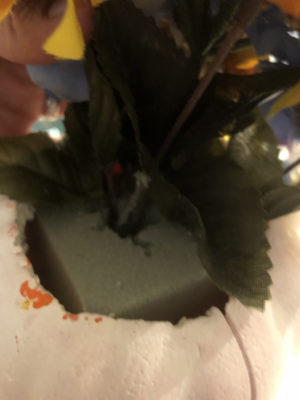 Lastly, I arranged them in this metal tray I've had for a few years, and added the white rocks and some shells. I placed it on my outdoor dining table by our pool.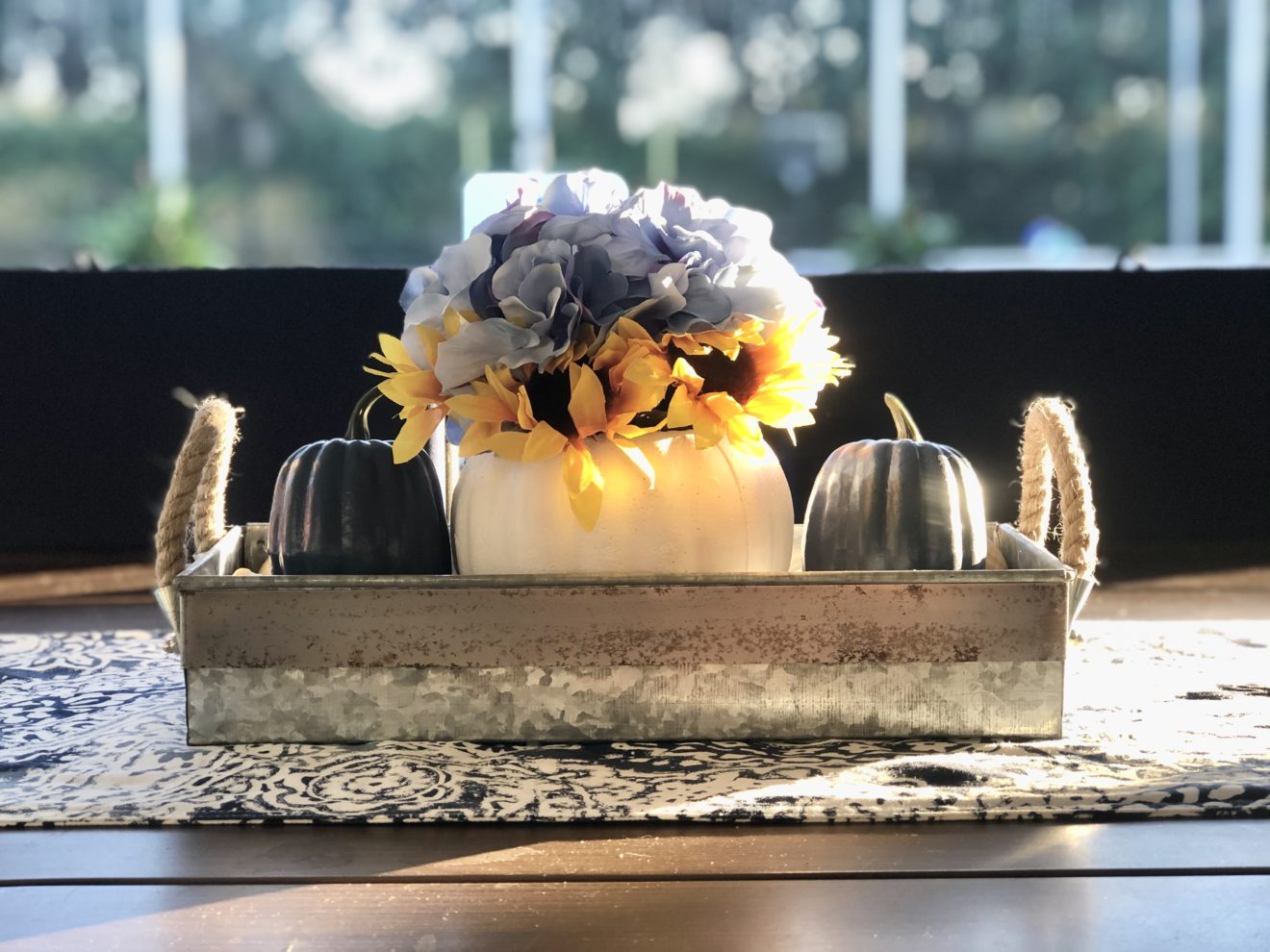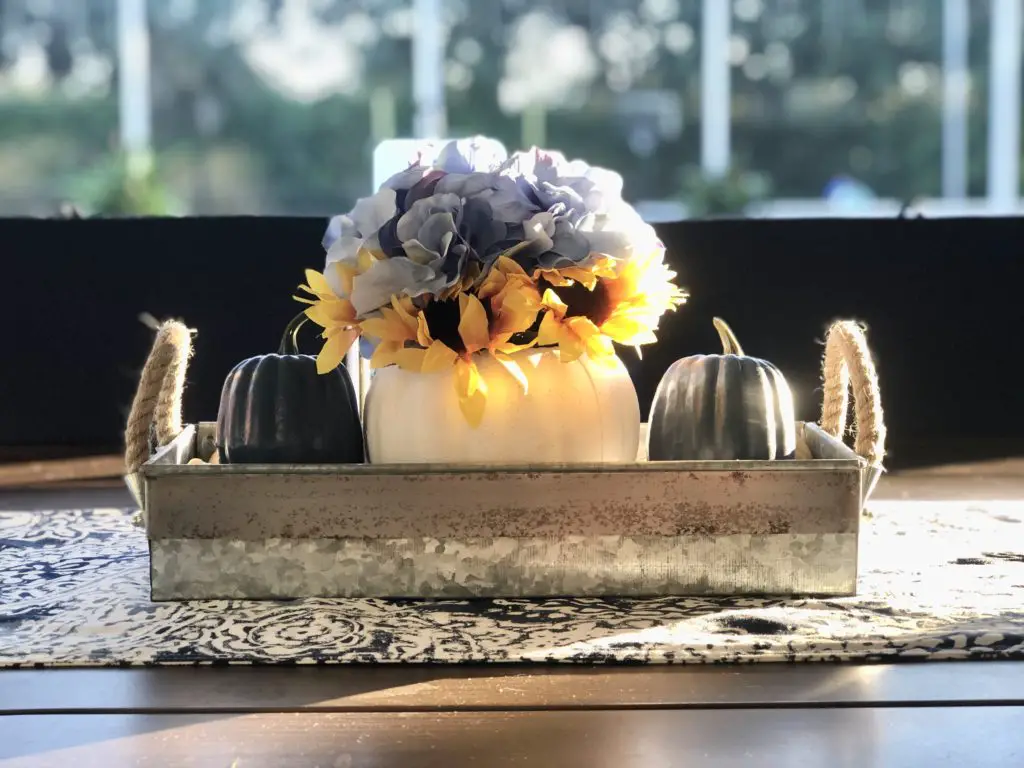 But Wait, There's more…
I thought it looked cute and I could have left well enough alone, but it seemed to be lacking something.  If you've been following me for a while then you know I LOVE all things coastal/beach/nautical. Having said that, I decided to trace some nautical shapes on each pumpkin and paint them using my white paint pen and then filled them in with some white craft paint.  I used the color English Channel for the anchor to match the color of the pumpkins and used a very small paintbrush I found in my sons' room.  Don't look to close, they are not perfect by any means.
Once I was done with that and the paint was all dried, I put them back in the metal container.
Yup, that looked much better.
So, that is it.  This was super easy to make and since I had most of the materials already, only cost me $4.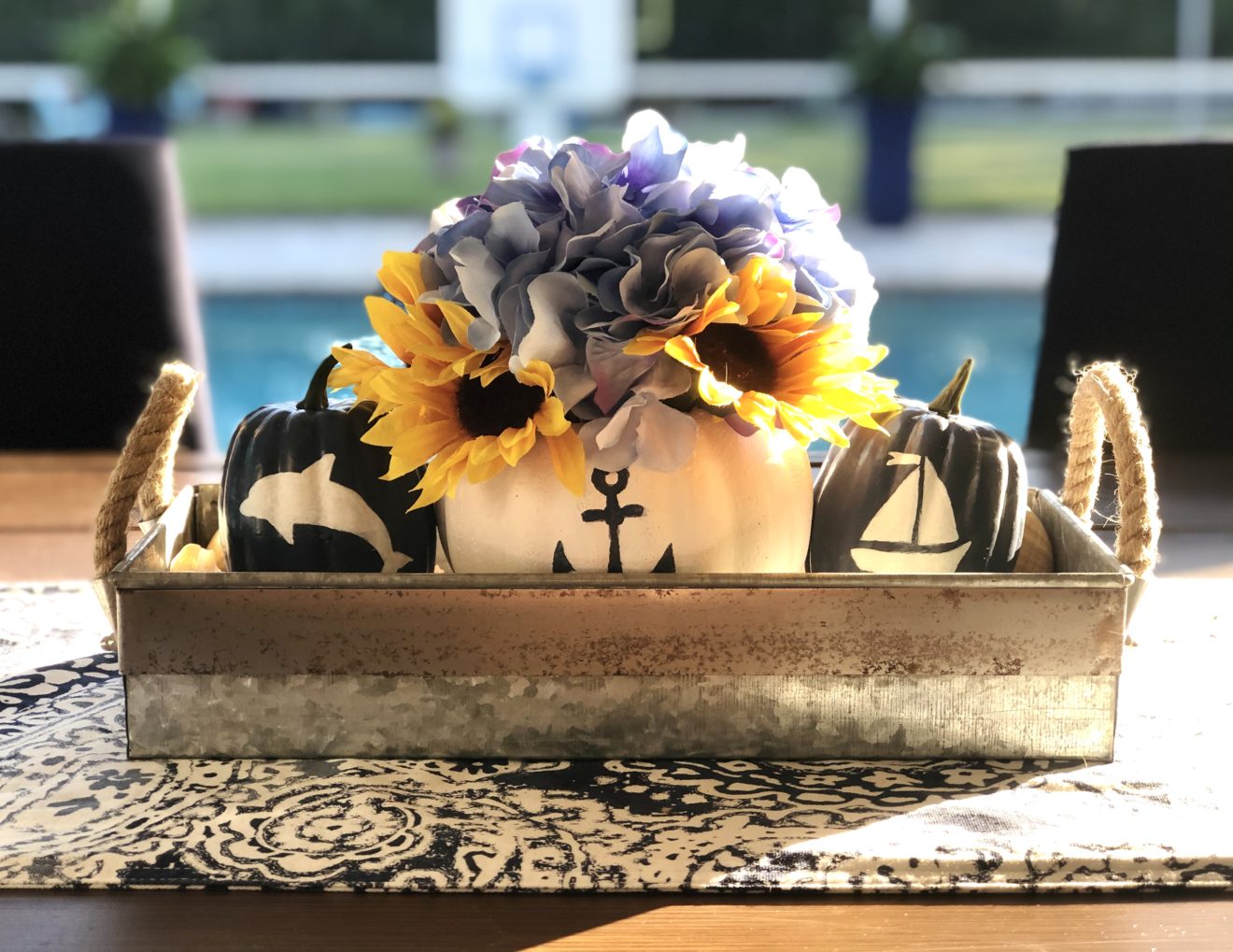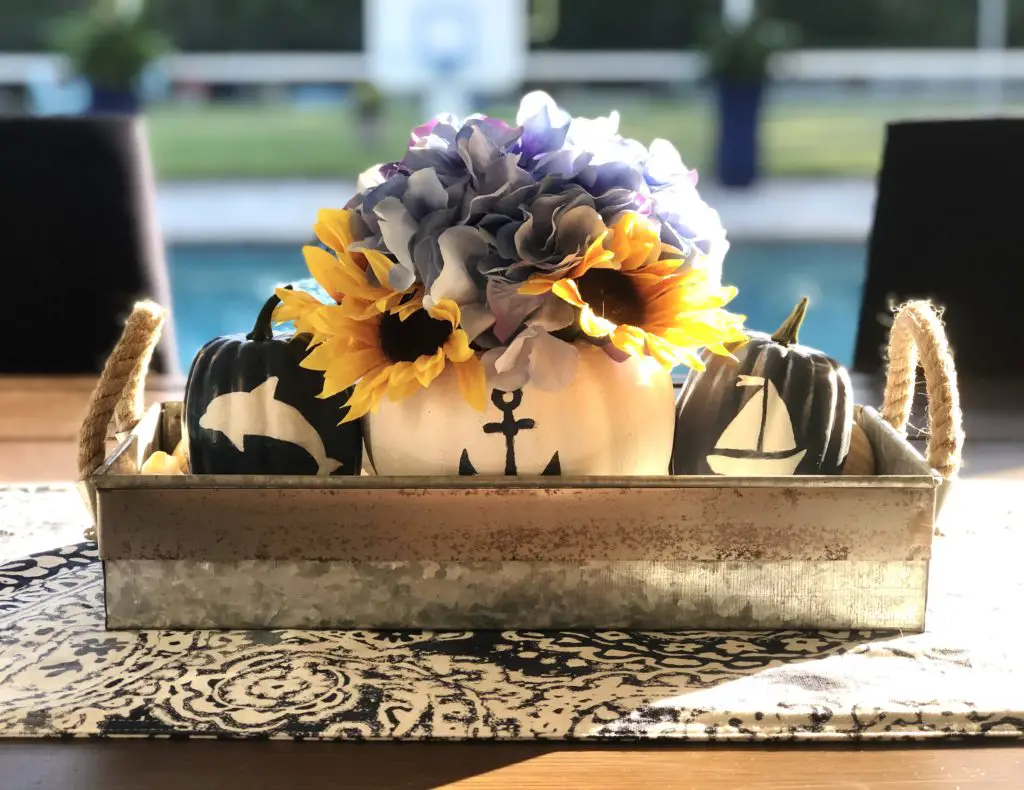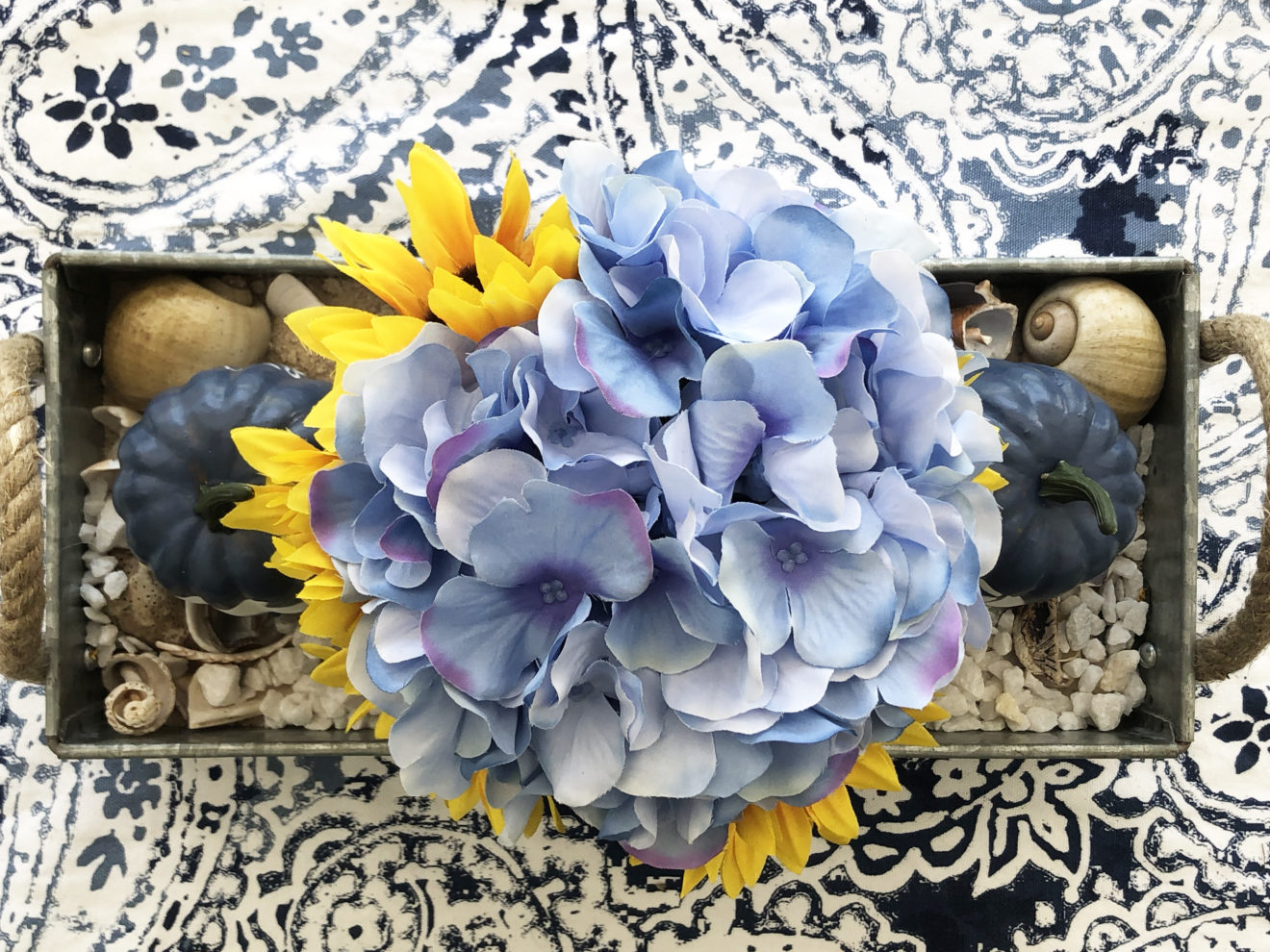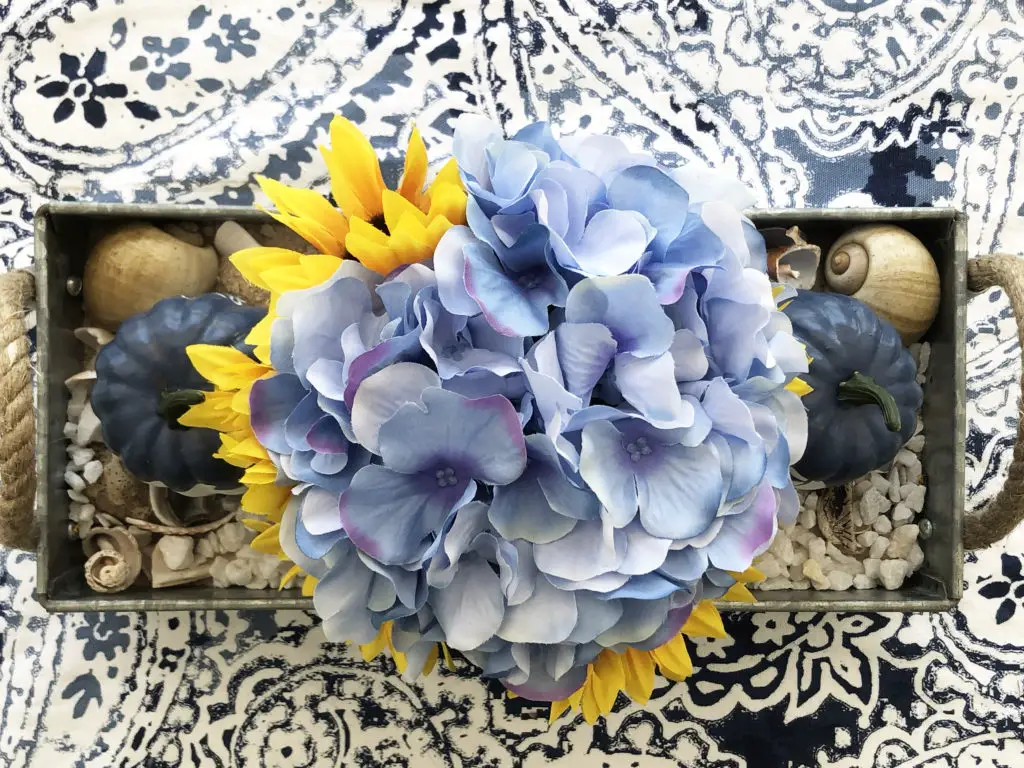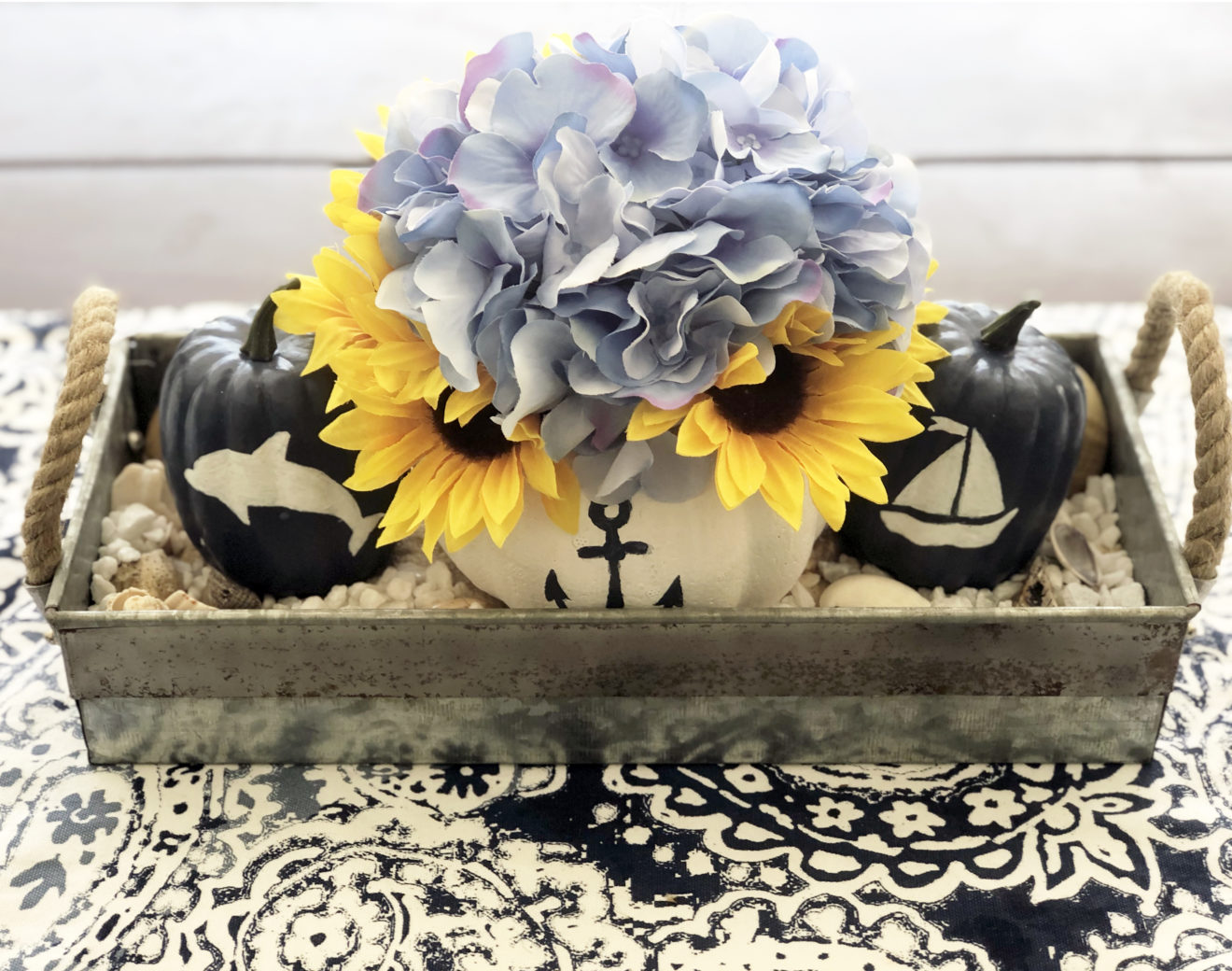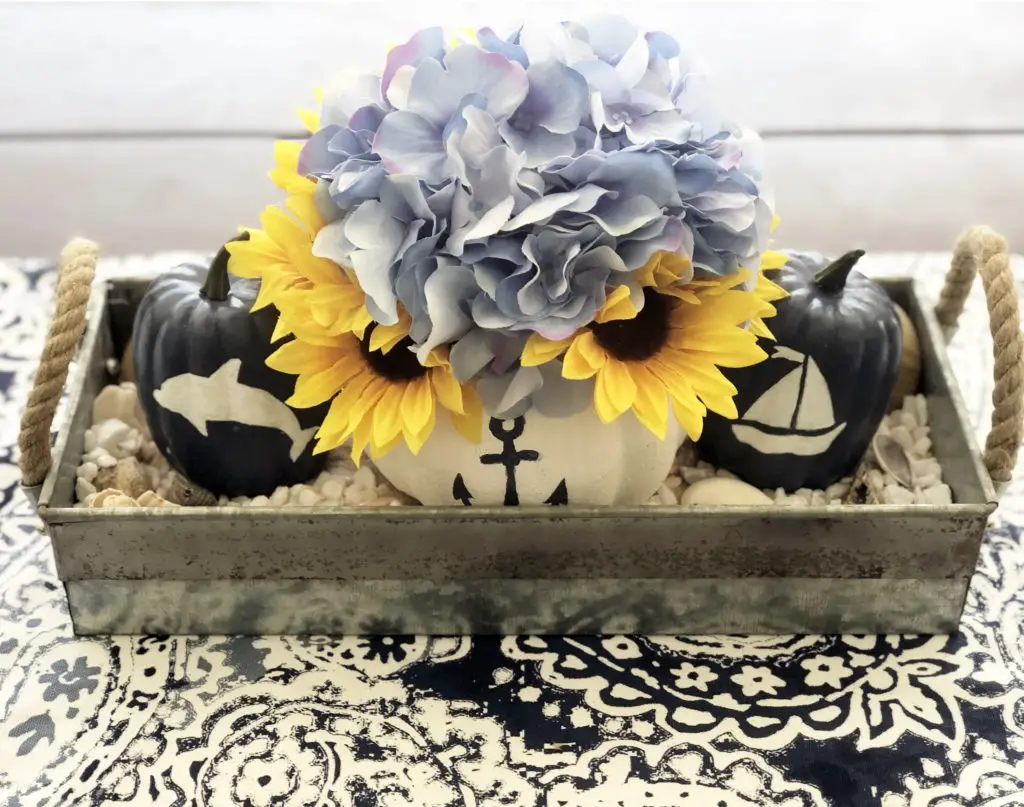 Pin for later…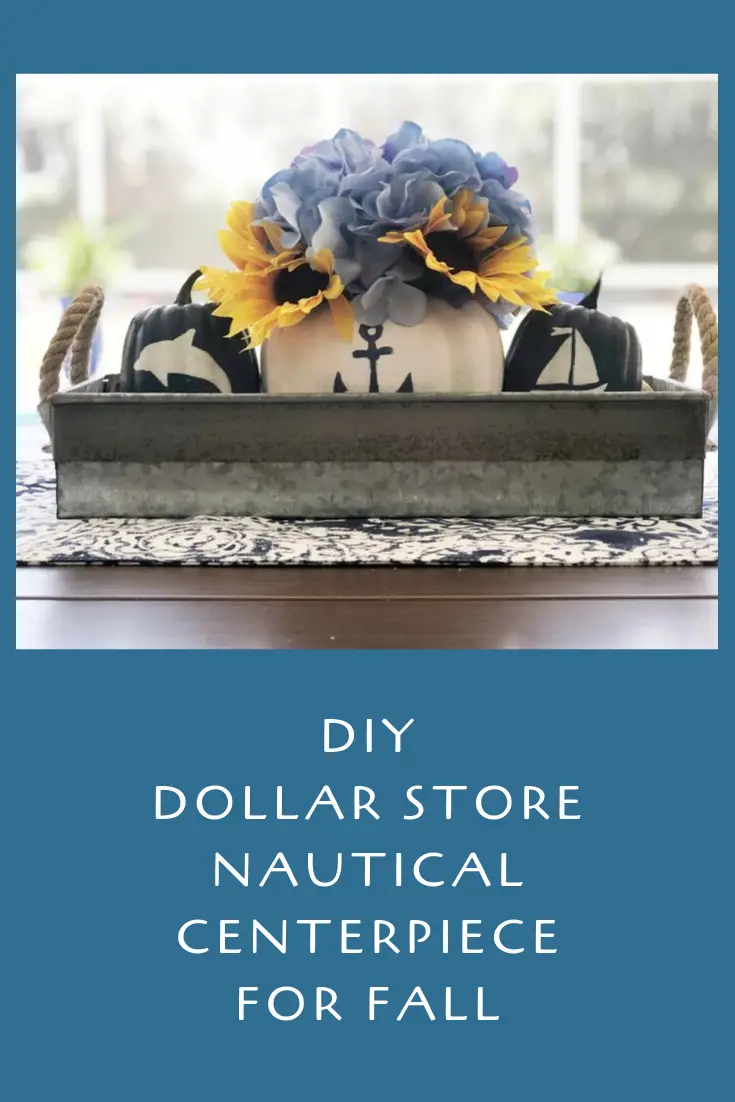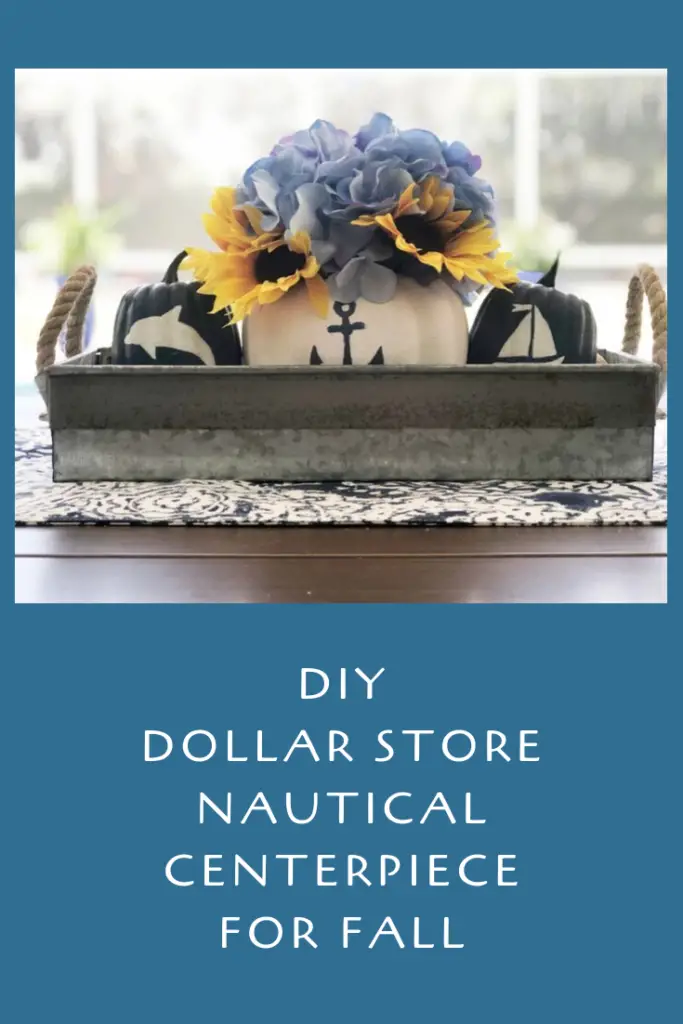 ---
Please check out the other Creative Thursday Participants and see what they came up with for under $15 (these ladies always amaze me!!!)…
Tara from Stilettos and Shiplap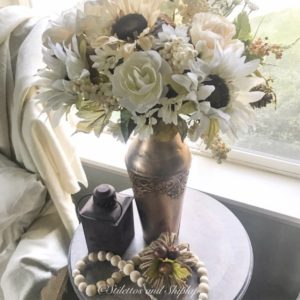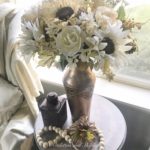 Emily from Le Cultivateur.com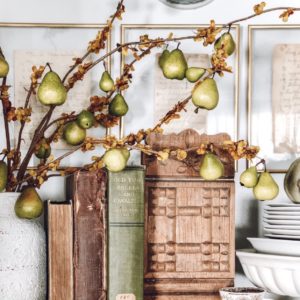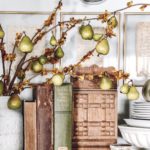 Danya from Just Another Farmhouse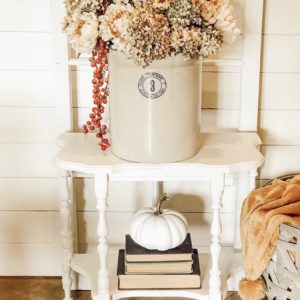 Shae at Sweet Southern Grace