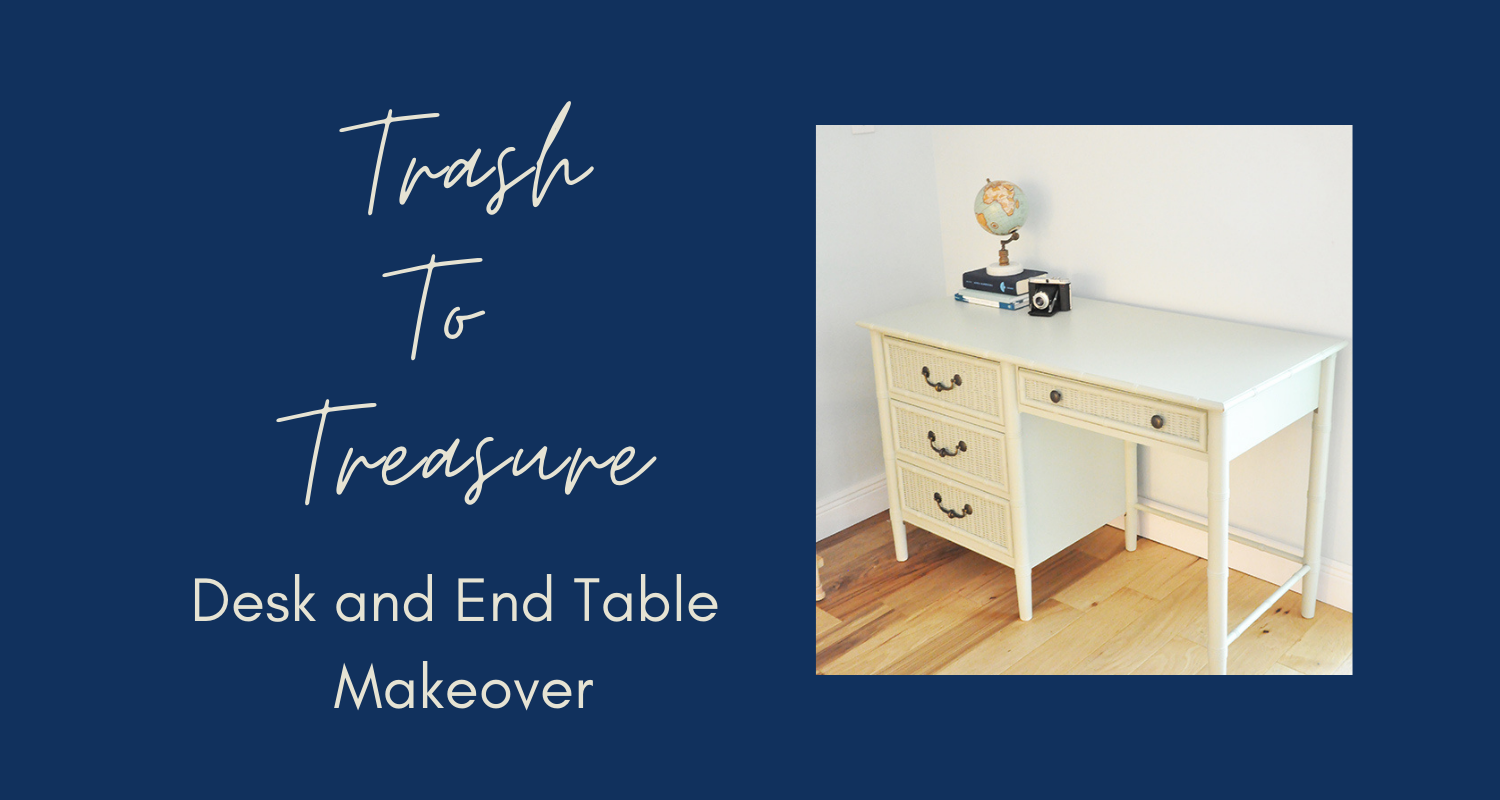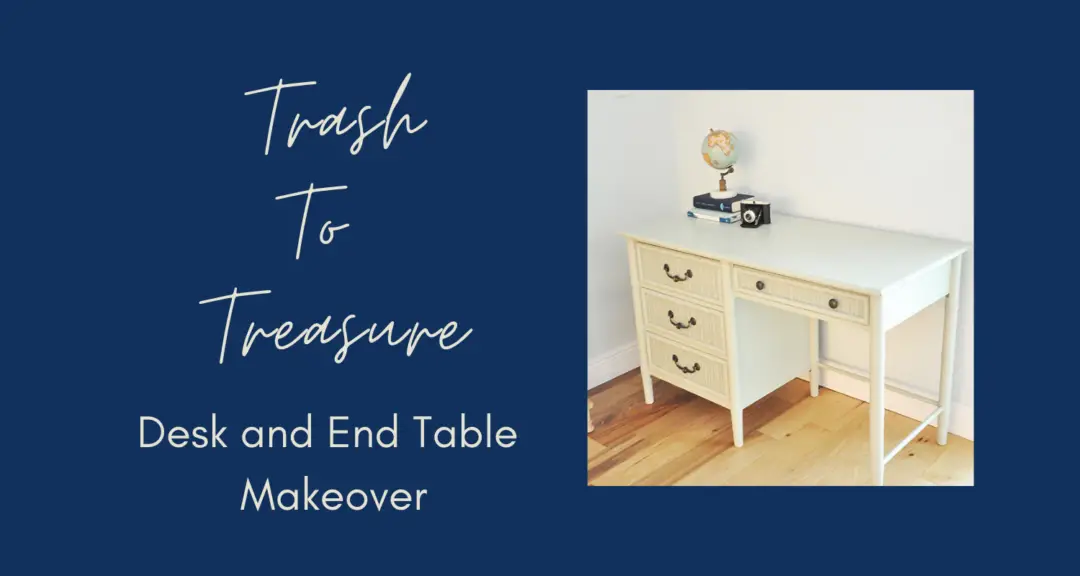 Trash to Treasure Desk and End Table Set
Look at me re-doing yet ANOTHER curb side find. My husband is always scoring good stuff from the curb and bringing them home for me to flip. This is the latest set. Kinda cute, right? They just needed a little TLC and a paint job.
You can see more Trash to Treasure projects here.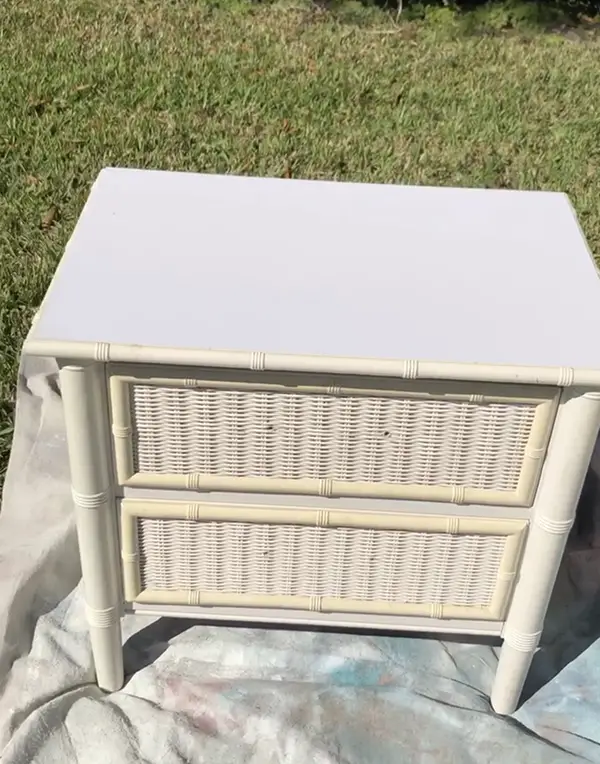 Here is what I did….
Step 1 in my Trash to Treasure Makeover, Repairs…
The first thing we did was make some repairs. One of the legs was a little wobbly and needed to be glued and then screwed back on. This is probably why it was being thrown out. That plus the color was a little dull, AND one of the handles was broken.
To fix the leg, my husband unscrewed it, glued it as best as he could, and then reattached it.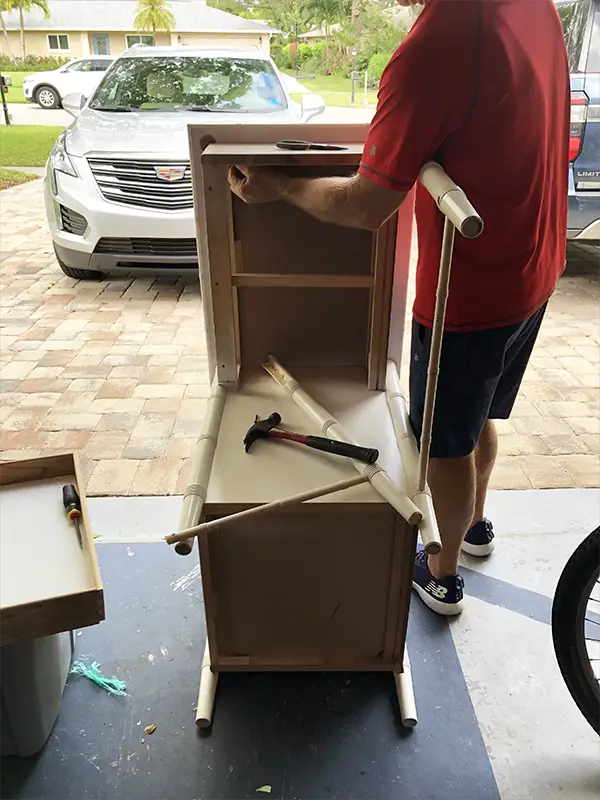 Step 2, Paint….
Once the glue was dry, it was time to paint.
This set was white and the drawers were a little off white. It looked tired and outdated. I decided I wanted to paint it a sage/greenish color. Wouldn't you know it…..Benjamin Moore's 2022 Color of the Year is October Mist, which is a sage/greenish/grayish color. Perfect. Isn't it purty? I had a gift card for Ace hardware so I picked up a gallon. (I ended up having plenty left over which will be put to good use on future furniture flips and other projects.)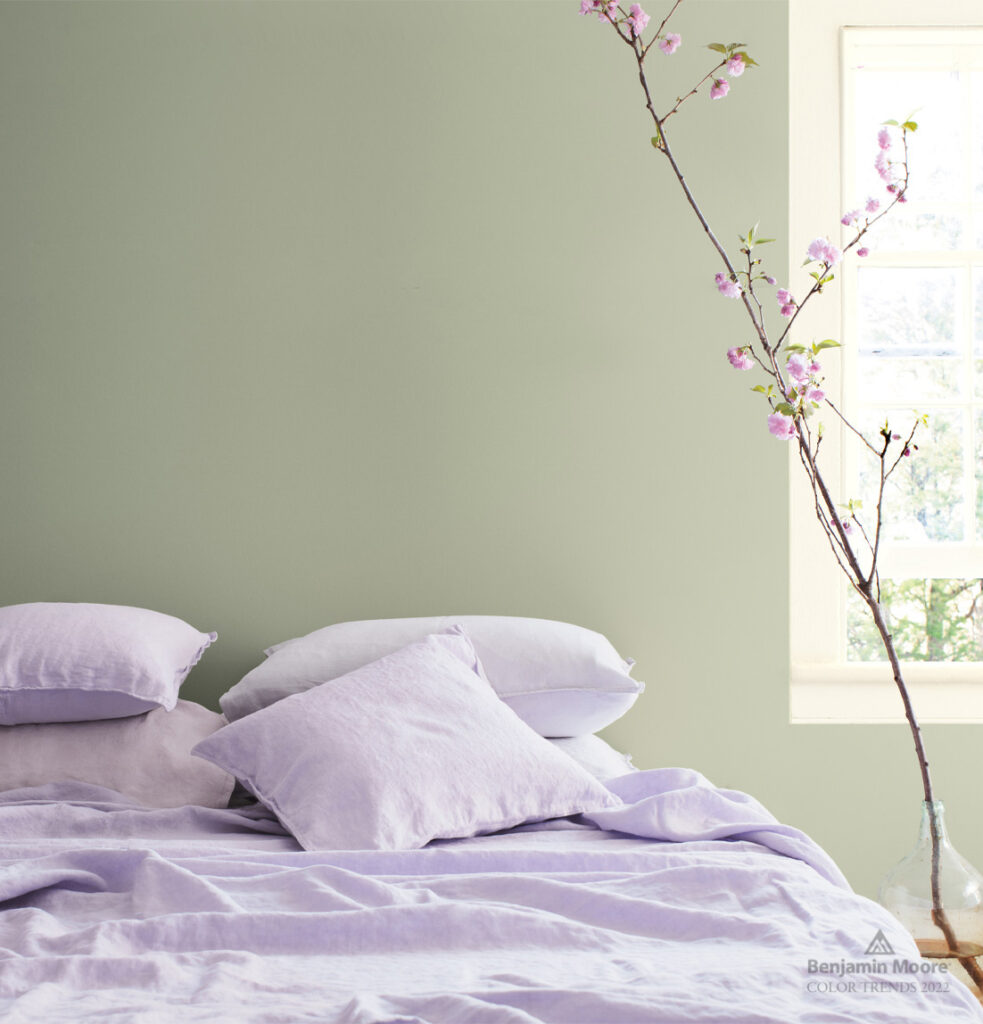 I set up shop outside and dusted off my Wagner Paint Sprayer (which I love) and got to work.
First, I took off the handles off both pieces. One of them was broken anyway. Next, I gave the whole piece a good cleaning. Lastly, I painted. A paint sprayer makes projects like this SOOO easy. The Wagner Flexio 5000 is an excellent choice, if you are in the market for one.
It took 2 or 3 coats and that was that. Here they are after…
Step 3, Polycrylic Top Coat AND New Hardware…
I always use MinWax Polycrylic as my top coat. It helps protect the finish, dries really fast and doesn't smell too awful like polyurethane do.
I was going to buy new handles for this piece, but after looking through all our supplies in the garage I found these handles from my guest bedroom makeover project. They were perfect size and color. I like the contrast of the dark handles against the light color.
Here they are, all finished…they look much fresher look.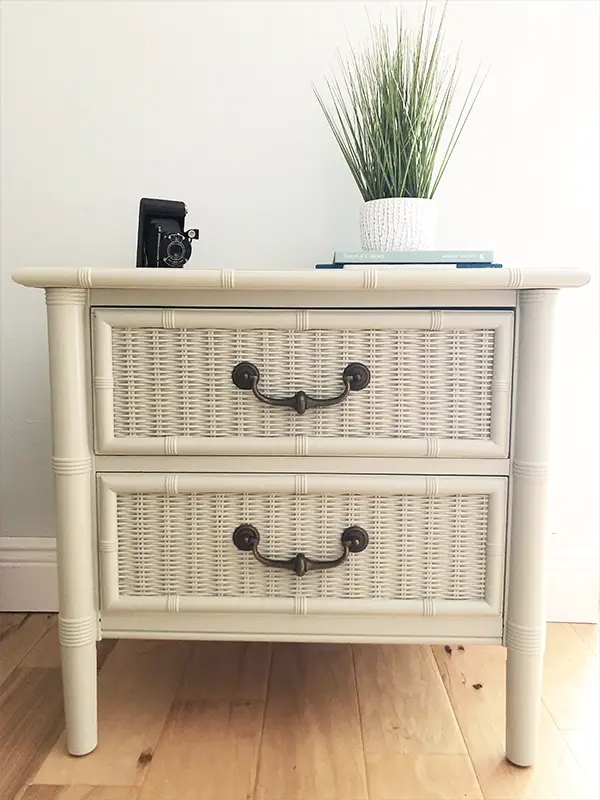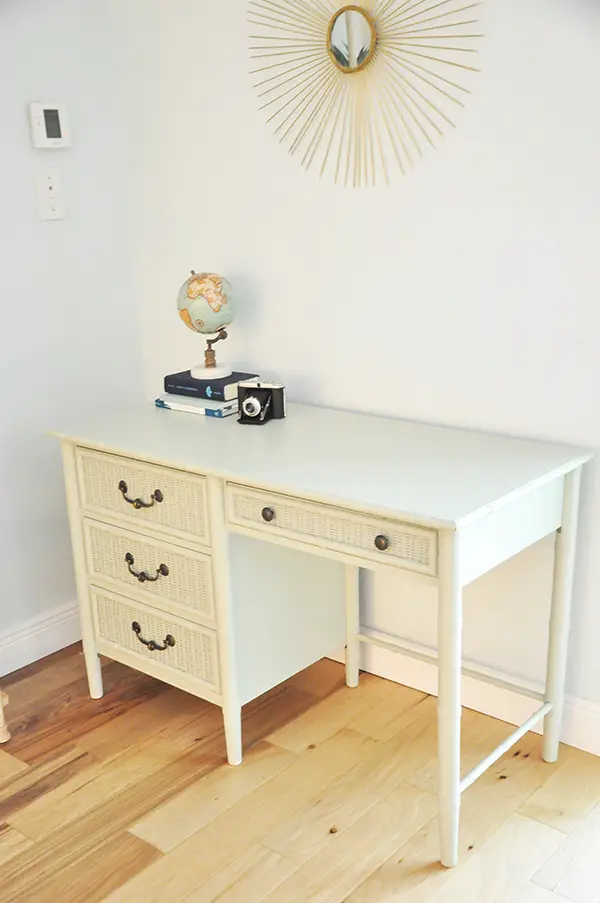 A few Before and After Photos…
The color seems like such a subtle change in these pictures, but they really do look much better and fresher than before.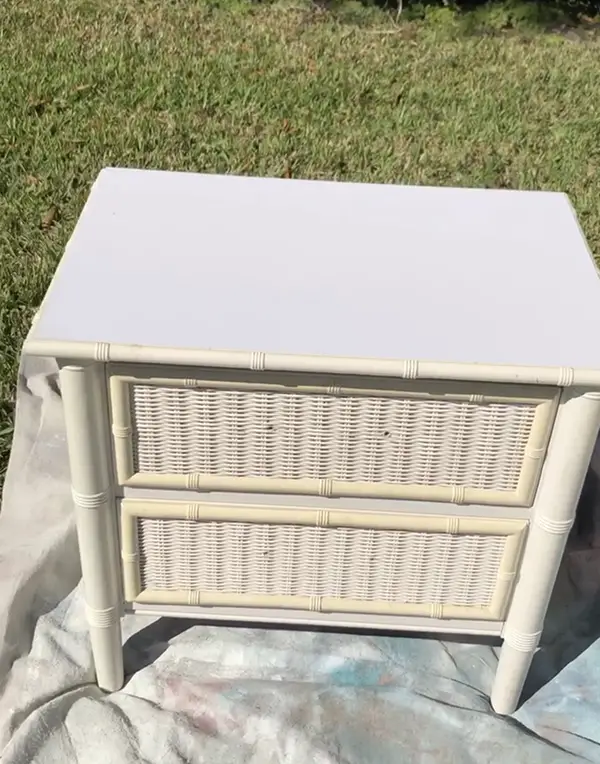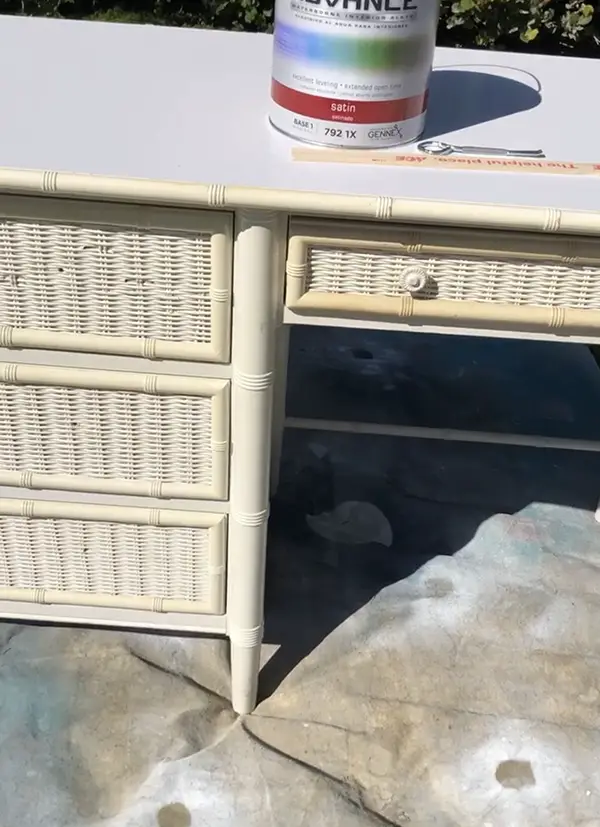 I plan to try to sell this set on Facebook Marketplace. Hopefully it sells quickly.
What do you guys think of this color?
PIN FOR LATER…