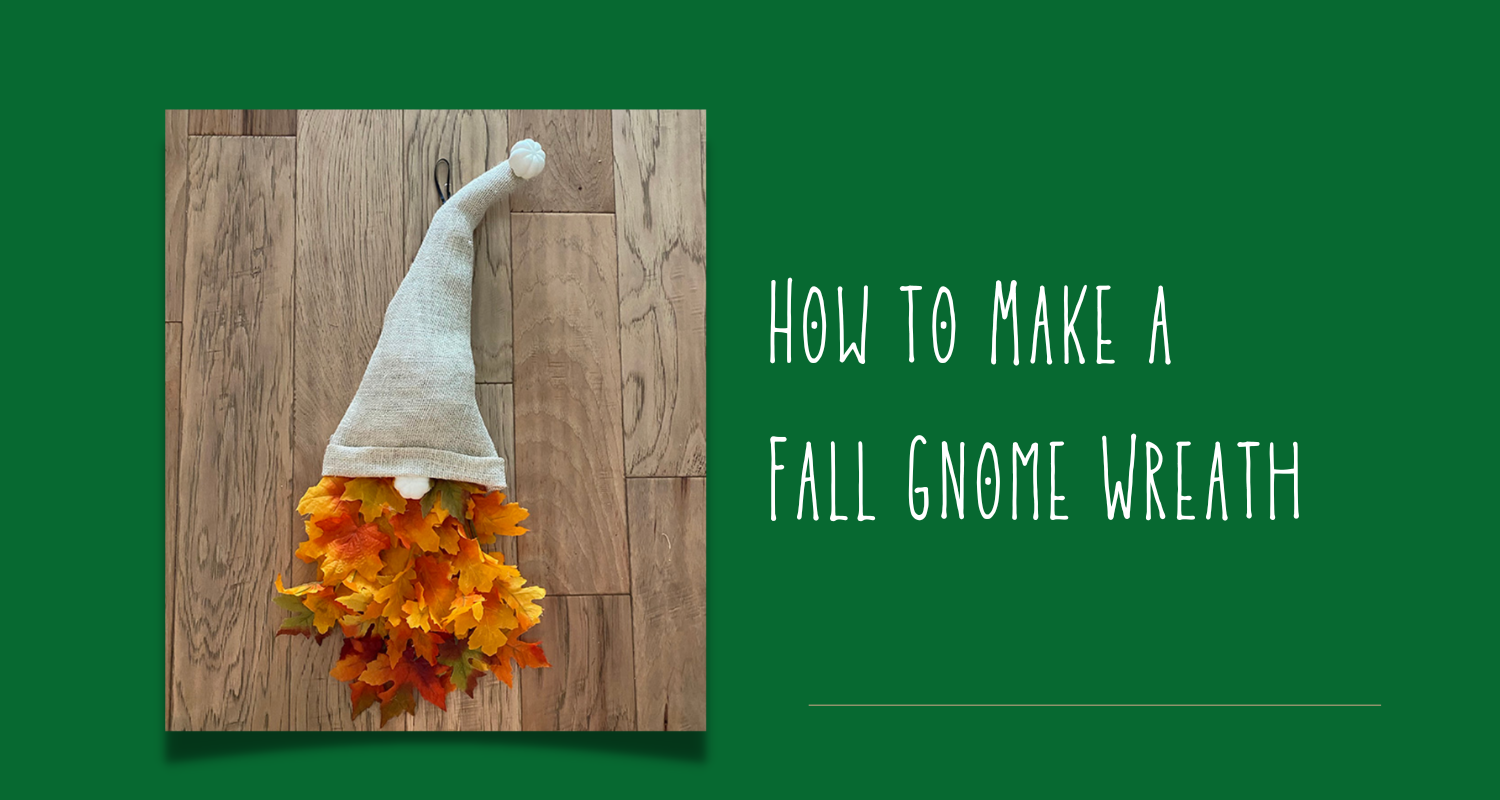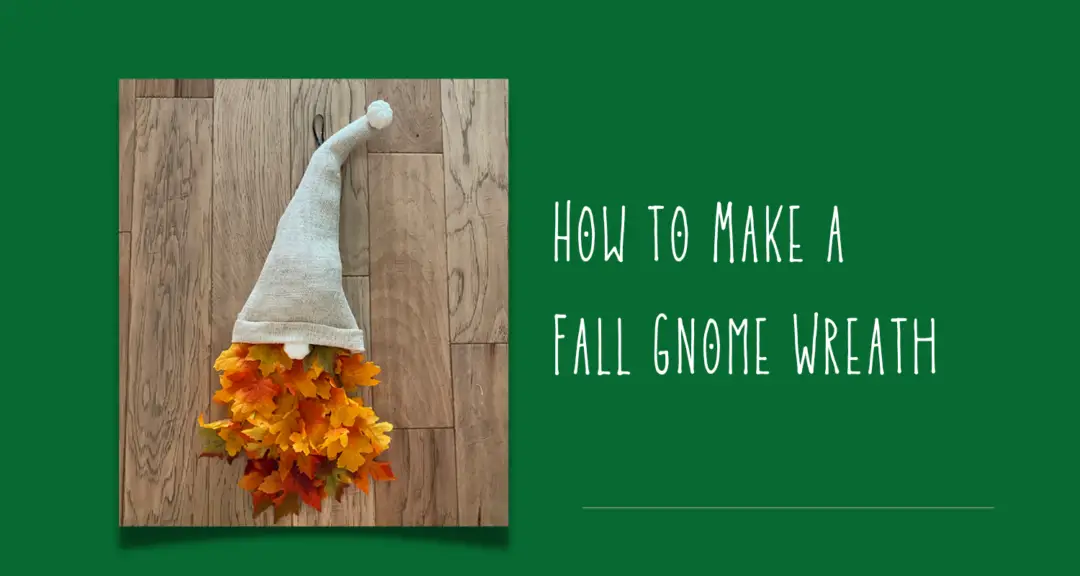 Our DIY Challenge group is back together again hosted by Shae from Sweet Southern Grace. This month is about Fall. More specifically, ANY Fall DIY we wanted. I decided to make this DIY Fall Gnome Wreath after seeing one on Pinterest. It wasn't to hard to make and it came out pretty cute. Here is how I did it..
*This post contains some affiliate links for your convenience (which means if you make a purchase after clicking a link I will earn a small commission which helps keep my blog up and running but it won't cost you a penny more)!
Luckily, I already had most of these materials on hand. I did have to buy the witch hat and the Styrofoam balls (but didn't end up using them).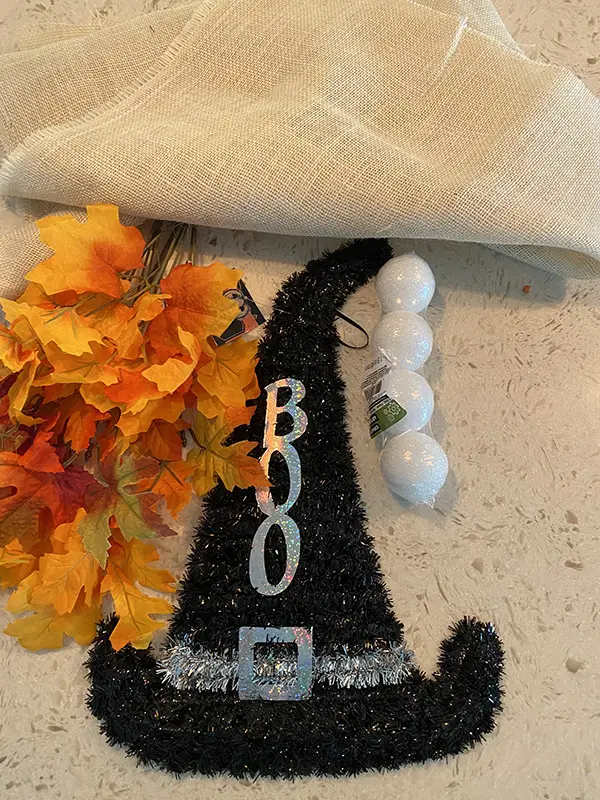 Step 1, Get the hat ready…
First, I took off the tinsel from the witch hat. Then, I clipped the knobs off and the bottom piece of the hat. I made sure to keep the hanging loop in tack so I could hang it easily later.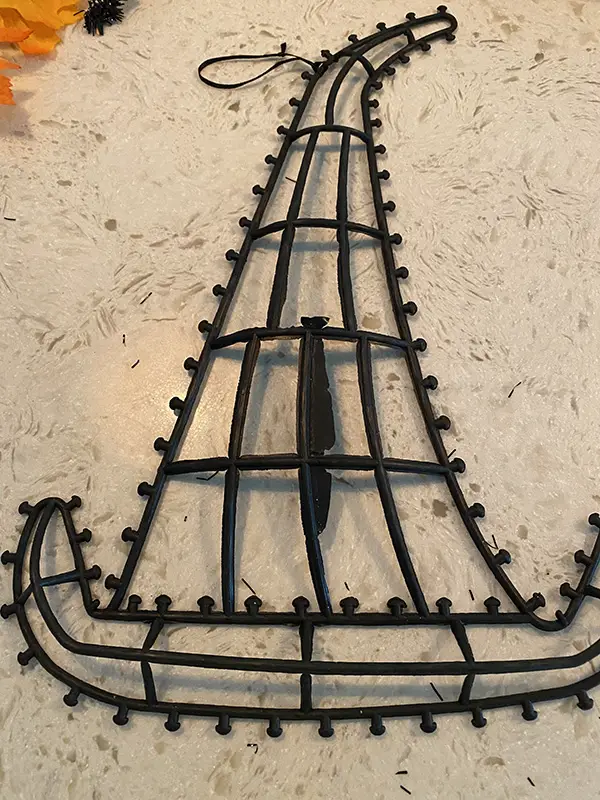 Step 2, Make the Beard…
I worked on the beard next and used 3 stems of leaves that I already had from Dollar Tree. I glued them to the back of the hat, making sure to glue them in the shape of a beard. Then I tied them to the hat to make sure they stayed. You could used floral wire here but I didn't have any on hand. I wasn't too worried about them being perfect because I knew I would arrange and fluff them later to make them look better.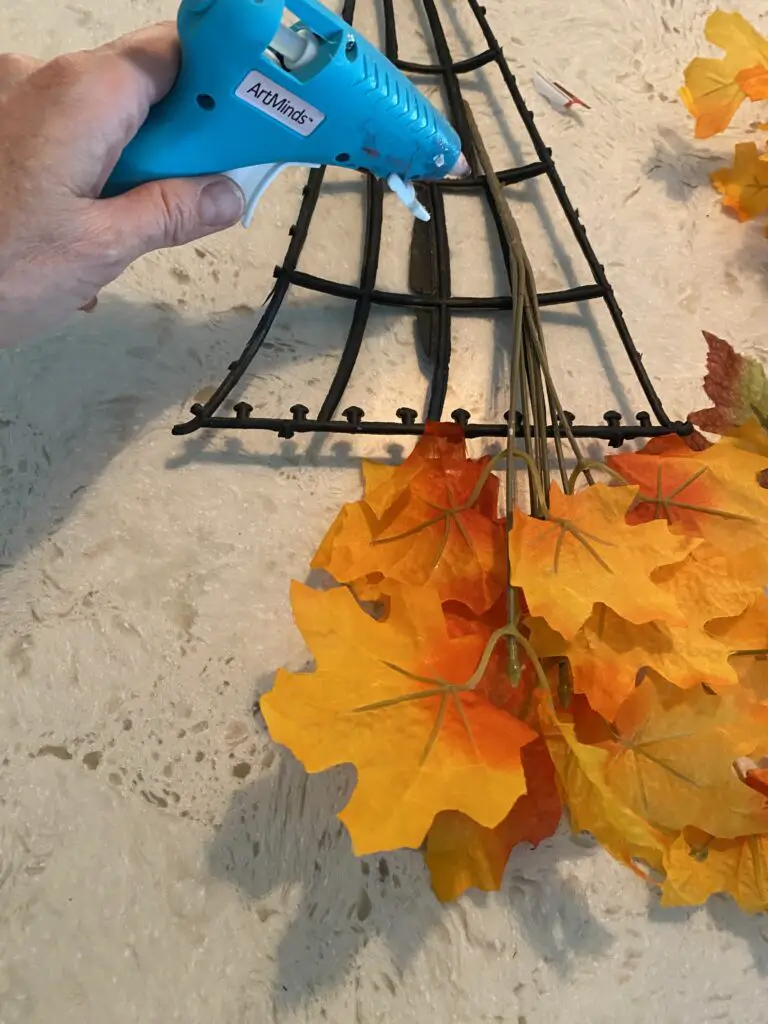 Step 3, Onto the Hat…
The burlap material I used was left over from this project and was perfect for my gnome hat. I just folded a large piece in half, then flipped up the edge and used my glue gun to glue it in place – making the rim of the hat. Next, I formed the piece of burlap around the witch hat, as best as I could. This was the hardest part of this entire project. I had to trim the burlap a few times to get it to fit. I used my glue gun to glue it in place making sure the seem was in the back. When I had it looking the way I wanted, I cut a small hole for the hanging ribbon to peak through so i could hang it up easily.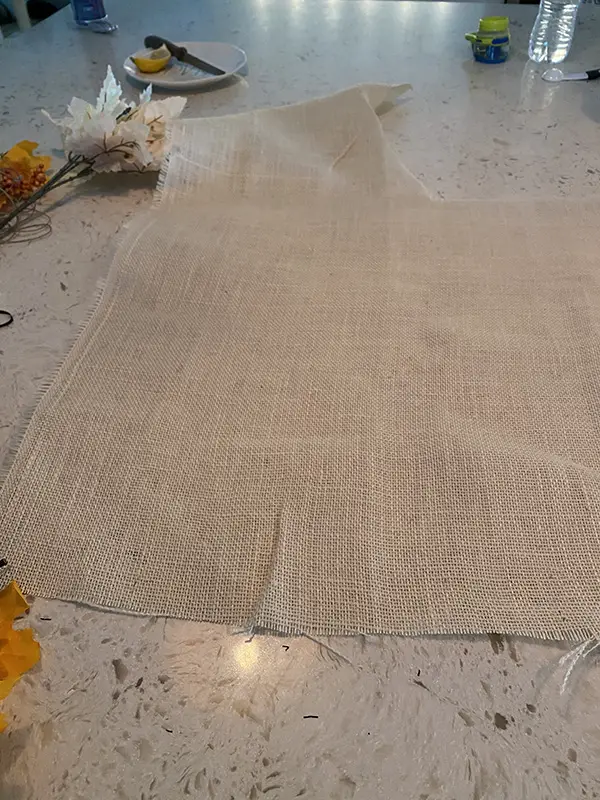 Once I had the hat the way I wanted, I flipped it over and fluffed up the beard. I ended up gluing some of the leaves into places where the plastic wire showed. I also used some of the left over cut up pieces of burlap to stuff the hat a bit to make it have more shape.
Step 4, Add a nose…
Last, I added a nose. Originally, I was going to use one of the Styrofoam balls I bought. However, I had these small pumpkins so tried using one of those instead and thought it looked pretty cute. I attached it using my glue gun and added another one to the top of the hat too.
Once it was all done I continued to fluff up the leaves as best as I could until I was happy with the look. And here it is. Pretty cute, right?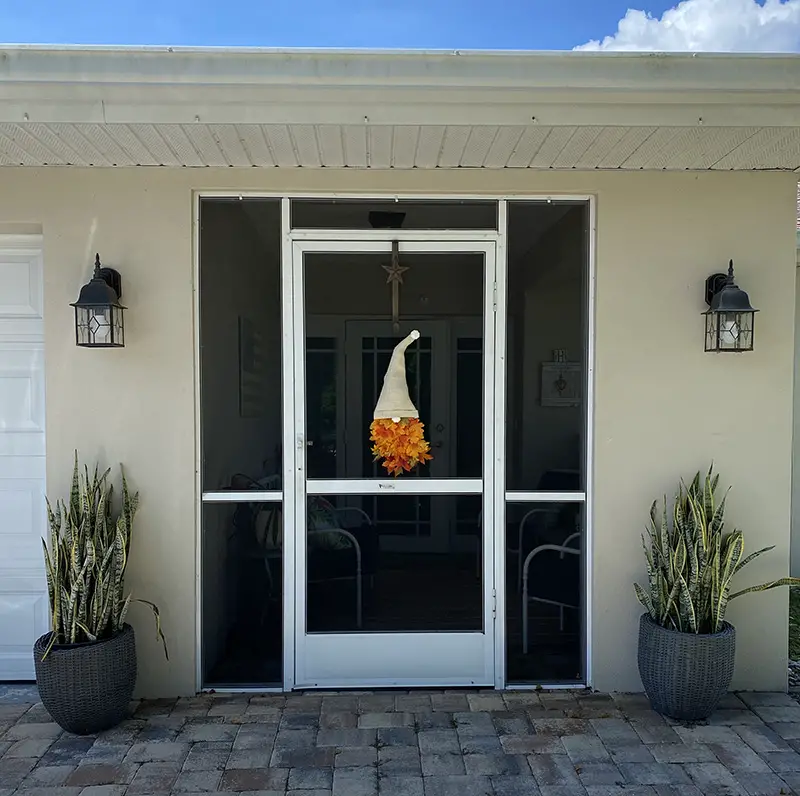 PIN FOR LATER…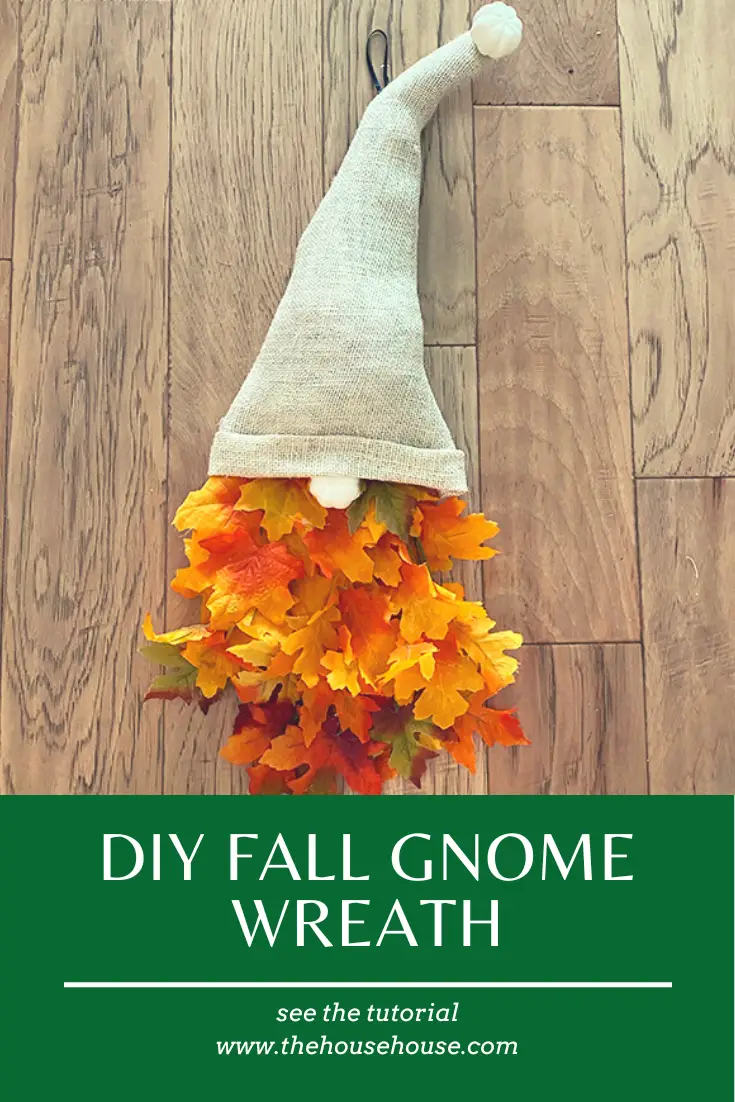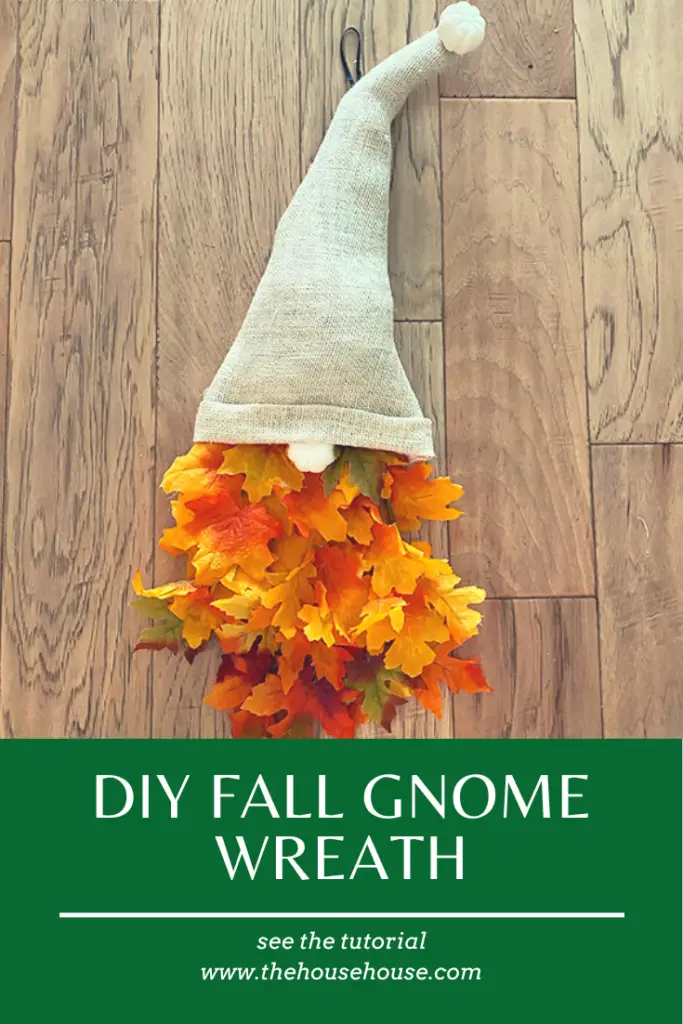 Check out all the other projects this month…