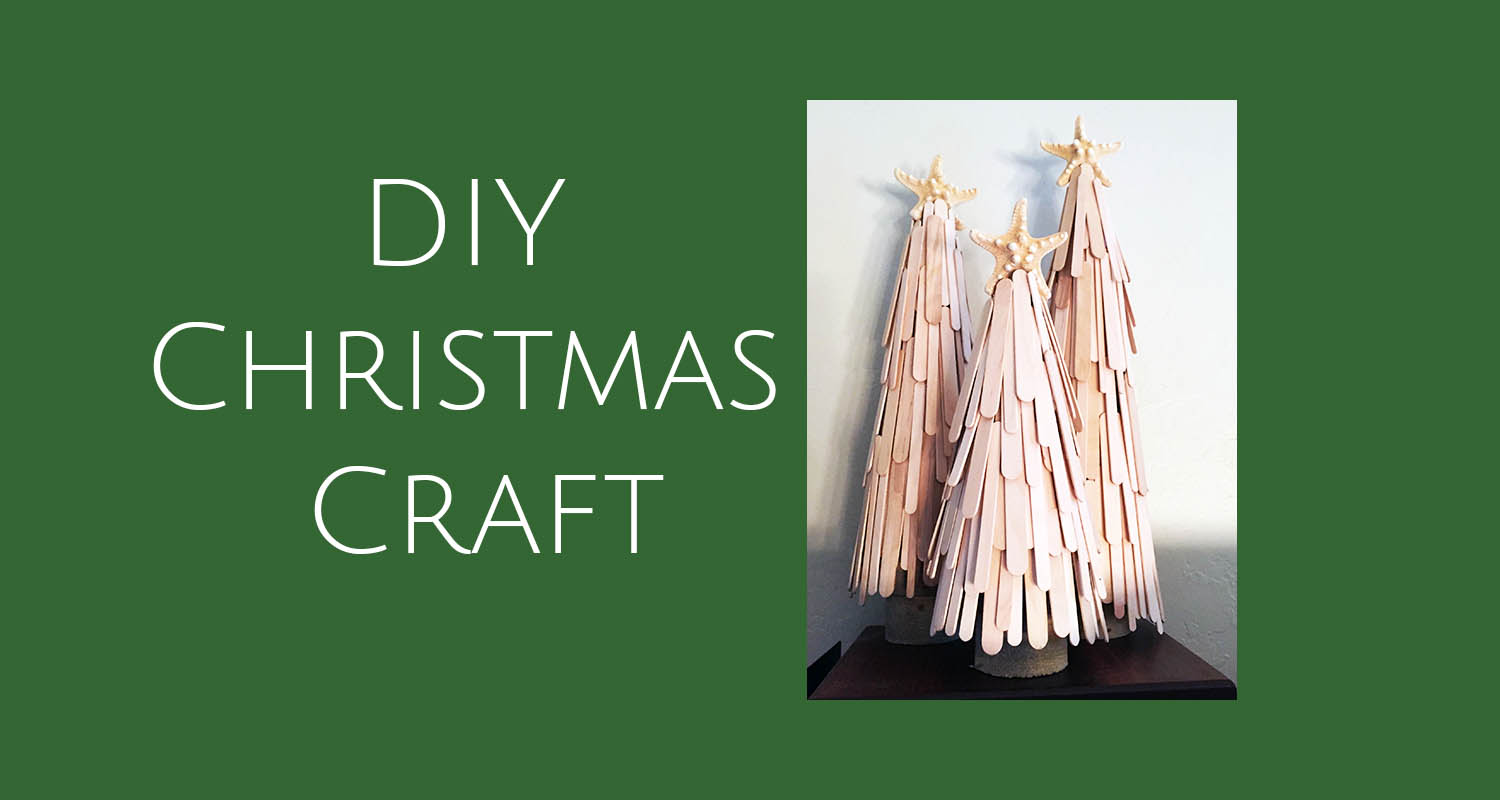 Christmas Craft…
It is time to start thinking about Christmas!  Our neighborhood goes all out during the season and people drive through here to see lights, and most residents rent golf carts for the month (if they don't already own one), and has bonfires in their yards or driveways all season.  It is a lot of fun!
Anyhooooo, onto my Christmas Craft….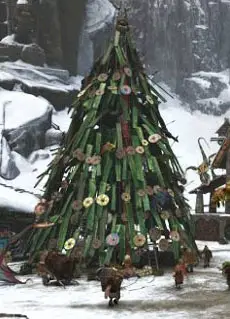 I was watching a Christmas movie the other day with my boys.  It was 'How to Train Your Dragon, Gift of the Night Fury'.  The Christmas tree in the movie reminded me of popsicle sticks and I thought, Hey, that would be a cute DIY idea. So, I searched Pinterest and low and behold there were tons of popsicle stick Christmas trees!  Here I thought I was being original and all.  Nope.  Anyway, I thought, screw it, I'm doing it anyway.  Off I went with the kids to get supplies.
I followed this tutorial from Momtastic.com, but put my own spin on it by switching up some things. 
I bought the following;
3 foam cones (in green) in 3 different sizes, 6″, 9″, and 12″
glue for my glue gun (so glad I bought a new package of glue because I used a TON of it for this project).
a package of star fish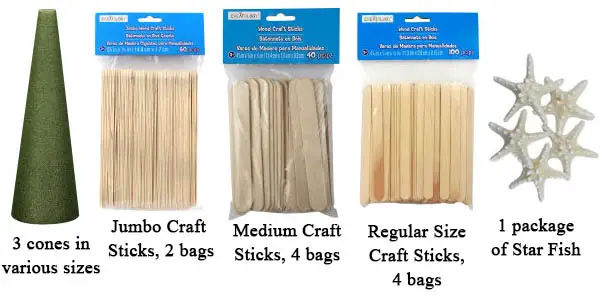 I also used this scrap wood that I found at the House house that I've been wanting to use for some sort of project.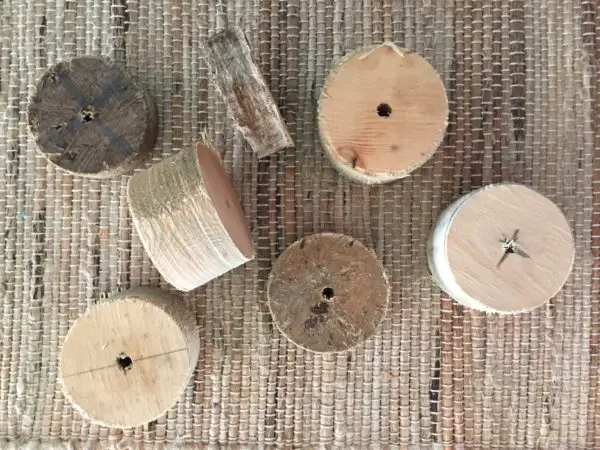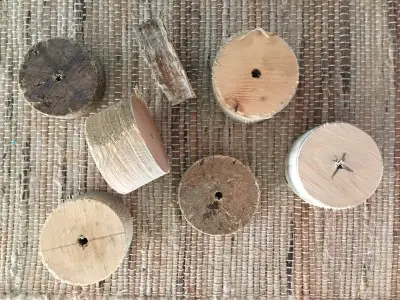 I started by gluing on the scrap wood circles (shown above) to the bottoms of my cones.  They made perfect tree bases!  Since the top of the cones had a flat edge I shaved it off a bit with a knife to make it more pointy.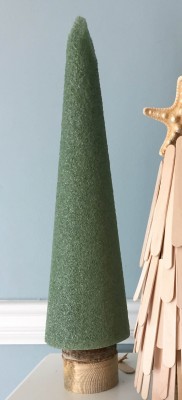 Then I glued a star fish to the top.  Next I started gluing the sticks all around the cone.  Easy peasy.  I started at the bottom on my first cone and made my way up to the top but found that it was easier and looked better when I started from the top and worked my way down.  I just continued to layer the sticks until it looked good to me and you couldn't see any green popping out from underneath.  Here is the final outcome. I thought about painting the sticks green but I like the natural look.  Seems more beachy to me and the star fish add to that look.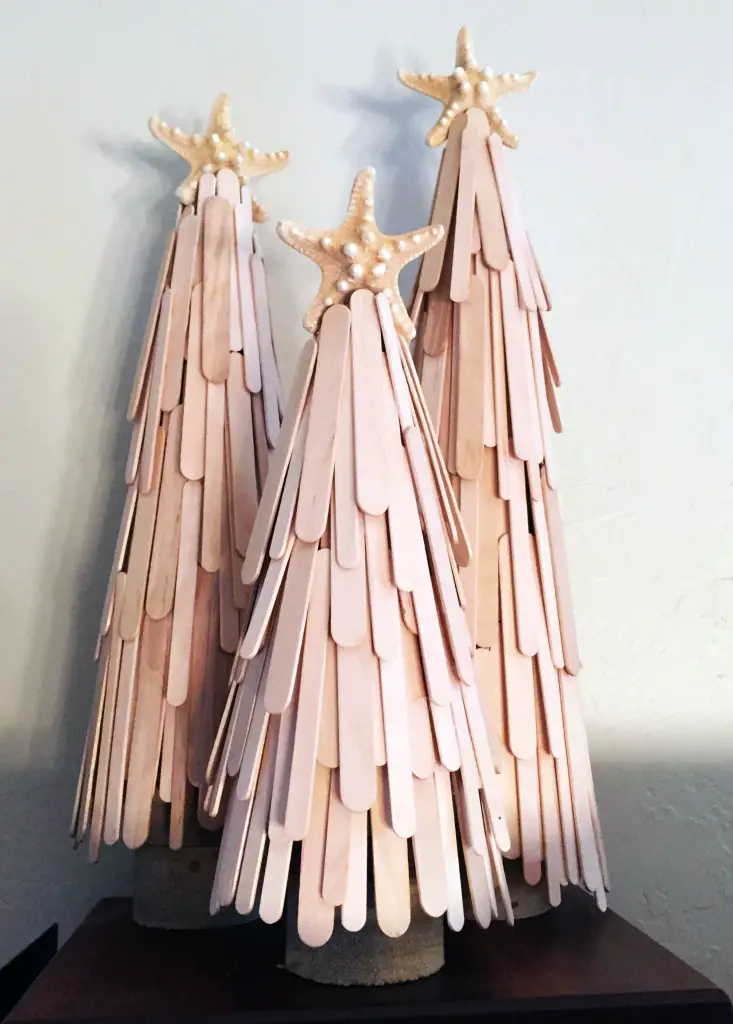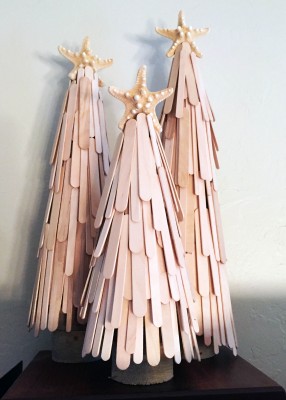 For a more detailed tutorial, please go to this link.
What do you think?  Do you have any crafts you'd like to share?