My friend Bannon is on a roll!  She finished yet another DIY project recently (and she tells me she's got a few others in the works).  You can see her other DIY projects, 
here
, 
here
 and 
here
.  Check out the detailed tutorial below on this latest one.  Another great job girl!
---
Do you have a project you'd like for me to feature?  Please contact me.
---
"Moving every 3 years or so makes furniture placement & reuse a struggle. (Bannon and her family move a lot because her husband is in the Navy.)  As much as I would love to sell everything and start over each time, obviously that's not feasible! I bought this tray table from Pier 1, 6-7 years ago when we lived in Kansas City. It has floated around our living rooms and finally found a home between 2 upholstered chairs. The black really stuck out and didn't match the decor.
I started by chalk painting the tray with a pure white. It looked OK, but blended in with the white chairs. My husband loves the look of a riverwash/driftwood style. Rustoleum sells a weathered gray spray paint, but I wanted to try to use what I had around the house first to achieve the same look.
I read on Pinterest (where else!) that using wax or vaseline can help with the worn/chippy paint look. I used vaseline on a previous project and knew that it was good for wiping off chunks of paint. It is GREAT for keeping paint from sticking, it literally just wipes off. BUT, I was looking for more of a natural look. I gave the candle wax a shot. I gently rubbed a taper candle on the entire tray, concentrating on the handles and edges, where it would naturally wear.
I dry-brush painted a layer of black chalk paint over the dry and let it dry for a few minutes. Once it was tacky, I wiped over it with an old white t-shirt. I was afraid it would look like I sponge painted it, but it really just took off a light layer. I waited for the black to dry and then repeated with a greige chalk paint. Once the tray was completely dry, I sanded over some spots I thought needed more wear.
I wiped it down with a tack cloth then I wrapped the handles with jute (Hobby Lobby), tying off each end and hiding the knots.
My husband waxed and buffed the tray to protect it since we would be using as a place to rest drinks (with coasters).  I used some glass vases I found on clearance at Hobby Lobby along with oyster shells we collected on a vacation last year.  I am debating on painting the legs, they should be easy enough, I just don't know what color."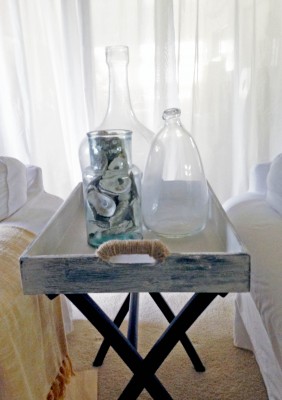 Another fine job Bannon.  It looks great.  Check out her other projects, here, here and here.  Do you have a project you'd like me to feature?  Please contact me.