Tales and Tips from a Bargain Hunter, Part 1
The following post has been written by my amazing, beautiful, and stylish momma, Bonnie!  That is her and I above, along with one of my boys.  She has always had champagne taste but more of a beer budget and knows how to score a good bargain. I am fortunate to have her close to me right here in Naples where she has found numerous deals at some of the best thrift stores, consignment shops and estate sales around!  After all, there are tons of mansions here with ultra high end furniture, art, etc.  Some people hardly use these places and then decide they need to remodel, or they sell these homes and the new owners redecorate or tear down and rebuild.  And what happens to all their old stuff?  You guessed it.  Estate sales, thrift stores, etc.  Read on too hear about some of her fabulous finds throughout the years and some of her tips for scoring the best deals.
Navigating the Art of a Fabulous Find from a BARGAIN HUNTER…
by Bonnie Ingebritson
As I glance around my condo I find everything has a story. My appreciation for high-end design and workmanship heightened when working for interior design magazines; attending design showrooms, furniture markets, seminars, and design events around the US for years.  Earlier and currently I work as an art consultant and claim to have better than average understanding of paintings, mixed media and sculpture.
To me, interesting decorating is all about ENERGY of the individual pieces,   I believe better design, materials and workmanship give off more energy, PERIOD.  My personal style is firmly eclectic and not understood or preferred by everyone but most always thought to be interesting and lively   Functionality and comfort are important considerations in every home decor purchase.
My own "treasures" come from estate sales, demolition sales, craig's list, consignment shops, antique stores, wholesale opportunities and sometimes FREE.
This blog segment we will focus on one side of my living room.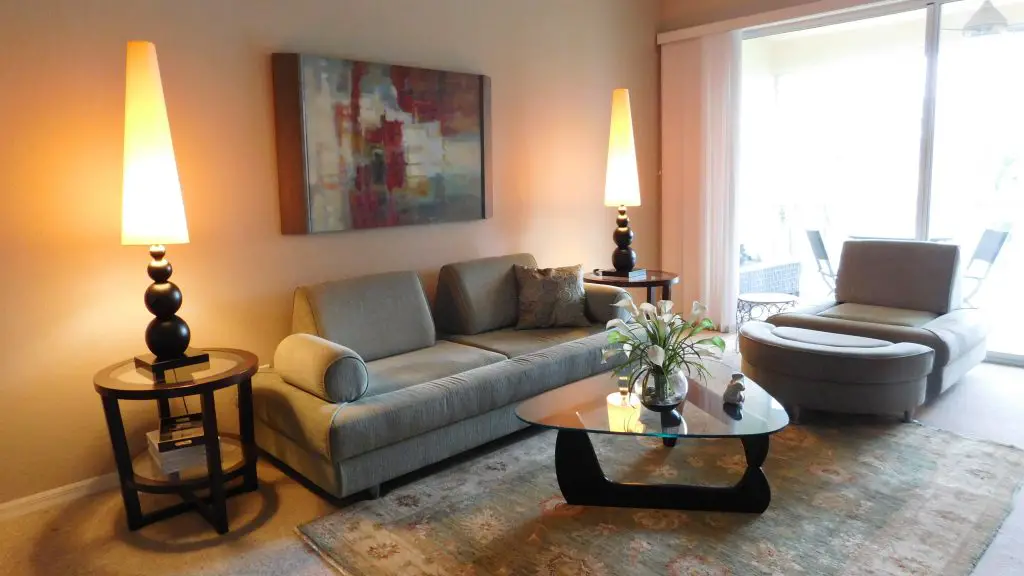 The Sofa…
A favorite find when moving to Florida three years ago is this VINTAGE sofa,  chair and ottoman.  The brilliant designer Normand, won Canada's highest distinction for 4 years in a row for his versatile Couture Cameleon Collection.
The back pillows and arm pillows on this 20+ year old set can be rearranged and even serve as a single size bed.  The condition inside and out is as good as new.  Steam cleaning brightened the fabric and made it feel fresh.
While the original cost was several thousand 20 years ago, it was priced at 2nd mark down at the high-end consignment shop. I asked if they would sell it for the final markdown price.  They said YES!
Finds like this are timeless and are likely to last forever.
COST:  $675.00 plus $75.00 for delivery.
TIP:  Always, always ask or try to negotiate the best price!
Reminiscent, don't you think of this sofa group by an Italian designer and advertised in current design magazines.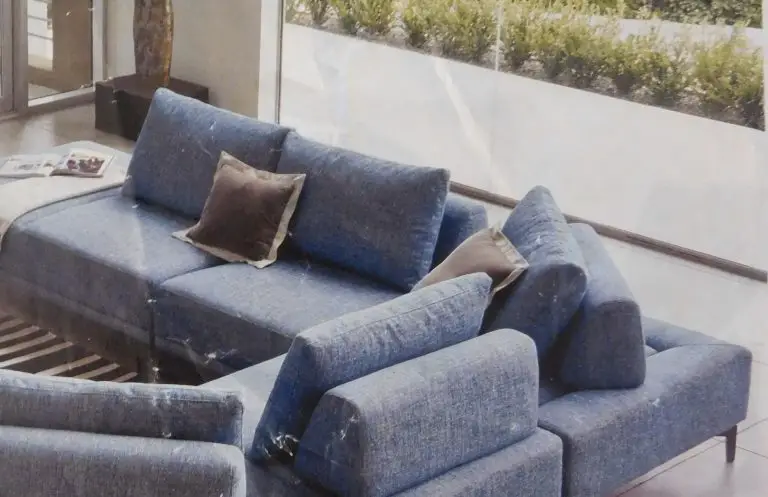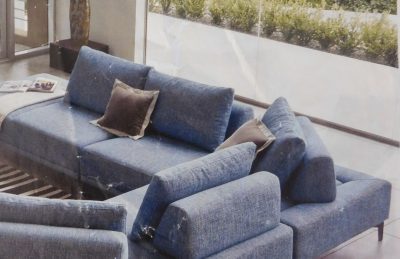 Coffee Table…
The coffee table is a Noguchi design.  The first time I saw one many years ago I knew wanted to own one.  Years later this came up on Craig's list.  It was originally purchased from DESIGN WITHIN REACH for $1500.
MY COST: $325.00
TIP:  When you have your mind set on something, try to be patient and wait till the perfect thing comes along.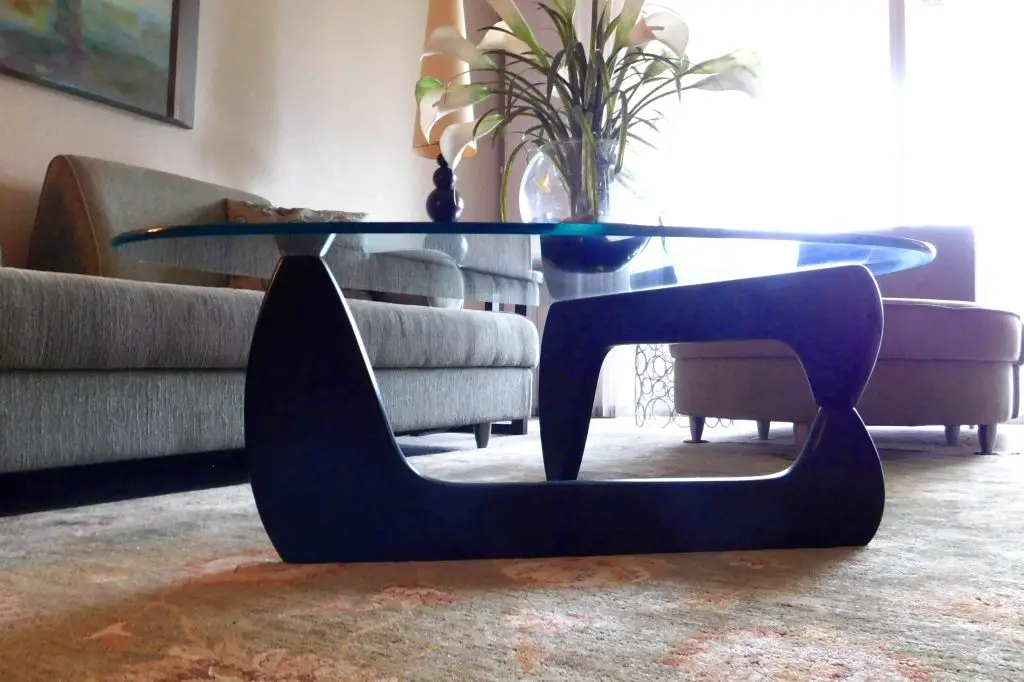 Lamps…
These exquisite 51" tall French lamps by LES MIGRATEURS were purchased for Design Times Magazine conference room years ago (where I worked for years).   Original cost was $4000. for the pair.   Eventually the magazine moved to a new location and you guessed it…I got the pair for…
FREE!!!
Tip: When a big wonderful gift comes your way, say thank you and RUN with the goods!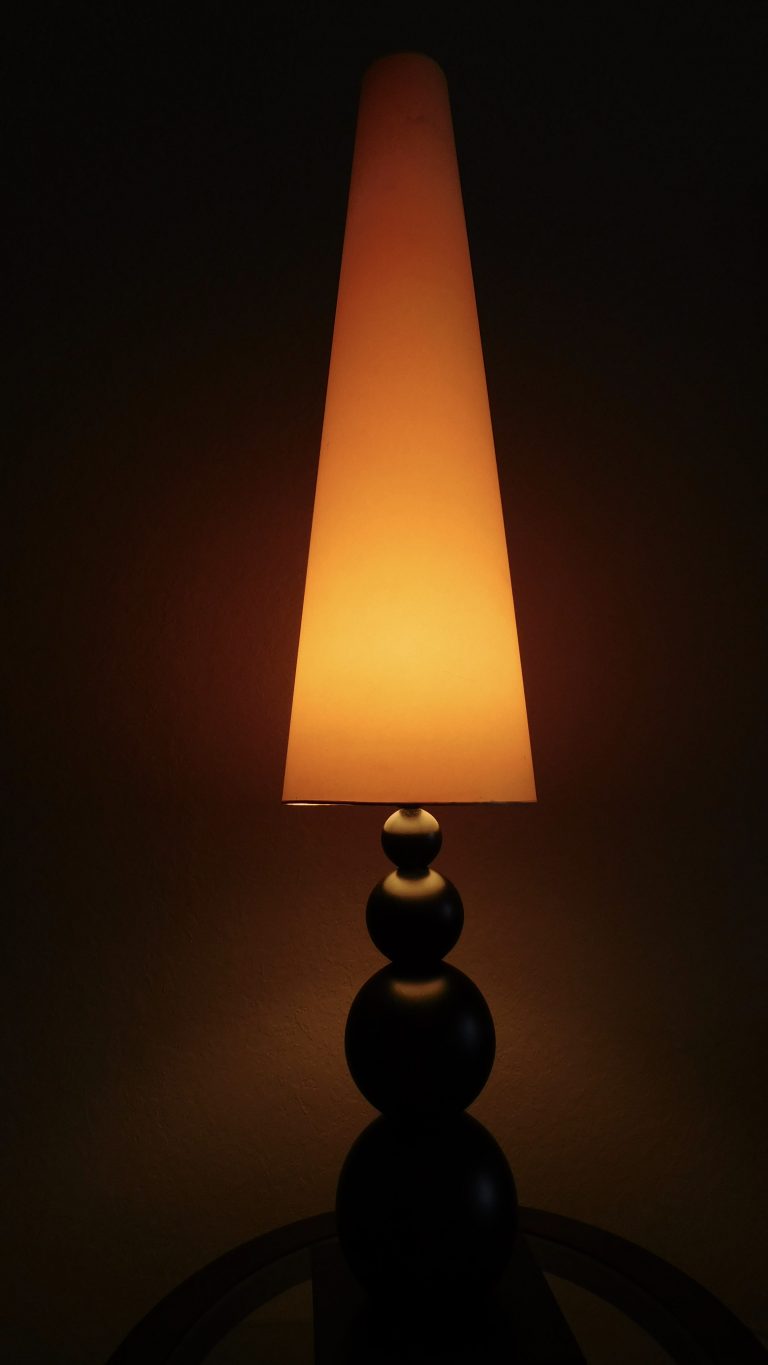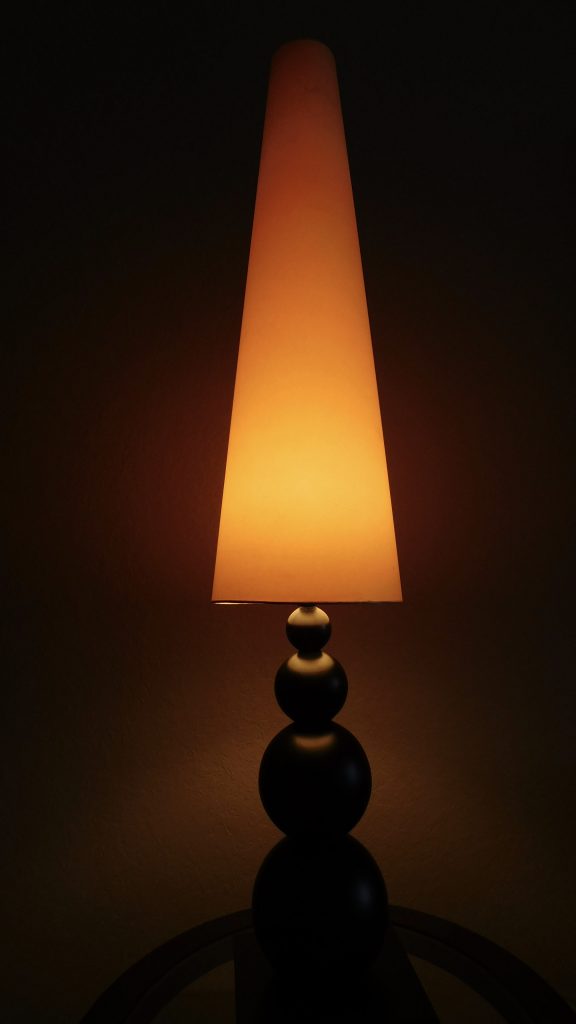 Side Tables…
The nicely constructed wood and glass side table were acquired from an estate sale last year.   They were not my ideal choice for the room, but I needed a pair sooner than later.  Generally estate sales make major mark-downs the 2nd day. I went back and offered $125.00 for both…which was accepted.
Tip: Try to look past the flaws.  For example, if you like the shape and look of a table and know it'll look perfect in your house but it isn't the right color, paint it.  If you like the art but not the frame, change it up.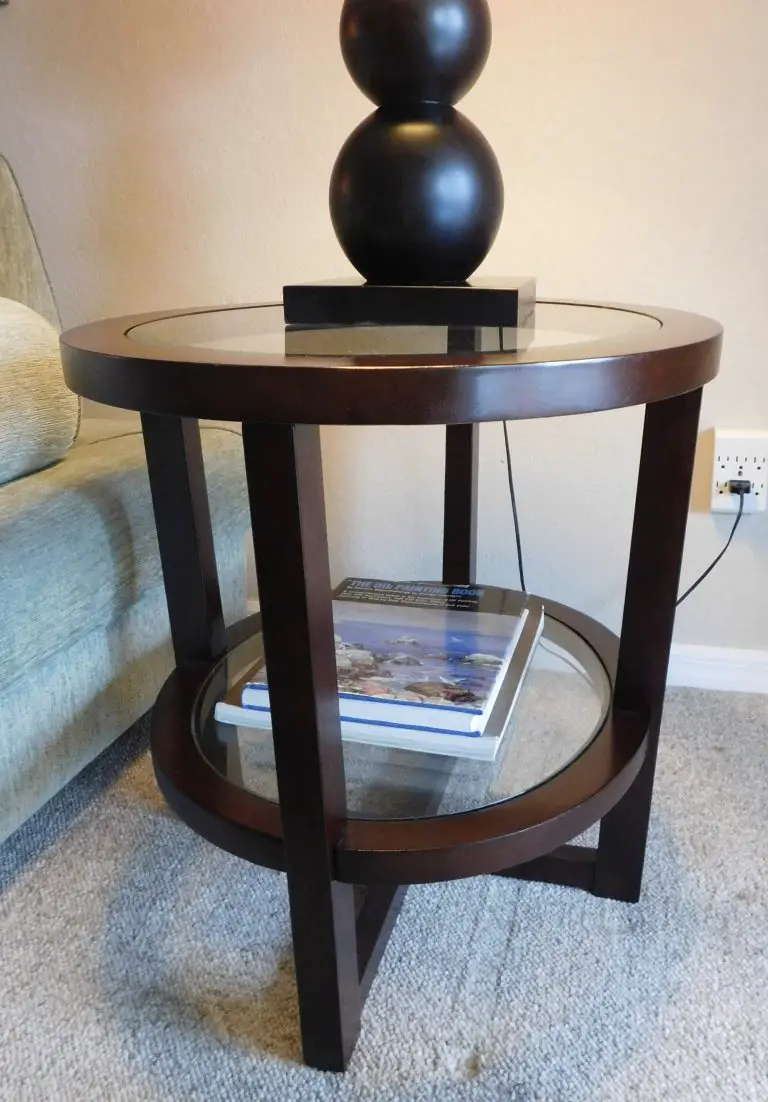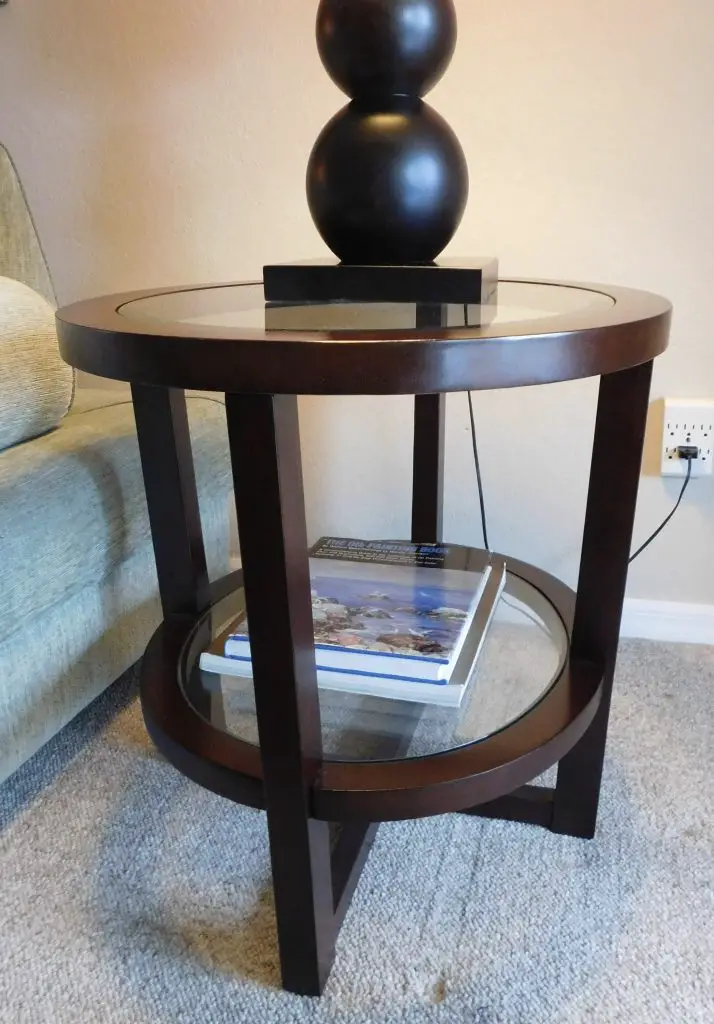 Rug…
The hand woven wool rug was found at the huge BRIMFIELD spring antique market in Massachusetts several years ago.  Original cost $3000.00
MY COST: $800.00
Tip: Be confident in your own taste.  I like to follow my gut reaction and stick to it.  Most people have an intuitive nature on their own design direction.  Reading design magazines and internet sites help clarify your own taste.

Artwork…
Do you ever look at an abstract painting trying to find a hidden meaning, message,  or resemblance to something else?   Most abstract art is simply painted to emit emotion, movement and interest using sophisticated interaction of color and texture. It is said a great abstract painting can hang in any direction and still be balanced, which is absolutely true of this original work.
This painting was found at a church consignment shop.  The side frames were black and scratched.  I painted the frame a perfect titanium metallic.  Original paintings similar to this sell in galleries from $2000-7000.
The manager decided I could have it for $50.00!
Tip: Always make certain you LOVE the work of art you are considering.   Art can be prints, originals, graphics, reproductions, family treasures.  You should never, ever live with art you don't enjoy.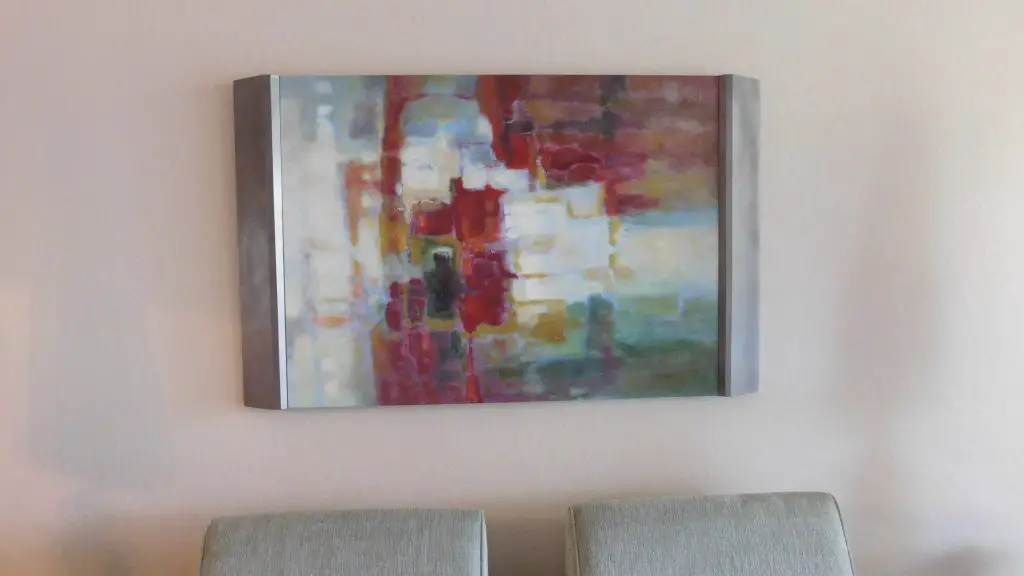 Cheers till next time…
From my humble sanctuary to yours,
Bonnie