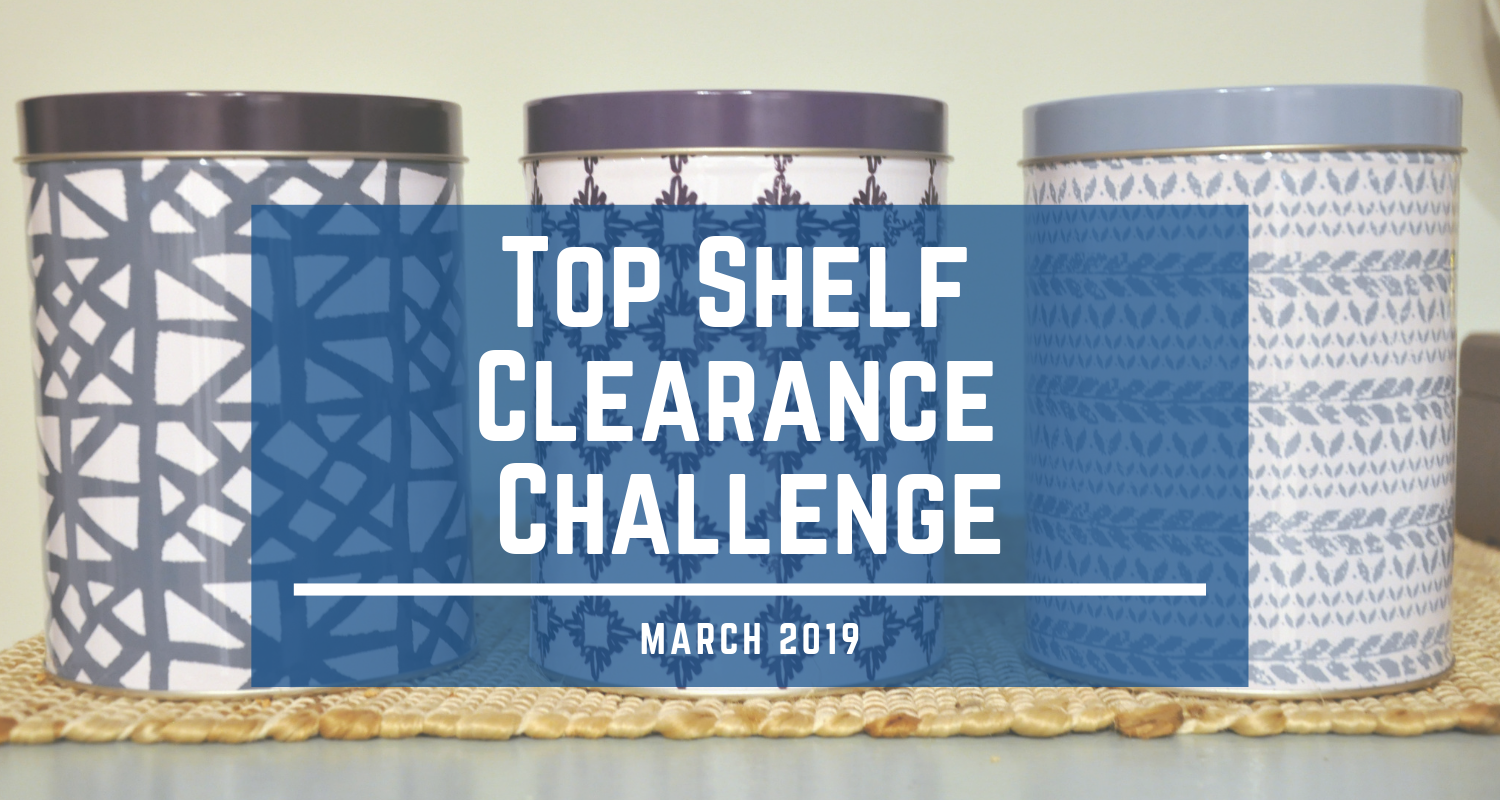 Top Shelf Clearance Challenge – March 2019
I was invited (for the second month in a row) by some creative, crafty and very talented bloggers to participate in a Top Shelf Clearance Challenge!  Links to all their blogs, and the awesome projects they completed, are listed at the bottom of this post.
Here is what I came up with in last month's Top Shelf Clearance Challenge, which had a theme of A Piece of My Heart for Valentine's Day.
About this Challenge…
The rules for the Top Shelf Clearance Challenge are as follows.  Buy at least one clearance item for $15 or less.  Take a photo of the clearance area and the clearance sticker(s).  Then take the item(s) and do with them as you wish.  This month we did not have any theme, but I was searching for something 'Springy'.
This post contains some affiliate links for your convenience (which means if you make a purchase after clicking a link I will earn a small commission which helps keep my blog up and running but it won't cost you a penny more)!
Here is what I found…
I went to my usual stores to check the clearance shelves but nothing really hit me until I visited Tuesday Morning.  This store is hit or miss for me, but I still visit it regularly.  They always have a large clearance section, and the items in this area are even more deeply discounted, depending on what color sticker is on the item.  My sticker was an additional 40% off!  Score!  I found these cute canisters for $11.99 – 40% off, making it $7.19.  Not bad.  I loved the patterns and colors and knew I could use them for something fun.
What I came up with…
Now, what the heck to do with them?  I could have used them as actual canisters, but at 5 inches tall, I thought they would make the perfect planters.  Lowe's or Home Depot are my usual go-to places for plants, so that is where I headed to find some Spring flowers or plants to fill them with.
However, on my way to Lowe's I decided I was going to check out Michael's Crafts instead to look for some fake Spring flowers.  Michael's is right next to Home Depot (and Lowe's is close too) so I figured if I didn't find anything at Michael's, I'd head to Home Depot or Lowe's instead.
If you've ever been to Michael's then you know what a huge selection of fake flowers/greenery they have, and they all were marked 40% off!  How could I NOT find something in here.  Maybe you're thinking, hmmm, fake flowers?  I dunno!  Those are usually pretty awful, and well, fake-looking.  But alas, they make some pretty darn realistic looking, and gorgeous, fake flowers these days!  And guess what?  They don't die!  So, yes, I opted to go fake and be able to use them for years to come.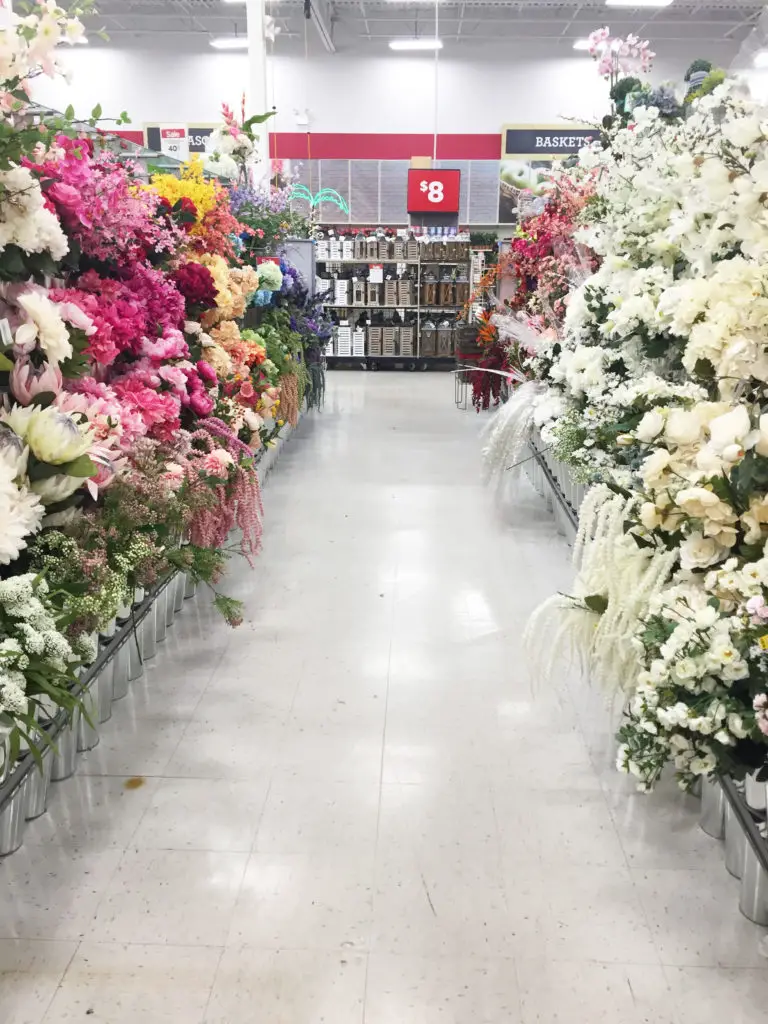 It can be a little overwhelming in this section since there are sooooo many choices!  It took me awhile to decide.  Here is what I chose.  1 blueish hydrangea, 2 white dahlia, 2 pink peonies, and 2 jumbo white gerbera daisies.  I kept it simple with the white and a few pops of color.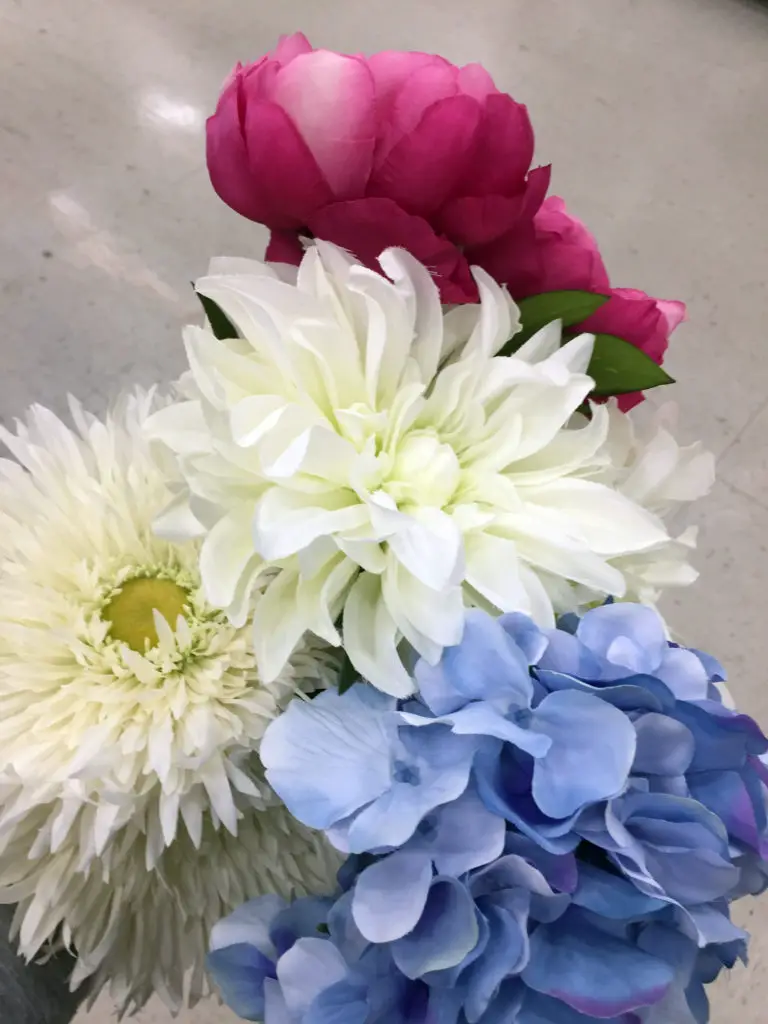 The stems are super long and have a wire inside, so you need to cut them, of course.   I used this rusty pair of pliers to cut mine.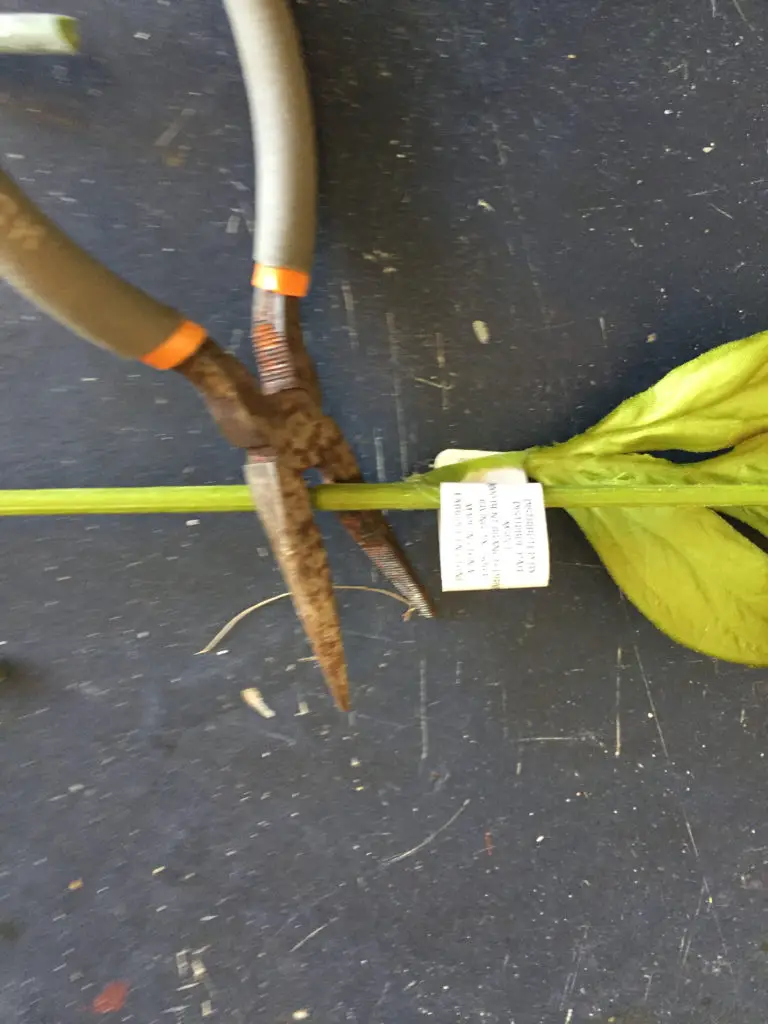 Finished Product…
And here is how they look.  First, I put them in my dining room and it really brightened up the room.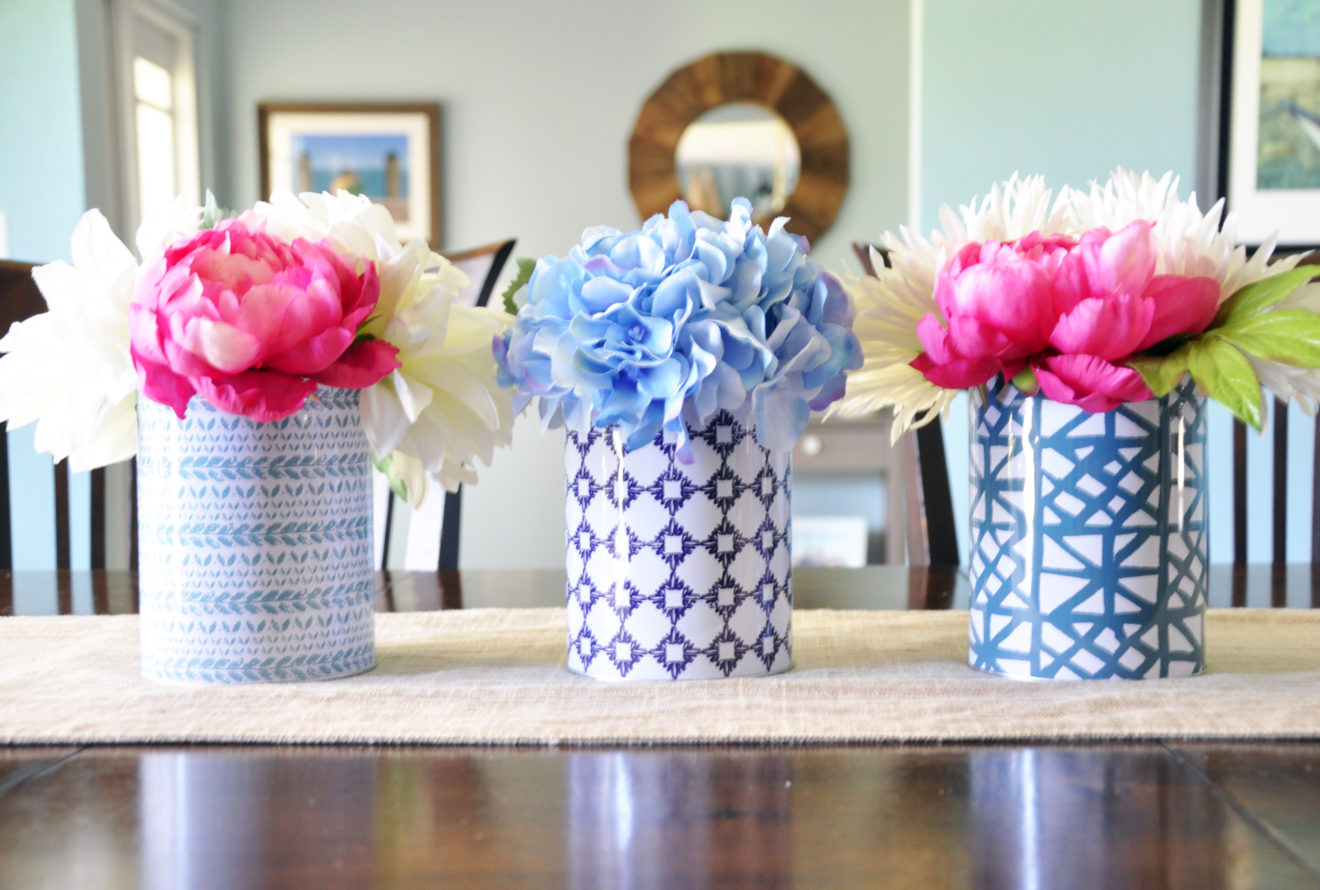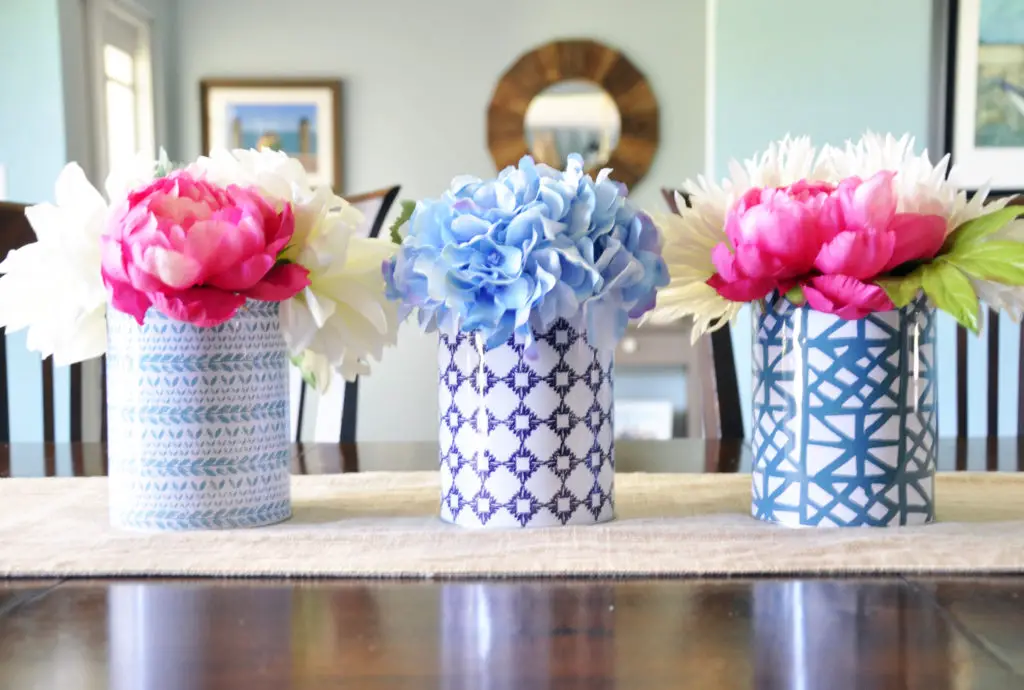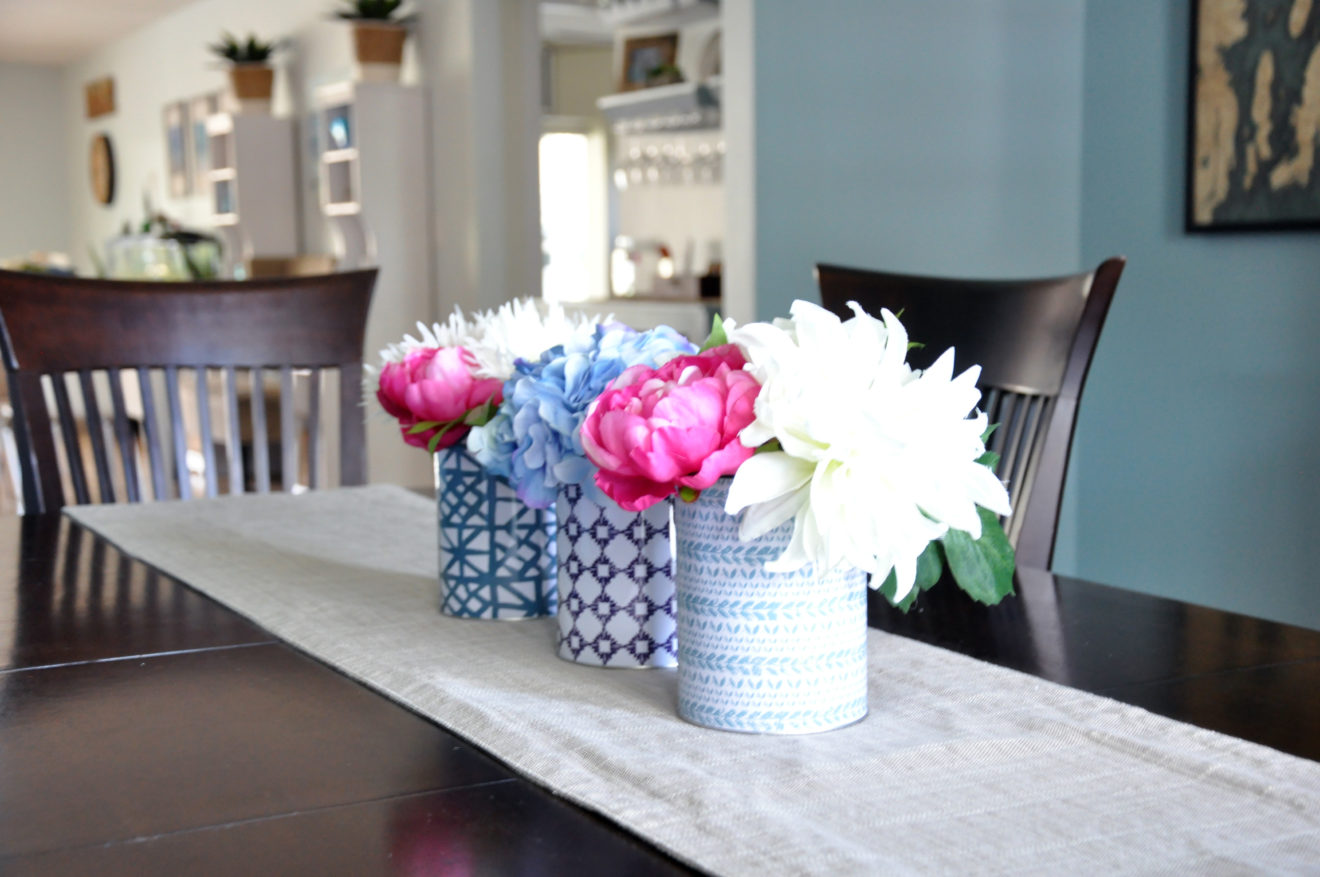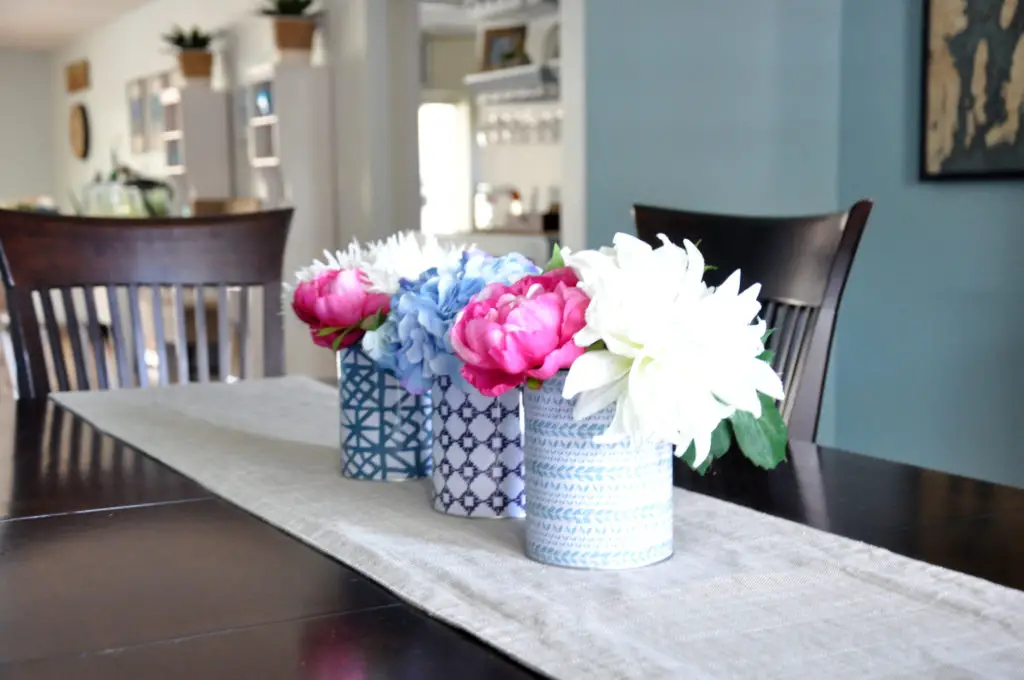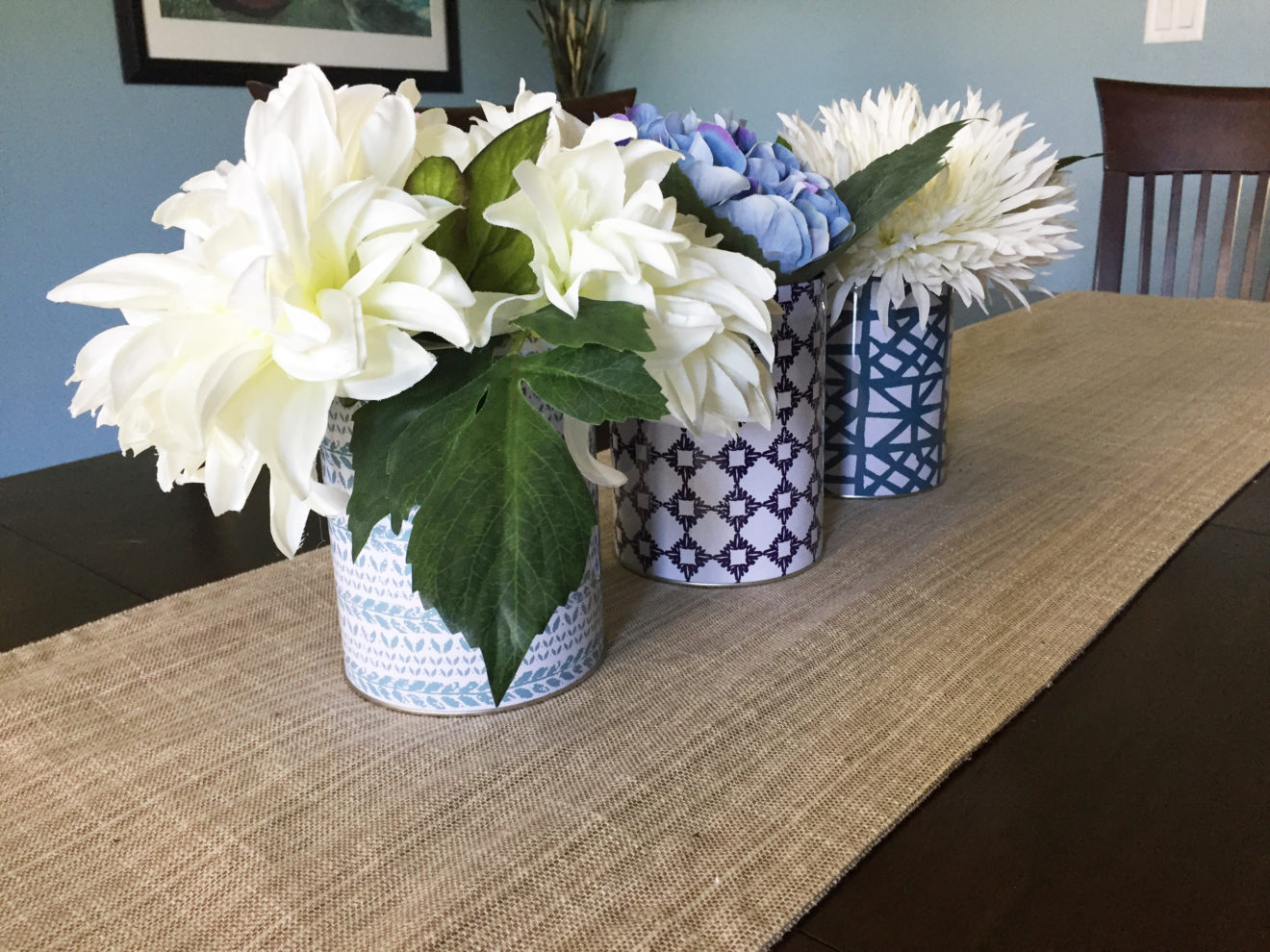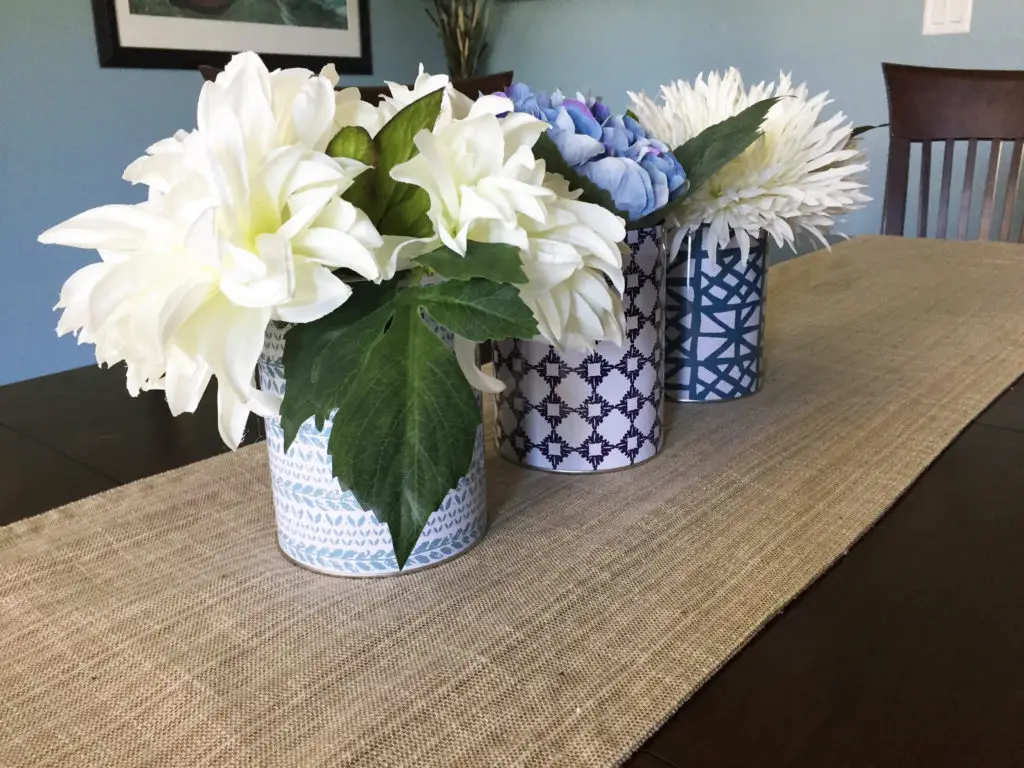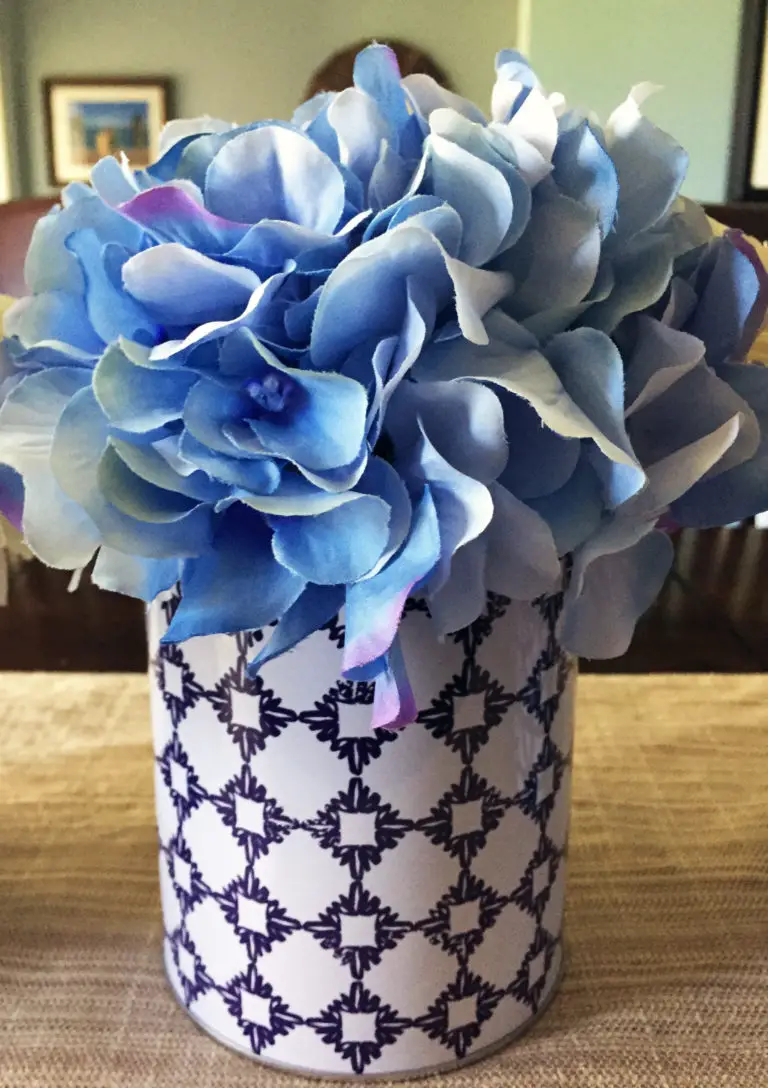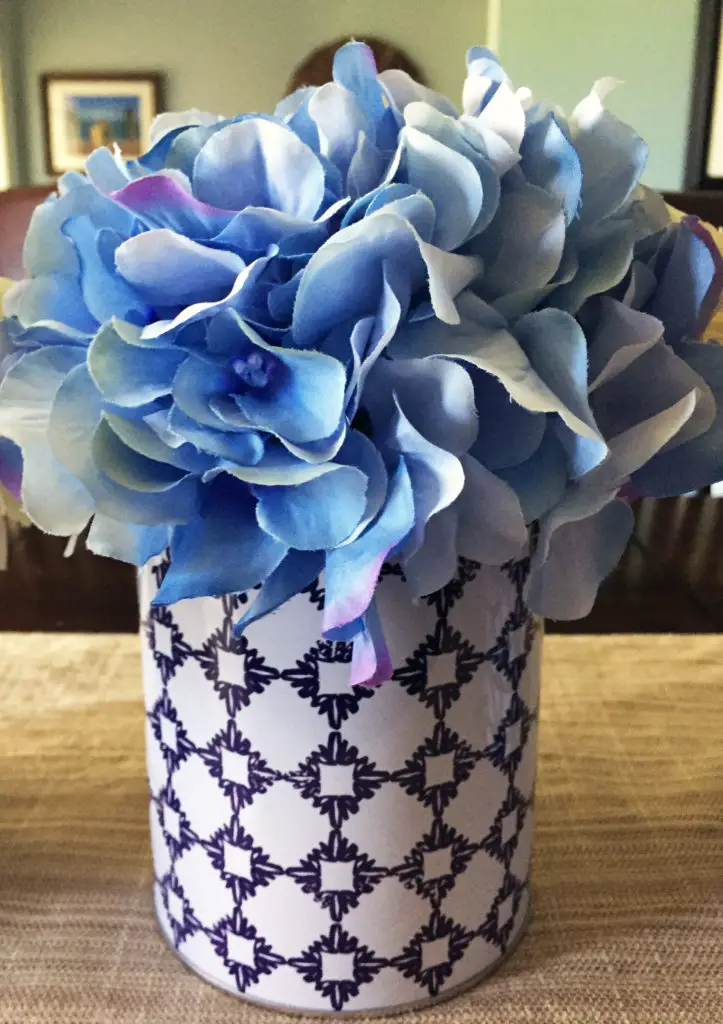 Then I tried them on the table in my new DIY Banquette Area, and they looked good there too!  We eat at this table every night, so I will keep them here, for now.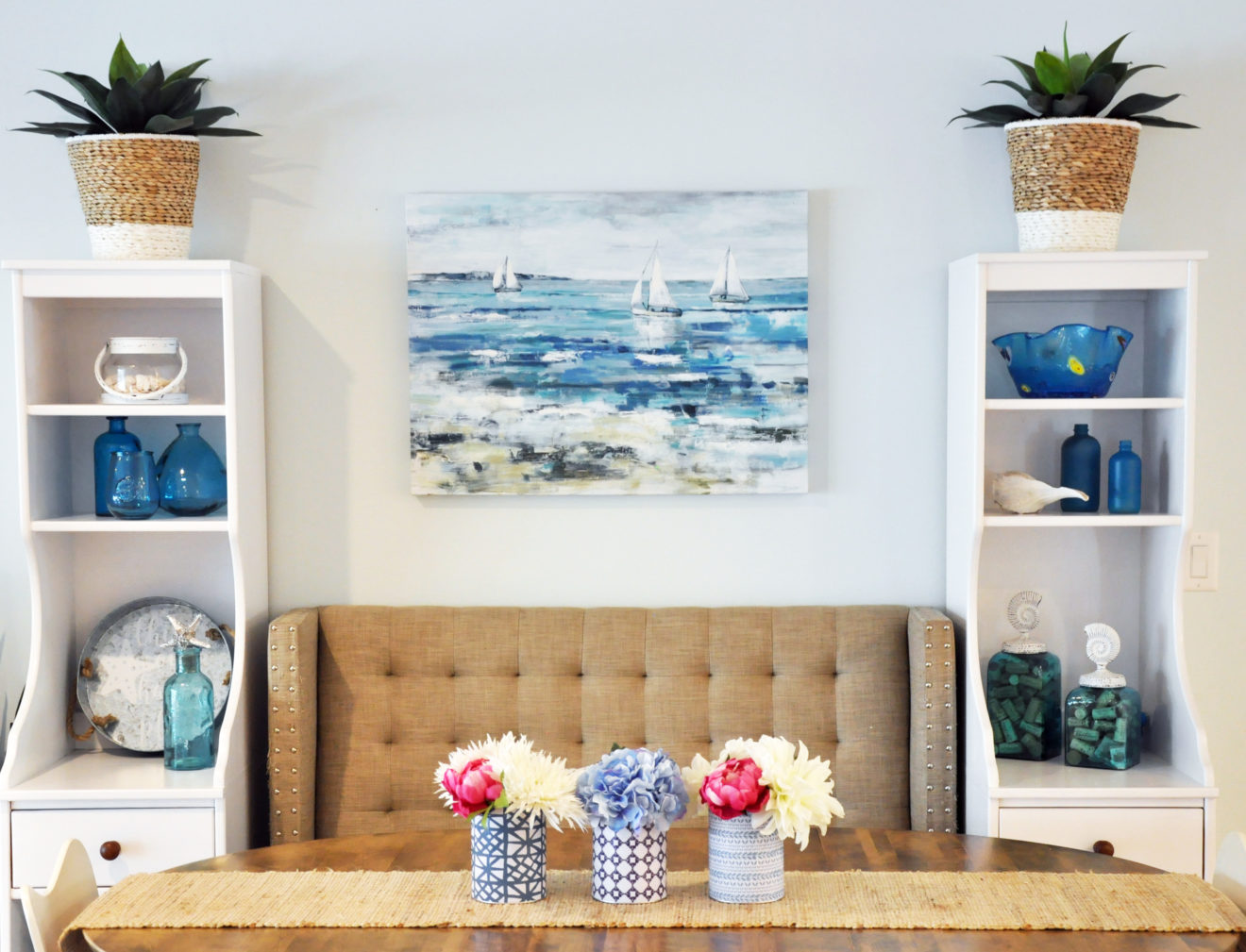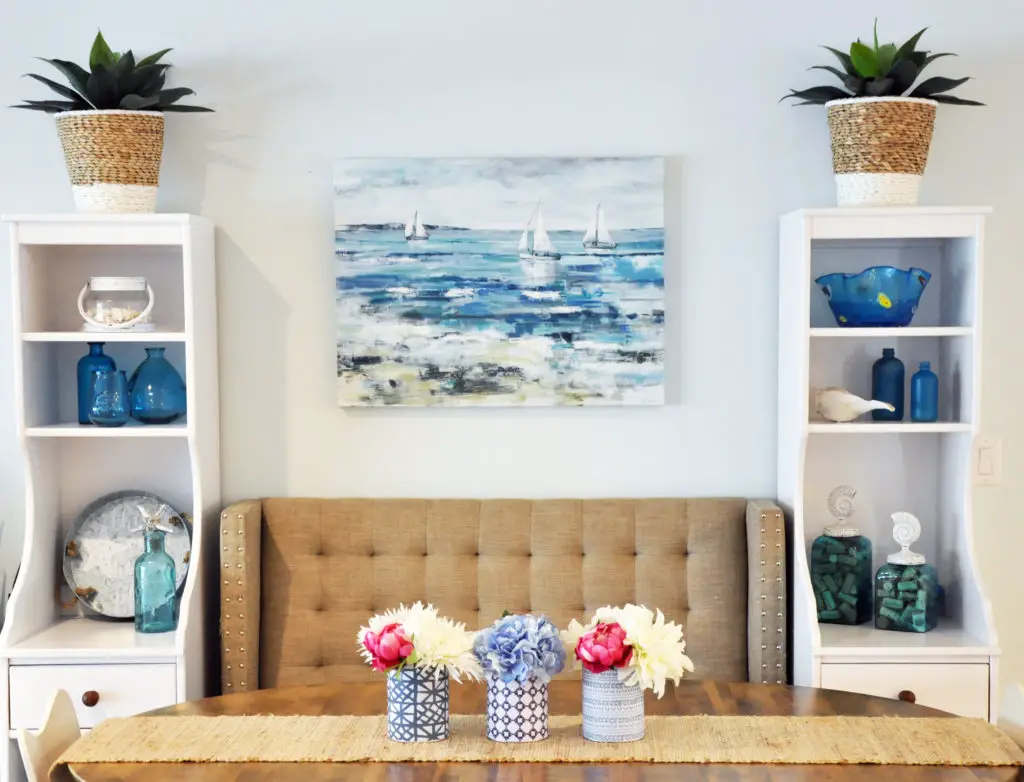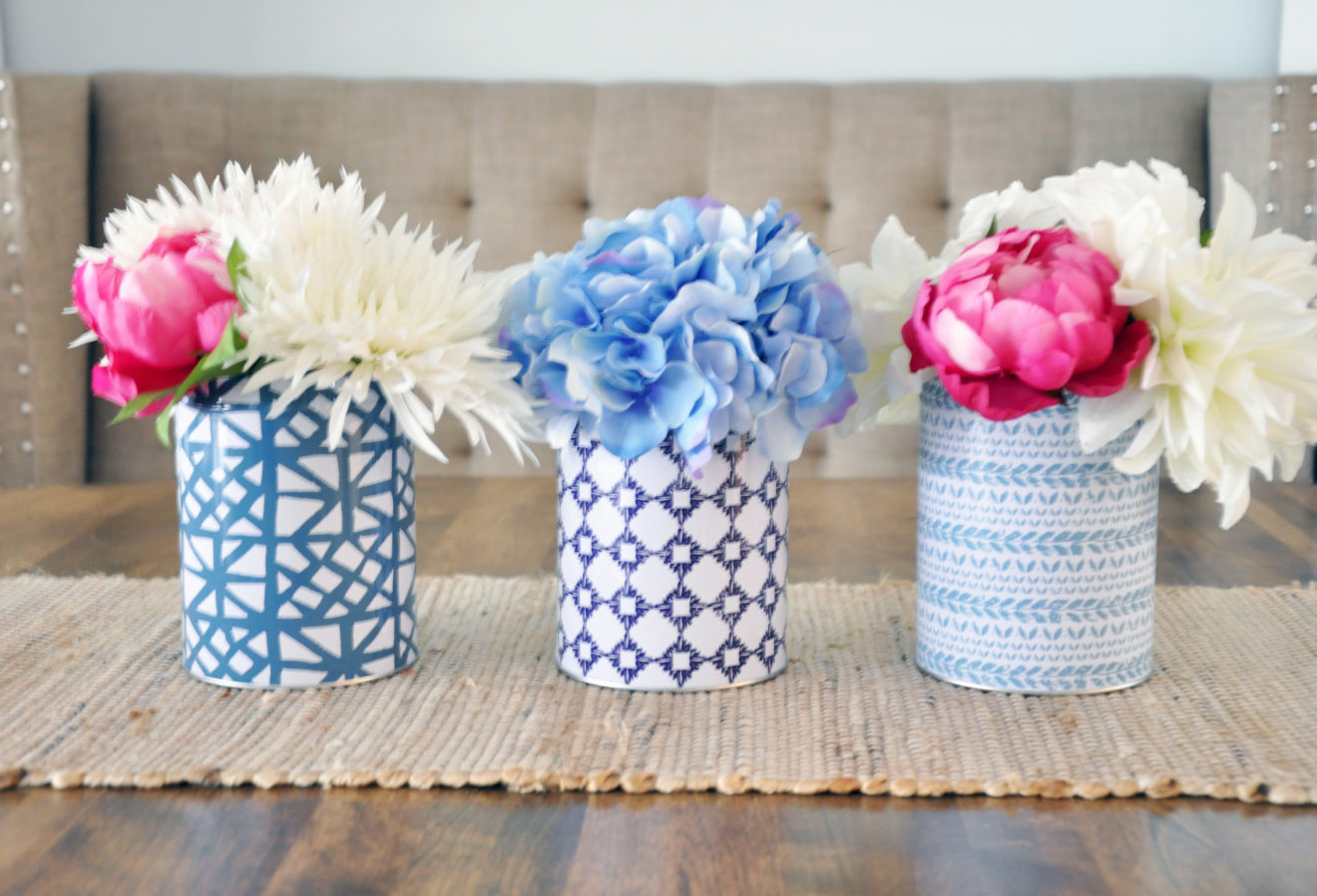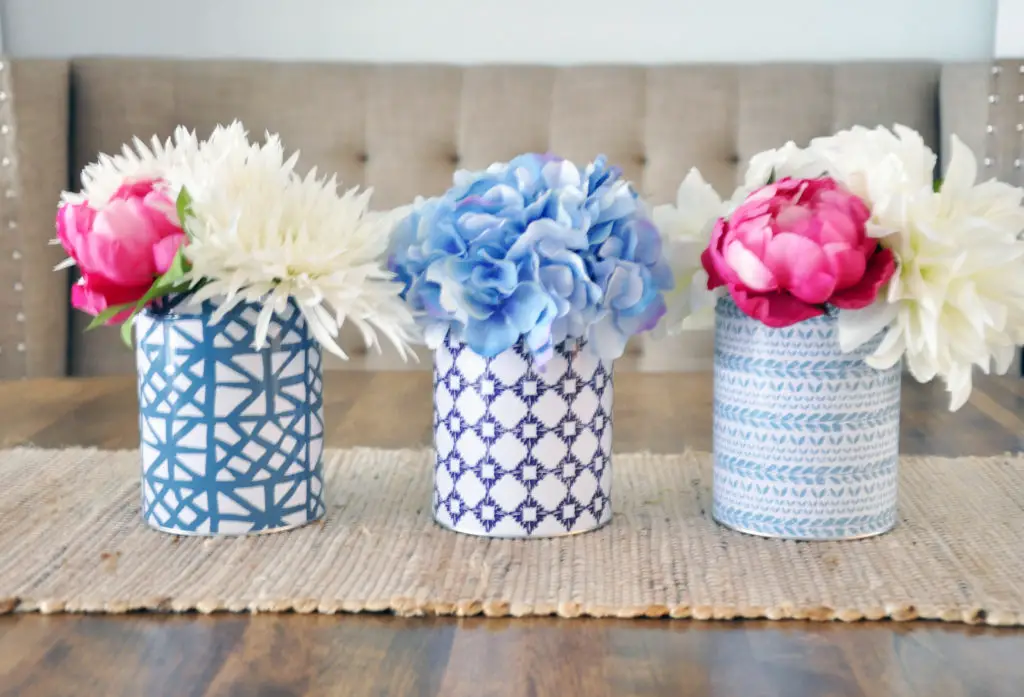 I love these challenges.  Perhaps this wasn't the most creative challenge for me, but the point is, you can repurpose items into something out of the ordinary.  Ya just gotta think outside the box a little bit.  These canisters would look awesome with herbs, succulents, plants, or flowers planted in them too.  Or you could use them to hold pencils, pens, and markers for your desk or your kid's desk.  Or, use them in the bathroom for cotton balls, q-tips, etc?  The possibilites are endless.
I hope you enjoyed my Clearance Challenge, and maybe even inspired you to get creative.  Decor doesn't have to be expensive to look good.
Please check out all the other bloggers and what they came up with on this month's Top Shelf Clearance Challenge.