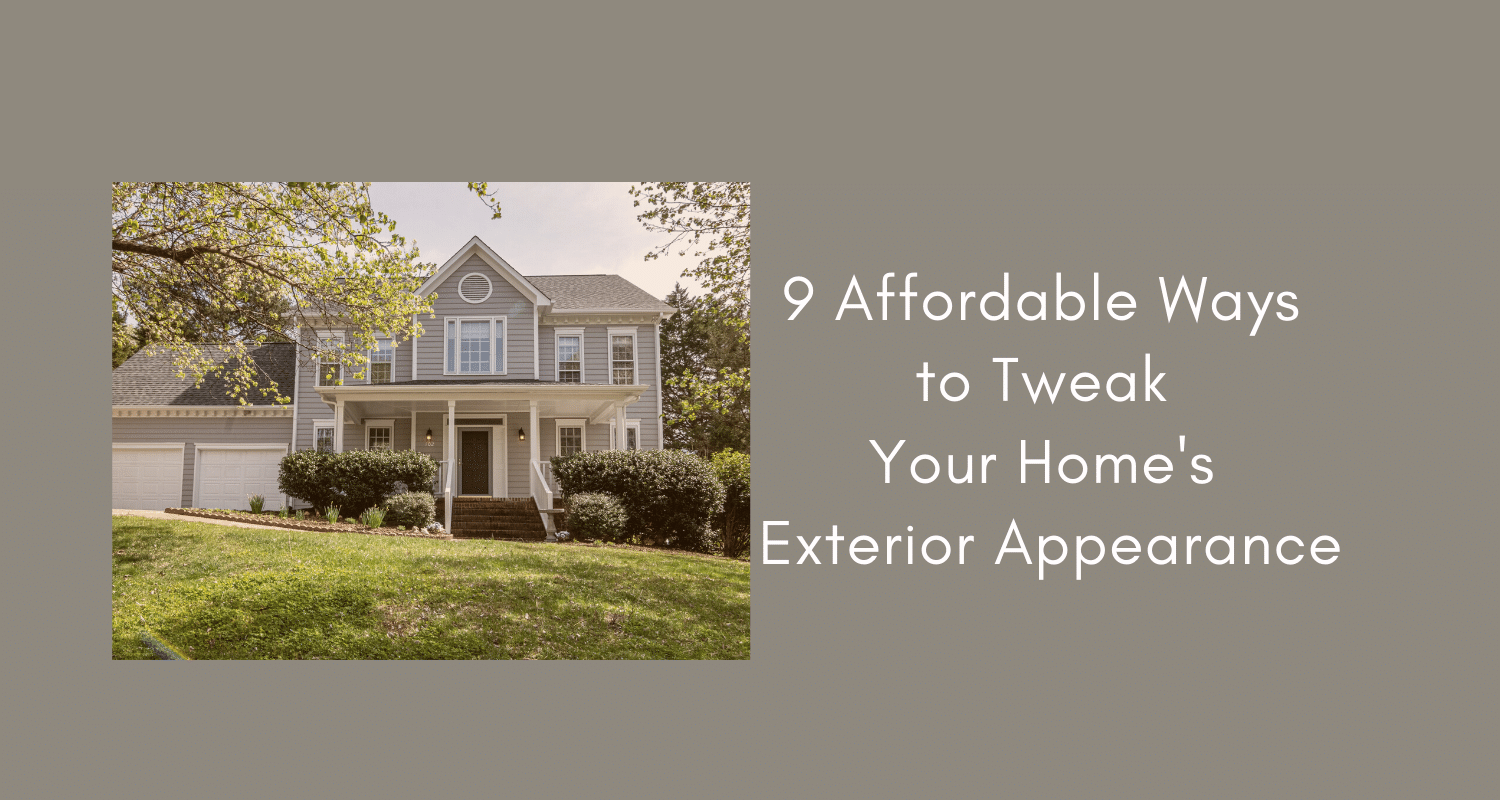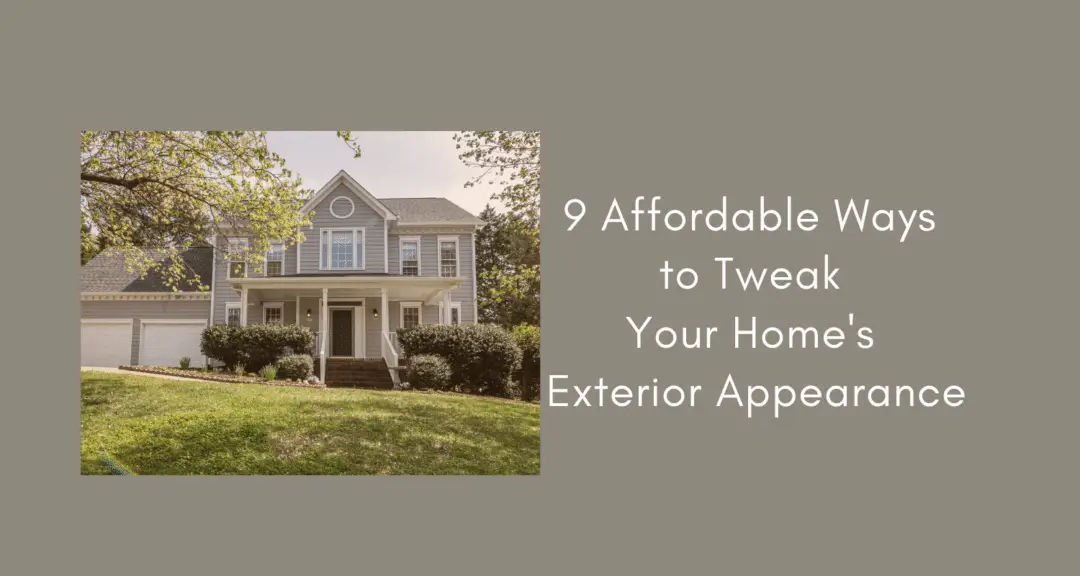 9 Affordable Ways to Tweak Your Home's Exterior Appearance
Homeowners who would like to make their home more saleable, or upgrade the look of their home's exterior on a small budget, have at least nine affordable projects. Homeowners often take their home's exterior for granted. But, by making inexpensive improvements, the home can
look much better. Buyers will be more impressed and, even if the homeowner plans to remain in the home, it will seem new again. In hard times, when a person might not be able to move to an upgraded home, they can improve their existing home inside and out.
Decide on Exterior Improvements
Take a walk to the street end of the driveway and take a good look at the house, garage, and exterior areas of the property. This is the view visitors or prospective home buyers will see and judge the home by. Look at the house roof, siding, and doors, and windows. What does the entryway look like? Does the landscape in the front yard need cleaning up and improving? What does the driveway look like? Is it tired and cracked? Choose improvements to work on.
Is there any exterior lighting? Going to light-scapes.ca can give a homeowner multiple ideas for adding decorative and safety lighting to the front of the house. The correct lighting choices can change the whole look of the landscaping after dark. Lighting can lead the way to the front
door and discourage thieves and trespassers. Lighting can also emphasize the good features of a yard and hide the less attractive bits.

Adding LED lights to the garden along walkways, spotlights for night entertainment, and string lights over a deck, along a path, or by a pool and on walls can add a nice touch. The lights can be on timers or turned on with switches for just the time the homeowner needs them. LED lights can be affordable and good for the environment at the same time.
Hire a pressure washing service or rent a pressure washer and give the roof, walls, and driveway a good cleaning. Everything will look better when the accumulated stains and soil are removed. After everything is clean, the homeowner can see where home repairs need to be made. These repairs can include replacing rotted wood trim, repairing damaged siding, touching up trim paint, and repairing broken or cracked window panes.
Paint is not that expensive, and a new coat of paint on a door, the trim, or even the exterior walls can make the house look new again. A recently painted house can have added value. For sales purposes, a home needs to photograph well and look well-kept. The paint will accomplish a lot. Remember to do the prep before painting to do a professional-quality job, or hire a painter.
In many homes, the garage door is an afterthought and largely ignored unless it breaks. But, changing out the old garage door for a more attractive heavy-duty one can add convenience and value to the home. The homeowner can recoup up to 97% of the garage door cost when
the house is sold.
Adding a deck or patio space, or updating an existing one, can add living space to the home and add value for prospective buyers. Outdoor living spaces are great for family enjoyment in the warm months of the year.
Put in a little elbow grease and time to clear the lot of dead tree branches, old exterior furniture or toys, other debris, and trim all the shrubs. If there is fencing, repair it as needed, and consider a new coat of paint. Add, some new plantings to the now clean flower beds. Mow the
lawn and fill in any holes and seed all the bare lawn spots. A clean, well-maintained lot is great for curb appeal.
It is a small thing, but updating the mailbox and its post can give a better first impression to buyers and visitors.
Upgrade the main entryway with a new or painted front door, new entry lamps, and planter boxes with bright flowers. Purchase a new entry mat, and clean up and paint the concrete or wood entry floor or stoop. If there is space add a nice exterior bench or a couple of chairs for a more welcoming look.
If the home has older, single-pane windows that are not in good shape, replace them with new, energy-efficient windows and frames. New windows will add comfort and save on energy bills. they will also improve the whole exterior look of the house. Buyers will pay more for a
home with new, energy-efficient windows.
Changes Can Be Made Over Time
All of these small changes can be done as the owner's time and budget permit. So, each weekend, the homeowner can tackle another small project until the home is looking new and wonderful again. But, these improvements each make a difference on their own. The homeowner can choose one or two to accomplish as money permits and do a couple more
later.

Chances are that, once a few improvements are made, the homeowner will want to make more of a difference in their home's curb appeal. Once the exterior is looking its best, why not tackle the interior rooms in the house with more easy, inexpensive improvements such as added lighting, a good cleaning and decluttering, and a new coat of paint where it will be noticed the most?

Artwork can be taken down and rearranged or switched from one room to another so it looks new again. The furniture arrangement can be changed, and a few new accessories can be added for a better, new look. As we are spending more time at home, all the defects and worn look of furniture can become more evident, and we can replace one or more of the most worn
pieces of upholstered furniture or use fabric upholstery covers to make them look new again.

When it comes to the home you live in, make it look its best every day to enjoy spending time in
each room again.