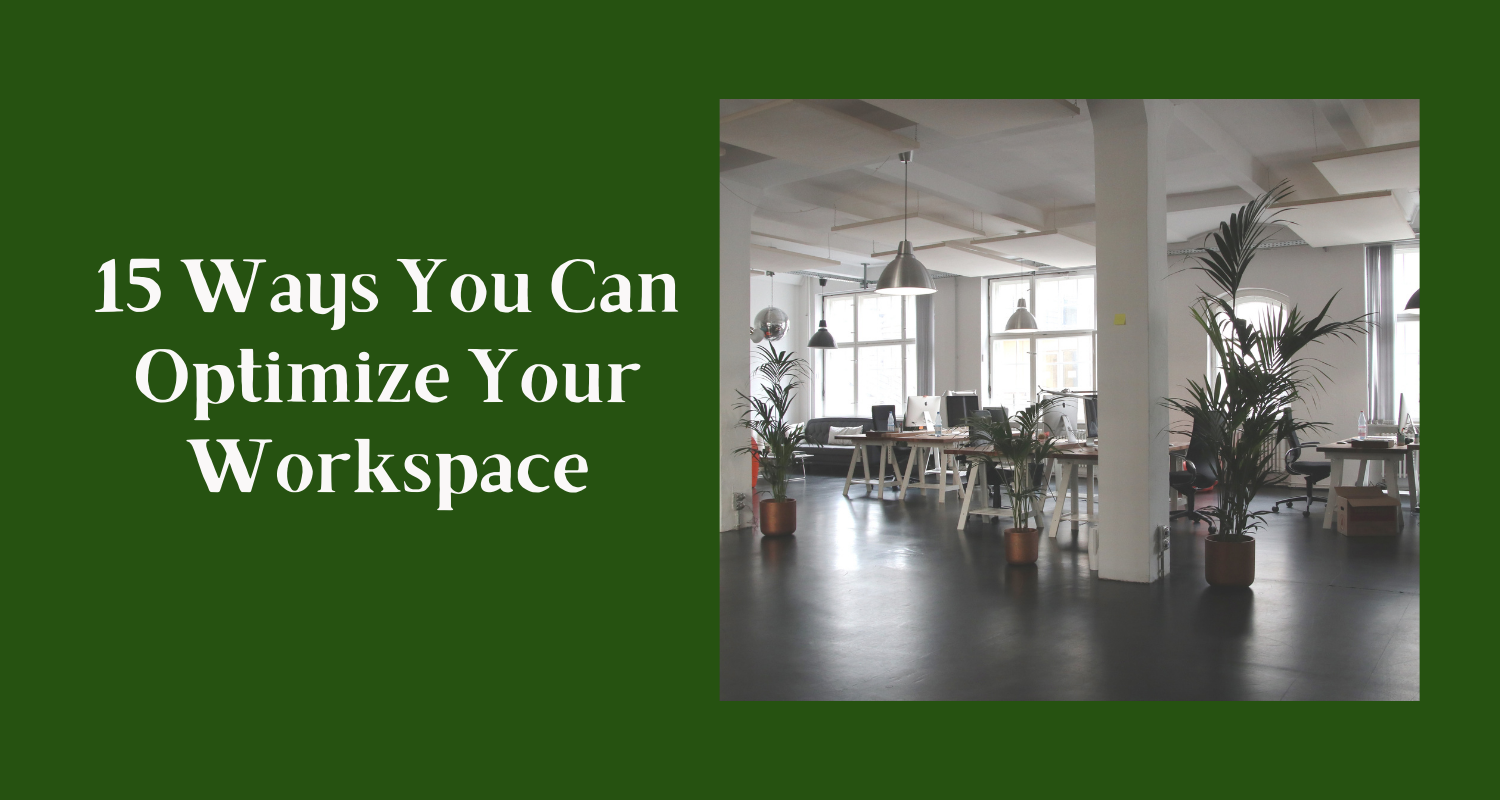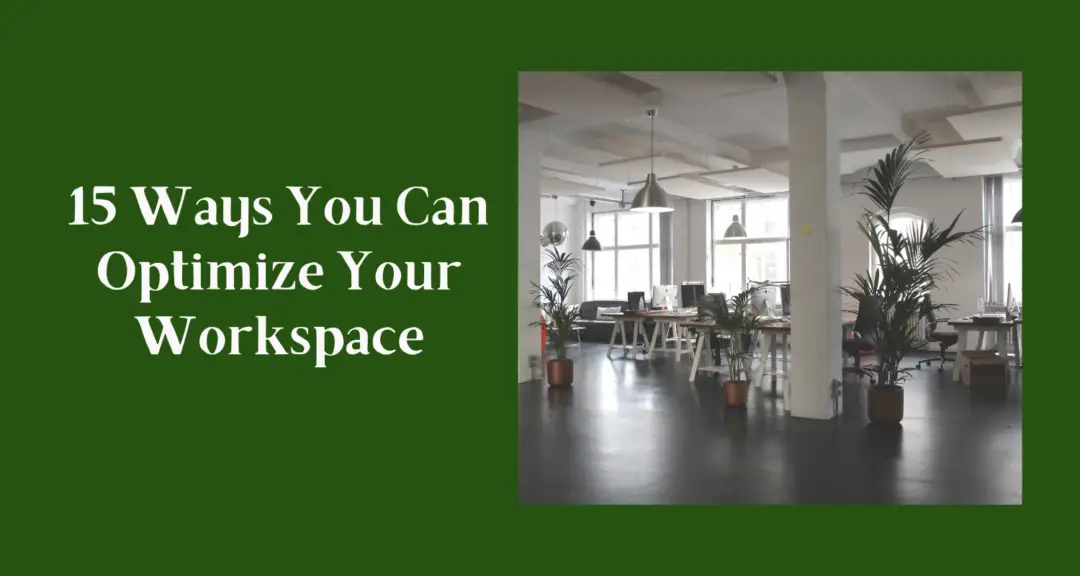 15 Ways You Can Optimize Your Workspace for Your Employees
A good workspace guarantees the wellbeing of employees and the growth of the business. It's not that difficult to revolutionize a workspace if you follow the fifteen tips mentioned below – keep reading to find out! 
1. Keep your workspace clean
A cluttered and unclean workspace will never let your employees do their best. You have to keep your workspace properly clean to limit the spread of diseases and keep your employees motivated. It's better to hire commercial cleaning services instead of in-house cleaners and sweepers for office cleaning. 
Don't use any products like stationery items in your office that are harmful to the environment. Focus on making your office "green" as it will help ensure the health and wellbeing of your employees. 
2. Addition of vibrant colors
It's impossible to build a fun workspace without adding proper colors to your workspace. You have to ensure that your office doesn't look like the boring office depicted on TV. Amp up the vibe of your workspace by adding vibrant colors.
Some of the vibrant colors that look amazing in offices are:
Green 
Red 
Orange 
Purple 
Yellow 
These colors look amazing and help your employees stay focused on work. You can hold a poll in your office to decide which colors should be added to your workspace.
3. Proper illumination of the workspace
Adding harsh lights to your workspace won't help your employees do their best. Your office workspace will become more fun and productive if you add soft lights. These lights not only lit up the workspace properly but also lifted the mood of your employees. 
Hire an interior designer to help you decide which lights you should place in your office. Let the sunshine in your workspace as it can boost the mood of your employees. 
4. Let your employees voice their concerns
Being a leader doesn't mean you have to force your decisions over others. It's important to ask how your employees feel about working and what changes they want. Build proper channels to help your employees share what they think. 
Surveys can help you understand how you can improve your workspace. Surveys like:
Employee engagement surveys
New employee surveys
Employee culture surveys 
Are easy to conduct and don't take a long time to hold in your office. 
5. Make the workspace comfy
Your workspace has to be comfortable to help your employees unleash their potential. A comfortable workspace doesn't mean that you have to buy better furniture and call it a day. Every single detail in your office counts and adds up to build a great workspace. 
Start by improving the lighting in your office. Your workspace should also have proper air conditioning to ensure that your employees have a good time. You can also ask for suggestions from your employees to better understand how to make the office comfier. 
6. Create a proper calendar for meetings
Calling a meeting out of nowhere isn't the best way of getting along with your employees. Creating a calendar for meetings is a simple addition to your workspace to help you manage things better. 
Keep the calendar updated to ensure that everything goes as planned. Share the calendar with all your employees to have everyone on the same page. 
7. Keep the workspace ventilated
Proper ventilation is a key element for building a great workspace. Fresh air can boost the mood of your employees and make your workspace free from any diseases. 
Install a proper HVAC system in your workspace. There should be windows in your office rooms to ensure that fresh air can make its way inside your office. 
8. Proper organization of work desks
You have to optimise the work desks for your employees as they will have to spend around 8 hours per day on their desks. Set up proper ergonomics to help your employees avoid any physical stress. 
Minimise the clutter from the work desks of your employees. Go paper-free as it can help you minimise your costs and also help you organise your office the right way.
9. Add plants to your workspace
Plants improve the workspace and make your employees feel more energetic. Indoor plants don't only look good but also improve the air quality indoors. These plants also provide a fresh smell and boost up the mood. Go for small plants as they are affordable and easy to maintain. 
10. Include regular breaks
Working 9-5 without taking breaks won't help your employees do their best. Change the schedule for your employees to include proper breaks. 
If your workload is easy to manage, you should introduce flexible breaks as they are even better for your employees. Encourage your employees to avoid using smartphones in their breaks and focus on productive tasks. 
11. Remove the distractions
Help your employees do their best by removing the distractions from your workspace. For example, general noise like ringing phones can be irritating. 
Make sure you remove distractions like these to create a better workplace. Encourage your employees to have a chit-chat during the break and not discuss sensitive matters during working hours. 
12. Arrange fun activities
Working all the time can become exhausting. Hold fun activities in the office premises to help your employees refresh after a long day. Indoor games like foosball are great to declutter and get rid of work-related stress. You can also arrange outdoor activities to help your employees have a good time. 
13. Help your employees maintain balance in life
Working all day long can make it hard for your employees to maintain a work-life balance. The human brain isn't capable of working like robots 24/7. 
Studies have shown that employees who don't spend enough time with their families can develop physical and mental health problems. Review your employees' work schedules and encourage them to take regular breaks. 
14. Evaluation and appraisal of your employees
Building a great team starts with identifying talented people and rewarding them. Introduce proper policies in your office that can help you make a list of employees doing a great job. Ensure that your employees know about the appraisal system and try to do their best. 
15. Hold regular training sessions 
Your employees can do a better job if they have proper skills. Training sessions can help your employees develop better skills. Arrange regular training sessions and invite thought leaders from your industry to help your employees grow professionally.