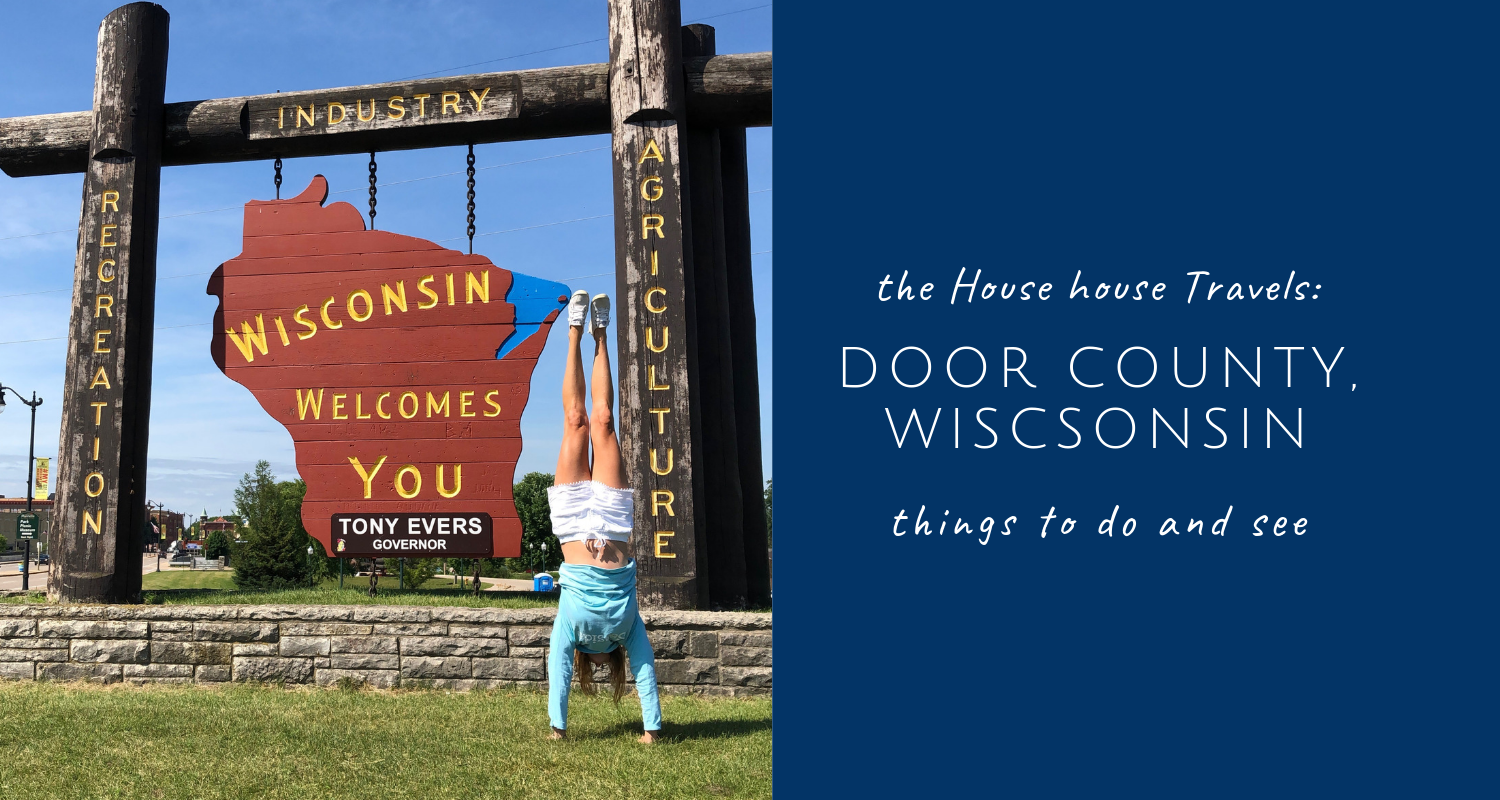 Travel Post – Door County Wisconsin
We just visited Door County, Wisconsin for the first time and LOVED it.  I wish we had more time to explore this area but our flight was canceled and we were forced to change airlines and routes – a total nightmare! We finally arrived in Sturgeon Bay at 11pm, instead of our originally scheduled 1pm arrival.  We lost a full day to explore, however, what we did see was awesome.
Why Door County???
Every summer, as a family, we try to pick a new state (or a few) that we've never visited. This year we chose Wisconsin and Michigan for our summer trip.  To be honest, I had never heard of Door County, but my husband had so we decided to check it out.  Maybe you've never heard of it either?  It is definitely an area worth checking out some day.  For us, our trip there in July was a wonderful experience!
Where is Door County?…
Door County is on a peninsula between Green Bay and Lake Michigan, in the state of Wisconsin. It is known for a long shoreline with many beautiful parks and beaches. Door County consists of 11 towns (and an island). In and around them, you'll find wineries, orchards, boutiques, art galleries, lighthouses and hiking trails.  All this goodness – without the big city crowds.  This surprised me.  Growing up in Massachusetts, we went to all the tourist places in New England in the summer time; including Cape Cod, the shores of Maine,  beaches in New Hampshire, Newport, RI, etc.  Everything was always so crowded.  We found the opposite to be the case in Door County.  It was so chill and relaxed and the crowds were not bad at all.  Maybe we just picked a slow week to visit.  Whatever the case, we weren't complaining.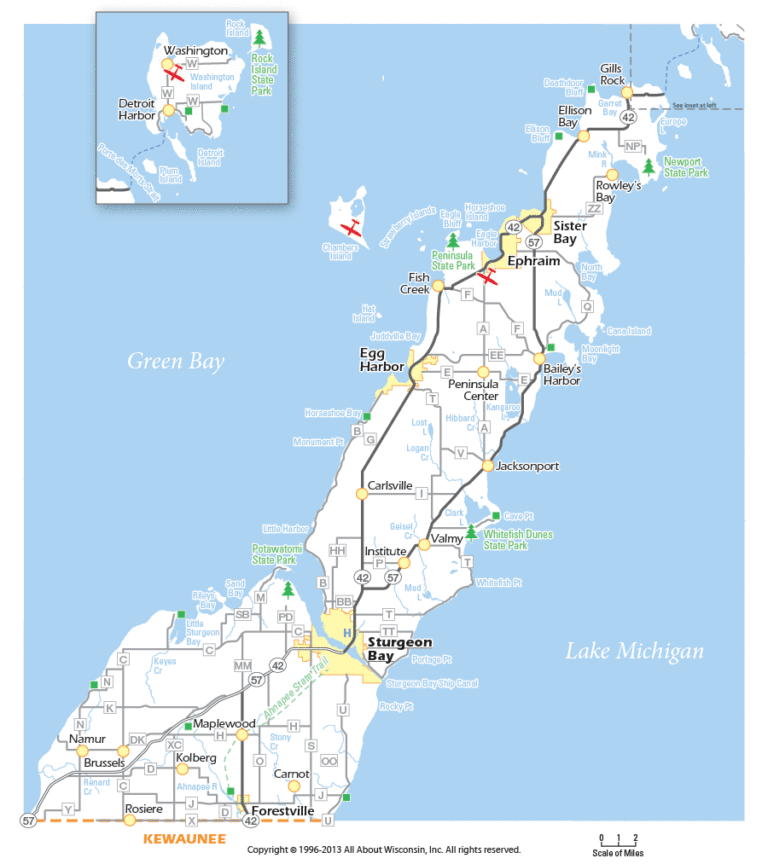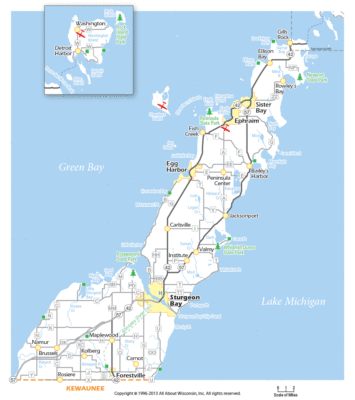 We stayed in Sturgeon Bay, the largest town in the county, at the Westwood Shores Waterfront Resort.  We scored a 2 bedroom suite with kitchen and living area and a great water view.  The resort features both an indoor and an outdoor pool.  It was really nice.
Exploring Door County…
Since we only had one full day to explore this area, we tried to fit in as many sights as we could.  Therefore, we left our hotel fairly early in the morning and didn't return until after 7pm.
Our first stop was at the Sturgeon Bay Canal lighthouse.  It is located next to a Coast Guard Station.  There are two lighthouses here, the Sturgeon Bay Canal Lighthouse and the Sturgeon Bay Ship Canal Pierhead Lighthouse.
You are allowed to walk all the way to the end of this pier, which was so cool, and made for some epic picture taking.  The weather was awesome too.  The sky was so clear and the temperature was perfect, with nice lake breezes, a welcome break from the Florida heat we are used too.
Cana Island Lighthouse…
Our next stop was at another light house. The famous Cana Island Light House.  This place was so cool!  The light house is located on a small island.  Due to the water level of Lake Michigan being 3 feet higher than normal, we had to take a tractor ride through 3 feet of water over what is usually a walkable sand bar to the island.  The darn thing just drove right through the water to the other side.  The kids got a kick out of that.  My oldest son wanted to walk, but the water would have been up to and probably over our waists, so we talked him out of it.
Once on Cana Island, we made the trek up the 94 stairs to the top to check out the view.  It did not disappoint.  You do need to pay to go into the lighthouse (adults were $12, kids $10) but it was worth it and admission fees and additional donations keep the island and lighthouse staffed and maintained throughout the year.
We also explored the little island a bit.  My husband read every plaque he could find, and of course I took a zillion pictures.  The boys dipped their toes in the water, but not me. Brrrrr!
After Cana Island, we stopped for lunch and sampled Cheese Curds for the first time.  When in Wisconsin ya gotta try the cheese, am I right?  They were delicious, by the way.
Wineries…
There are so many wineries in this area!  Unfortunately we did not have time to stop at any, but you can make a full day of touring them all.  I found a Wine tour that does just that.  Or you can take a Wine, Spirits & Brew tour! We did bring home a bottle to taste from Door 44 Winery, and it was delicious!  Here is a map of all the wineries you can visit.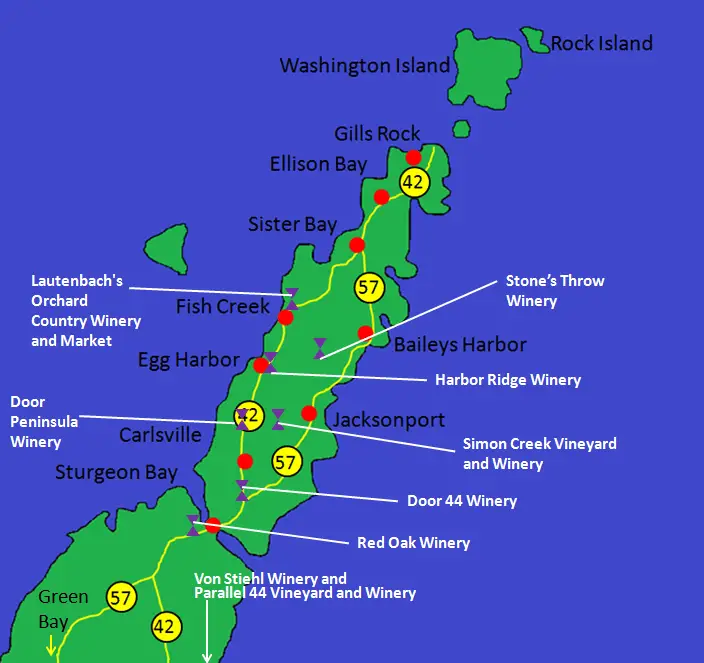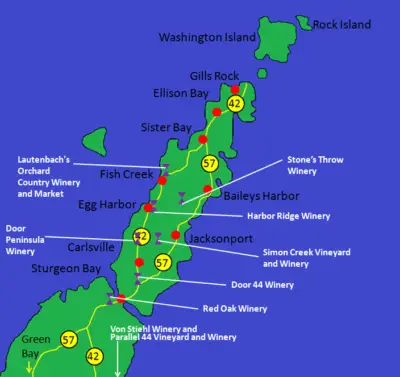 Swimming in Lake Michigan???
Next, we stopped at Anclam Town Park and Beach because the boys wanted to take a dip in the cold waters of Lake Michigan.  My husband and older son ran right into the water, while my younger son never quite made it all the way under.  As for me, well, I am much too wimpy, so I played the role of photographer.  They all said the water was FREEZING.  Maybe we're just spoiled living in Southwest Florida where the Gulf waters get VERY warm.
We hung around at this beach for a while.  It was so gorgeous and just plain picturesque, an amateur photographers (like me) dream.   And once again, no crowds!  There were people there, but not very many!
Our last stop before dinner was to yet ANOTHER lighthouse.  The Eagle Bluff Light Station is located within Peninsula State Park in Fish Creek, Wisconsin.  Again it was so darn pretty.  The lake, the view, the lighthouse.  All of it!   If you are into camping, this park had a bunch of nice looking campsites.
Our last stop was to Shipwrecked Microbrew in Egg Harbor where we ate dinner.  Egg Harbor had a cute little downtown area with lots of shops and restaurants.  Unfortunately, we didn't have time to explore them all.  At this point, one of our kids had enough (of adult stuff and looking at boring lighthouses) and was ready to go back to the hotel room.  It had been a long day of exploring, so we headed back to relax in the room and watch the sunset.
Overall, we absolutely loved this area and wish we had more time to check things out.  We got up the next morning for our long drive to the Pictured Rocks area of the Upper Peninsula of Michigan.  We loved this area too, and I hope you click the link to learn more about it.
Have you ever been to this area?  It is definitely worth a trip here.
PS – If you are wondering why I am doing a handstand in the graphic at the top of this page, read on…5 summers ago I was encouraged (kinda forced) to do a handstand in front of the South Dakota state sign (where I was born), and then it turned into whatever state sign we were entering (if possible – sometimes it is not! Like on a busy highway, or if it is raining.)  Now it is sort of a tradition that we stop at the state sign so I can do a handstand (and it is usually very embarssing, as tons of cars are driving past probably wondering, 'what the hell???').  I am up to about 10 state signs (like I said, some are not easy to get).  Obviously I was able to get Wisconsin.  😉