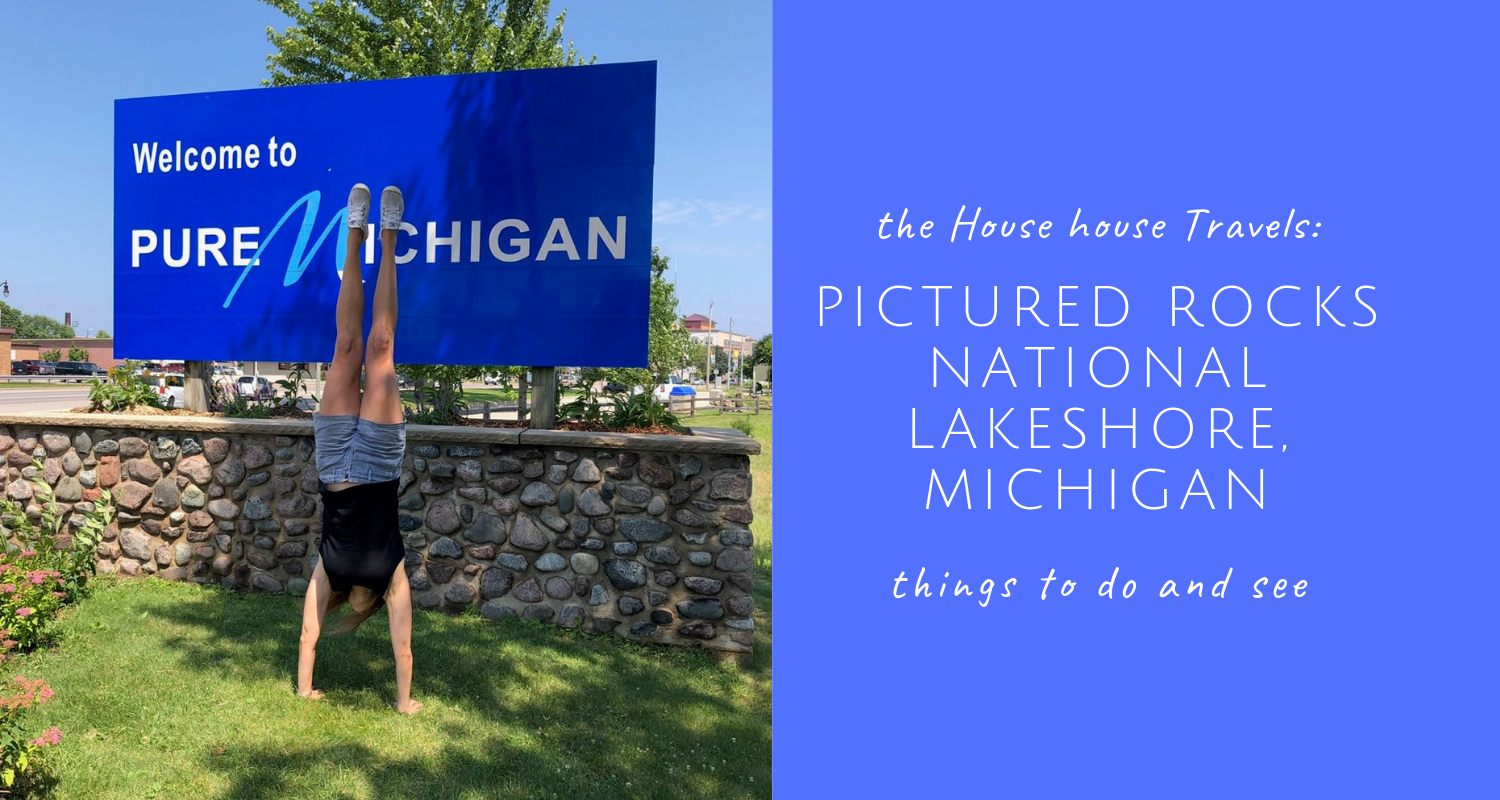 Travel Post – Pictured Rocks National Lakeshore
We just got back from a trip to Pictured Rocks National Lakeshore in Michigan and it was amazing.  I thought I'd write a post to share our experience.  (Why am I doing a handstand in the above pic?  Keep reading to find out.)
To be honest, I had never heard of Pictured Rocks.  Maybe you've never heard of it either?   Whatever the case may be, it was EPIC (to quote my boys!).  Every summer, as a family, we try to pick a new state (or a few) that we've never visited.  This year we decided on Wisconsin and Michigan for our summer trip.   My husband had heard of Pictured Rocks before, so we decided to check it out.
What is Pictured Rocks…
Pictured Rocks National Lakeshore hugs the south shore of Lake Superior in Michigan's Upper Peninsula. It's known for the dramatic multicolored Pictured Rocks cliffs, beaches, sand dunes, waterfalls, inland lakes, deep forest, and wild shoreline.  The name "Pictured Rocks" comes from the streaks of mineral stain that decorate the cliffs and make them look like pictures or paintings that are always changing.
You could definitely spend an entire week here.  We were only here for 2 days.  There are TONS of campgrounds in the area if you are into that.  You can even stay in a yurt!  However, we are hotel people, so we opted to stay at the AmericInn in Wetmore, which was great.
Recreational opportunities are endless.  You can hike, rent kayaks, go on a guided kayak tour, go on a boat tour, or charter a boat, to name just a few.  We took a boat tour of Pictured Rocks and it was amazing!  We assumed that a guided boat tour would work best for us, and we were right.  The Miss Superior took us along the shore to view the spectacular rocks and scenery as Captain Tom narrated the history of the lake and it's surroundings.
Lake Superior is the largest of the Great Lakes.  During winter storms waves can get as high as 30 feet!  30 FEET!  How crazy is that?  Consequently, there are many shipwrecks to see in the lake which can be viewed from a glass-bottom boat tour.  One of the most famous wrecks is detailed in the Gordon Lightfoot song, Wreck of the Edmund Fitzgerald, which sank in a storm in November of 1975.
Here are just a few of the MANY pictures I took on our tour…
Miners Castle Road, Scenery, Beach and Waterfall…
After our 2 hour boat tour we headed to lunch and then drove to Miners Castle Road. Miners Castle is one of the most famous landmarks along the Pictured Rocks shoreline, and is the only cliff area in the park accessible by vehicle.  It was another beautiful sight!  The water is so gorgeous!
Swimming and Handstands…
Next, we headed to Miners Castle Beach where the boys swam in the frigid waters of Lake Superior (I am much too wimpy).  My husband and older son ran right into the water, while my younger son never quite made it all the way under.  The water is a cool 61 degrees during the summer months.  Brrrrr!!!  However, my boys thought it felt even colder than that!  Or, maybe we're just spoiled living in Naples with the warm Gulf waters and just think everything else is freezing.
Amazingly, my husband did a perfect handstand.  Why?  5 summers ago I was encouraged (kinda forced) to do a handstand in front of whatever state sign we were entering (if possible – sometimes it is not!  Like on a busy highway, or if it is raining.)  That is the reason for the handstand on the graphic at the top of this post.  I am up to about 10 state sign handstands (like I said, some are not easy to get).  In short, since he is incapable of performing one on land, he did one in the freezing cold water.  Not bad, am I right?
After their brief swim, we hiked about a mile to our last stop, Miners Falls, a breathtaking 40 foot waterfall.  (It was an easy hike. We weren't prepared for hiking and were wearing flip flops and we all did fine).  Once we got there, my husband and older son went to the bottom of the 'path' to see the waterfall up close.  Look how small they look in front of it.
There are more waterfalls and many other sights in the area, unfortunately we didn't have time to see them all.  We just ran out of time for exploring.
Conclusion…
To sum up what I said earlier, you can definitely spend a week here seeing all the amazing sights.  What we were able to see was well worth the trip and we would recommend a visit to this area at least once in your life!
Have you ever been to this area?  I know there is so much we didn't see.  What did we miss?  So much, I am sure.  Maybe we'll get back there some day!