A Guide to Surviving Summer…
June 1, 2017….I can't believe today is the last day of school for my boys.  Onto 3rd and 5th grade!  WHAT?  How did that happen?  This year sure flew by.
Last day of school means a neighborhood party with bouncy water slides, pizza, swimming, and the kids running wild.  And later the annual last day of school beach party that we've been going to since my oldest was in kindergarten.  How lucky are we???
It seems like June 1st is awfully early to be getting out of school, but we start in mid-August.  When I was growing up in Massachusetts school didn't start until the day after Labor Day, and then usually didn't get out until mid to late June, depending on how many snow days we had.  Things are different here in Florida.
Summer, summer, summer time…
Anyway, now that they will be home everyday we have to find things to do.  We have several vacations planned for July, and the boys are signed up for a few different camps but, they will be home a lot too.  I thought I'd put together a list of items to help us all get through the summer.
Pool Time…
We are lucky enough to have a pool and since it is so hot here in Florida we use it a lot.
Check out these fun pool slides from Home Depot. These are only sold online.  Our pool does not have a slide so I plan to order one of these.
And who wouldn't want to float around on this fun Lobster?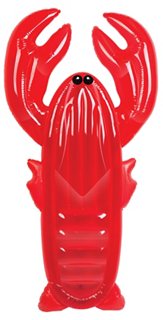 Luxe Lie-On Lobster Float, Red
from: One Kings Lane
Outdoor Fun…
Get the kids outside away from their iPads or PlayStations!  These are some of our favorite outdoor games.

Wildon Home Select 6 Player Croquet Set
from: Wayfair

Corn Hole Bean Bag Toss Game Set
from: Wayfair


48 Piece Giant Block Tower Game Set Size: 24″ H x 7.5″ W x 7.5″ D
from: Wayfair


5 Piece Kan Jam Game Set
from: Wayfair


LED Light Up Flying Ultimate Disc
from: Wayfair
Outdoor Relaxing…
After all this swimming and playing, its time for some relaxing.

Ava Canvas Hammock with Stand Color: Green/Blue/Teal
from: Wayfair

Pumpkin Swing Chair with Stand Color: Bark Brown
from: Wayfair
Teacher Gifts…
If your kids are still in school and you are looking for a unique teacher gift.  Check out this site.  I wish I had found it earlier.
I hope these items help you get through these long summer days!  Enjoy!!