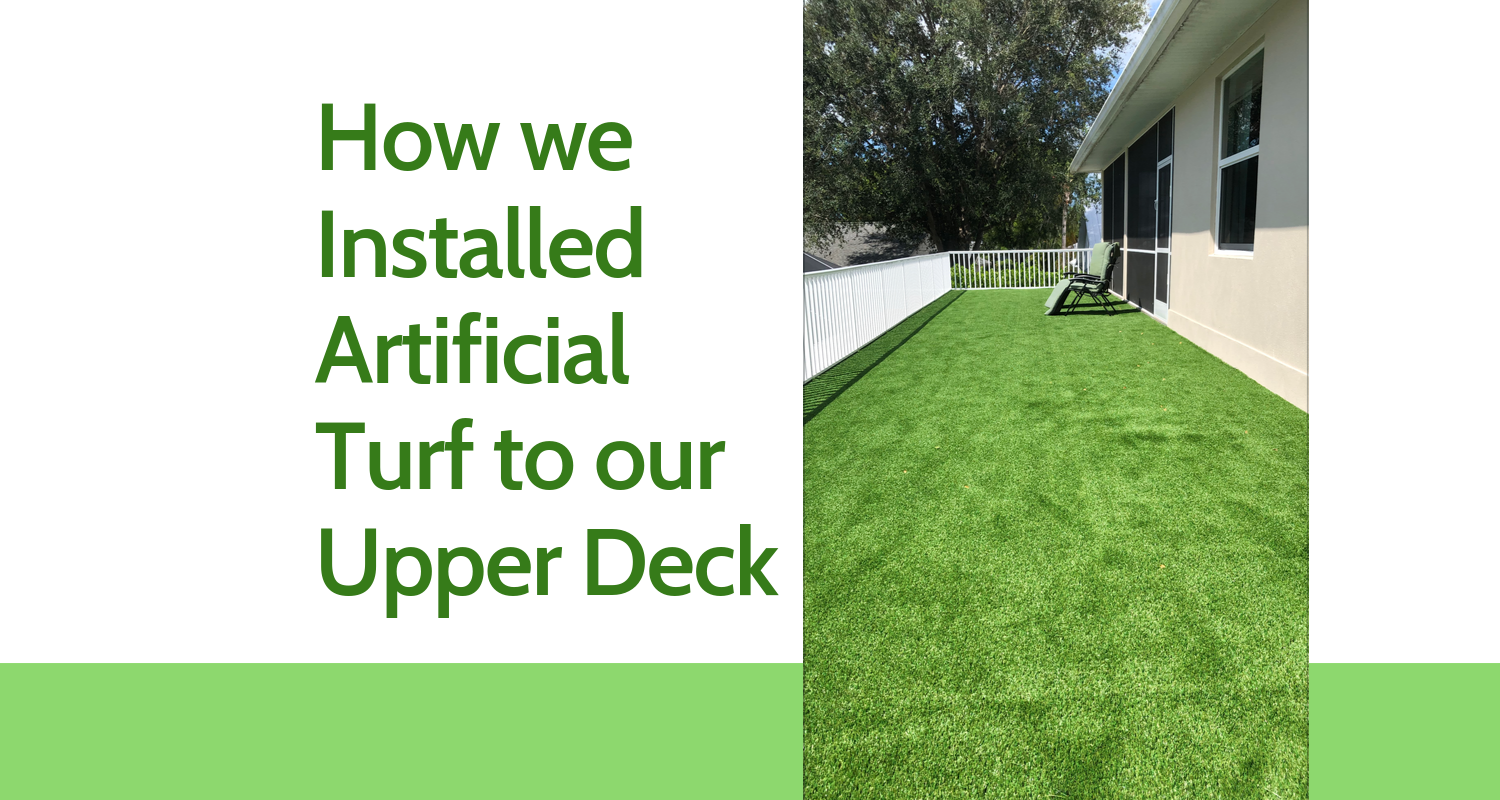 Adding Artificial Turf to our Upper Deck
In 2016 when we were remodeling this house, our contractor suggested adding a railing to our large upper deck area so we'd be able to use the space.  We were so burned out from our remodel at that point and had already gone way over budget, so we decided, nope, not doing it now.  Maybe we'll do it at a later time.   Below is a picture taken during the construction process in which you can see the large upper deck area I am talking about.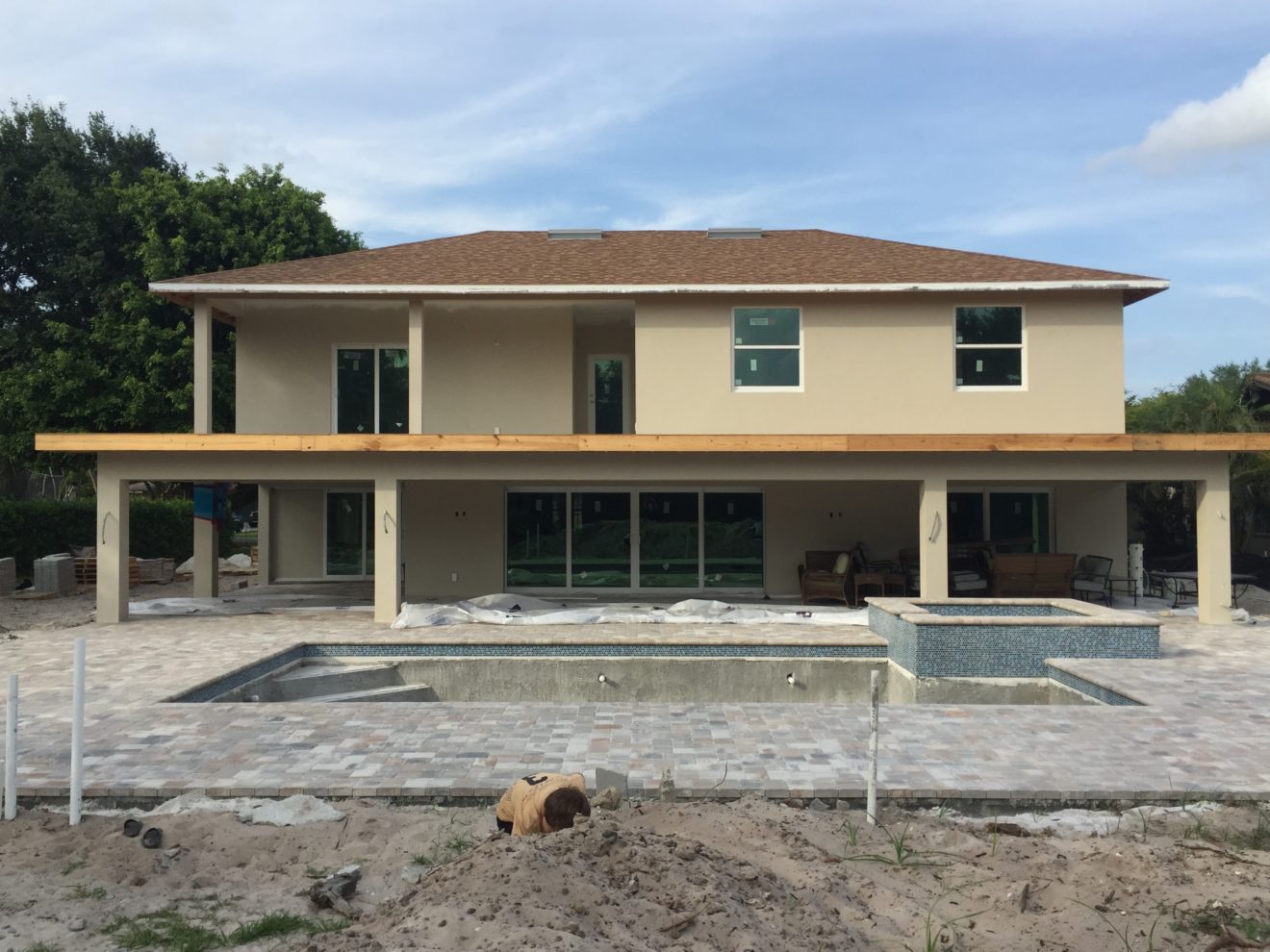 Below is another old photo.  I labeled all the areas I am talking about.  We screened in the pool and the small patio area off our master bedroom.  There was no access to this upper deck (unless you put a ladder on the side of the house and went up that way).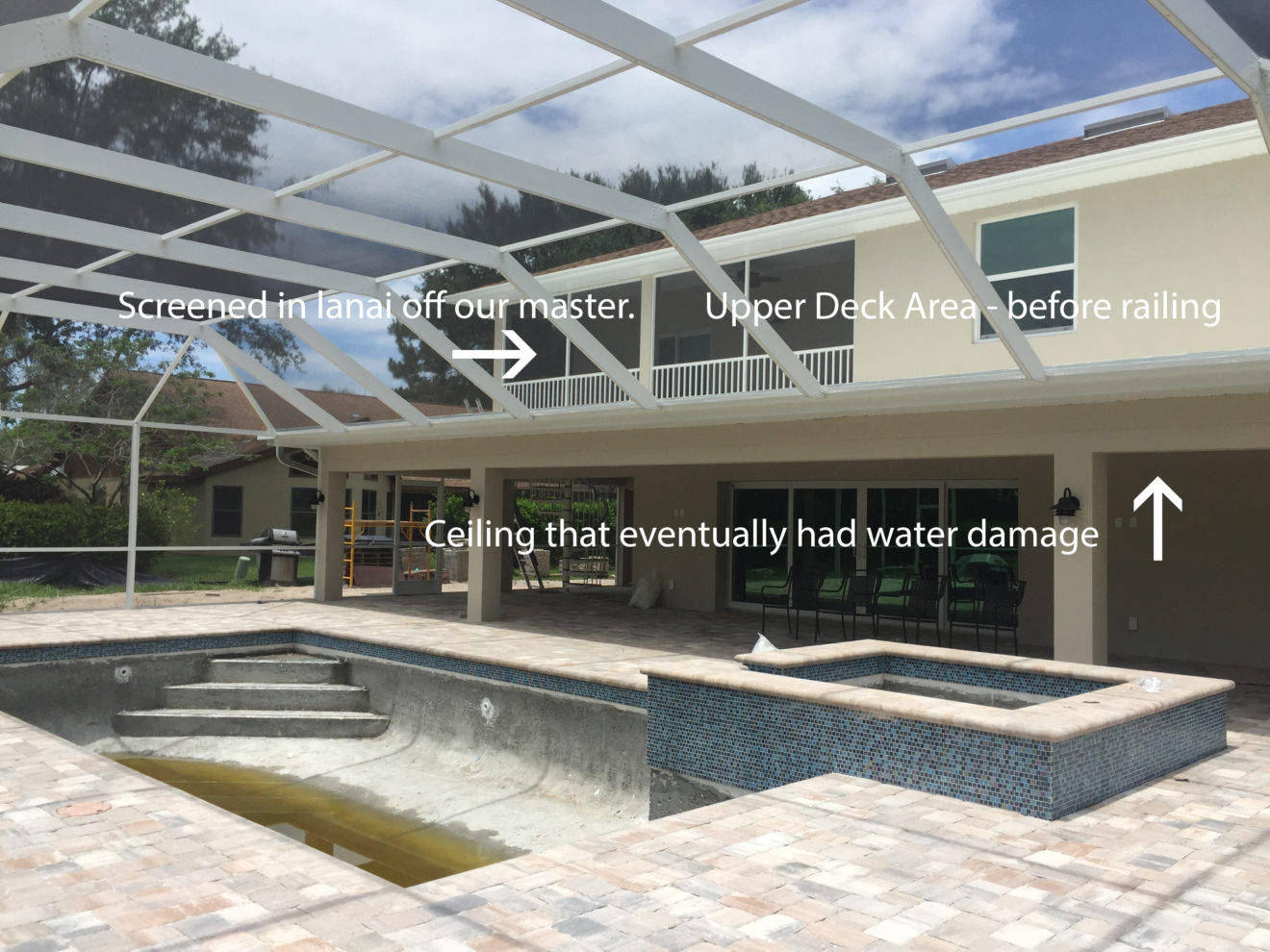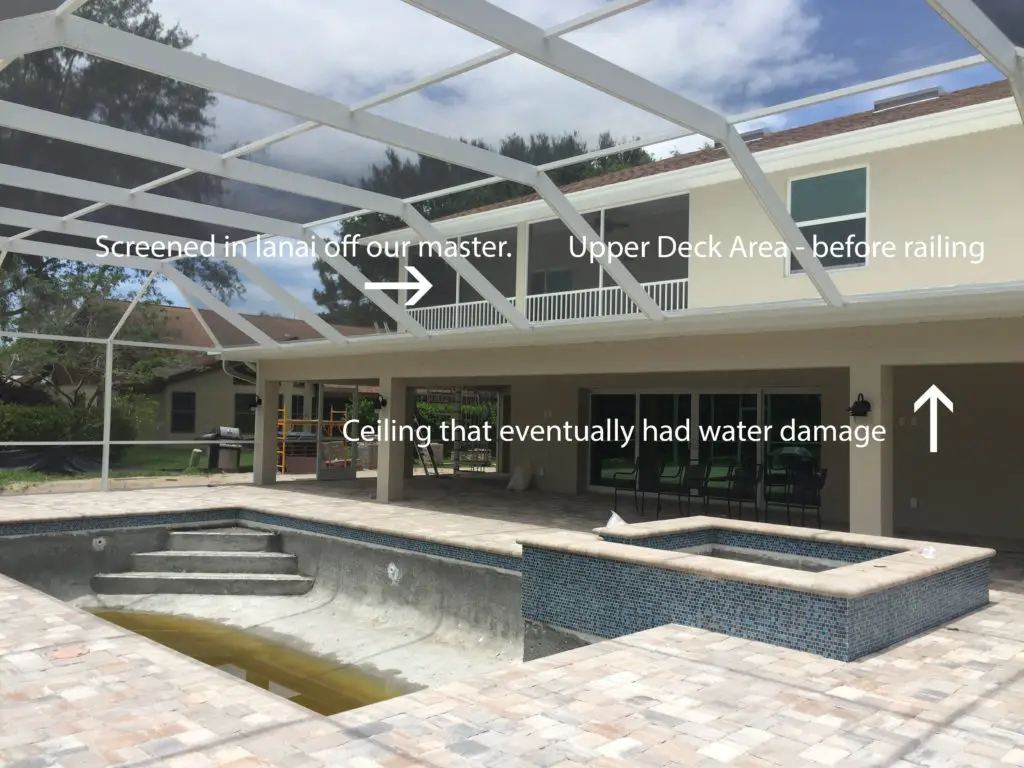 Oh oh, Damage…
Fast forward 2 years later.  Water had somehow seeped into the ceiling drywall.  At first it was just a small water stain, but then it eventually spread the length of the ceiling and started turning black.  It needed to be fixed.  🙁 And by fixed I mean the entire ceiling had to be taken down and replaced, and our upper lanai area's floor had to be ripped up, fixed and replaced as well. Ugh!   So, while they were doing all the repairs we decided that now was finally a good time to add that railing to the upper deck area.
Below are some pictures of the water damage to the ceiling.
And here is our upstairs lanai located off our master bedroom.   (If you look to the right through the screen you can sort of see the upper deck area.)  Since we never put a railing on this area, we couldn't put a door to go out there because it wouldn't have met code and was unsafe.  We adding one in though.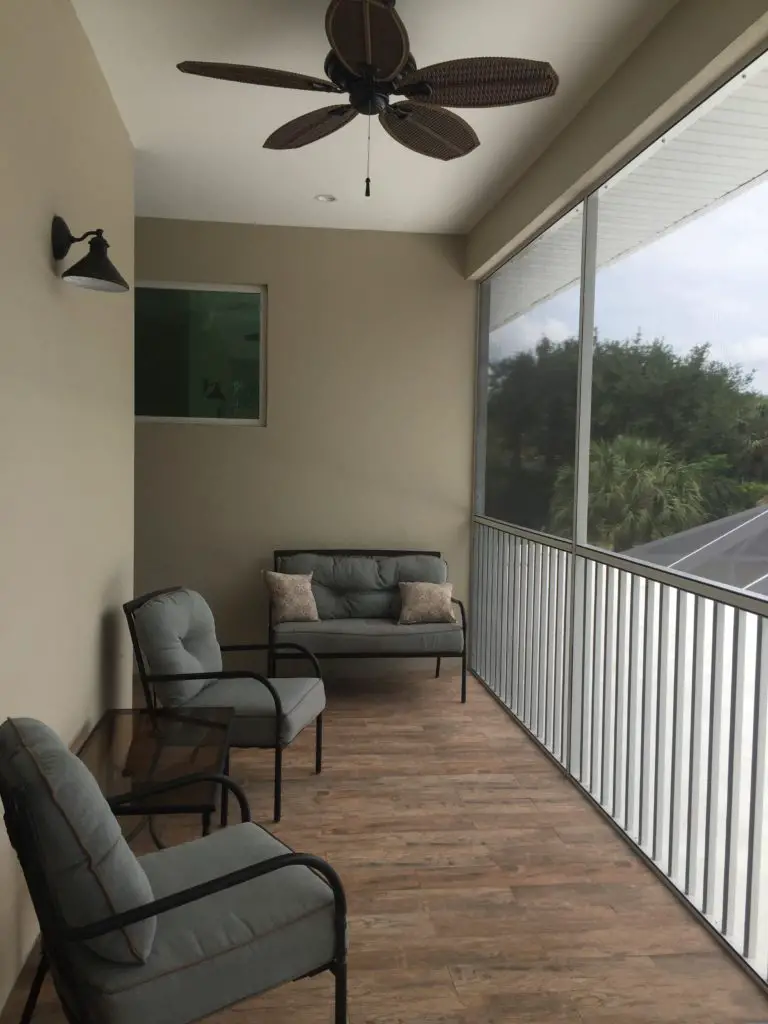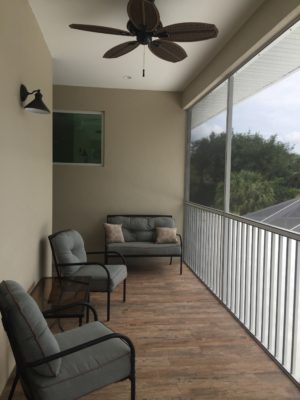 They had to rip down the entire ceiling from the downstairs lanai, and the floors and screen from the upper lanai.  Here is how it looked for several months while they were working on it.  We had to look at this lovely blue tarp out the slider in our master bedroom for a while.
A New Beautiful Ceiling…
Our Insurance Claim paid for some of the damage but we decided to upgrade the ceiling and add tongue and groove shiplap ceilings.  A few months later we had a new gorgeous ceiling downstairs.  It really give this space a little character.  We love it.
What to do with this big space?
Here is where installing artificial turf comes in.  Now that we had this huge new upper deck, what should we do with it?  The contractor suggested some sort of tile flooring.  My husband suggested putting artificial turf on it.  At first I was like HUH?  Say what now?  Um, no! I don't think so!!!  But then I started warming up to the idea and started noticing that lots of places use artificial turf for their outdoor areas and it looks really nice!
After mulling it over, I somewhat reluctantly agreed…
But, where do you even get artificial turf?  I thought you'd have to order it from a specialty store, and that it would be crazy expensive. But, can you believe they sell it on AMAZON?  Yup!  Duh!  Of course they do.  They sell everything on Amazon.  My husband did the research and found a company called Megagrass that customized to the size we wanted (55ft x 13ft) for around $1100, and they delivered it right to our door.
Well, not exactly to our door.  The delivery company called to confirm the time they'd be dropping it off and suggested we have a group of people to help the driver get it off the truck (because it weighed 400lbs).  Um, oops!  We didn't have that lined up.  When the driver got to our house it was just my husband and I that needed to get this huge rolled up piece of turf (that weighed 400 lbs) off the truck.  Yup, you can imagine how fun that was!  The driver ended up helping us (and we made sure to tip him well!).  We eventually figured out a way to roll it off the truck, and then the 3 of us rolled it into our driveway.   We did all this in June in the blazing Florida heat too.  Good times.  Here is what it looked like and here is where it sat for most of the summer until we were finally able to install it.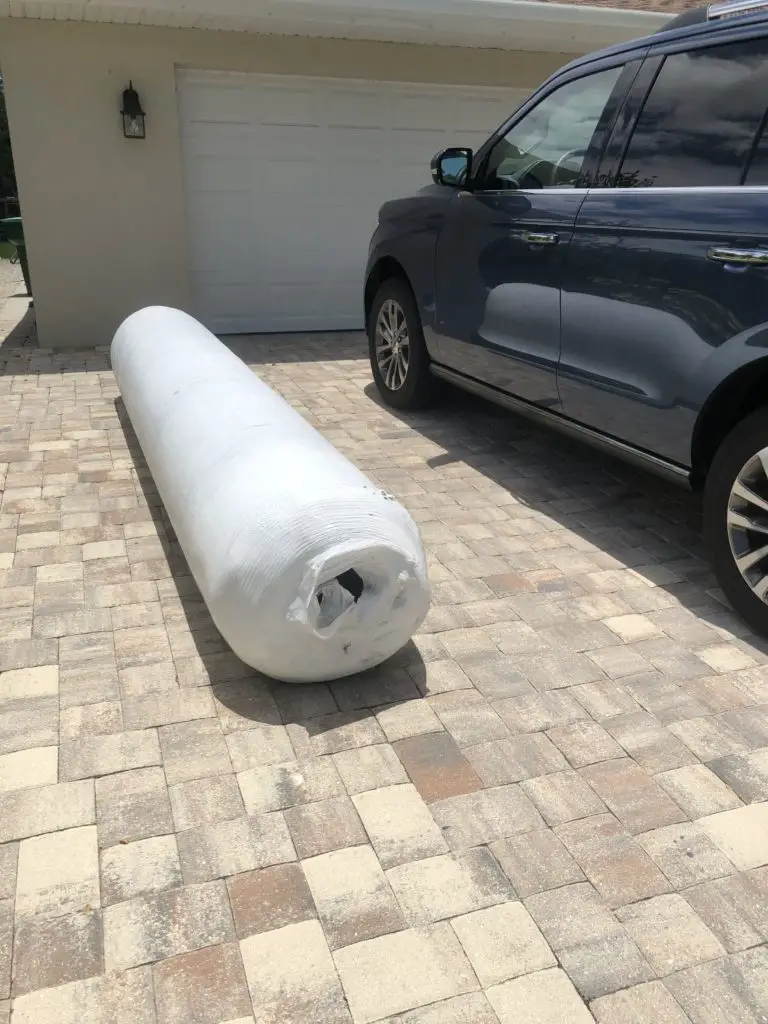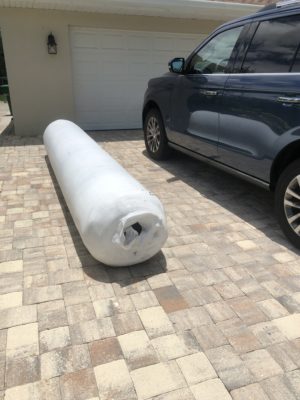 Painting First…
But first we had to paint the entire floor upstairs, which wasn't really necessary at all, but it looked very dingy and dirty so we did it anyway.  We were mostly concerned with the edge of the roof on the other side of the railing that would be exposed.  We wanted that area to be white, and not dingy gray.  This is a large area at 50 feet long by 11 feet wide, so you can imagine how super fun this was to paint in the summer Florida heat!  OMG, I don't think I've ever sweat so much in my life!  Also it rains a lot in the summer so dodging lightning bolts and rain showers was also a factor.  Between vacations, working, rain, and just being busy in general, it took us a few months to finish painting.
Installing the beast…
Once done painting we were ready to install 'the beast' aka the piece of artificial turf.  But how?  Well, let me tell ya, getting this beast off the driveway and upstairs to our upper deck was a real barrel of laughs.  I wish I took more pictures of the process but I was too busy dragging this huge thing through our yard to stop and snap photos.  Once again it was just my husband and I (and the kids tried to help too, but they are 10 and 12 years old so you can imagine how much help they were) as I was begging him to text some strong dudes to come help us.  He kept saying 'we can do it.  Let's figure this out'.
This is what we did. 
We unrolled the entire piece, thinking that it would be easier and lighter to drag, carry, etc.  It was not.  This is a 55 foot long by 12 feet wide piece of heavy material.  But, we were able to drag it through the side yard to the side of the upper deck.  Then my husband walked up a ladder holding a huge piece of it, and hoisted it up and over the railing as the kids and I were on the other side of the railing pulling it over.  Then we just continued hoisting it up, literally one foot at a time.  Thank you Crossfit for making me strong enough to be able to help in this process (but still most definitely would have taken some help from some strong dudes).  It was NOT easy.  Then as we were about half way done, half the thing was still over the side of the railing (see middle pic below) it started to lightning and pour rain!  Obviously we had to stop for the night, but when we went to continue to next day, the darn thing was soaked and even HEAVIER because of rain.  But, we kept on hoisting and dragging it until it eventually got done.  Whew!
---
Viola, here it is all nice and pretty!
Even though this job took much longer than we wanted, and was not an easy one, we are so happy with how it looks!  We still need some nice 'hang out' outdoor furniture and maybe some sort of awning or umbrella for shade too, to truly complete this area.   I will keep you all posted on the wear and tear of it but so far so good.
What do y'all think?  What would you have done to this space?