5 Easy Ways To Boost The Curb Appeal Of Your Home
Whether it's because you want to sell your home, or because you need to improve the look of things while you live there, the frontage of your property needs to be right. Of course, this can be a tricky thing to achieve, especially if you haven't attempted it before. Although, by using the tips below, you can definitely get a head start. Read on to find out more.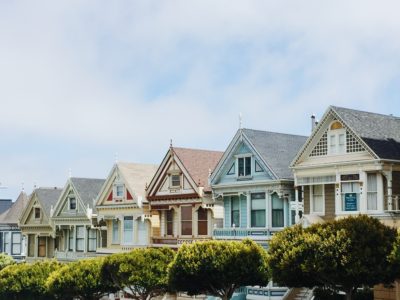 Dealing with the walls
Firstly, as the walls on the front of your home are one of the most prominent features, it makes sense to deal with them right away. Of course, you have a wide range of options here from the super simple such as giving them a coat of paint, to more complex treatments such a metal or wood siding, or other types of finish.
Repair any damage
Of course, to finish the walls properly, it's crucial that you make any repairs before you begin. In fact, making sure that any repairs to the front of your home are completed regularly is an essential part of maximizing its curb appeal.
In particular, look out for cracks in the siding, paint, or finishes and fill these whenever they occur. Additionally, broken or blocked gutters are something that you need to watch for, as they can not only look run down and unsightly but also cause leaks and staining on the front of your property as well.
Be careful of ivy growing on the front of your property as it can cause problems.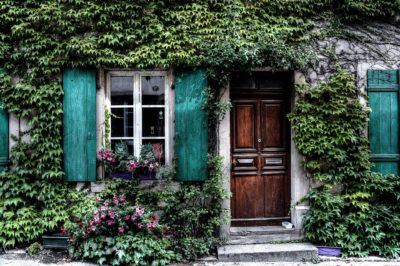 Finally, you will also need to be very careful of any plants that are growing up the front of your property. This is because ones such as Ivy may look attractive when they start off, but can quickly get way too heavy for the walls that they are using as support. Of course, this will result in damage to the underlying wall that can be difficult to repair. With that in mind, it's crucial that you trim any climbing plants at the front of your property frequently to stop them from becoming an issue.
Get the windows and doors right
While you may not spend a great deal of time looking at the doors and windows in your property, they are crucial to the curb appeal of your home. After all, if you were viewing a house intending to buy it, would you rather see attractive frames, window styles, and doors or ones that look old, dirty, and run-down?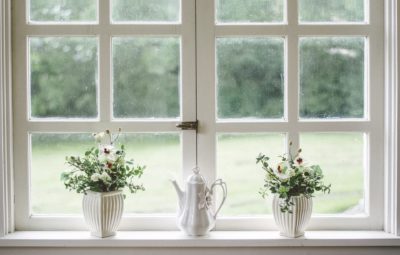 In particular, it's essential to keep an eye on any white vinyl windows that are on the front of your property. The reason being that these can not only look cheap but that they don't age so well either. Luckily, if you do find yourself experience such issues with you can choose replacement windows that not only look fantastic but are available in a range of more natural colors as well. Something that means it's now super easy to choose frames that will lift the look of your home.
Your front garden
Most people tend to spend a lot of their time and money, getting their backyards to be perfect. The reason being that this is where they spend the majority of their free time. However, when it comes to curb apple the garden that you need to be most concerned about in the one in the front.
Of course, the best approach is to keep your front garden as neat and tidy as possible, something that is easier to do if you keep things simple. To that end, going for a lawn with simple flower borders or even a deck, porch or veranda with a tub of flowers that can be moved around as needed may be the smartest idea.
In fact, if you want your front garden to look great all year round without having to worry about seasonal planting, consider using evergreen trees and shrubs. The reason being that they will require very little maintenance apart from the occasional trim, and so your garden will look lush and green at all times.
Path and driveways
Finally, when it comes to boosting the look of the front of your home, you need to pay special attention to the paths and the driveway. After all, even if you dedicate time and effort into making sure all of the other elements mentioned above are sorted, a shabby path or potholed filled drive will only let the overall aesthetic down.
Sadly, paving and driveways can be expensive to maintain and even more costly to replace when the time comes. That is why many people opt for gravel, as it is a reasonably priced option.
However, you may be getting more than you bargained for if you lay gravel path and driveway. This is because they can look good at first but quickly suffer from movement outside of the original parameters, something that can give the front of your home a slovenly and disorder look.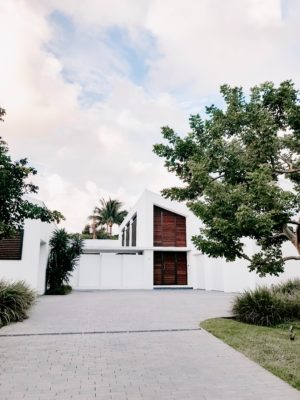 Additionally, using gravel on the driveway may seem smart because it will cost a great deal less than having a brick or asphalt option, but it can also seriously damage the outside of any car that uses it as the individual stones will get caught under the wheel, picking up as you drive and nicking paintwork and cracking the glass.
With that in mind, it can be more sensible to invest the money in saving your driveway properly laid or paved. Then, not only will be as safe as possible to use but will be adding the finishing touch to the look at the front of your house as well. Something that is guaranteed to boost its curb appeal, and its overall value.