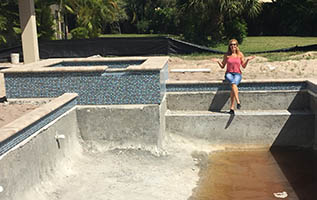 Wednesday Weekly House Remodel Update – 4/13/16 Tile Done!
Hi,
We moved, again.  We are now in my husband's aunt and uncles condo in East Naples.  So thankful that we had this option! We can't thank them enough for letting us use it until they come down for a visit next month.  🙂
Speaking of family, we had a great visit with my brother-in-law and family this weekend.  It was so nice to see them and my kids had an absolute ball with their cousins.  We spent all day Sunday at their hotel, Naples Beach Resort, and then took them out on our boat all day yesterday.  The weather was perfect and it was so nice to catch up with them.  They even got a tour of the House house!
Anyway, on to the House house updates…
Bathroom Tile…
The tile in the entire house is done.  It looks great.  Take a look. (Not shown are powder bath, kids bath and laundry room.)
Pool…
The pool tile is done too.  It looks amazing.  These tiles change color when the sunlight hits them.  It is very pretty.  They started prepping the pool area and lanai for pavers today!  Not sure how long this takes but it is a LARGE area so I suspect it'll take a while.  We'll see.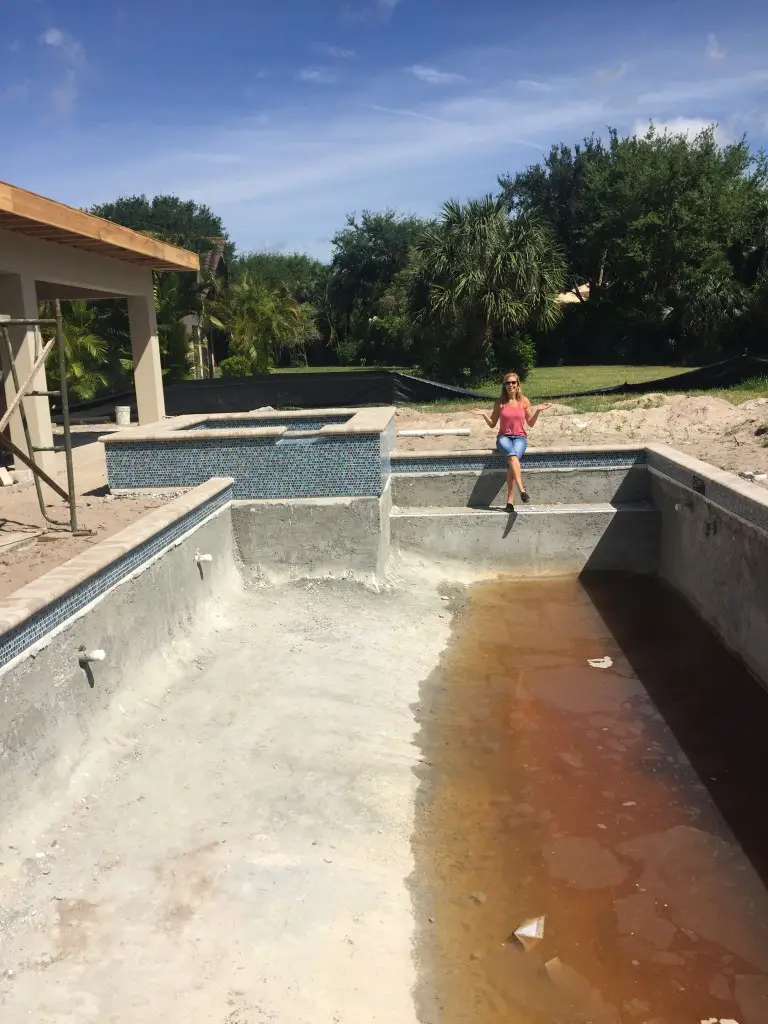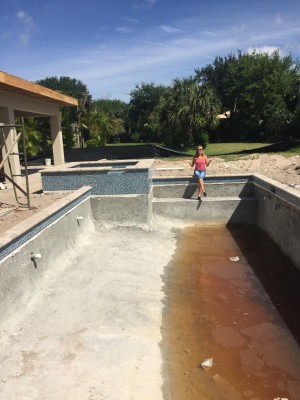 Dumpster diving…
The pool company accidentally delivered one full pallet of the wrong color pavers so they threw them into the dumpster!  My husband noticed they were in there so the 2 of us went dumpster diving to save them all.  We will definitely use these for something.  Maybe a fire pit for the backyard.
Electric…
Can you believe we finally just got our electricity up and running?  I know!  It literally took forever.  It stinks because it is out of our hands and into the hands of Florida Power and Light (FPL).  You have to work around their schedule and it took forever for them to come out for an inspection.
Electricity means we have AC…
Yup, all this time we have not had air conditioning in our house.  Thankfully it hasn't been crazy hot and thankfully we invested in some super awesome windows and upgraded our insulation and both keep it reasonable cool inside the house without the AC on.  But, none of that matters now because it is on and cooling off the place.
Next steps…
The wood floors will be getting delivered in the next few days so that they can acclimate and they will begin floor prep on Friday.  I can't wait to see them!!!  After wood floor means the kitchen cabinets will be installed!
Not sure when the carpet is supposed to get installed but it'll be soon.
Bathroom vanities and plumbing need to be finished.
We are so darn close now!!!!