Wednesday Weekly Update 10/14/15
Holy cow…..We have a ceiling!
The guys have been working hard this week.  I texted a friend of mine the other day who lives in our new neighborhood.  She drives by our house remodel daily.  I asked her if she saw anyone working at our house that day.  Her response was hilarious.  "Ummmmm, definitely workers at your house.  There is like a 3 story crane in the back yard and cars everywhere….shits getting done today!"  Hallelujah!  That is the kind of text I like to read.
This picture is from Sunday when I took a ride over there to check things out. Holy cow! We have a ceiling, or at least the framework for one. I can't wait until the drywall is up, then it'll actually start looking like a livable house.
The rain has held off this week and the temperatures are going down, finally.  Instead of the usually 90's, we are in the 80's and it feels way less humid.  It is nice! This is why we live here.
Progress in pictures….
I put together this image of the progress to date on our addition. Or you can look here at my before/after page for similar pictures.  It is pretty cool, to me at least, to see the progress. I just wish it would go a teeny bit faster.  🙂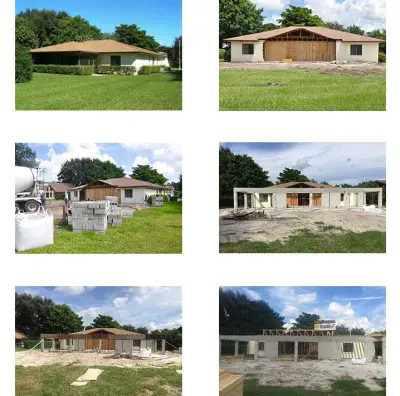 We need to check more things off our 'to-do' list….
The hubby and I need to check a few more things off of our to-do list soon.  We have both been so busy and last week I was sick for a few days. There is a week and a half left until my kids school Fall Festival (that I am a part of planning) is over and then we can really start concentrating on getting things done (and also concentrating more on this blog).  Our list is still pretty long but at least a few more of them are done since the last time I posted this.
cabinets/kitchen – done/ordered
cabinets/vanities/bathrooms
cabinets/laundry room
backsplash for kitchen
appliances – done/ordered
tub/shower for master, kids and guest bath
counter tops (kitchen, bathrooms)
wood floors
tile floors for bathrooms
carpet for bedrooms
plumbing fixtures
pavers for pool – done/ordered
POOL – done/ordered
windows – done/ordered
doors (front/sliders) – done/ordered
paint color for exterior
paint colors for interior
I know I am missing lots of things from this list.  Anyone have anything to add?  Leave me a comment.
Please follow and like us: