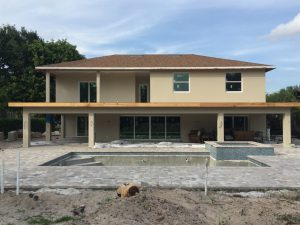 Wednesday Weekly Remodel Update – May 4, 2016 – Almost there!
Well, it is finally happening.  After owning this house for almost a YEAR AND A HALF, we are finally moving in!  Ready or not, here we come!
We bought this place in December of 2014 then went through 2 architects and met with several contractors before we could even begin.  Once we finalized the plans it took forever to get permits and for the work to actually begin.  What a long process.  But, it is all almost over.
Now that we are moving in, instead of Weekly Updates I think I will do Room Reveals each week as we get them done and decorated.  Sound good?
So much going on this week and so many last minute details.  You can catch up on past updates if you've missed anything.  Here is the latest…
Countertops…
My countertops were installed on Monday and they look a-maze-zing!   I really love them and think they compliment the white cabinets nicely.  They are Quartz but look like granite.  I can hardly wait to cook in this damn kitchen. We've been eating out a lot lately and it's getting old. Plus, I love to cook.  I had a very hard time getting a good picture of them. It was dark and rainy here today (and I forgot my 'good' camera so only had my iPhone, again!) and we still don't have lights in the house.  Speaking of lights…
Electrical…
The electricians come tomorrow to do there thang.  The hubs and I had to sort of scramble to pick out some lighting and still do not have everything.  Like vanity lights.  Damn those are hard to pick out.  I am going to order some online tonight.  Thank you Amazon Prime for shipping them to me lickety split.  I just hope I like them.
Appliances…
All of our appliances were delivered this week, only they couldn't install them since the electrical outlets are not all finished.  So, we have this big pile of boxes in our living room.   But, as mentioned above, the electricians are going to be there Thursday and Friday to do there thang.  Appliances will be connected on Friday.
Office Floor…
As I mentioned last week the hubs and I were going to install this interlocking foam floor for our office/gym area.  We successfully finished.  It took much longer than we thought, plus we only had time to squeeze in and hour here and an hour there when we could.  For the last 2 days we decided to stop everything and get it done.
We started with a T pattern across the room and worked off of that. The hardest part was laying the tape (that stuff is super sticky) and making the cuts on the edges of the room and corners.  I can't take much credit since my husband did the work (his poor back is sore today).  I just played assistant.  Anyway, it is done and we like how it came out.
Carpet…
Friday and Saturday they will install our carpet.  Saturday our 2 PODS are getting delivered and then we can start unpacking.
There are things that will not be done until AFTER we move in but nothing we can't live without.  Like doorknobs (they are on order), the pool cage (supposed to be getting done soon), and a few other things.  BUT, they will get done.
HAPPY MOTHER'S DAY
I just wanted to take a moment to wish ALL you mommy's out there a Happy Mother's Day.  Especially my own mother and my mother-in-law who is flying in Saturday to help us move in.  Our day will be full of unpacking and lifting furniture but my biggest gift will be moving into our new house so I can't complain.  What could be better, really?  Hope you all have great day's with your families.