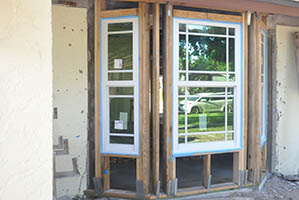 Wednesday Weekly House Remodel Update – 12/16/15
More Windows…
I talked about windows in last week's house remodel update and was hoping more windows would go in this week.  And, they have!  Check them out.  The whole downstairs is now complete however, we are still waiting for 2 sliders to go in the back of the house.  We are getting a really large slider in the main/great room of the house and another, regular sized one in the room we are calling the 'guest lounge'.  They were working on framing those today.  I love the new bay window.  It is not quite done yet but it is getting there!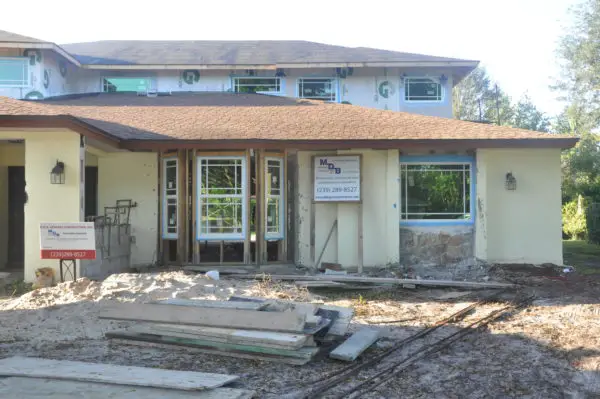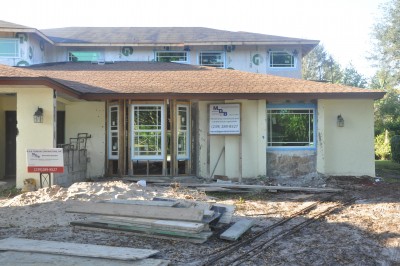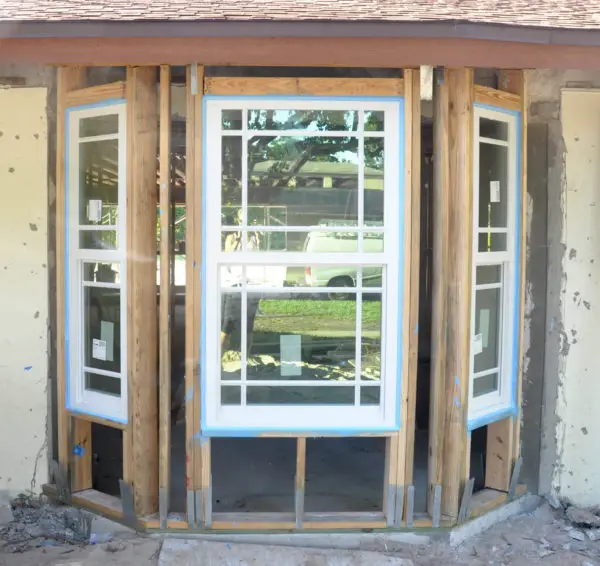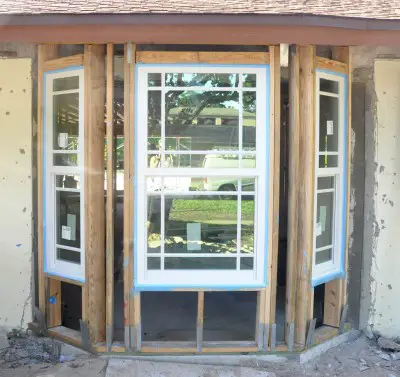 I gotta admit I was a little unsure about the Brittany finish we selected for the windows but now that they are in, I love them.  What do you guys think?
Here is a side view of the house.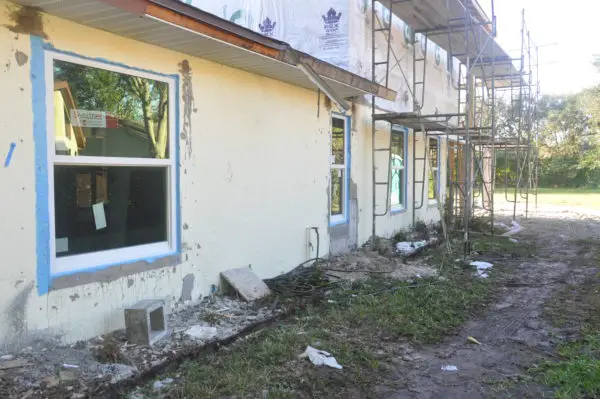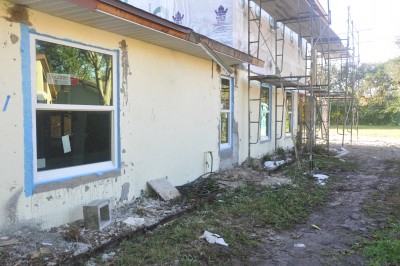 Garage Door…
We had to pick out a garage door today.  So many choices.  Windows, or no windows?  Traditional style or something more modern?  Short panels or long panels? Ribbed panel or flush panel?  What?  Aaaahhhh!  Lots of choices.  Am I right?  Our sales guy is going to price out the traditional short panel door with windows and without windows.  Doors with windows are much more expensive since the glass has to be impact glass so it may be something we can live without.  These short panels doors are pretty standard. You see them on most houses. Every time we have to pick out something new I find myself looking at what everybody else has.  You don't really think about garage doors until you have to pick one out. So, I've been driving around today looking at all my neighbors garage doors.  A few weeks ago it was windows and I've also been checking out peoples faucets every time I can.  HA!  Anyway, I think this door will be just fine.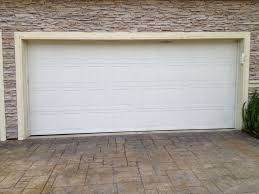 It's beginning to look a lot like Christmas…
Are you all done with your Christmas shopping?  I am almost there.  We have a busy week coming up. We leave Saturday to go to Massachusetts for a few days.  We will be celebrating with my husband's side of the family on Saturday afternoon.  I can't wait to see them all.  It has been to long.  Plus, my oldest son has a birthday this Friday, the 18th, (which he shares with his uncle Dennis who we will see on Saturday).  We are having about 14 boys at our local Bounce (trampoline place) for a birthday party.  Fun, fun!  I think it is hard having a birthday a week before Christmas, but he doesn't seem to mind at all.  In fact, I think he likes it.
There is still something weird to me, being here in Florida, around Christmas time.  Even after being here for 6 years now.  It is weird to get used to no cold, no snow, no cold weather gear and layering up. Last night we visited Santa.  We've gone to the same place every year since we've lived here to see him.  The Venetian Village in Naples.  They have a boat parade, pictures with Santa, Christmas Carolers, balloon artist, face painting, Mrs. Claus reads stories, and they have a huge Christmas tree that they light up and then it 'snows' (with bubbles).  The kids love it.  But, it is still weird to me to be able to walk around in shorts and flip flops.  Not that I'm complaining! I actually love it.
Like I've mentioned in the past, our new neighborhood is the place to be at Christmas time.  Nearly every house is decorated (except ours….we actually joked about decorating the dumpster with lights, but the darn thing is finally getting removed from our driveway…yipeee).  Most streets have a theme and residents rent golf carts for the month that they decorate to drive around and see the lights.  Actually, people from all over Naples come to look at the lights.  Christmas Eve is especially busy and residents set up shop in their driveways (white trash style with couches and what not) and party and have a blast.  We will be joining in on the fun this year! Even though our house is not quite ready yet, we plan to set up a tent in the yard, maybe throw together some decorations, and have some fun!   Why not, right?
What are your Christmas and Christmas Eve plans?
Not sure I will be able to post an update next week as we will just be getting back in town.  Merry Christmas to you all!