Wednesday Weekly Update, 11/11/15 – The Roof and Much More!
Selling our house…
Our current home is now officially on the market.  We have done lots of decluttering, painting, carpet steaming, cleaning and more to get it market ready.  Our first Open House is this Sunday, November 15th.  Anyone looking for a great 3 bedroom plus den, PLUS a 1 bedroom 1 bathroom guest house in Naples?  Check out the virtual tour here. Or, click on the picture to be connected to the listing.  It is a great house!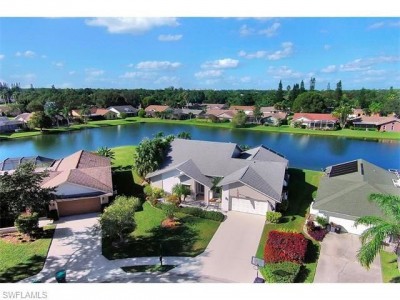 Now onto our house remodel…..
Roof, more framing and some rearranging….
Holy guacamole!  The roof and sheathing are almost done on our house remodel.  Wahoooo!  Check it out!
AND….the whole upstairs is almost all framed in.  We ended up having to move a few walls around up there.  The kids' bathroom was going to be pretty small and the adjacent laundry room really huge.  So, we expanded the bathroom a foot into the laundry room space.  Also, we moved the closet space a bit in the master.  One thing my husband and I both want is our own closets.  I swear he has way more clothes and shoes than I do. It'll be so nice to have a closet all to myself. Take a look at this rendering of our second story addition with the changes in red.  Click on it to take a closer look.
Our New Upstairs….
It is hard to take pictures from our new upstairs, although I did of course as you can see below.  It just doesn't look very pretty yet.  (I can't wait to decorate and take some "reveal" photos. Patience Jodi, patience.  Right?)  As you can see from the above rendering, the boys bedrooms are side by side and are exact replicas of each other.  The playroom, which is across the hall from their bedrooms, is also a good size. It'll be perfect for all the toys and junk that piles up when you have kids, and a great place for them to hang out and have friends over to play.  We really wanted the playroom upstairs to be able to hide all the clutter.  Smart huh?
Plumbing….
The plumbers were at the house last week doing serious work.  Here are a few pictures of what they did.  Lots of digging to make room for pipes and all that plumbing stuff that I know nothing about.  Nice and messy with piles of dirt everywhere.
Today is Veterans Day so I want to take a moment to thank all of our military men and women both past and present for their service.  We thank you for your sacrifices.
That is all I got for today. Things are moving along.  We are getting there.  Feel free to leave me a comment. Thanks for reading.