Trash to Treasure End Tables
If you've been following me at all, then you know my husband has found some pretty good things at the curb waiting for the garbage trucks.  Like this Trash to Treasure End Table, This Bench, and these Wicker Chairs!  I, however, never have much luck in this department.  That is until a few weeks ago when I spotted THESE!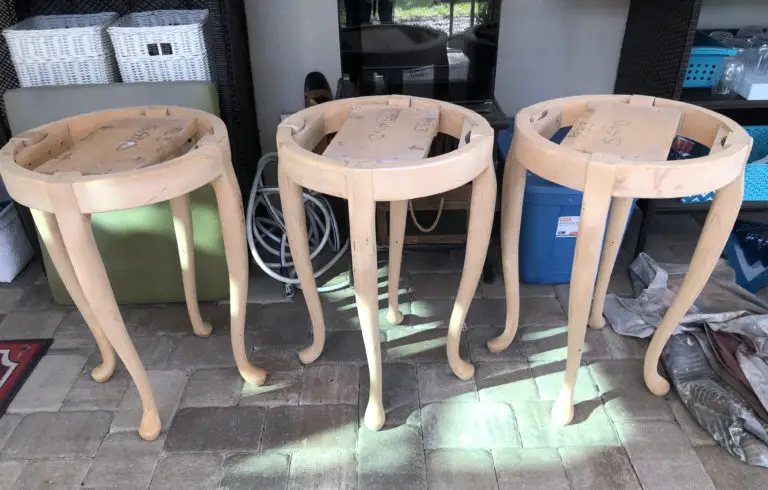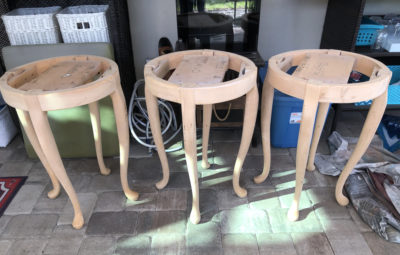 The day I found these was trash day, and consequently as I was leaving my neighborhood, I got stuck behind the slow garbage truck.  To avoid it taking forever to get out of my 'hood, I went down a side street I don't normally go down so I could use the other exit out of our neighborhood.  Well, as I turned onto that street, I spotted these tables out of the corner of my eye waiting at the curb.  However, I didn't stop to pick them up, cause, well, I guess maybe I was a little embarrassed to take them?  And, I was running late to the gym.  I texted my husband who was still home, and asked him if he had time would he please check them out for me.  About 20 minutes later he texted me back and said "Got 'em.  Good score"!  Yaaaaa! He is such a good husband, and obviously not embarrassed to be a trash picker.  LOL
Check out these Trash to Treasure End Tables…
As you can see, the tables were really nice and in great condition,  but had no tops.   However, I knew I could come up with something to fix that.  First, I checked Home Depot for tabletops, but they didn't have the size I wanted.  Then, I checked Amazon, and Yup, of course they had the perfect size (19 inch) .  I ordered only one, just to make sure it fit and looked good.  Happily it did (so I ordered 2 more).
Now…..what to do with these cute little things? Since I only had one complete table, I started by playing around with that one figuring once I perfected that one, and the other tops arrived, I'd just copy what I did to the other 2 (or maybe even do something different with the other 2).
Here is what I came up with.
Step 1 in Trash to Treasure End Tables, Paint…
My first step in bringing these tables from trash to treasure was to paint, of course.  I had some Sherwin Williams paint in the color Naval left over from this pub table project, so I used that.  It looked great.  I just love this color.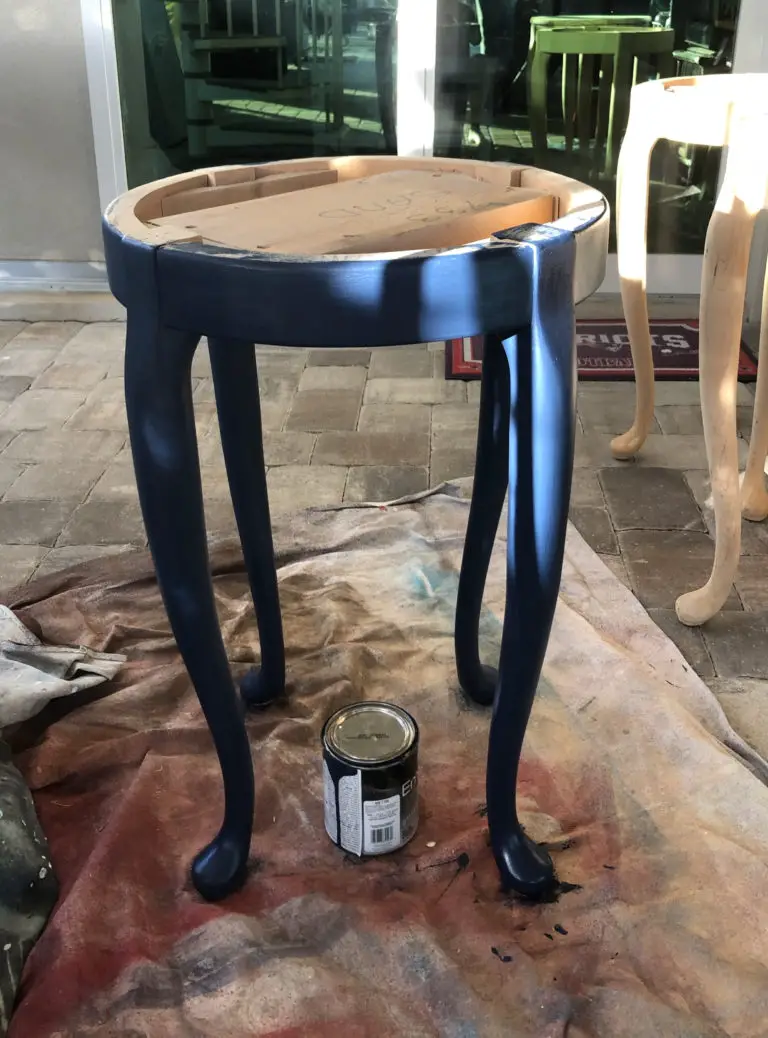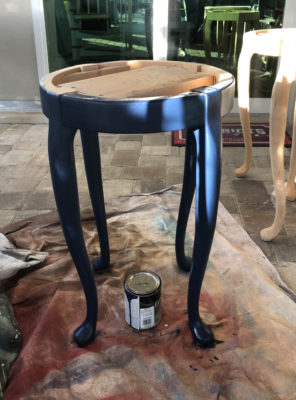 Step 2, Gold Dipping…
Once I was done painting I decided to do a little gold dipping.  I've been seeing this technique on furniture pieces in the stores and online and thought I'd try it out.  I took a trip to Lowes and picked up a can of this gold spray paint.
To achieve the effect I was looking for, first, I flipped the table over, and then I used some left over grocery bags and tape to mark off where I wanted to paint, not worrying about doing exact measurements.   The bags protected the part of the leg I didn't want to paint.  Like this…
Then, I spray painted, until all the navy was covered up (approximately 2 coats).
Step 3, Painting the Top and Sealing the Piece…
Now, to address the top.  At first, I painted the top navy.  It looked okay.  On the other hand, I thought it might look better gold, so I gave it a try.  Yes, I liked that much better!
The last step was to seal the piece. I always use Minwax Polycrylic Protective Finish to seal my furniture makeovers, applying at least 2 coats to protect the finish.  It is water based, dries fast, and doesn't yellow.
My husband attached the top for me, and it was done!  Pretty simple project and looks really pretty.  Most importantly, it is a nice save from the landfill!
Here is how it looks styled in my home.  Cute, right?  Doesn't it kinda look like these elegant, fancy legs are wearing elegant, fancy boots?  This table is ready to part-tay!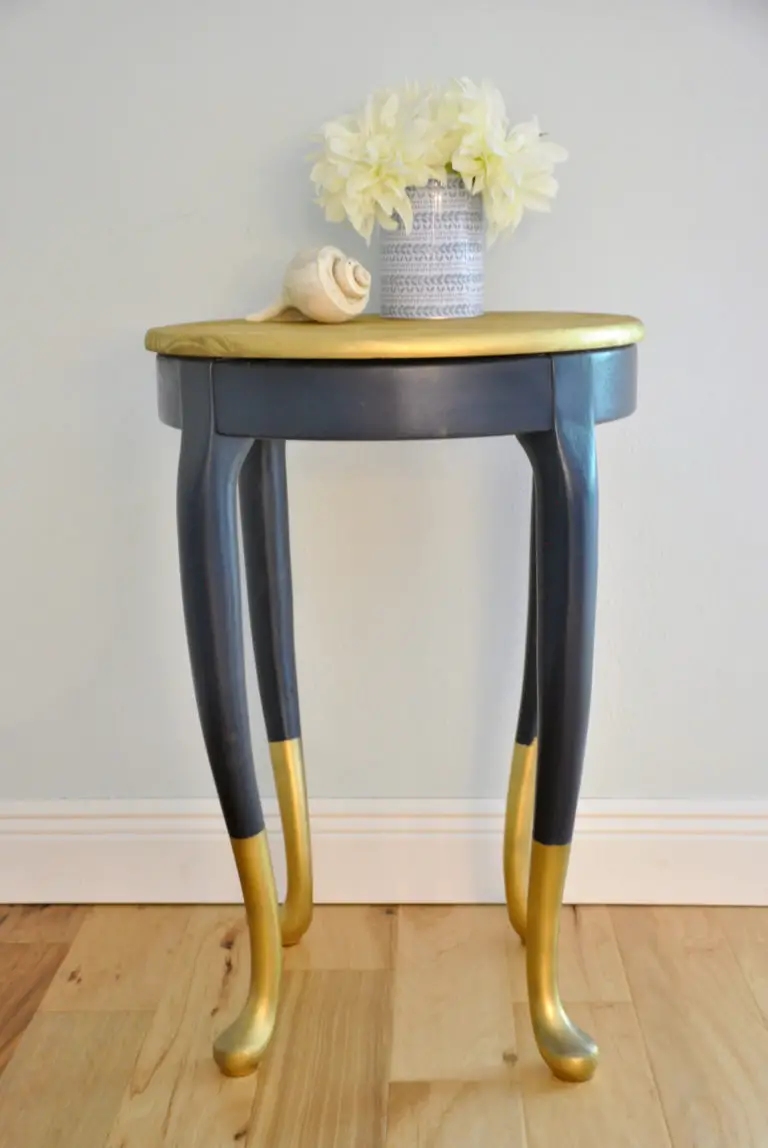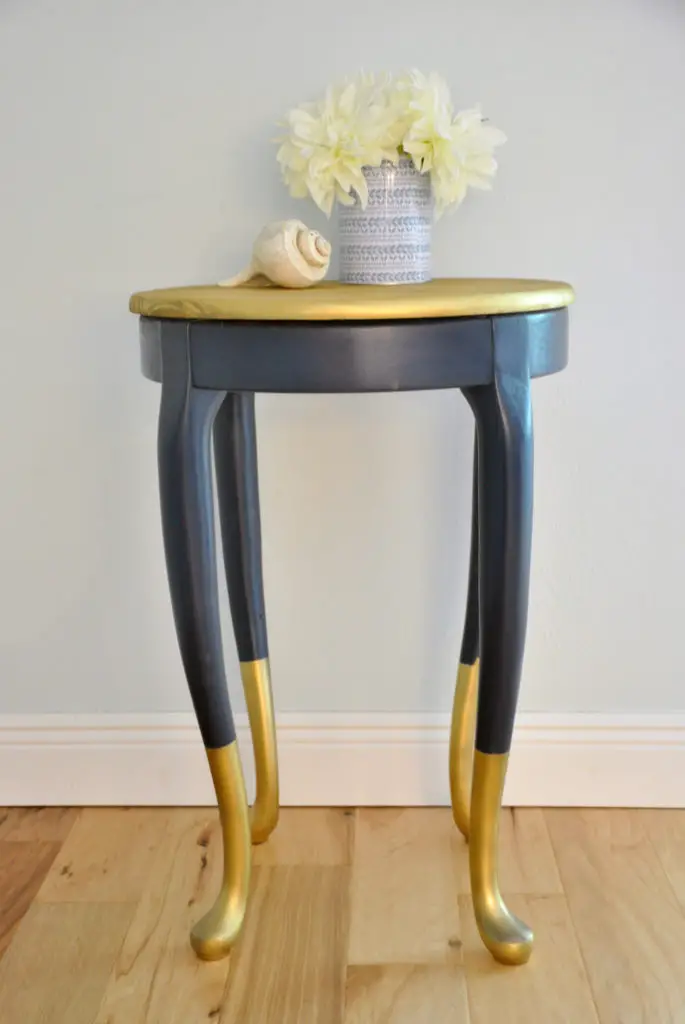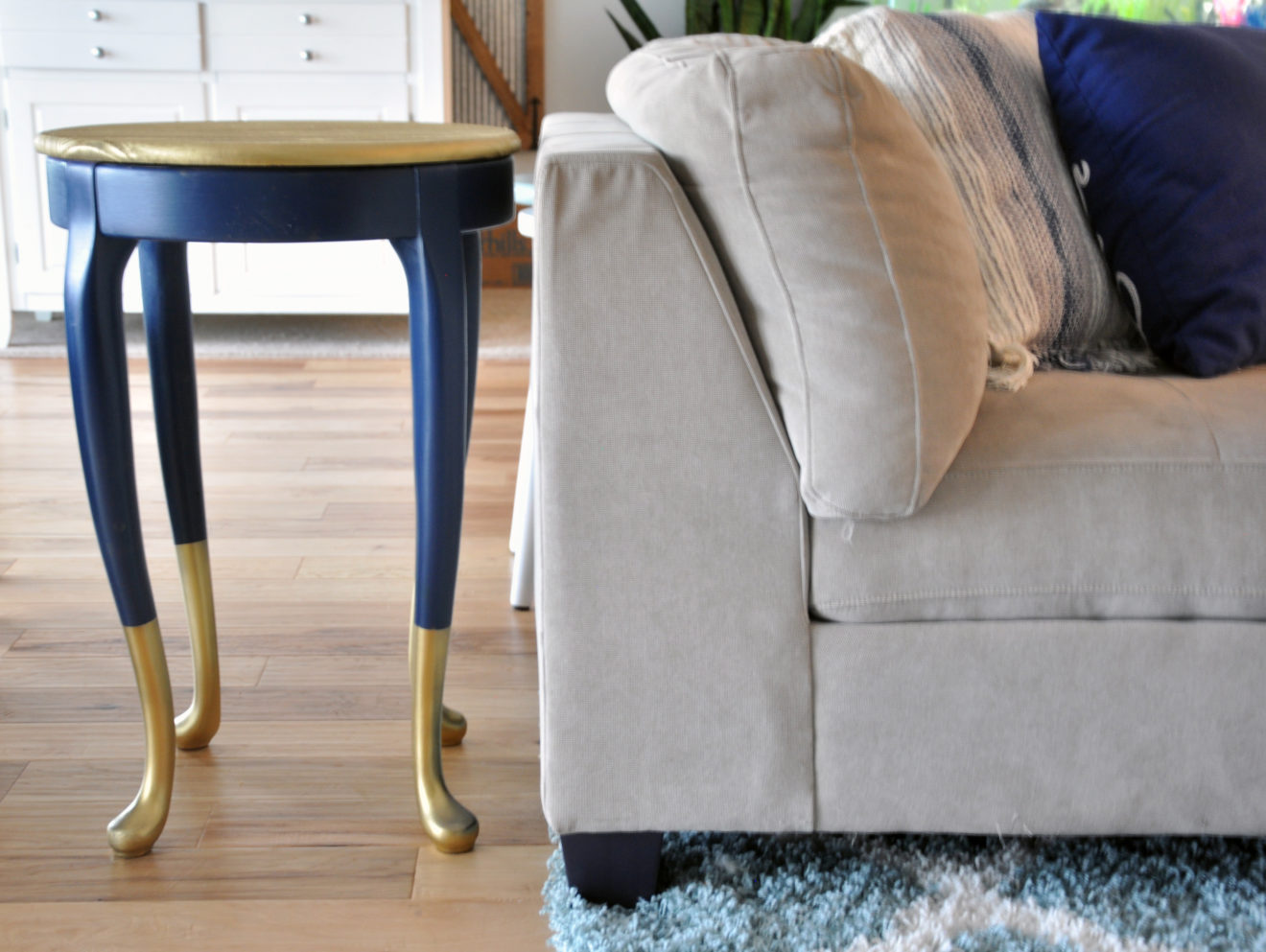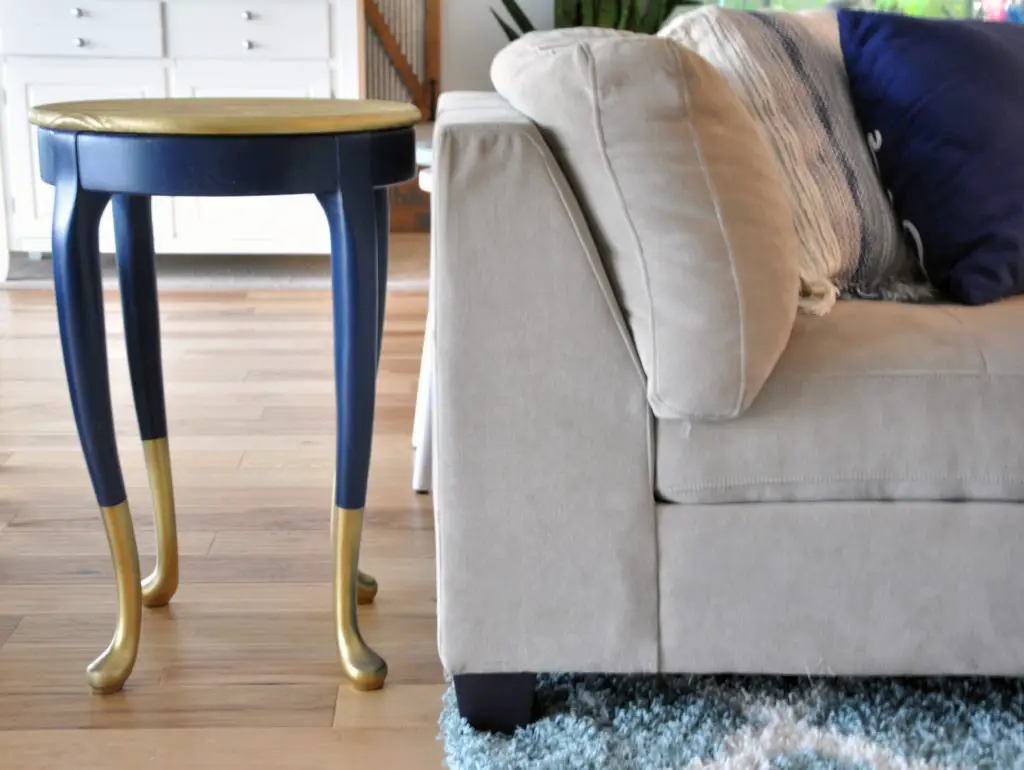 Have you ever rescued something from the trash?  I'd love to see!
Like this project?  Please sign up for my email list for weekly DIY's, furniture makeovers, deals and lots of other fun stuff!
PIN FOR LATER…