End-of-Year Teacher Gift Ideas
My boy's school year ends NEXT WEEK.  They get out May 31st, which seems so dang early.  Anyway, do you struggle every year with what to get for end-of-year teacher gifts?  I usually just end up with a gift card for each, because I mean who doesn't love a gift card?  But, I found a bunch of cute and very affordable end-of-year teacher gifts on etsy.com.  These teachers deserve something nice!  Don't ya think? Check 'em out….
This page contains affiliate links which means if you click on one of the links and purchase something I may earn a small commission, but it won't cost you a penny more!
End-of-Year Teacher Gifts $10 and Under….
The cutest little bracelet in the world! Choose from a large selection of colors and then choose if you want the pretty packaging too, for an additional couple of dollars.
Personalized notepads are affordable, practical and adorable.  Also, these will come in good use for all the notes they send home to us about how well behaved our little angels are.  😉
Are you a Room Mom? How about this for a cute idea? Have every child fill one of these out and put them all in a binder to give to the teacher on the last day of school. From my experience teachers love personalized things like this. This is a downloadable item that you print at home.  Yes you can probably make something like this on your own, but why bother when you can pay $4.00 and have it instantly downloaded to your computer?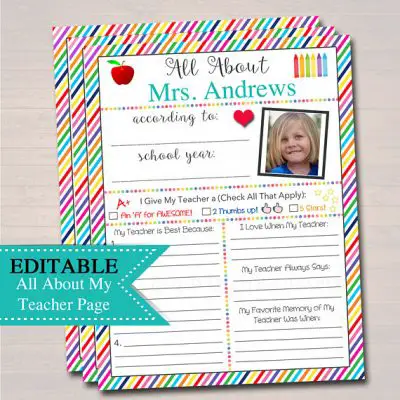 End-of-Year Teacher Gifts $20 and Under…
I don't think the following needs much explanation.  Nuff' said!  Am I right?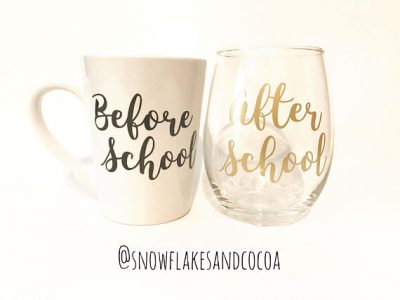 Personalized bracelets.  Love. Teach. Inspire.  You can even choose to personalize it with the teachers name for a few extra dollars.
Personalized Beach Bags for summer, or in our case since we live in Florida, all year round!
I hope you found this helpful.  If not click HERE for tons of more idea's.
Please follow and like us: