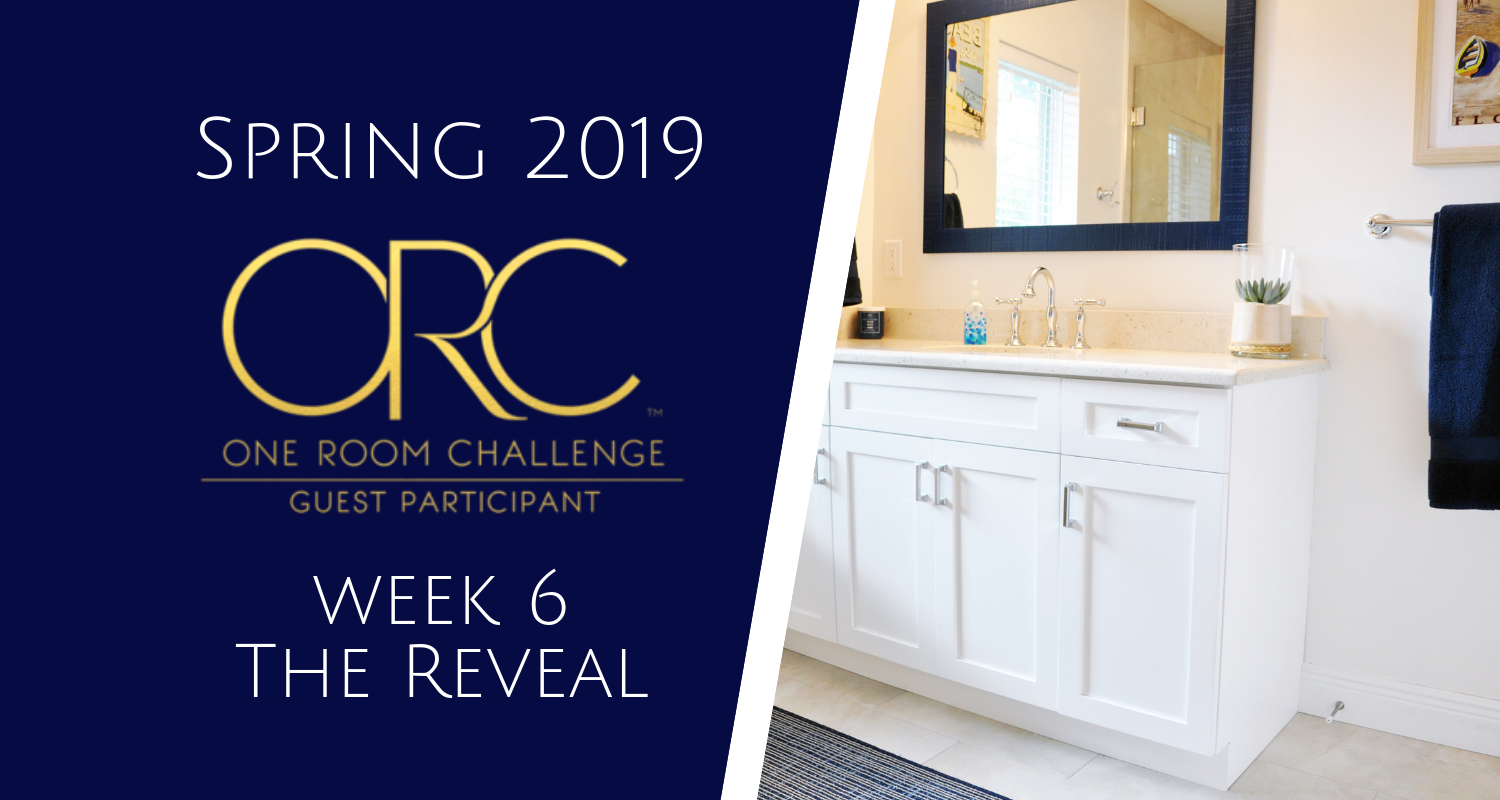 Week 6 – One Room Challenge, the Reveal!
Welcome to Week 6 of the One Room Challenge!  It's Reveal Week!
I've chosen to transform our Guest Bathroom in this challenge.  In case you missed it, you can catch up here on Week 1, Week 2, Week 3, Week 4 and Week 5.
You can see all the other participants in the One Room Challenge here.  There are so many amazing projects, so if you have some time please check them out.
This post contains some affiliate links for your convenience (which means if you make a purchase after clicking a link I will earn a small commission which helps keep my blog up and running but it won't cost you a penny more)!
---
The BEFORE…
Here are a few BEFORE pictures.  There was nothing really 'wrong' with this bathroom, and I wasn't looking to completely overhaul it.  We actually gutted it a few years back and replaced everything, so it didn't need any BIG changes.  However, I never liked this wall color and felt the space didn't have much personality.  I wanted something more coastal/beachy/nautical and figured I could achieve that fairly inexpensively with a little paint, some new art and new accessories.  Read on to see what I did…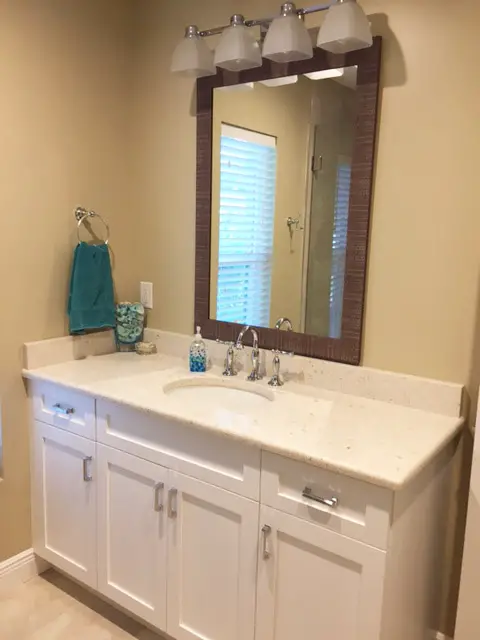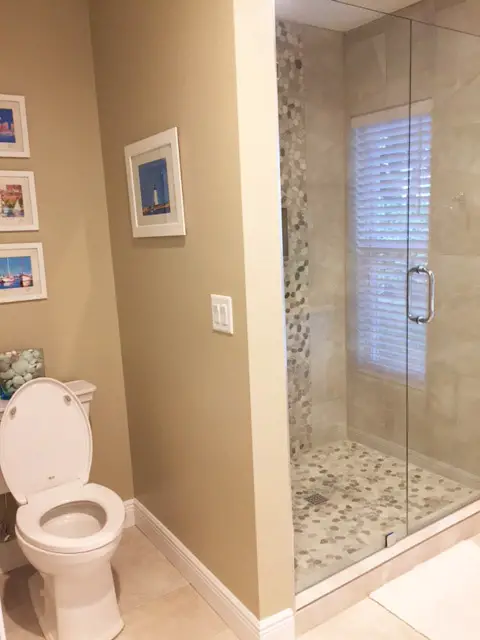 The AFTER…
And here it is today…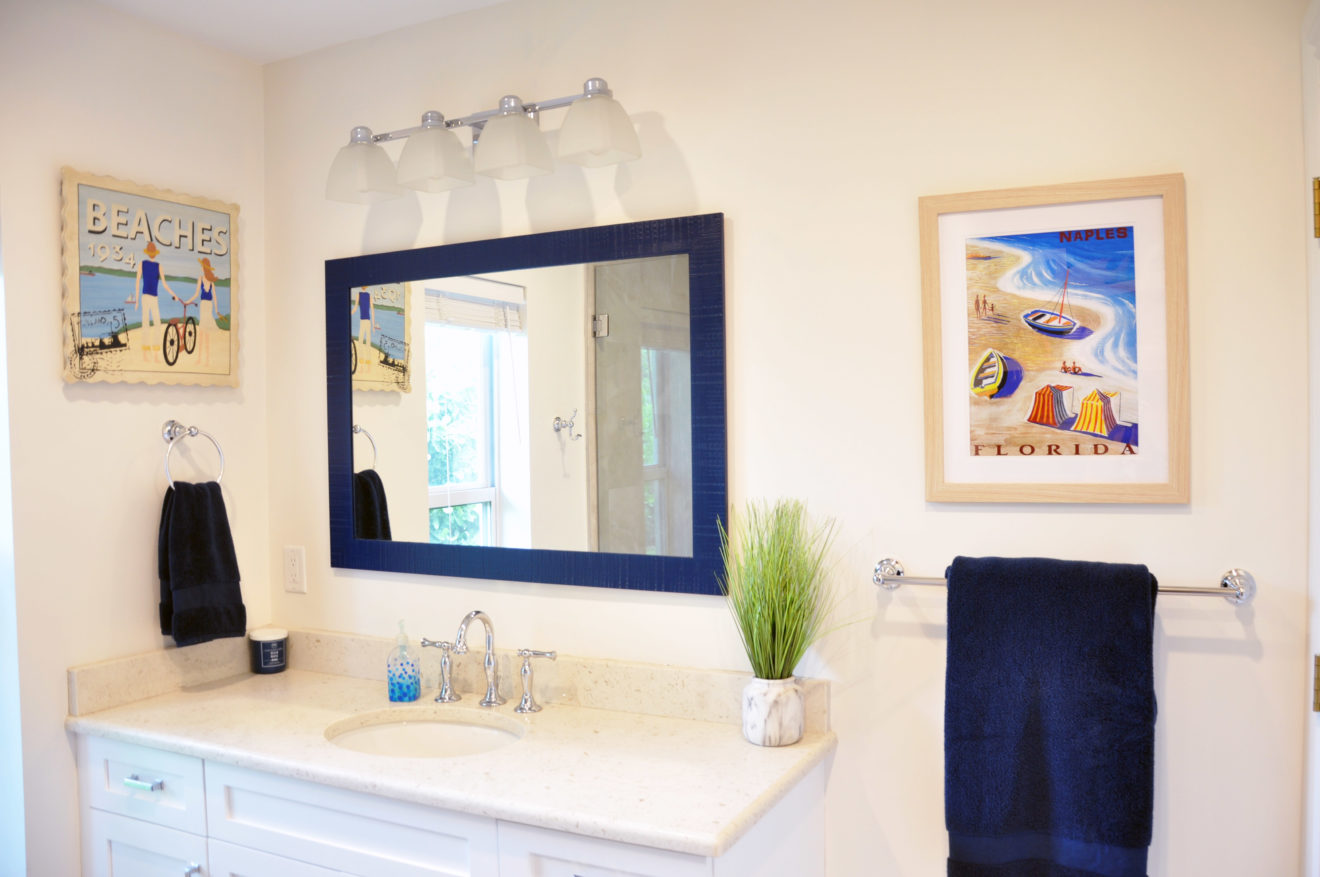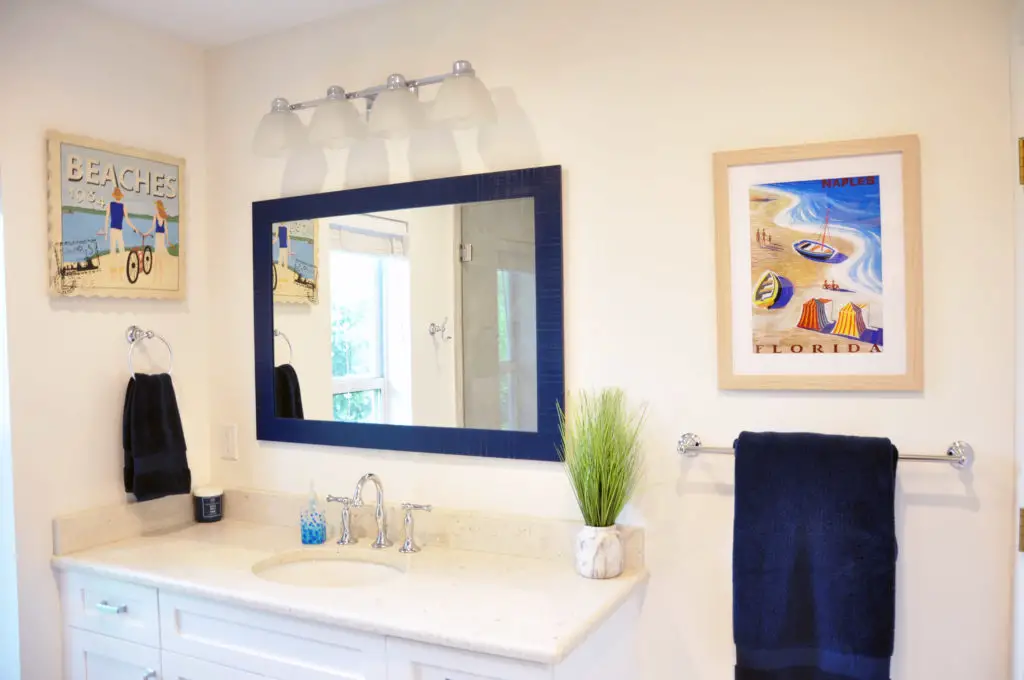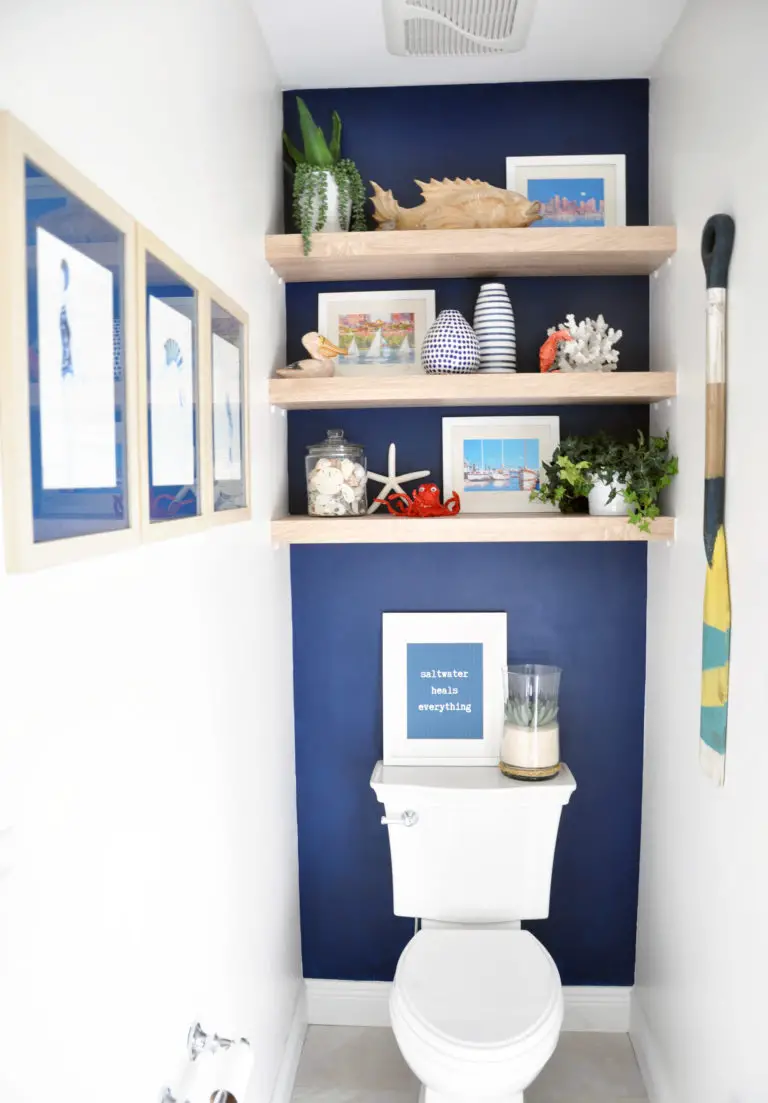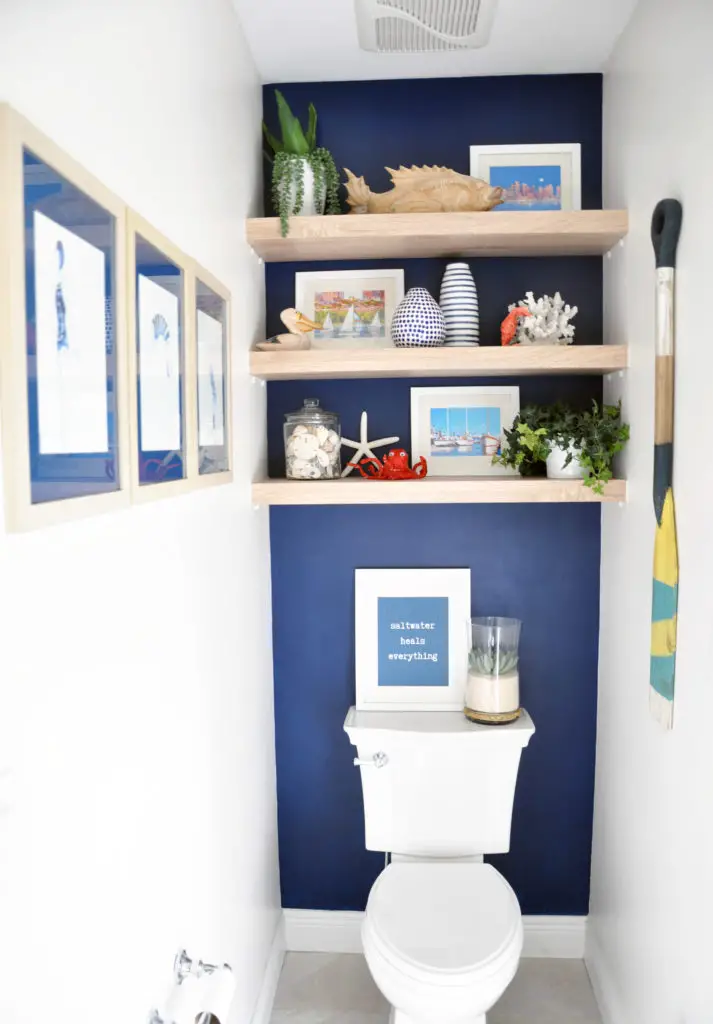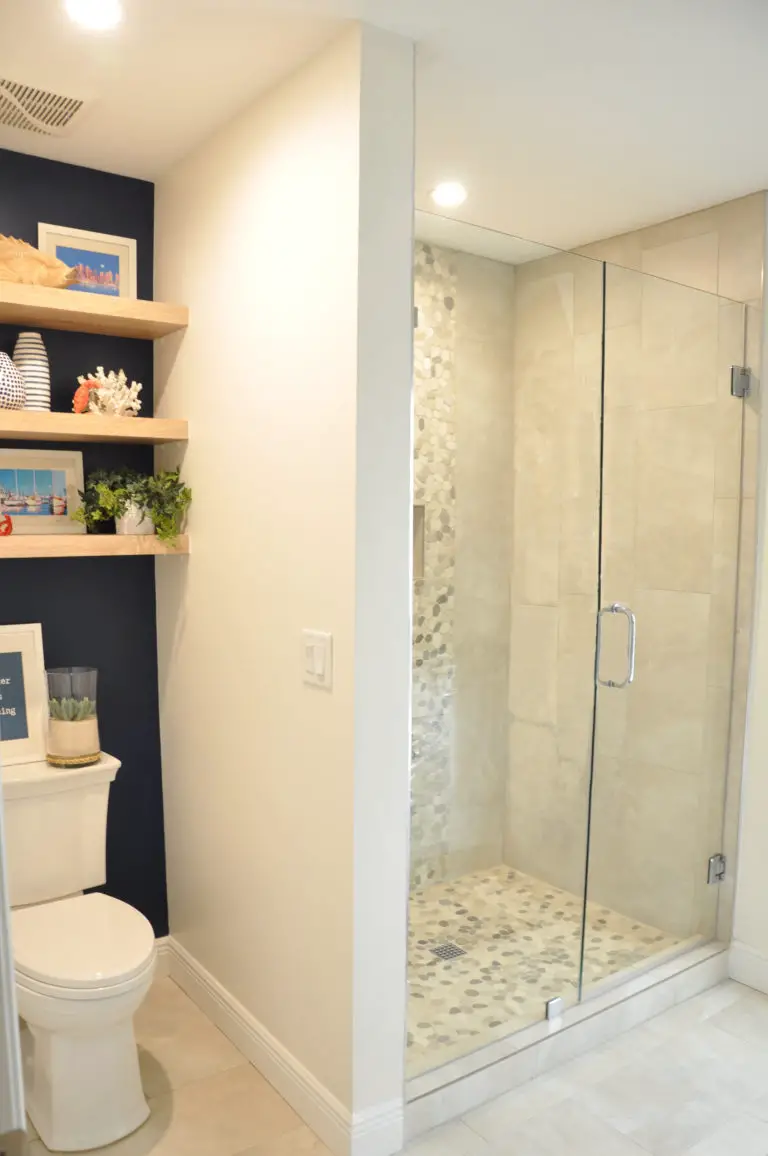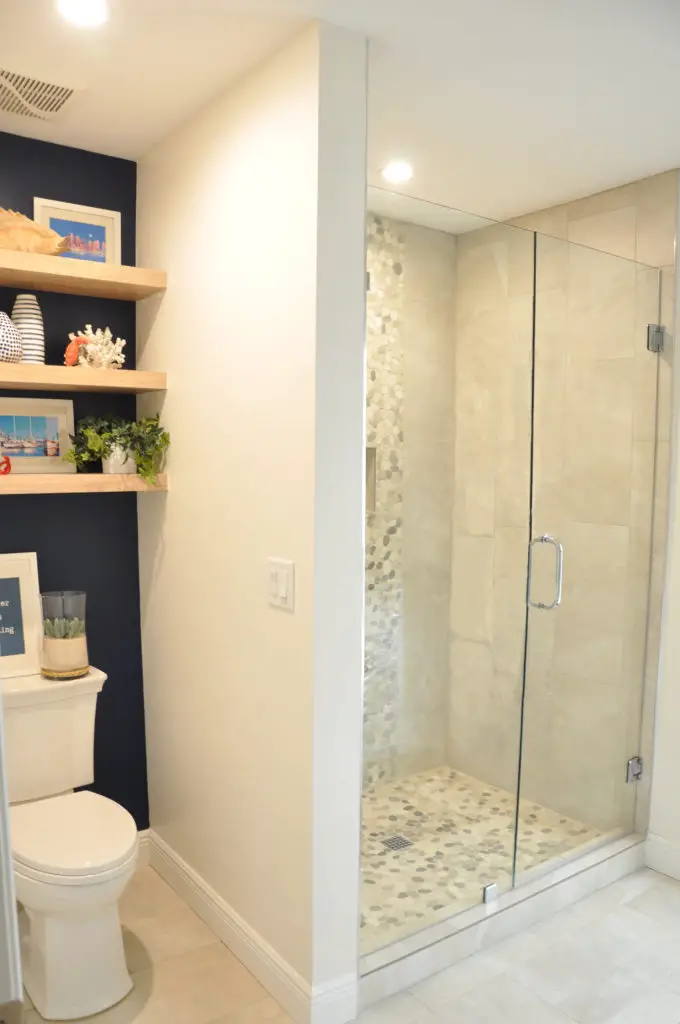 What I did to achieve this look…
Paint first…
I starting by painting the walls using Antique White by Behr.  It really brightened up the space.  There is the slightest tint of yellow to this color which you can see in certain lights.  I'm not sure what color was in here before.  It was a weird beigey, almost mustard color and I was never a fan.
I also painted an accent wall behind the toilet in Nocturne Blue (navy) also by Behr.  The first few coats looked more like a bright turquoise color and I gotta admit I was freaked out at first (see middle pic below).  I was like, WTH, this isn't the color I chose!  Thankfully, after about 4 coats of paint it looked navy and beautiful, and I love it!
I also painted the mirror the same color as the accent wall, and then re-hung it in the other direction.  It looks so much better this way and I'm not sure why we didn't hang it like this in the first place!?! I contemplated painting the vanity navy blue too, but decided not to, and the husband was like, um, no way! lol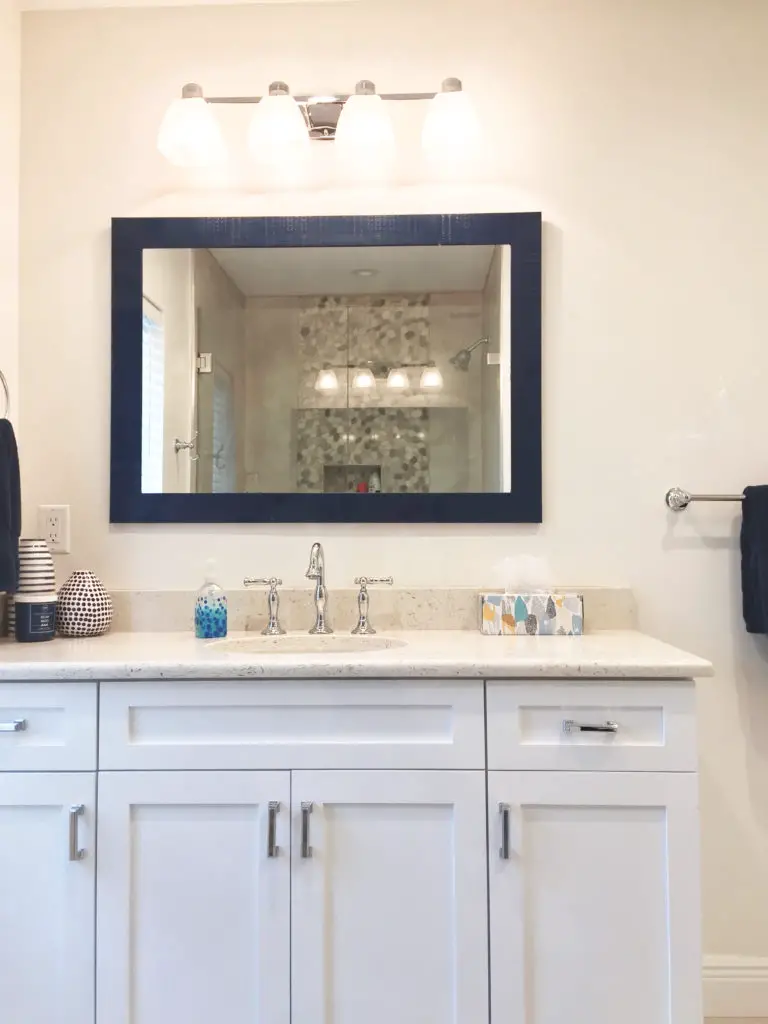 Shelves Next…
Next, we put up these pretty, driftwood colored floating shelves (found at Target – online only).  They are nice quality and fit our non-standard sized walls (35 1/2 inches).  I believe most shelves are usually 36 inches so I was thrilled to find these at a reasonable price!  Once installed, I was able to fill up the shelves using stuff I already had, a few thrift store finds and a couple of new things too.  I also included a couple of my kids art projects from school.  Can you guess which ones they are?
Artwork…
I had to do lots of searching but found some fun and nautical/beachy artwork for the walls.  These vintage looking swimmers are from Etsy from a vendor called DearVioletArt. You should check her out.  She has some amazing items!  Buying printable art from Etsy is so easy and so affordable.  You just purchase, download, then print.  I printed mine at home and then bought the frames and mats at Michaels Crafts.  Easy peasy and they look amazing!  (For bigger sizes that you can't print at home, I have used Sam's Club or Walgreens.)
The 'Beaches' artwork was gifted to me by my mother who bought it at an estate sale.  Isn't it perfect?  The Naples, FL print was found on ebay.  Both of these are exactly what I envisioned when I started this process.  Vintage coastal art with pops of navy and blue!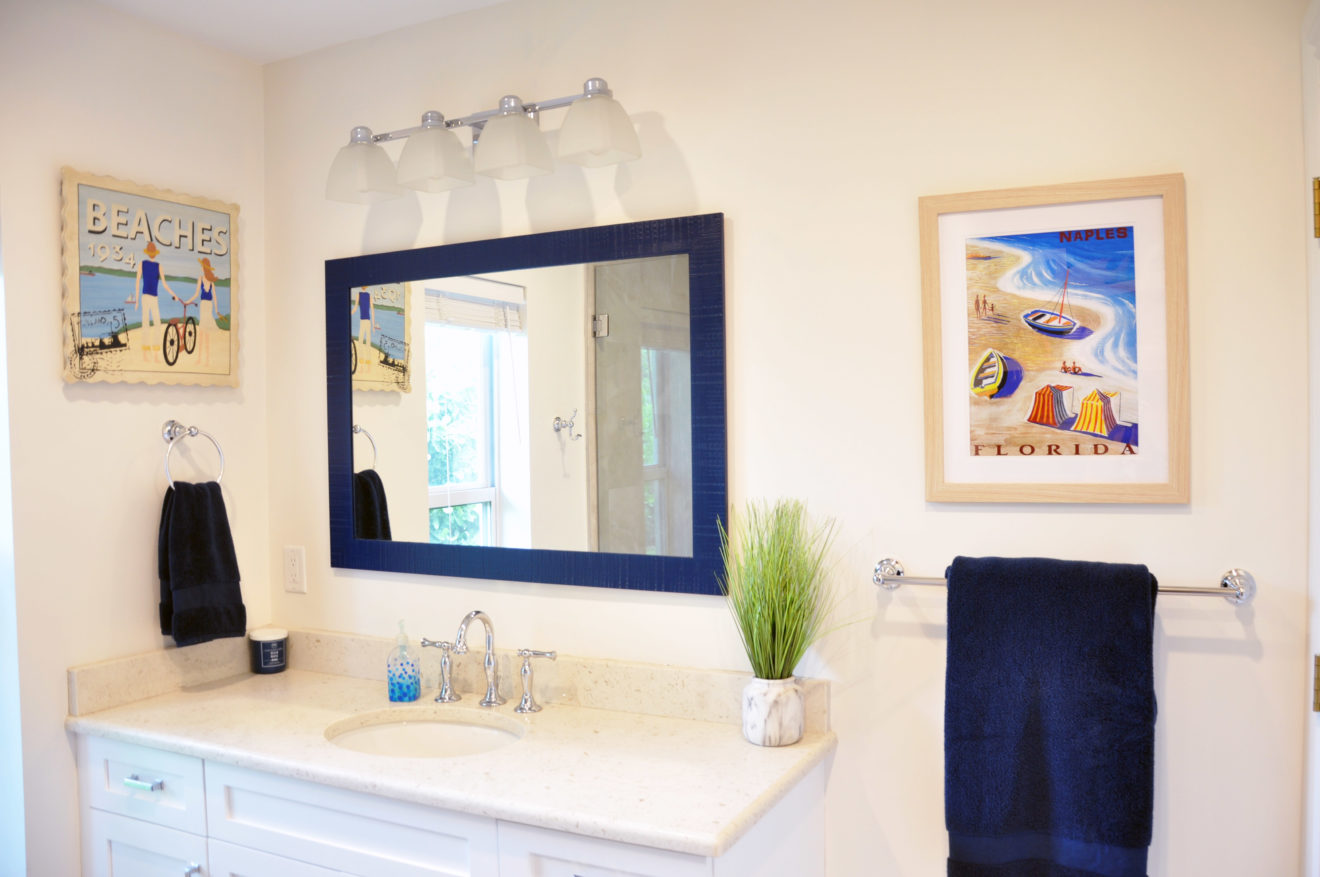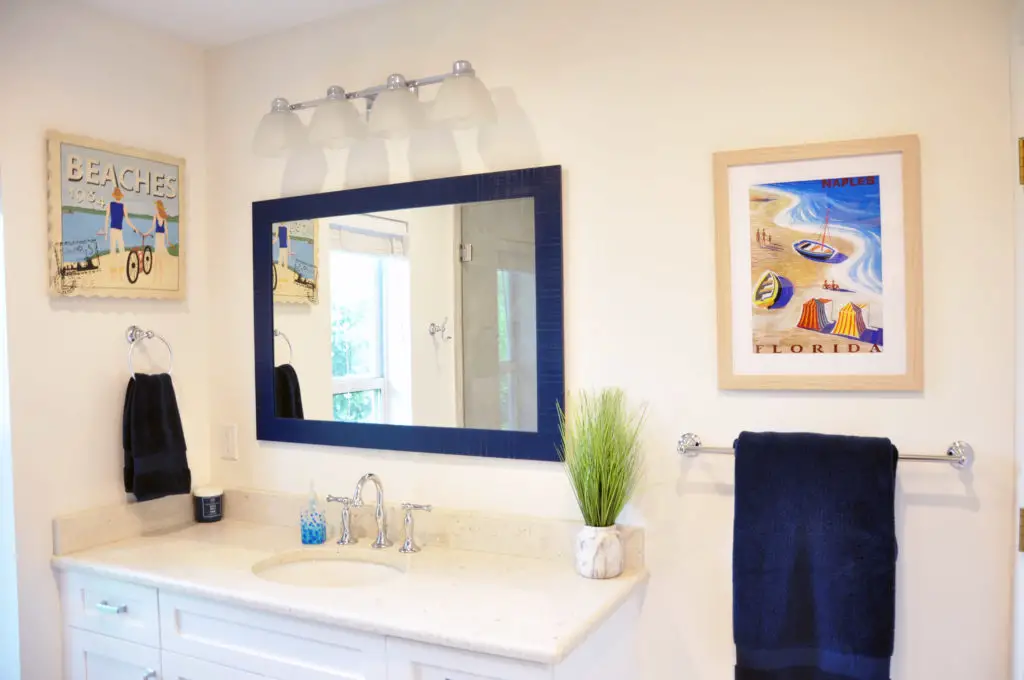 The below print is from my collection of FREE Printables, which you can download and use in your home by clicking this link.  The coastal centerpiece I made out of Thrift Store Finds.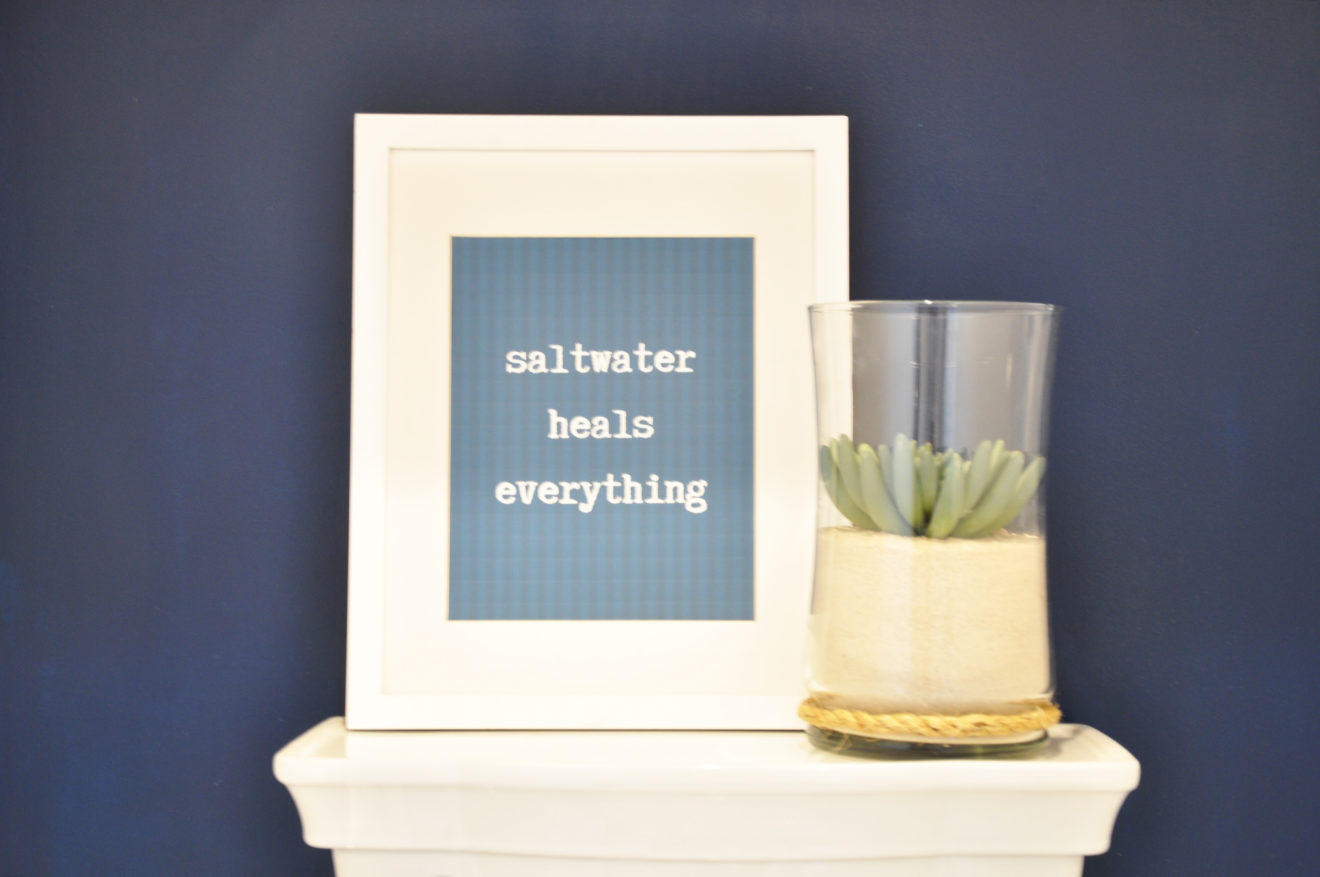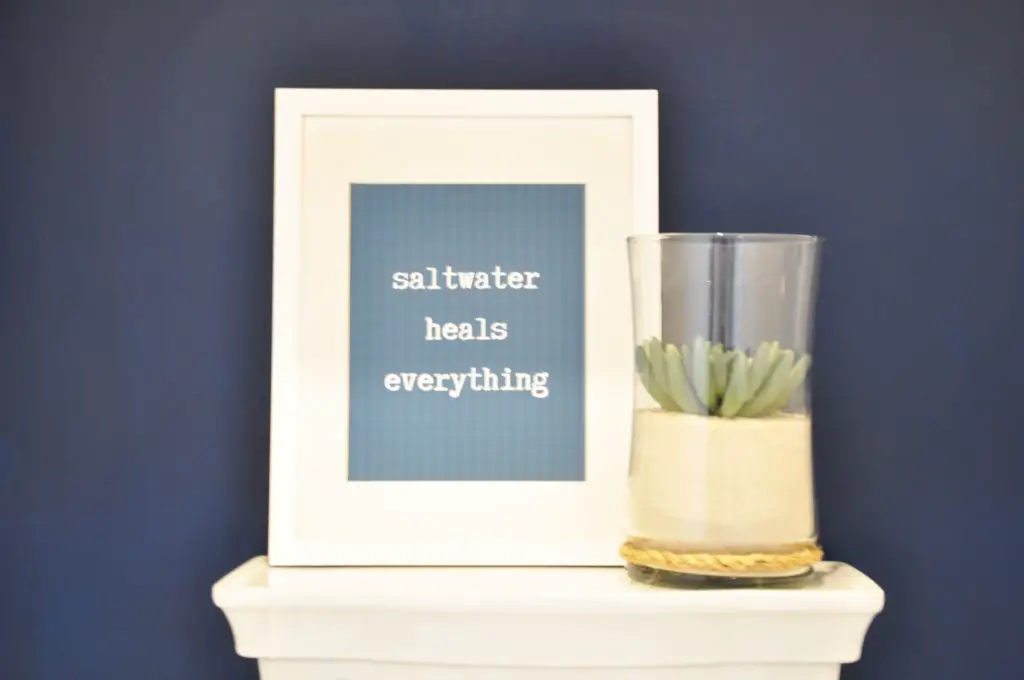 I kept the same light fixture and faucet because they are new and still in great shape.
I added new navy blue towels and a fun navy and tan striped rug to complete the look.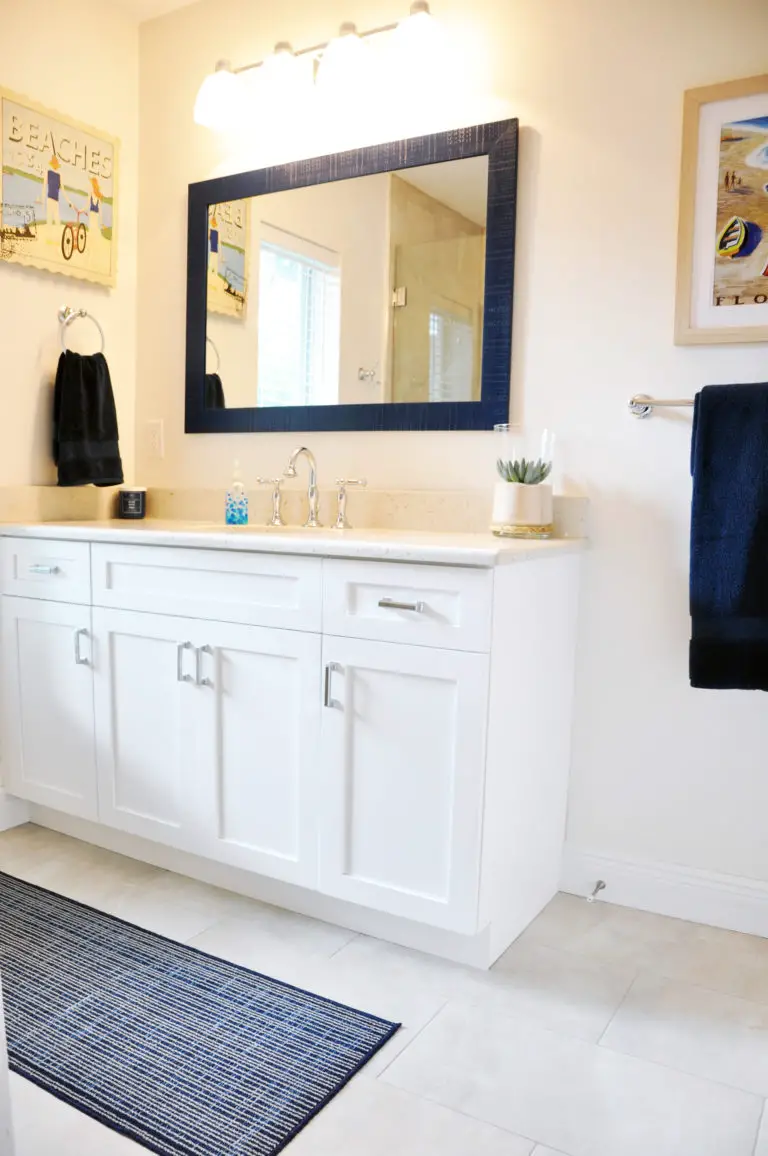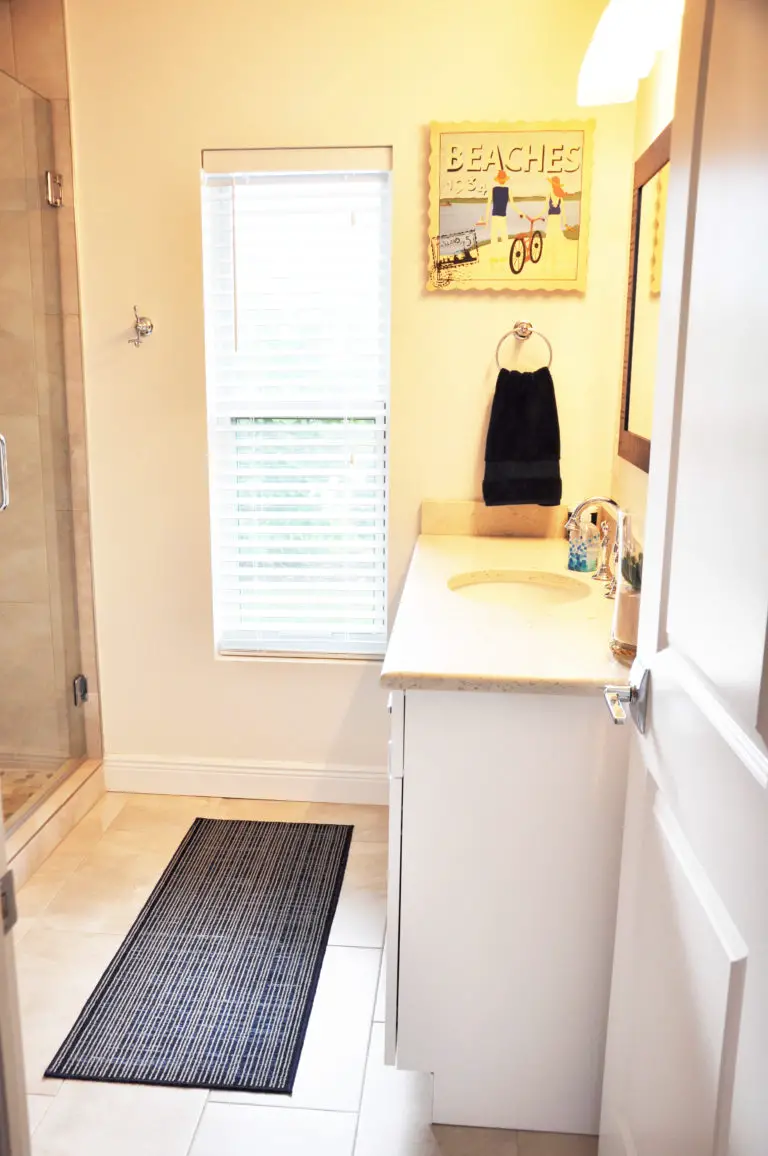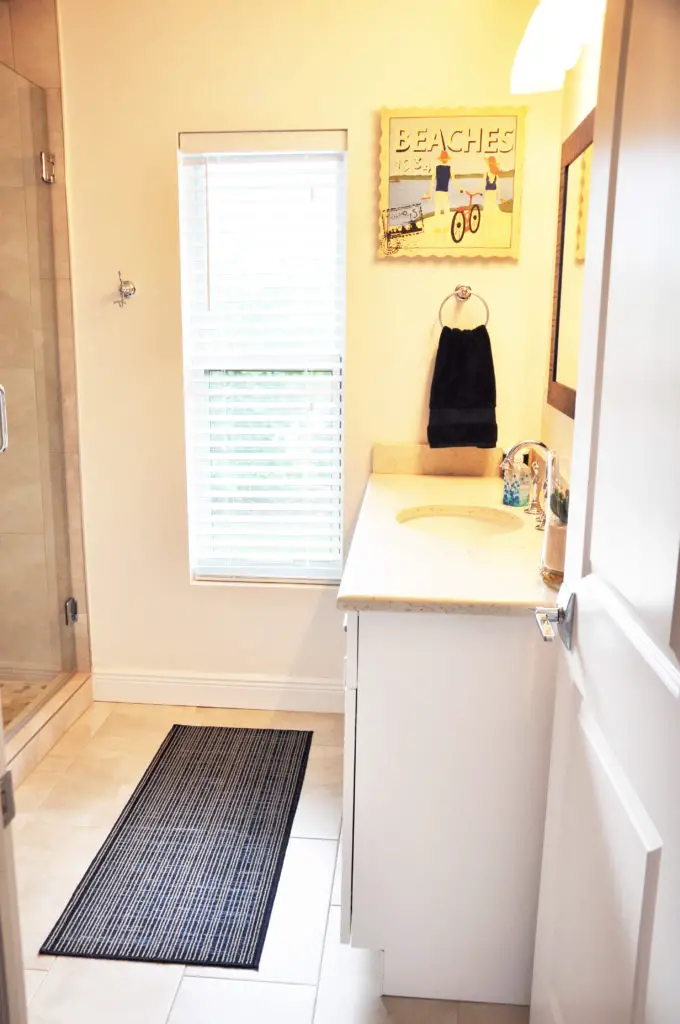 The shower stayed the same cause I love it.  This river rock is so pretty!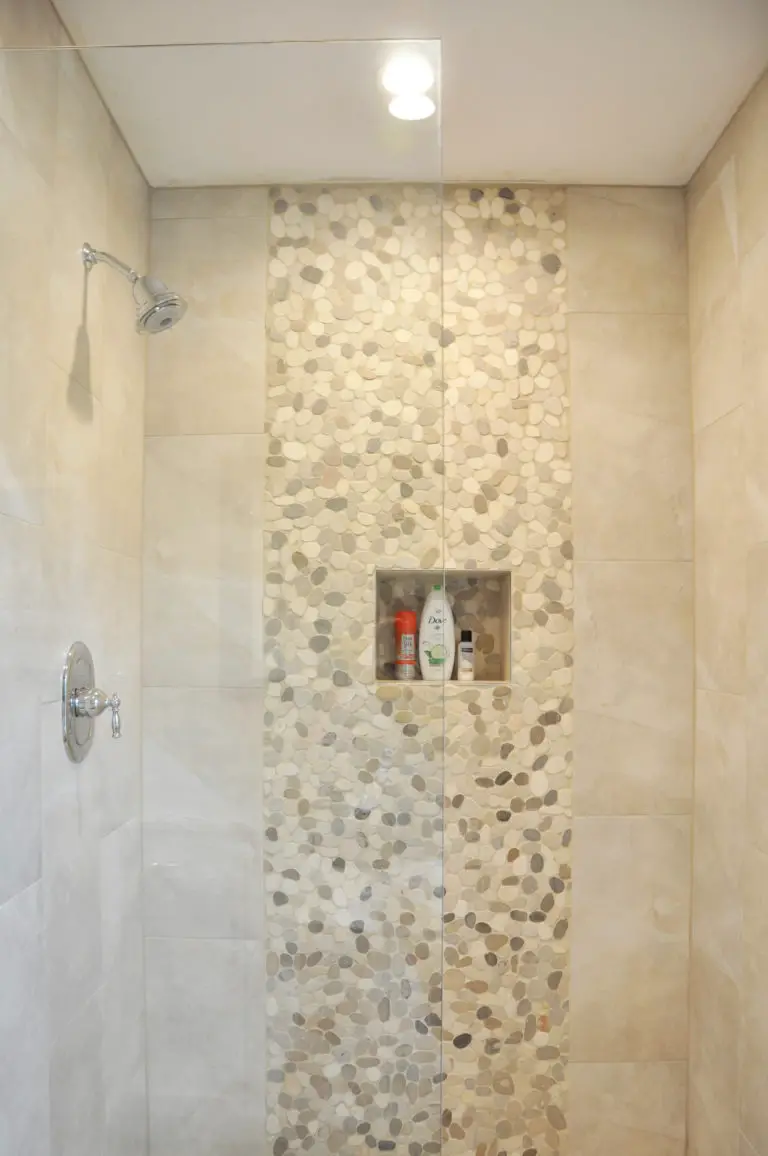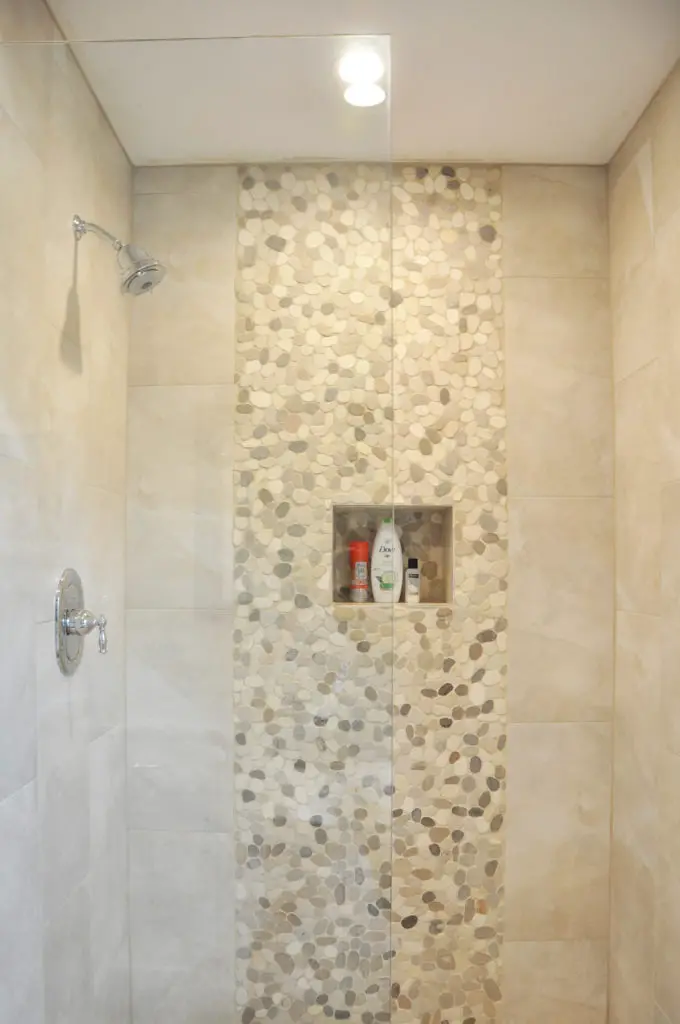 Side by Side Comparison…
Below are a few more side by side before and after photos.  Hope you enjoyed following along with me and I hope you like my final results.  I loved this challenge and can't wait for the next one in October!  I want to tackle my dining room!  🙂  Do you have a space you'd like to revamp?