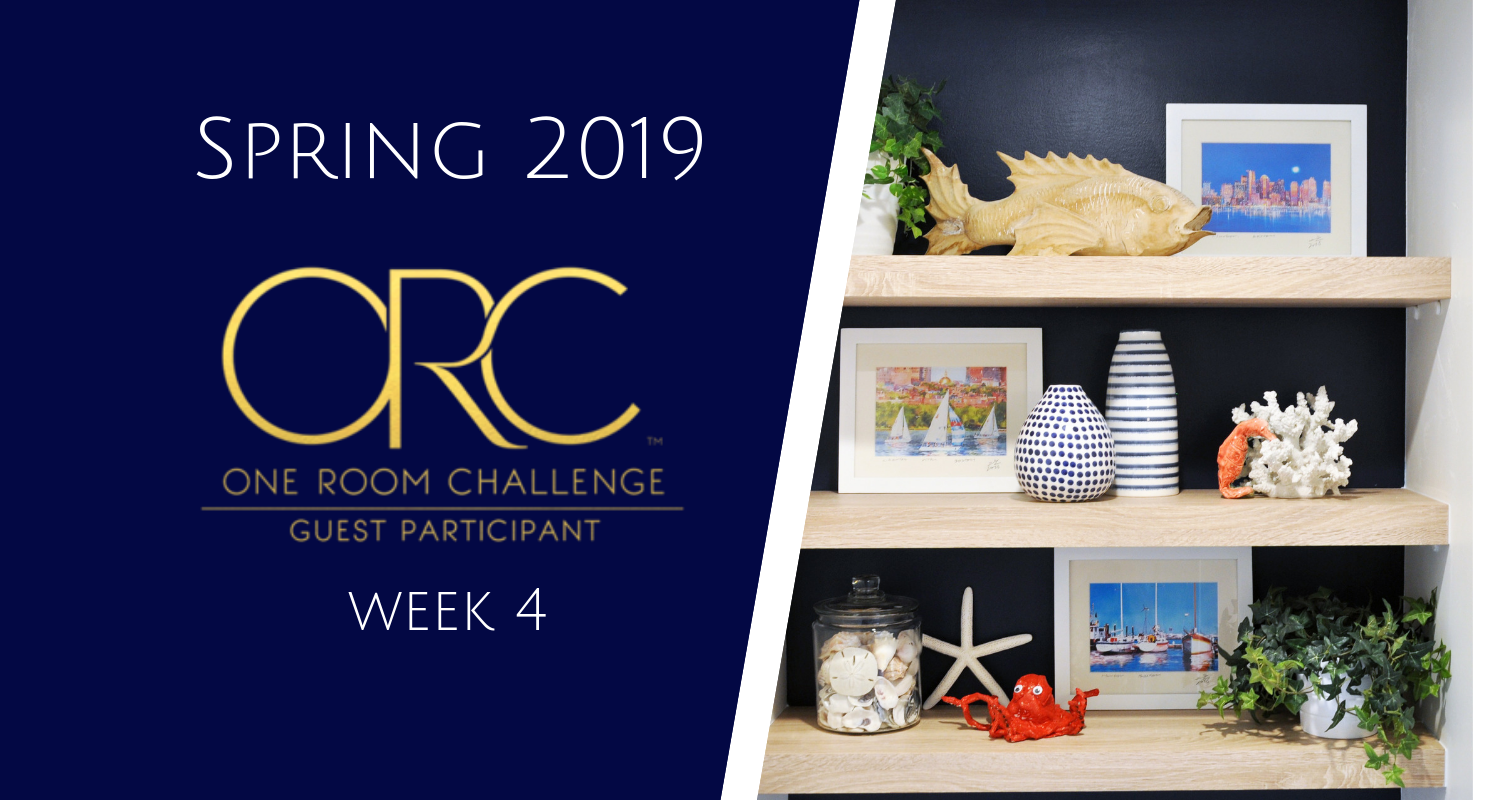 Week 4 – One Room Challenge, Guest Bathroom Makeover
Welcome to Week 4 of the One Room Challenge!
I've chosen to transform our Guest Bathroom in this challenge.  In case you missed it, you can catch up here on Week 1, Week 2 and Week 3.
You can see all the other participants in the One Room Challenge here.  There are so many amazing projects, so if you have some time please check them out.
This post contains some affiliate links for your convenience (which means if you make a purchase after clicking a link I will earn a small commission which helps keep my blog up and running but it won't cost you a penny more)!
Styling my Floating Shelves…
Last week we were able to hang the floating shelves (and by we I mean my husband).  They look so freakin' amazing and I love them so much!  This week I had so much fun styling them.  I live for doing this sort of stuff.  It totally makes me happy. Yes, I'm a nerd like that.  Can you believe I already had most of this stuff around the house?  I did purchase a few new things and I even added some of my boys clay artwork from school.  Overall, I am really, really diggin' how they turned out.
I wanted to keep with the coastal/nautical vibe so stuck too mostly whites, blues, neutrals and a few pops of green (and 2 pops of red).
Below is a before and after view…By the way….someone asked me if there was a window in the shower!  It does appear that way.  But, no there isn't.  There is a window next to the shower and what you see in the 'before' picture is a reflection of the window in the glass shower door.
Artwork…
I was hoping I'd get some of my artwork hung up in time for this post, but you'll have to wait until next week to see that.  I am still waiting on one piece of art to arrive that I ordered, and I may still need to purchase a few things. We will see.  Anyway, things are moving along and shaping up nicely!  It is all coming together nicely.
Shop these items…
Here is a partial list of the items on my shelves in case you see anything you like.  I've had forever some of this stuff forever so I don't have sources and links for everything.
Shelves and blue and white striped vase – Target
Polka Dot Vase  on Clearance for $10.48 – Pier 1
Frames – Michael's
Similar Coral – Amazon
Plants were found at Thrift Stores and the fish was found at an estate sale.
You can download the Saltwater Heals Everything printable for free by clicking here.
I made the coastal centerpiece in a Thrift Store Challenge for only a few dollars.
The artwork you see on the shelves is old.  I got those little prints on a trip to Boston a few summers ago and love them.
---
Checking off things from the to do list…
Paint the walls white and either apply wallpaper or navy blue paint behind the toilet. DONE
Install some DIY floating shelves behind the toilet.

DONE

 
Get new accessories, or 'shop' my house for things I may already have that would make a good fit in there.  DONE
Possibly buy or find some new artwork or something vintage and nautical.  DONE, still need to hang up.
Paint the mirror Navy. DONE
Find or make a new window treatment. 

Need to work on this.