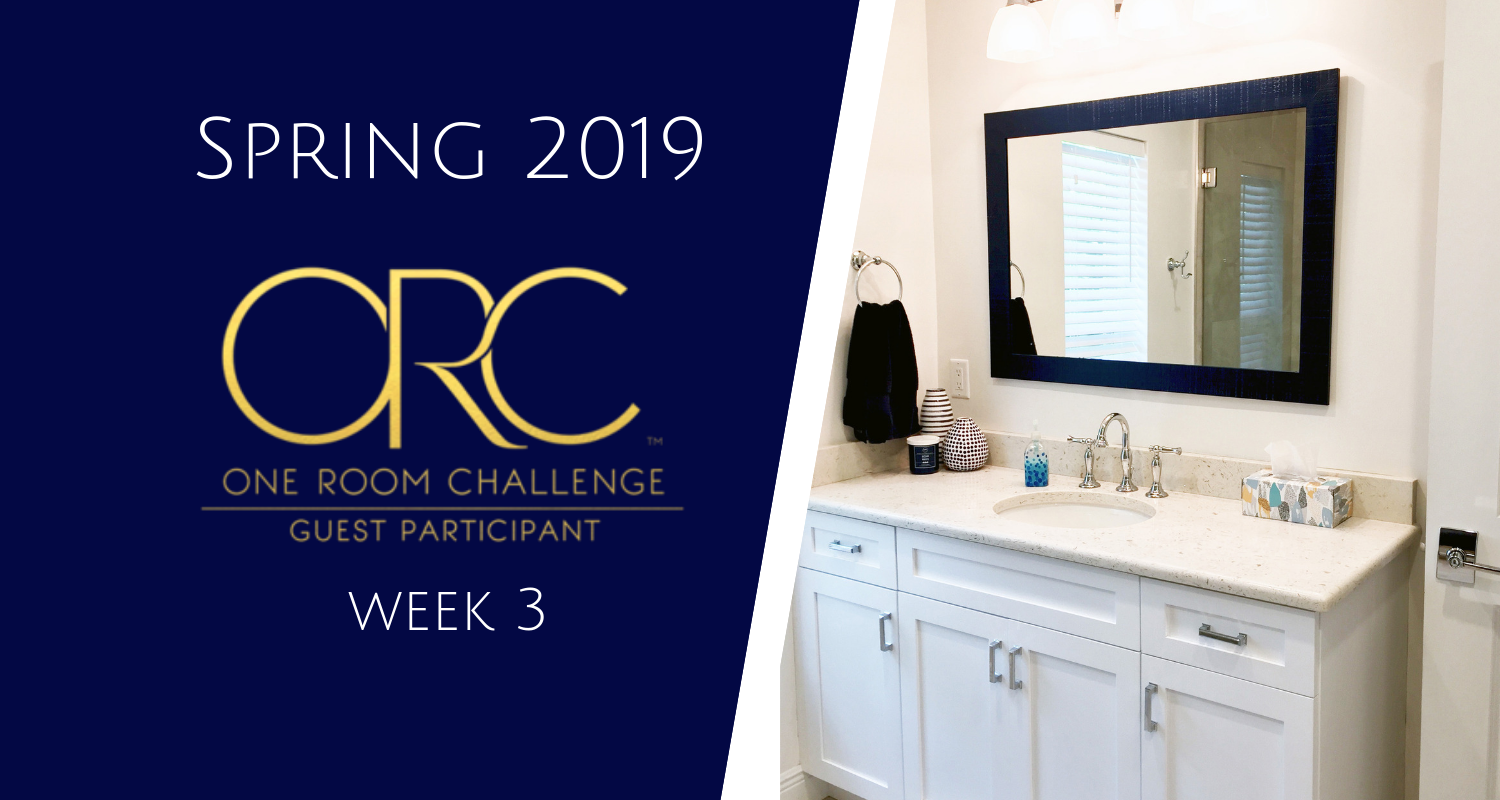 Week 3 – One Room Challenge
Welcome to Week 3 of the One Room Challenge!
I've chosen to transform our Guest Bathroom in this challenge.  In case you missed it, you can catch up here on Week 1, and Week 2.
You can see all the other participants in the One Room Challenge here.
We had guests here for 4 days so I was only able to get a few things done in the makeover.  They were BIG things though.
Last Week I painted the walls…
I painted the walls Antique White and an accent wall behind the toilet a Nocturne Blue.
This Week We Hung Shelves…
I've been wanting to install some floating shelves behind the toilet for quite some time.  There are so many DIY tutorials online that look easy to do, so I thought about trying to make my own.  Luckily I found these perfectly sized ones at Target (sold online only)!  They are a non-standard size, 35 1/2 inches (which is why I thought I'd have to make my own).  I figured since I found them, I'd better order them ASAP.  If they didn't fit I could return them to my local Target and then try to make my own.  Well, they did fit!  Perfectly!  I love the driftwood color and they were pretty good quality too!  They weren't easy to put up though.  My handy husband installed them for me and had a heck of a time doing so.  The brackets that hold up the shelves did not line up with any studs in the wall making them difficult to hang.  These things are pretty heavy and the drywall isn't the strongest stuff in the world, even with the provided screws and anchors.  He had to improvise a bit.  He added those push pin looking things under each shelf, just to reinforce them a bit, and he had to use some of his own anchors and screws from the garage.
After several hours…SUCCESS!  They look awesome.  I need to touch up the paint and then I can decorate and style these.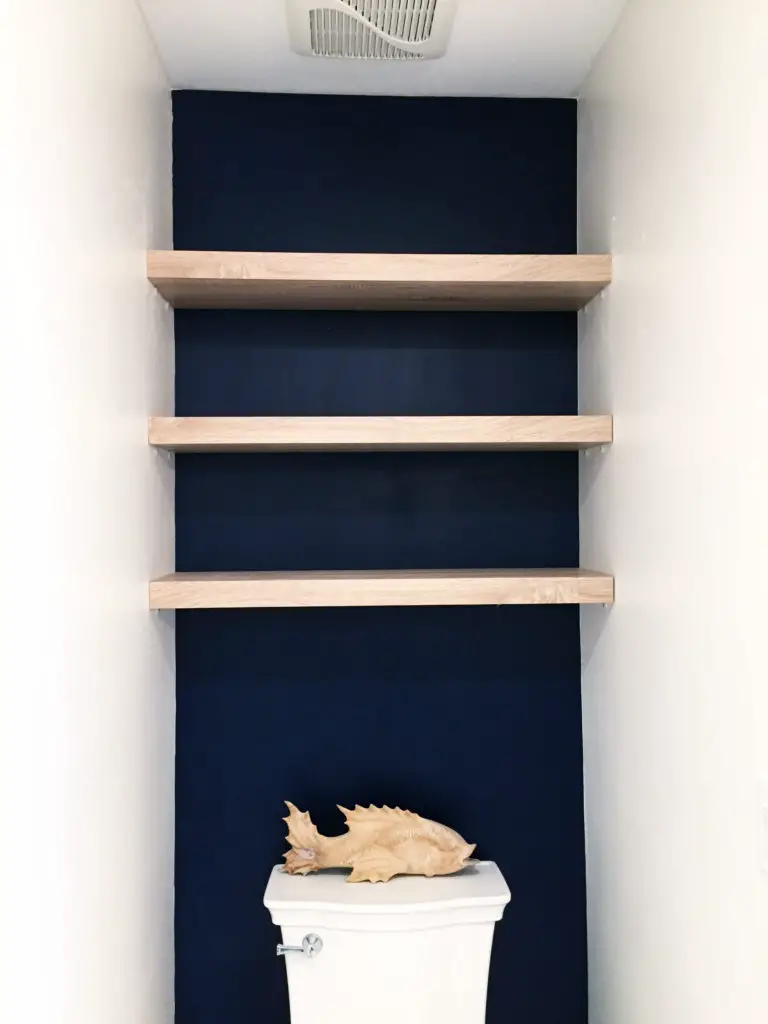 Mirror…
Another thing I was able to accomplish this week was painting the mirror that had been hanging in there.  I painted it the same color as the accent wall (Nocturne Blue) and then hung it back up horizontally, instead of vertically, and it looks 100 times better!  Don't ya think?
And here is a before and after…
I'm making good progress on the 'to do' list…
Paint the walls white and either apply wallpaper or navy blue paint behind the toilet. 

DONE

Install some DIY floating shelves behind the toilet.  DONE
Get new accessories, or 'shop' my house for things I may already have that would make a good fit in there.  Ordered some new items and found some in my house that will work
Possibly buy or find some new artwork or something vintage and nautical.  

Ordered some items/and my mother donated some amazing vintage artwork to me

 
Paint the mirror Navy. DONE
Find or make a new window treatment.  Need to work on this.
Stayed tuned for Week 4!