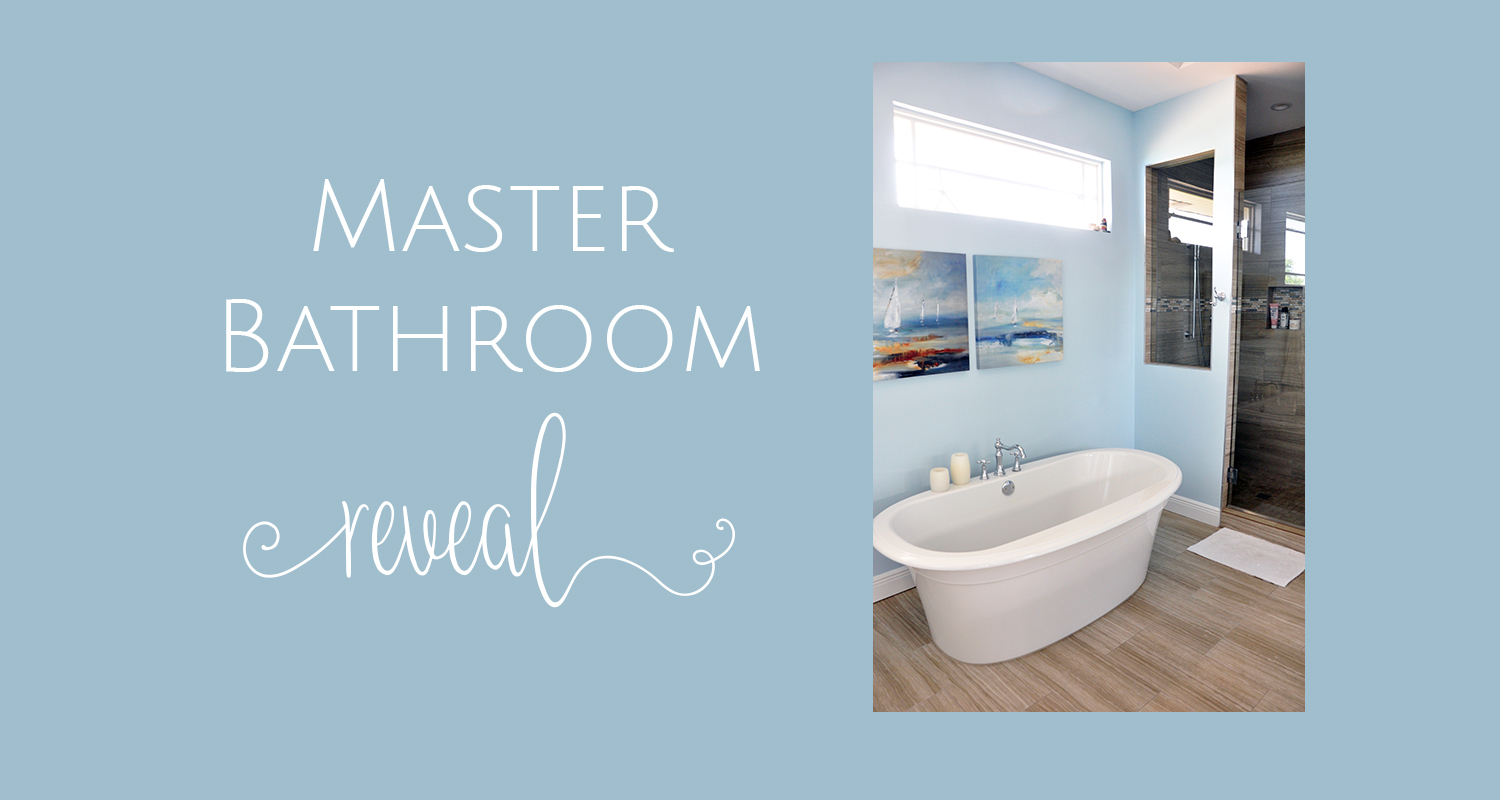 I haven't done a room reveal in a really long time!  That is because I still feel like some of the rooms in my house are not finished and reveal worthy.  Case in point….our master bathroom. When we first moved in (over 2 years ago) we needed some mirrors to put over each sink.  I looked everywhere and just couldn't find any I liked and we were getting desperate for mirrors, so we used these builder grade, boring ones from home depot.  I vowed to spruce them up later, with a frame or something but I still haven't done that yet.  You know when you have something that needs fixing and you see it everyday, and everyday your reminded, 'dang I need to do something about that', but ya don't.  Well, these mirrors, they're like that.  It's on my list of things to do.
Another thing about our master bath, it's not very big.  Don't get me wrong, I'm not complaining! It is just the right size for us, has everything we need (including a tub, full shower, toilet, and 2 vanities) and we helped design it so we can't complain about the size one bit.  But, overall its not the biggest master you've ever seen and that is ok with us.
So without further ado I present our master bathroom….
Master Bathroom Reveal, His and Her Vanities…
Every couple wants to have double sinks, at least every couple I know does.  We designed our bathroom so we each have not only our own sink, but our own vanities.  My husband's is slightly smaller.  Attached to his, is the linen closet.  We figured his could be smaller since he doesn't have as much 'stuff' as I do.
And below is my vanity.  It is so nice to have separate sinks, which I keep fairly neat and don't have to look at his not-so-neat sink.  lol!  I love having a nice big area to put all my stuff, although I am pretty good about putting it all away too.  See what I mean about the mirrors?   They need a frame or something around them.  They are bo-ring.
The Tub and Shower…
Our fabulous tub and shower.  I absolutely LOVE our tub, but admit I don't use it enough.  It's huge and deep and gorgeous.  I should really make it a point to get in there at least once a week.  Agree?   Also it is hard to see but our shower has dual shower heads.
We used Abbey Flooring for all the flooring and tile in our house.  This is the tile we choose (which you can get at Home Depot).  I wanted a beachy vibe in here so went with white cabinets and floors the color of sand, and blue walls (although lately I've been wanting to paint the walls white).  We kept the same tile in the shower and added a pretty recycled glass accent similar to this one from Lowes.  Our faucets are Moen and have that vintage look I love.  We chose to use chrome accents.
Master Bathroom Reveal, More Details…
Here are a few more shots of the bathroom from different angles.   Not huge, but just right for us.  PS – Can you even get over my cat in these pictures?  This is Shadow (and she literally is my shadow sometimes, as she follows me around the house).  She insisted on posing while I was taking these pics!  She wouldn't leave the bathroom.  I kept shoeing her out and she just kept coming back.  Silly thing!  She is pretty cute though, don't ya think?
And that is about it for this room reveal.  Hope you liked it.
Here are the other room reveals I've shared since moving in.
Kitchen, Guest Bathroom, Guest Bedroom, Dining Room, Master Bedroom
Shop this room…