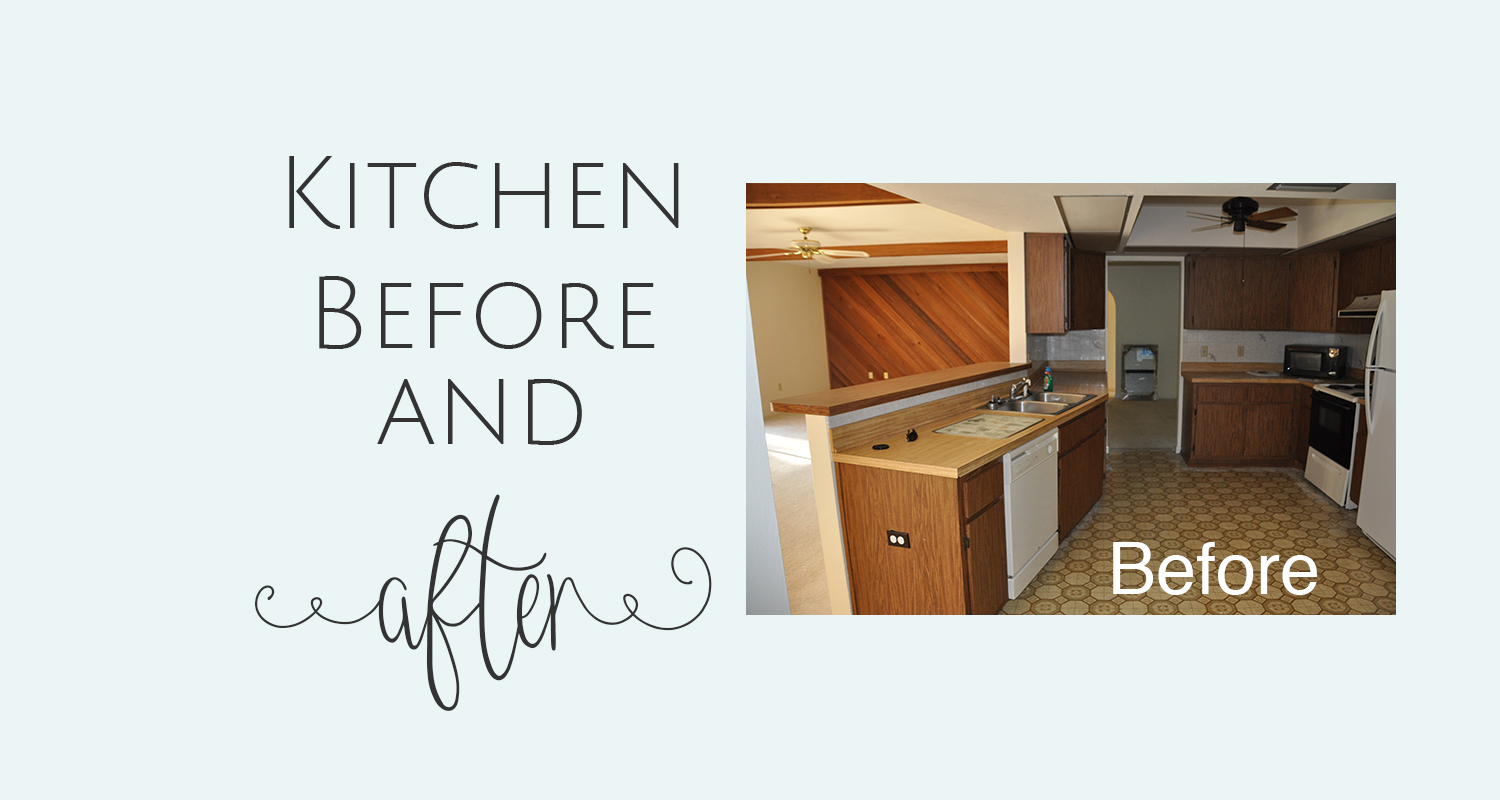 A brand new kitchen…
Check out our kitchen remodel before and after photos.
I hope these photos can inspire you if you are thinking of remodeling your own kitchen!
Before I reveal our kitchen before and after pictures, I thought we'd take a trip down memory lane and I'd show you how the kitchen looked when we first bought this house. Those of you who have been following me since the beginning might remember these.  For those that are new here, take a look at this 1980's gem.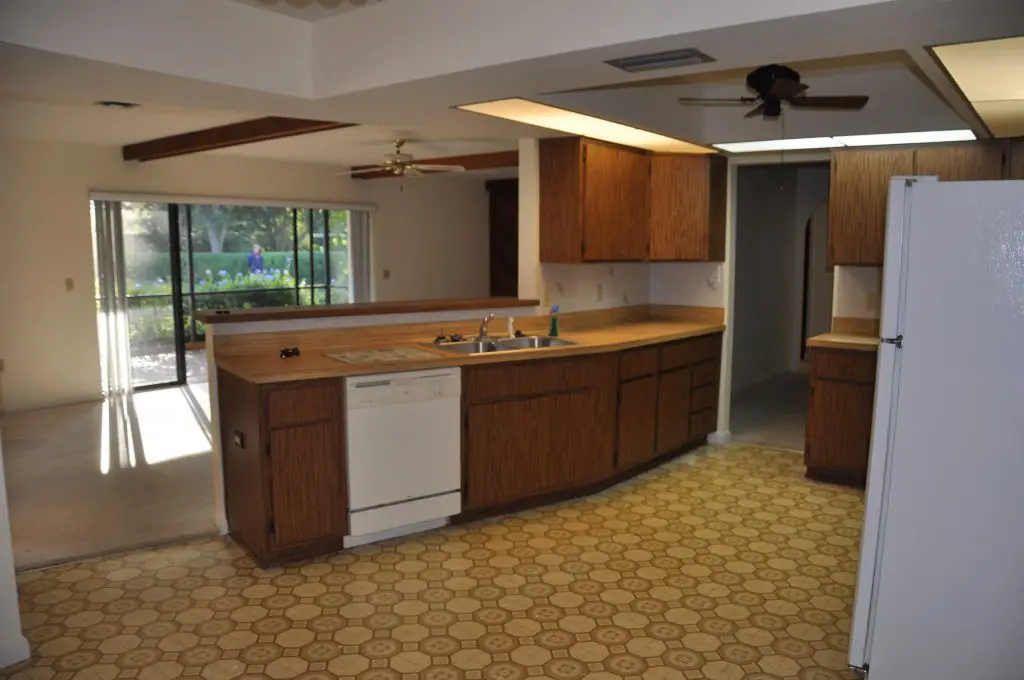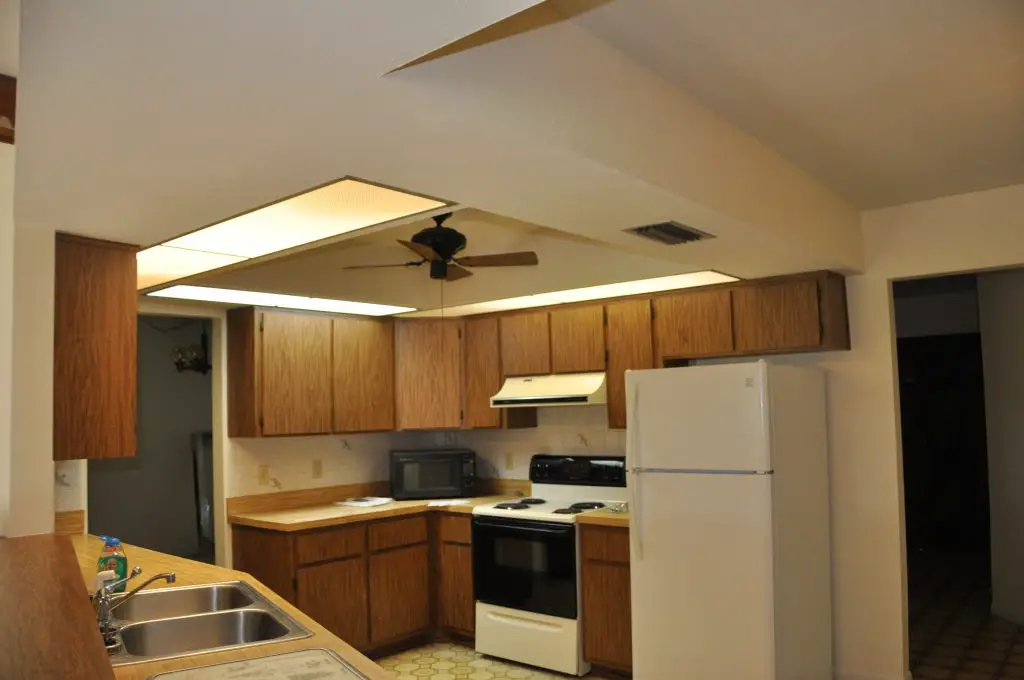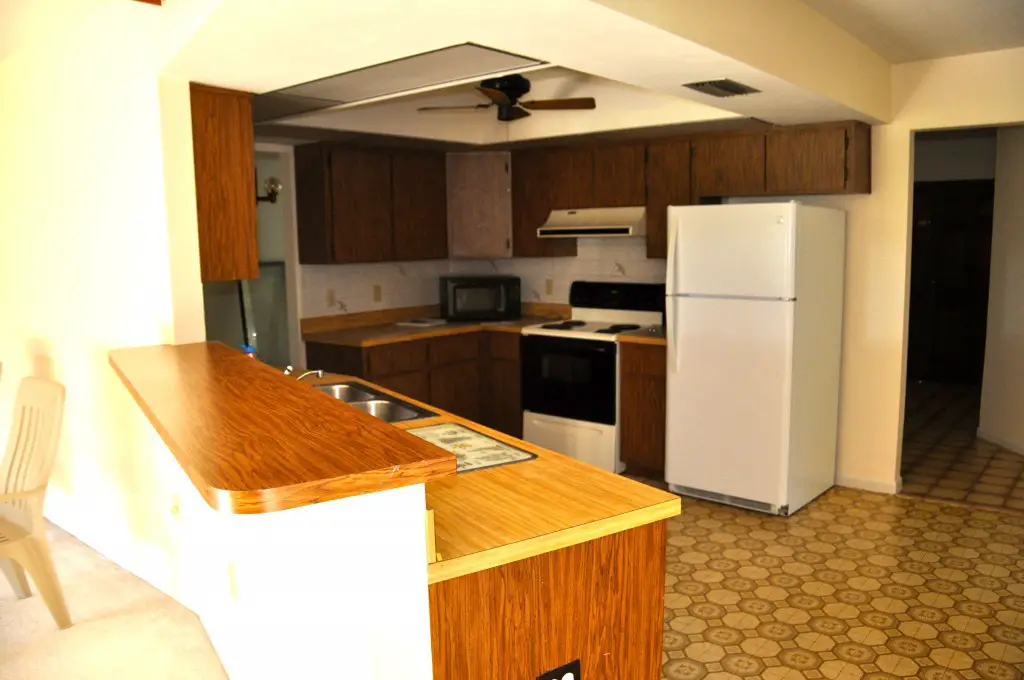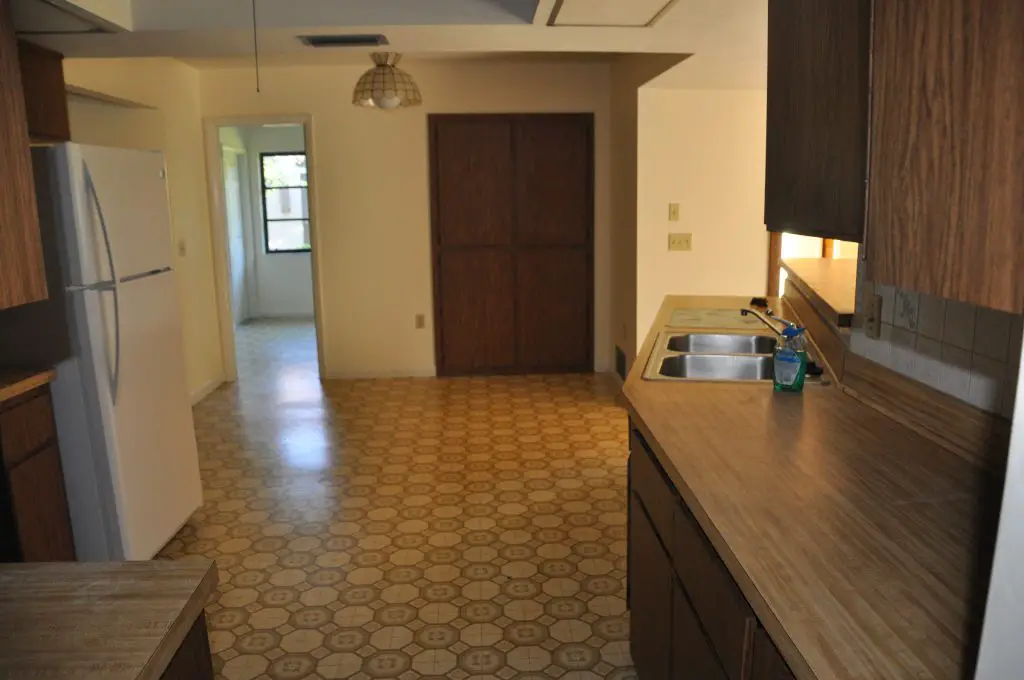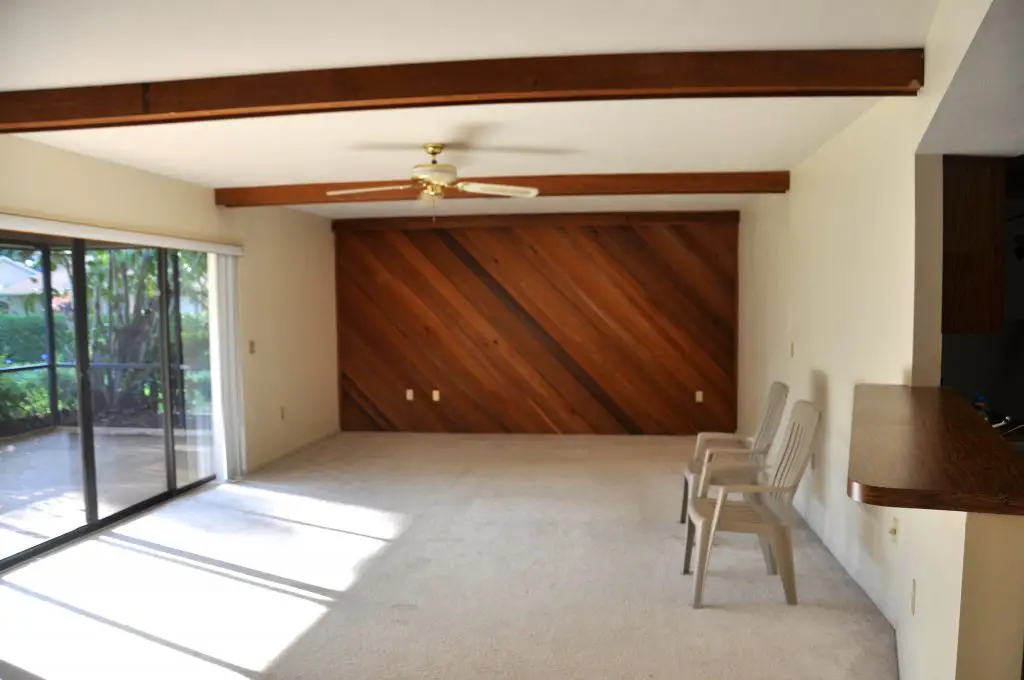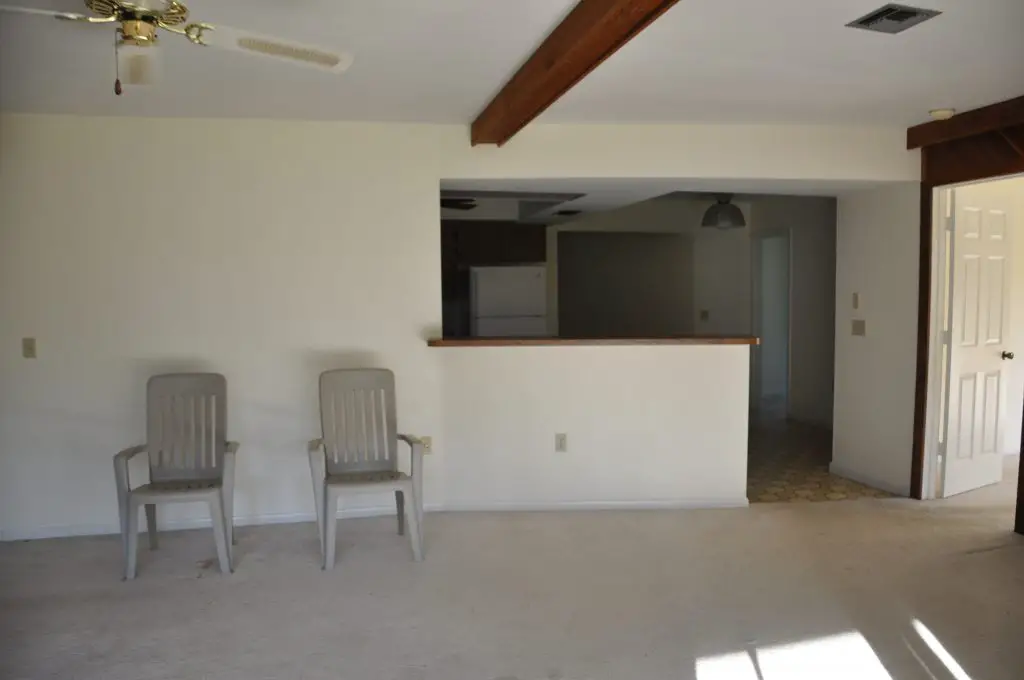 Let's Open Up the Space…
As you can see it was very outdated, quite small and very closed off.  Everything was original including the formica cabinets and countertops, linoleum flooring, bad lighting, etc.  I had a vision to open it all up and add a HUGE island.  Here are the plans the kitchen designer and I came up with.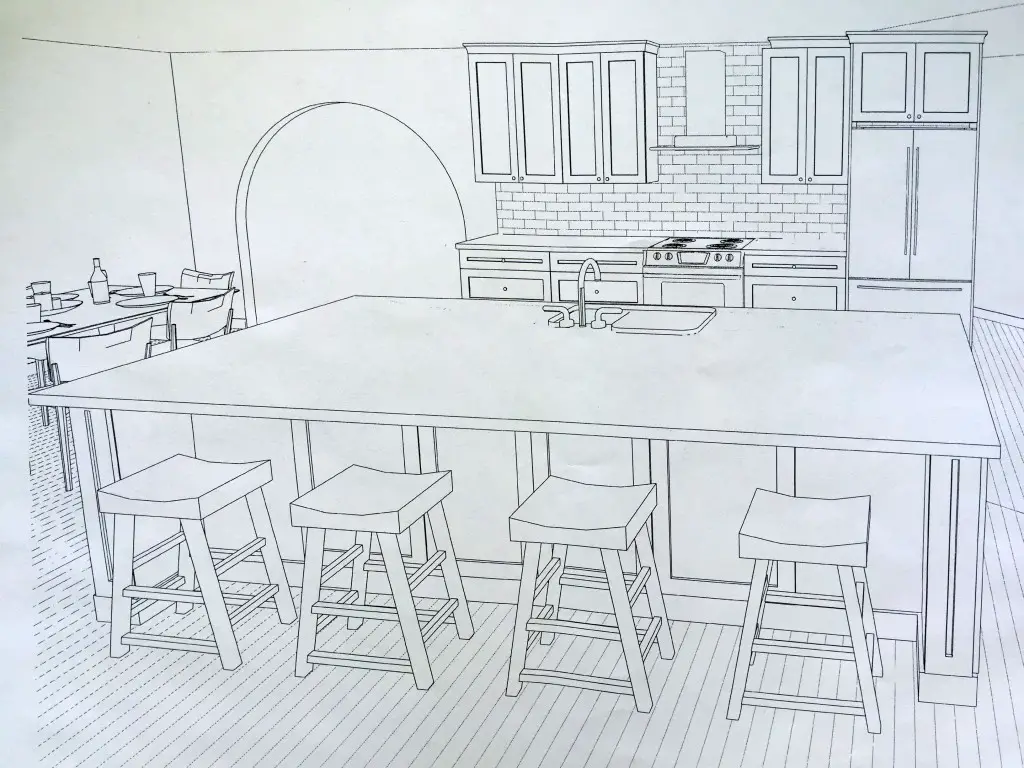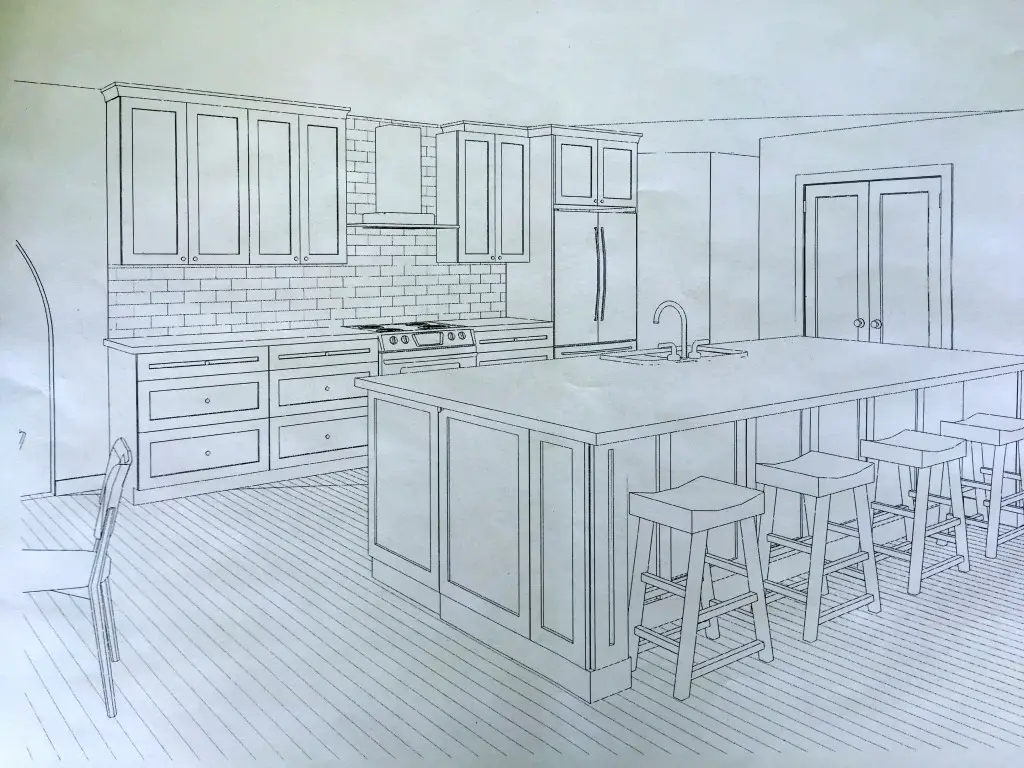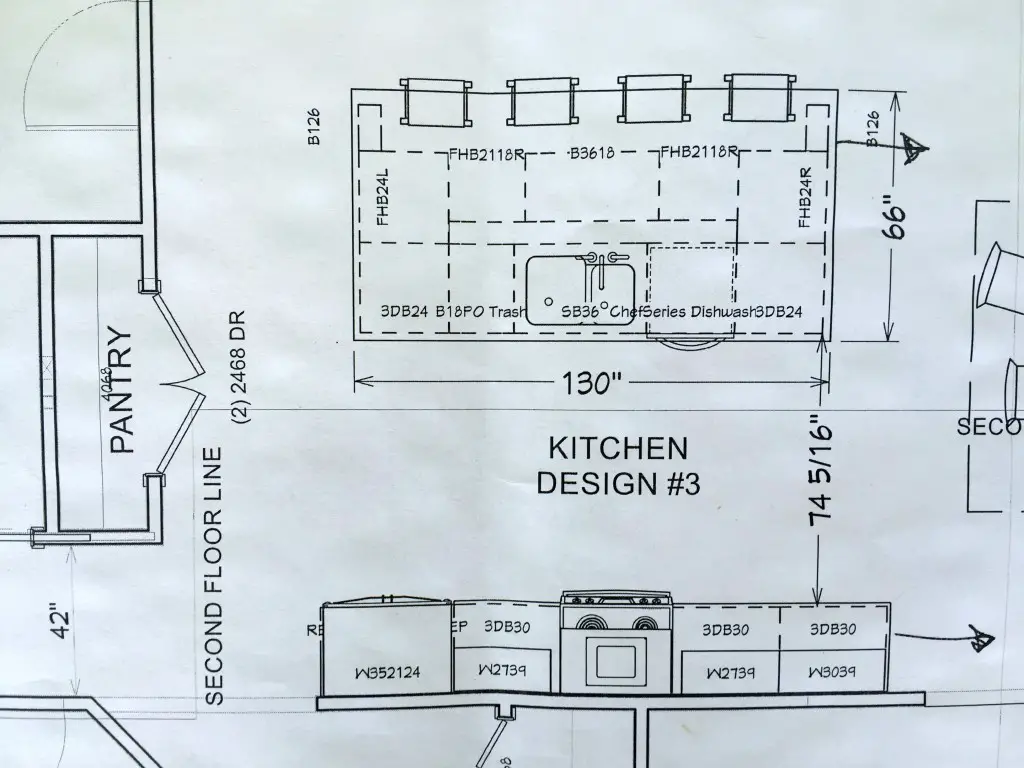 And finally, the Kitchen Before and After Pictures…
And this is how it looks today. It is pretty much unrecognizable. It is much more open, which we love. I tried to match up the 'before' and 'after' pictures as best as I could, all taken from the same angles so you could see the dramatic results.
Kitchen Before and After Details…
Lunada Bay Tiles is where I got our backsplash.  It is called Agate Glass in the color Pearl.  We used 1×3 bricks.  They were on the pricey side but so worth it as I think the colors really tie everything together. We used white grout and it came out perfect. It is really pretty. These pictures don't really do them justice.  It is much nicer in person.
Our counters are Pompeii Quartz and are called Cloud Nine.  I love them so much.  Easy clean up, no staining, they don't scratch and are very durable….so far.
Our cabinets are custom made by Kitchens by Clay in Naples, Florida.  They are shaker style in bright white.  My husband thought the white would be hard to keep clean, but it isn't.  Things just wipe right off of them. We selected all drawers for the lower cabinets and they are awesome!  I haven't even come close to using up all the storage space yet. The island has four cabinets (where the barstools are) for even more storage.
Can I just talk a little more about my island for a sec? It is 11 feet by 5 1/2 feet which is HUGE and I love it.  They say everyone always gathers in the kitchen during parties and it's true.  This island has plenty of room for everyone to hang out. We purchased the barstools from wayfair.com and they are nice quality and very solid!  The pendant lights are from Lowes.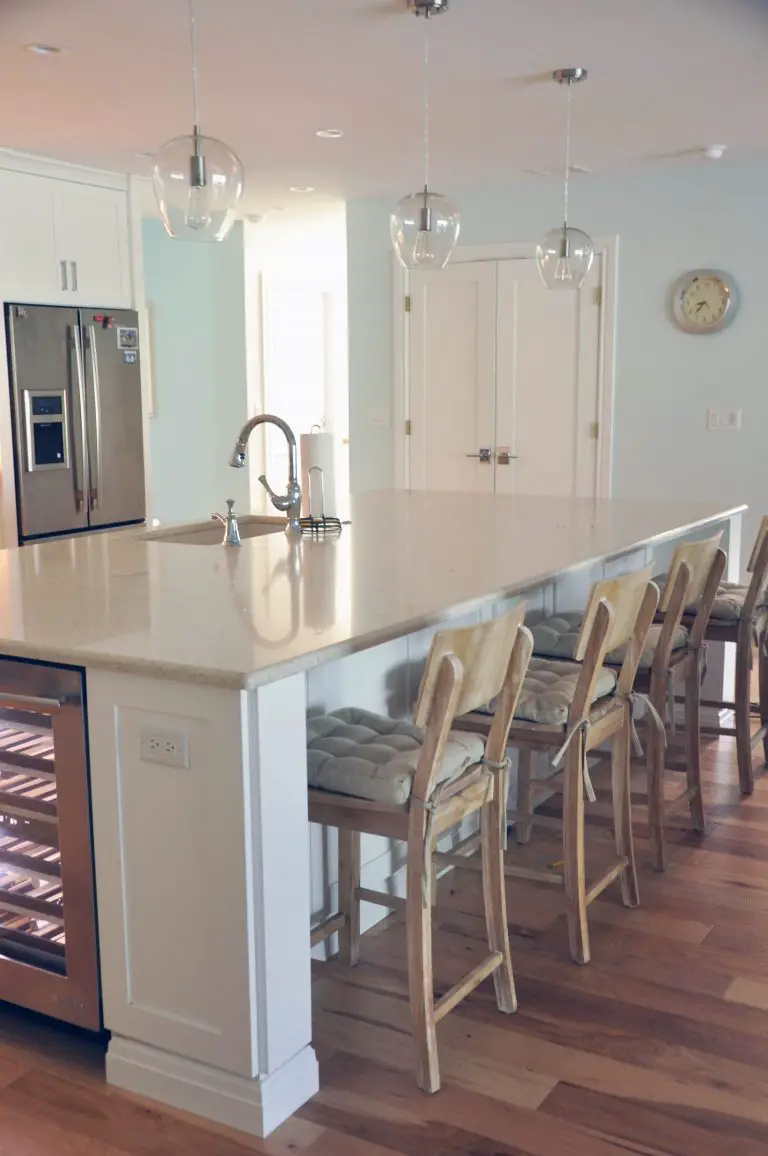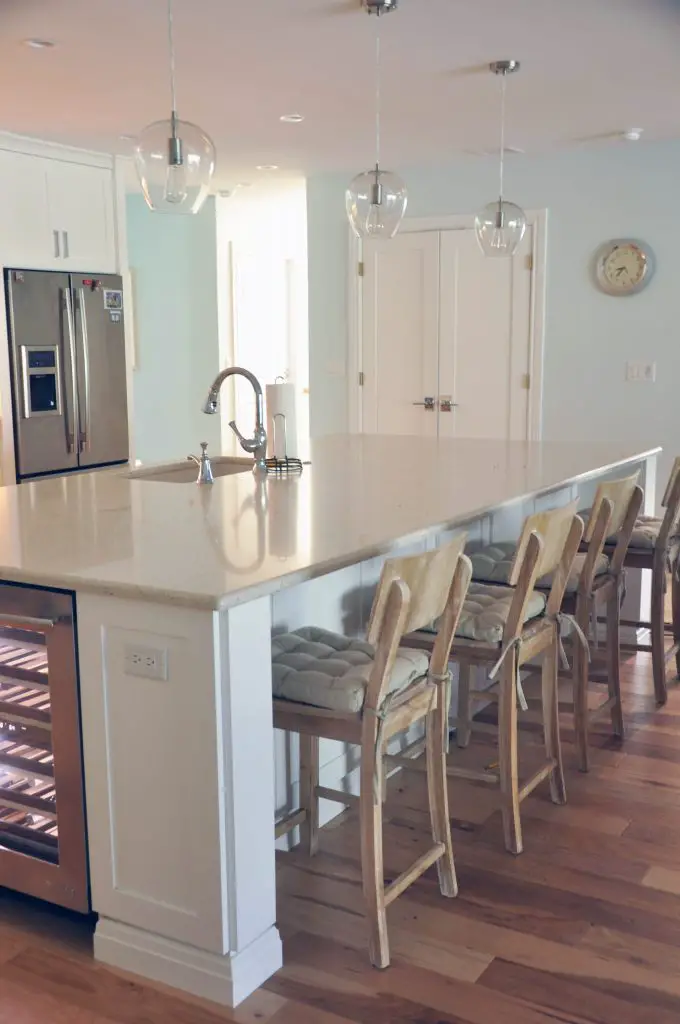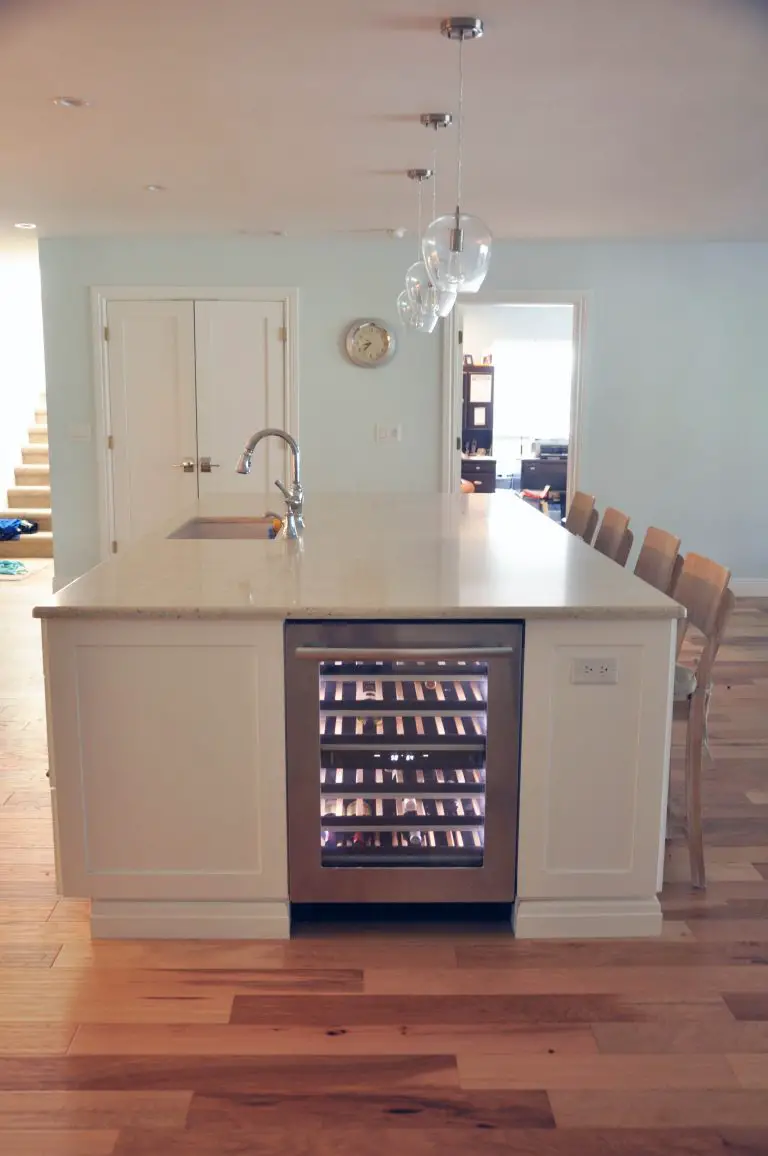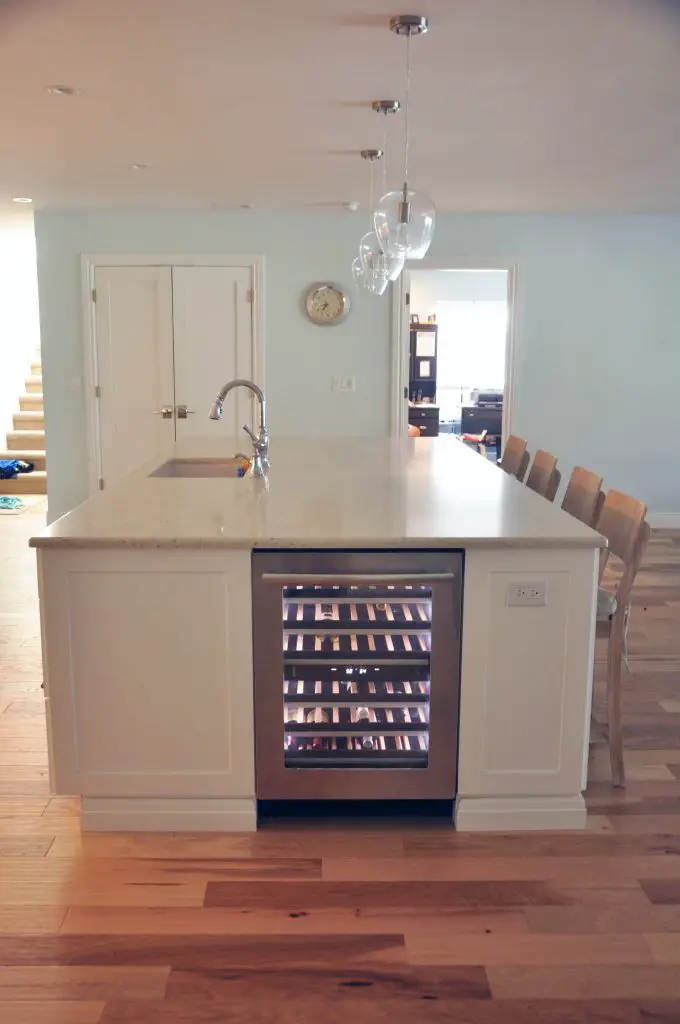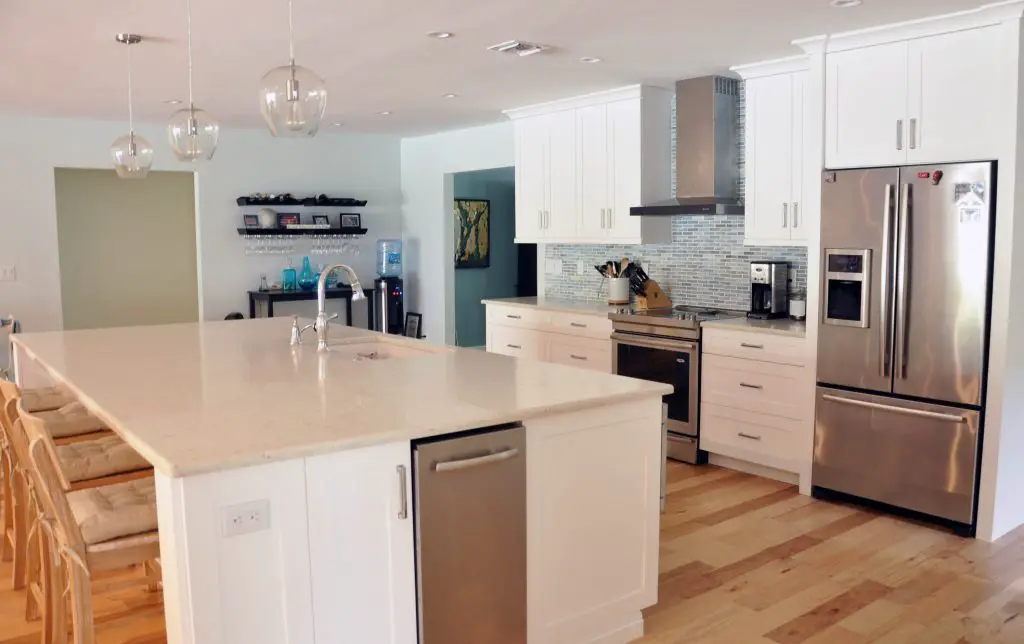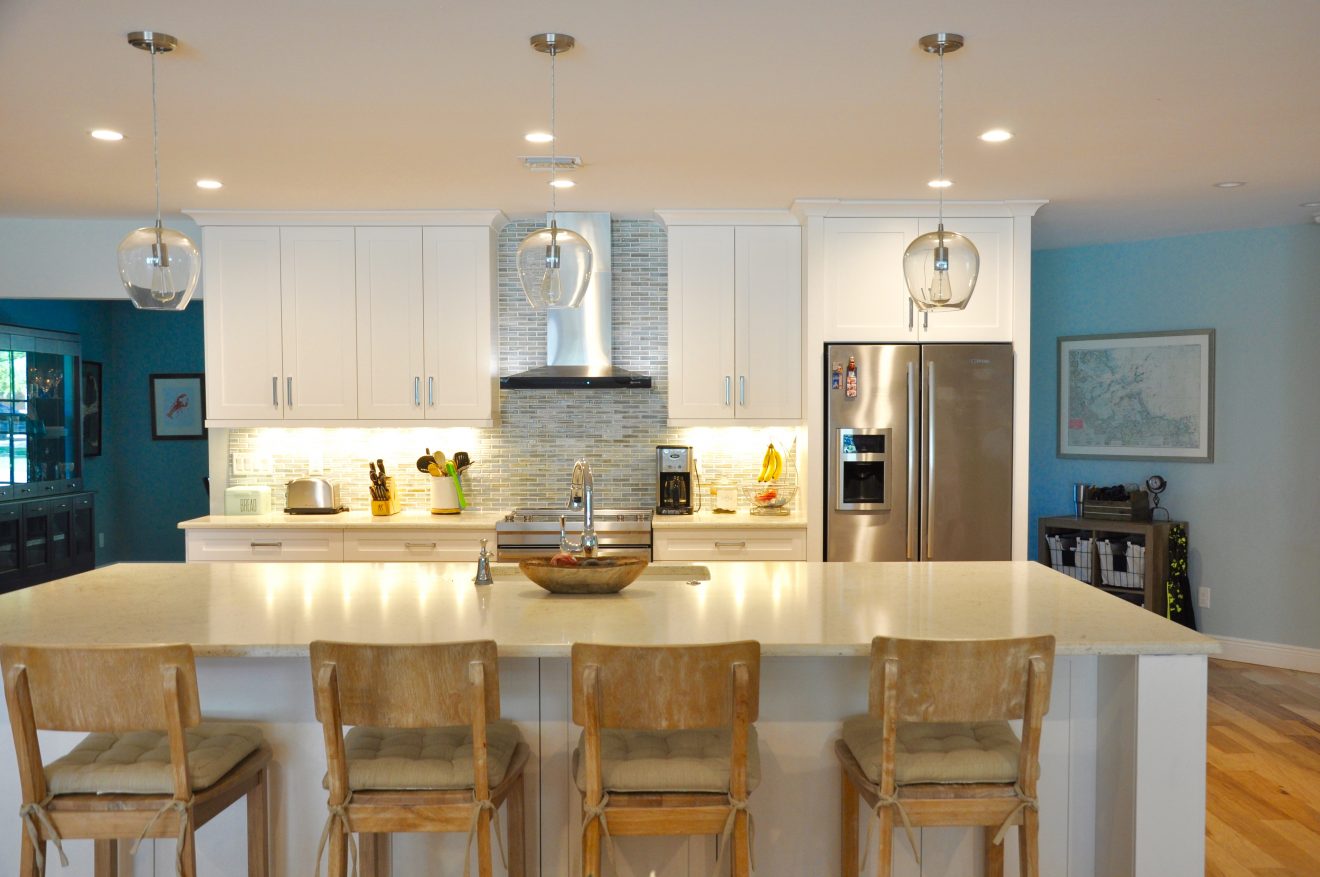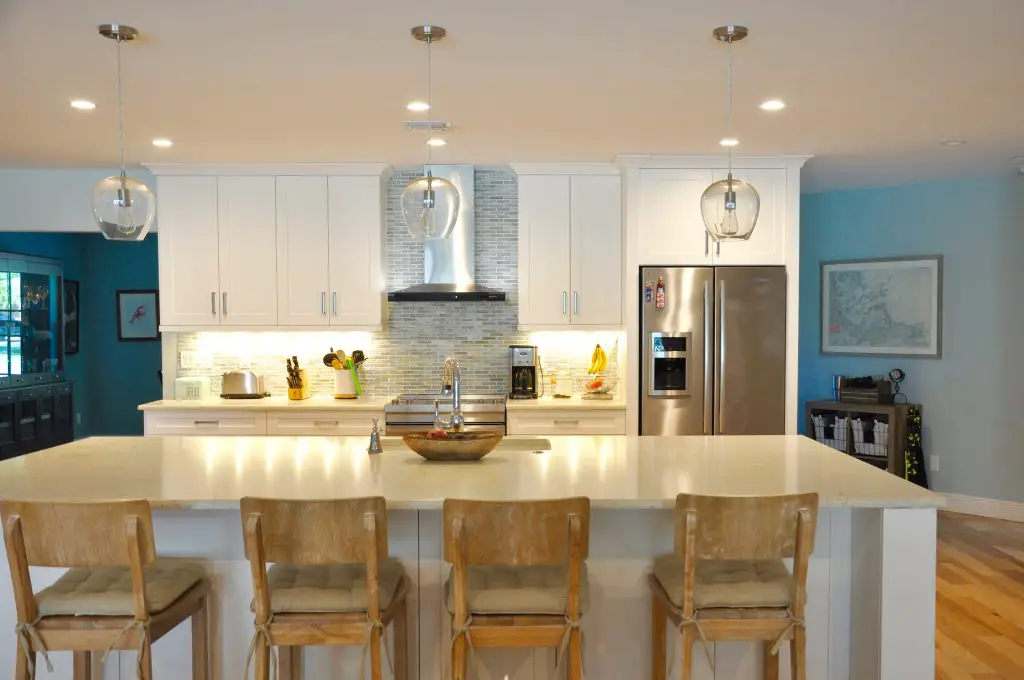 Our appliances are all Jenn-Air which is Whirlpool's top line, and we have been happy with them so far. We are loving the ice maker that my husband insisted we have.  We use it everyday and it has been great for when we have people over.  We weren't sure if we'd like the under counter microwave, but we do.  We really do.  We also LOVE our wine fridge.
The paint color on the walls is Topsail by Sherwin Williams. It is a very pale blue.  Those that know me well know I love blue.  You'll see a lot of it throughout the House house.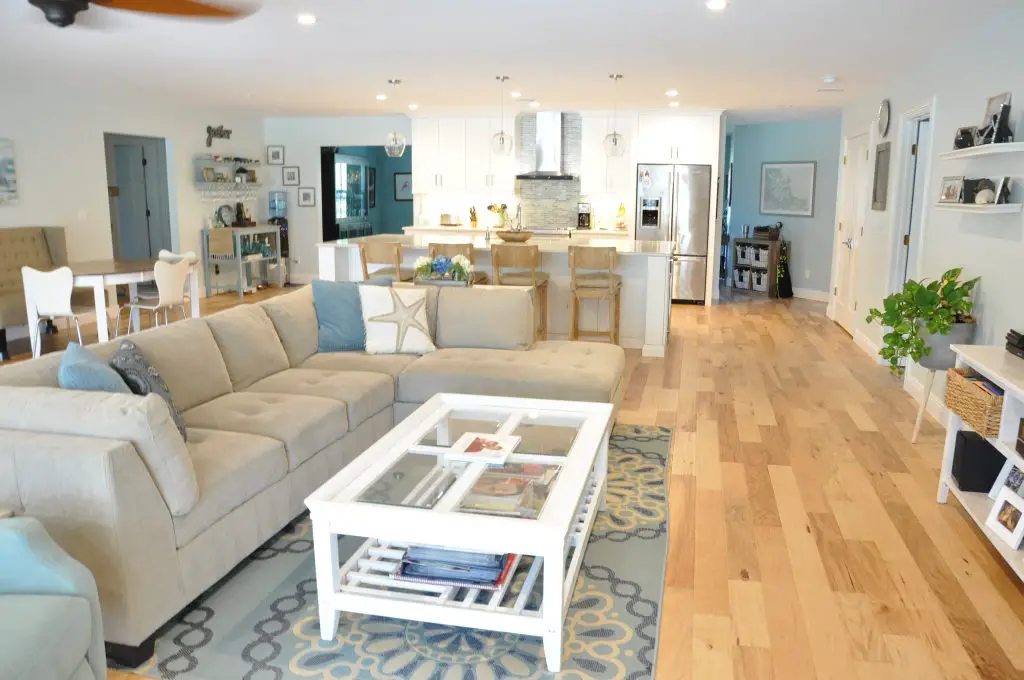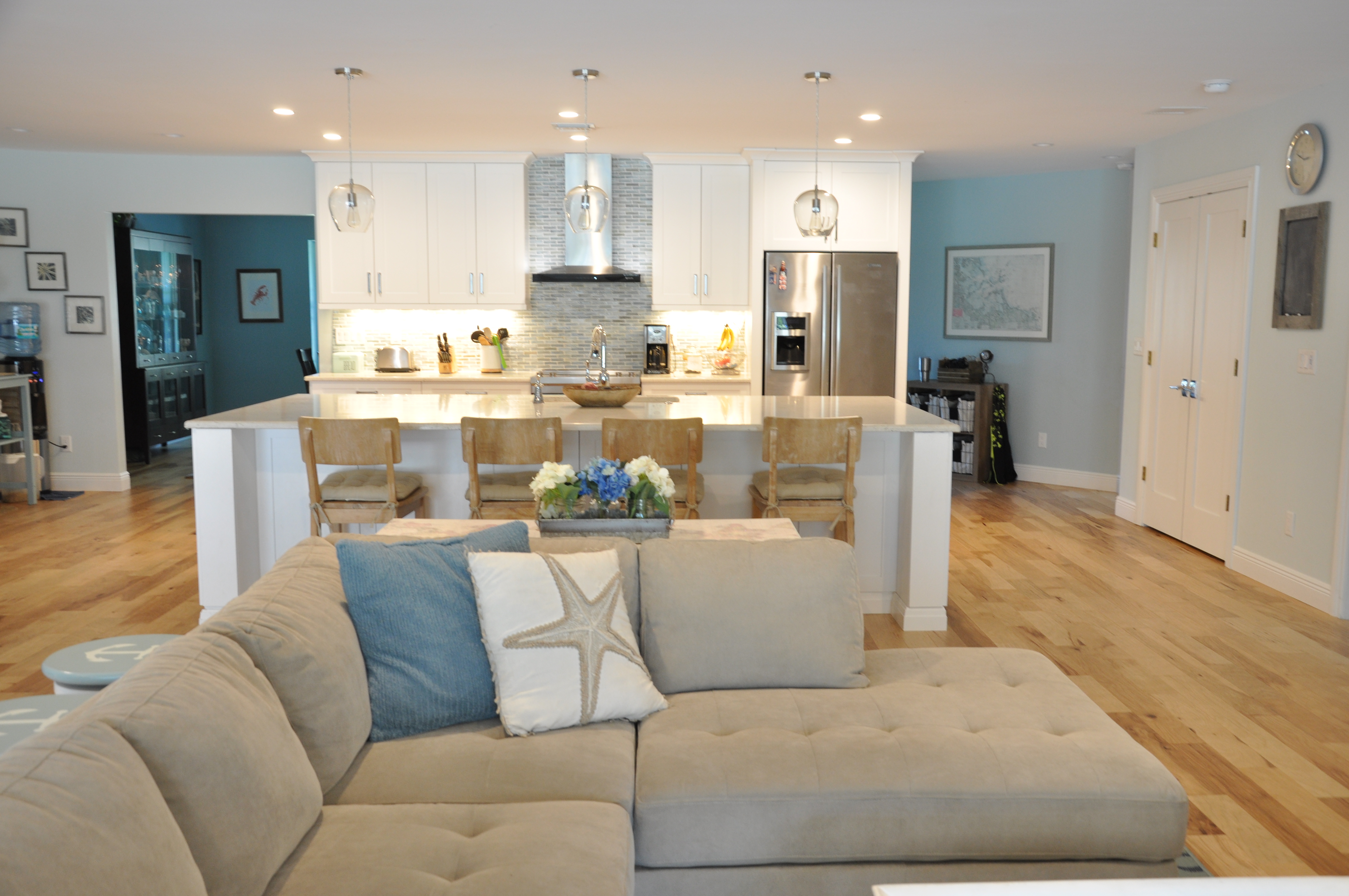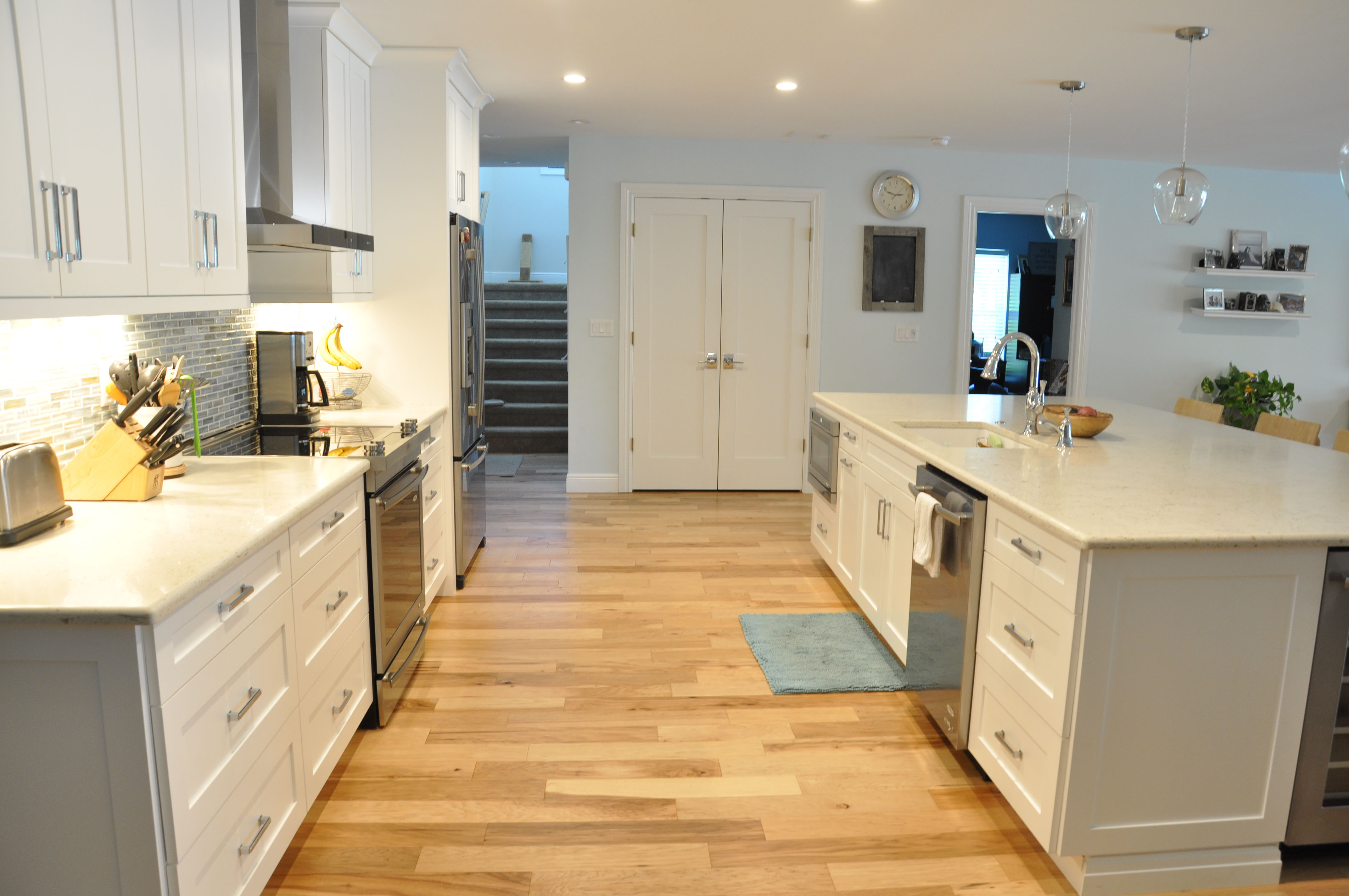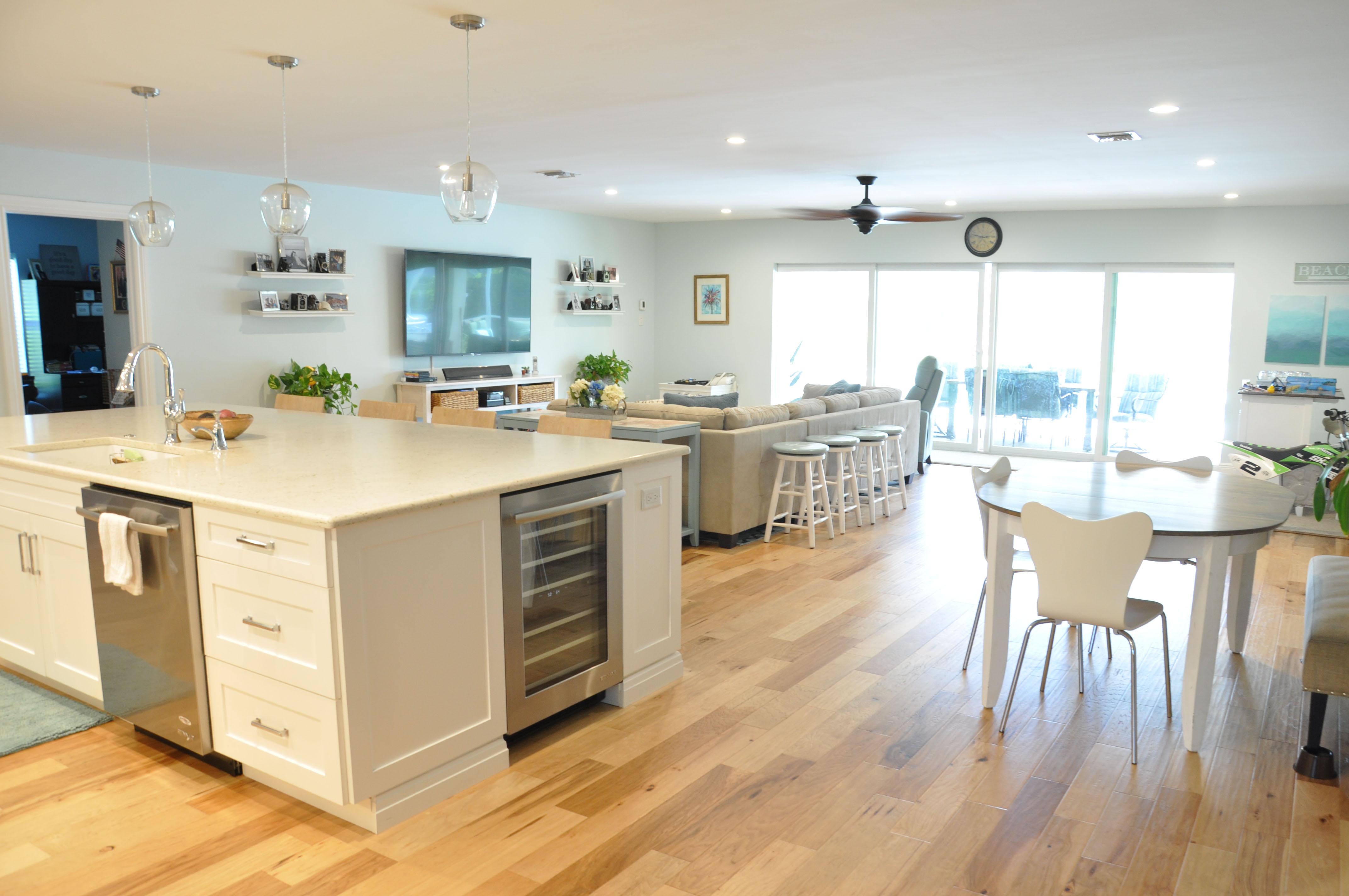 (Side note – I have to say that my kitchen counters are usually never this clean.  I wish I could keep them this way all the time.)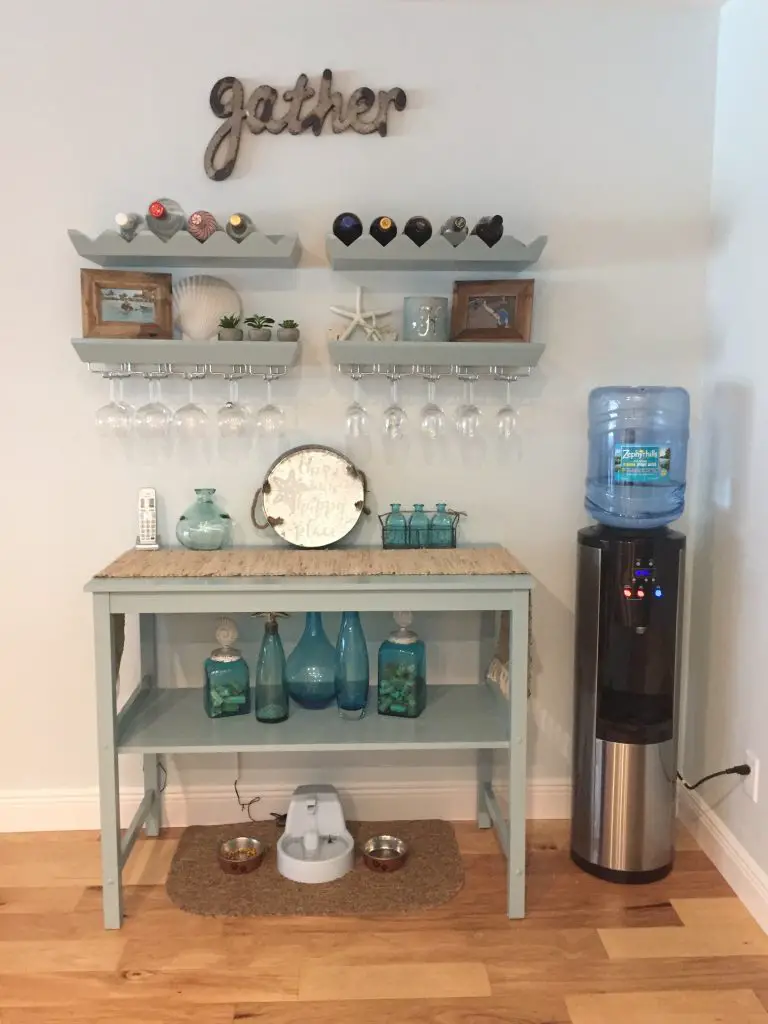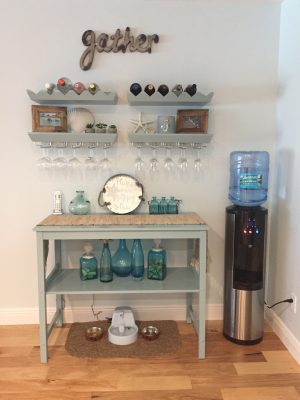 We have had these wine and wine glass holders from Pottery Barn for years, so we decided to paint them and hang them in this little nook. In some of the above pictures you might notice they are black, but I've since painted them and think they look much better. I know it's ugly but there is just never a good place to put the cat food dish and our Zephryhills water dispenser so they both reside in this area.  Hey, the cats gotta eat too, right?
Well, that is about it.  Overall, I love my new kitchen.  It makes me happy everyday and it is a joy to cook in.
Thanks for reading all about my kitchen reveal!  Like these updates?  Sign up to receive emails every time I post something (at the top of this page).