Appliance shopping? Oh my!
Last week we got to pick out appliances for our new kitchen.  Yawn…..bo-ring, am I right?  Well, it actually wasn't as boring as I thought and, dare I say, was sort of fun.  My husband and I have only had to pick out appliances when they needed replacing;  a new dishwasher and fridge when we bought our current house and once years ago a dishwasher for our Boston condo.  Never have we had to pick out an entire kitchen's worth of appliances.  It seemed a little overwhelming.
Lyndsey, our kitchen designer, needs the dimensions of the appliances in order to figure out what kitchen cabinets we'll need, which is why we needed to pick them out now (even though we are still waiting for permits!).  Plus there is a 12 week turn-around time to get the cabinets. She sent us to a local appliance showroom to look around and asked us to pick out the following,
counter depth refrigerator
30″ oven
dishwasher
stainless steel hood
24″ under counter microwave
and possibly an under counter wine cooler.
Well, let me tell ya, we found all that and more.
We decided to go with Jenn-Air products which is Whirlpool's top line.
We picked a counter depth refrigerator with french doors and a stove that has a bottom baking drawer and slide out racks.  The stove's control panel is up front rather than a raised panel in the back which gives it a very clean look. We also went with the pyramid style canopy wall hood.  Here is what they all look like together, plus the matching dishwasher, not shown.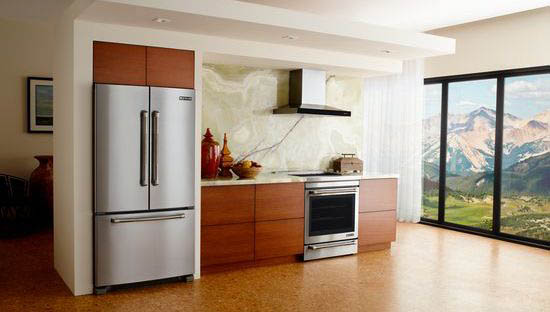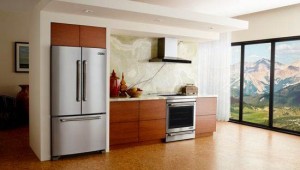 We also picked out this funky microwave.  I have seen under counter micros before, but not one like this. This one is an actual drawer.  You press a button and, viola, it slides open.  Maybe y'all have seen these but I hadn't.
The coolest thing we found, that we feel we can't live without, is this under counter ice maker.  I mean how nice is this to have for parties, or for anytime you need to fill a whole cooler with ice (which for us is a lot) or just for everyday drinks? Cool, right?
We are also definitely getting this wine cooler.  I wish I could have this ocean view too.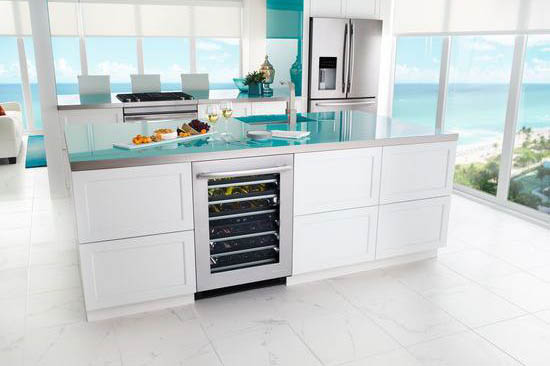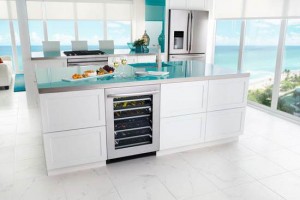 I was actually shocked that my husband was really into this.  He is the one who wanted to go with the more expensive line and he is the one who picked out, and insisted on, the ice maker and wine cooler.  Who's luckier than me!  🙂
What are your favorite appliances?