Hey y'all!  I am so excited.  For me, designing my own kitchen is probably the best part of this whole remodeling process.  After all, the kitchen is the 'heart of the home', right?  This week we had an appointment with Lyndsey Davis Nicklas at Kitchens by Clay right here in Naples.  My husband and I met with Lyndsey several weeks ago to discuss the project and today she showed us 3 different layouts for our new kitchen.
Before I show you the layouts, I want to show you how the kitchen looks now.  Totally gutted.  Bad cabinets, gone.  Bad countertops, gone.  Bad laminate, gone.  Wall that separated the living to dining room, gone.   It is so much more open.  Looks good, right?  haha!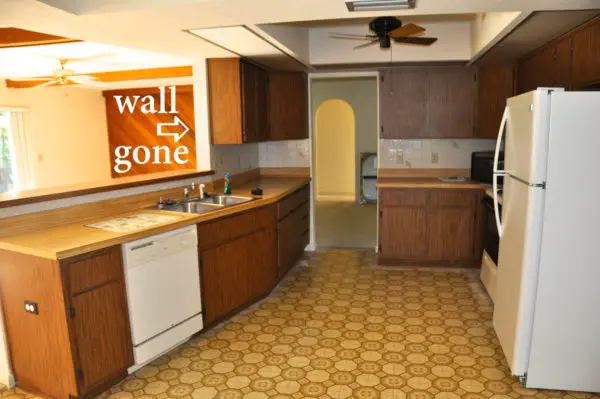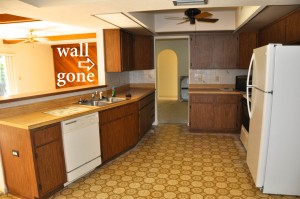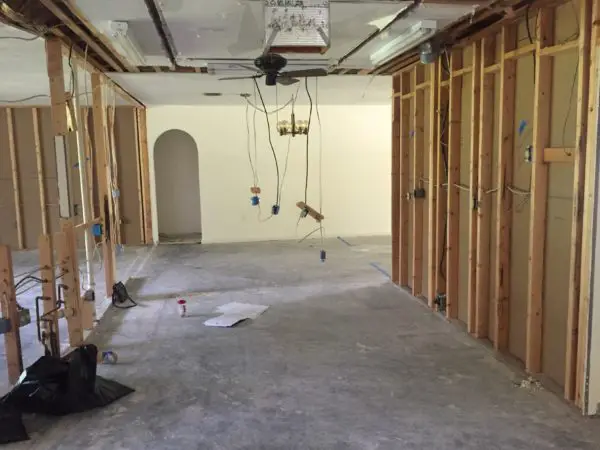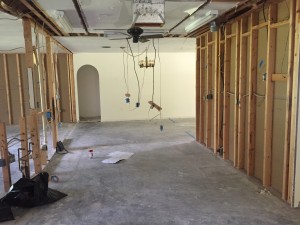 Below are the layouts that were presented to us. Which is your favorite? (Sorry these pictures aren't great. Click to see bigger images.)
Layout 1 –  This is sort of how the kitchen was before, with an L shape on one side.  See my huge island?  It is 130″ long  and remains the same size in all the layouts.  It is HUGE.  Over 10 feet long.  Just what I wanted!  Now, finding a countertop this large might be hard (and expensive) but we will cross that bridge later.
Layout 2 –  L wall upper cabinets gone but peninsula remains.
Layout 3 –  Totally open, L shape gone.
We are going with option 3!  We will also be adding at least one more upper and lower cabinet to the wall with the stove/fridge. The island will have cabinets on both sides and maybe even a wine fridge.  Any other items that are must haves?  Any advice?