American Ninja Warrior Themed Party (and last few days to enter my giveaway)
See the end of this post for details on the last few days of my giveaway.
Hey Party People…
I thought I'd post this in case any readers want to try out a party like this.  It was so much fun!
Does anyone else's kid love the show American Ninja Warrior like mine does?  My youngest son and I watch this show together every week and we both love it.  So what could be better than an American Ninja Warrior themed birthday party for him?
If you've never seen the show, I have to say it is pretty awesome.  Men and women have to complete these pretty insane obstacles for time.  Every week they are in a different city with different obstacles.  Some of the obstacles look downright impossible.  Whoever goes the farthest and finishes the fastest then goes on to compete for a trip to the season finale (or Mount Midoriyama as they call it on the show) for a $1 million prize. There has only been one or two winners in the history of the show.  That is how hard it is to win!  We didn't go that crazy but tried to recreate as many obstacles as we could, as kid friendly as we could.  The kids loved it.
Here is what we did…
We have a huge backyard which is perfect for an obstacle course.  There were 8 obstacles.  We borrowed a balance beam, and a gymnastic bars and mat from a friend.  These were obstacles 1 and 7.
We used the tree stumps we saved from Hurricane Irma (and plan to use as stools around the tiki bar we are going to build), and my husband borrowed some football equipment from the school he works at.  These were obstacles 2, 3 and 5.  They had to run across all the logs aka The Quintuple Steps, to get to the other side.  Then there was the Blue Wall, that the kids had to jump over.  The last picture was the Blue Logs that they had to run across (similar to a balance beam).
I bought a bunch of pool noodles for $1 each to make a tunnel for obstacle 5.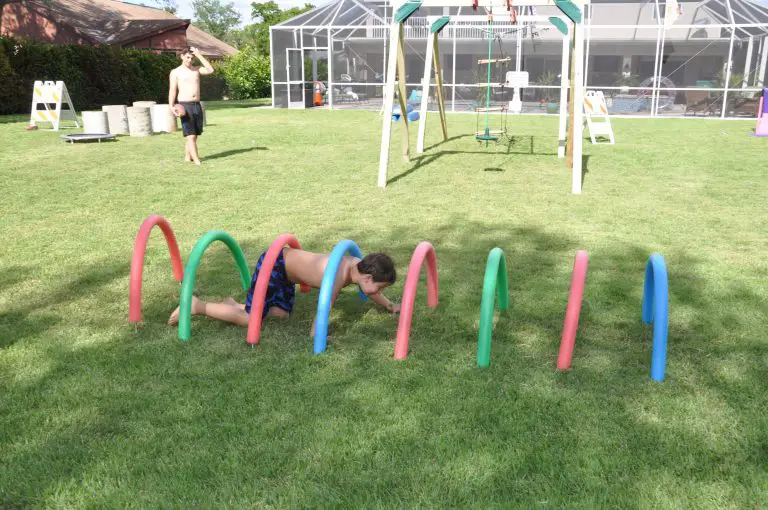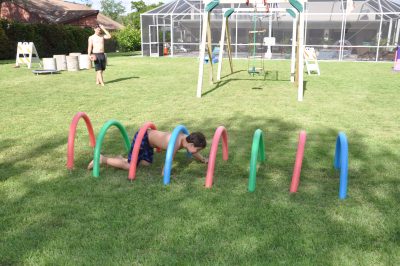 For the biggest and hardest event (obstacle 4) my husband and his friend built this contraption using 2 of these swing set bases, a steeple climber and a rope swing all from Home Depot.  They attached a ladder from our garage across the top for the monkey bars.  The kids had to climb the steeple climber, then go across the 'monkey bars', then slide down the rope swing.  It was hard!
Obstacle 8 was in the pool.  The Hamster Wheel.  The kids had to get from one side to the other in this pool floaty, which is harder then it looks. At first we had them using it just like a hamster wheel but it was very hard, so then they started using their hands and feet in the water to get across.
The kids ran around the backyard testing out all the obstacles.  After we had pizza and Ninja Juice (water and juice boxes) and the adults had Adult Ninja Juice (beer) we had them line up and we timed them.  Everyone got a medal after they finished the course.  Some kids ran the course MANY times.  You could decide to give out prizes or trophies for the winners if you wanted too.
I printed out these templates from this web site and made the invitations and signs with them.  I found stickers and ninja favors at both Amazon and the dollar store and used the stickers for the goodie bags. Since there were so many extra stickers I put them on some cups too.  The straws are from Target.  I used the templates to label all of the obstacles with numbers too.
Overall this was pretty easy and you can make the obstacles as easy or as hard as you'd like using stuff in your own garage (or friends garages!).  We did spend some money but you could certainly do this for very little money and all the kids had a good time.
Last Days of my Photo Canvas Giveaway…
Don't forget to like me on Facebook or Instagram or sign up for my email list to be entered!  You could win a 16×20 Photo Canvas courtesy of the Canvas Factory. Contest ends November 8, 2017