Wednesday Weekly House Remodel Update – 4/20/16 – Floors, Cabinets and more
You guys, things are really moving along now!  It is awesome.  Check out my past updates here, in case you've missed anything.
Bathroom cabinets…
All the custom bathroom cabinets have been installed, except for the small powder bath which we decided to not go custom on.  We'll purchase something ourselves for that.  I'm trying to find something a little different and not white for that bathroom.
Hardwood Floors… 
Our hardwood floors have been installed.  They did this pretty quick.  Only took them a day and a half.  Not bad.  They look freakin' awesome and really lighten up the space.  Plus they fit into my idea of a beachy/coastal look.  You like? I dig em'!  They might not be your thang and thats okay with me.
Pool Pavers Done…
Our pool pavers are all done too.  Check them out.  Can't wait to take a dip in this pool and to have our first House house pool party.
"We'll have a house party, we don't need nobody
Turn your TV off, break that boom-box out
We'll wake up all the neighbours 'til the whole block hates us
And the cops will show up and try to shut us down"
Anyone know that song? That'll be us soon.  Except we'll probably invite the neighbors.  It's the least we can do for putting up with this remodel for the past 8 months!
Kitchen Cabinets…
Our kitchen cabinets are getting delivered tomorrow.  So excited!!!  And we finally picked some Quartz for our counters.  This was tricky because of the size of our island.  It's HUGE.  We will need to use 2 slabs of quartz on the island.  There will be a seam down the middle but they assure me it won't be that visible.  They told us not to pick anything that had to much movement in it.  We picked Cloud Nine by Pompeii Quartz for the counters and are getting quotes for some recycled glass mosaic counters for the kids bath.
I can't wait to see my gigantic island get installed.  Appliances are scheduled for Friday of next week.
Here is a reminder of what the kitchen looked like when we bought this house.
And here is what it will look like soon.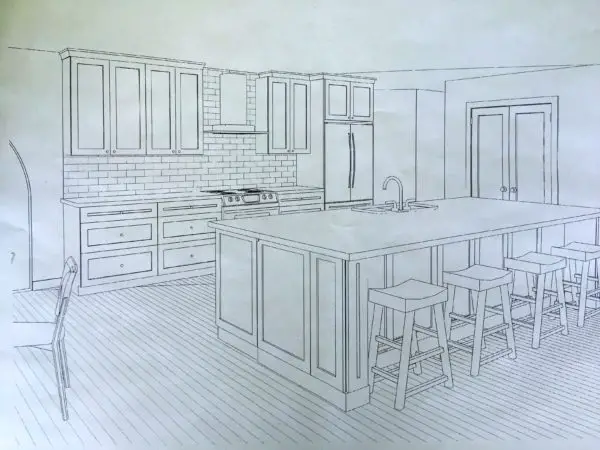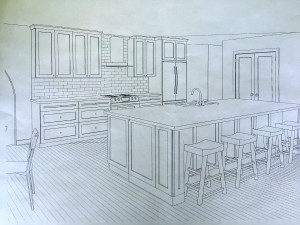 From Dumpster Diving to Upcycling…
Last week my husband and I went dumpster diving in our dumpster to rescue a ton of pool pavers that were thrown in there.  We'll use them for something.  We also have so many left over pallets and other materials from this remodel.  Its cray-cray!  We want to do some upcycling with all this stuff.  There are a zillion different idea's on Pinterest. Think we could make this porch swing out of all our pallets?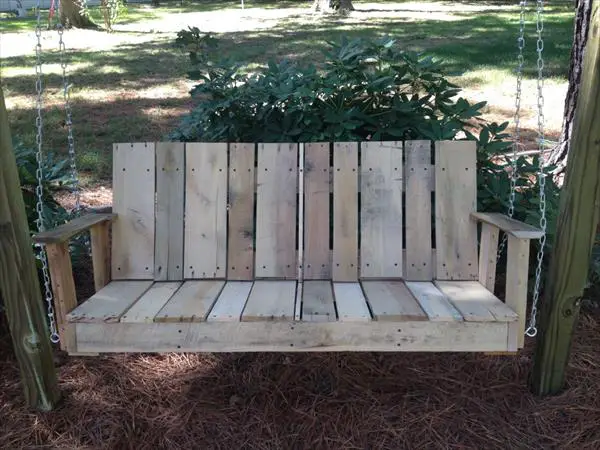 Lighting…
We need to pick out lighting for our house.  More decisions.  Yikes.  It gets so overwhelming.
Almost there now….lots more progress next week.  Hopefully!  Thanks for reading.