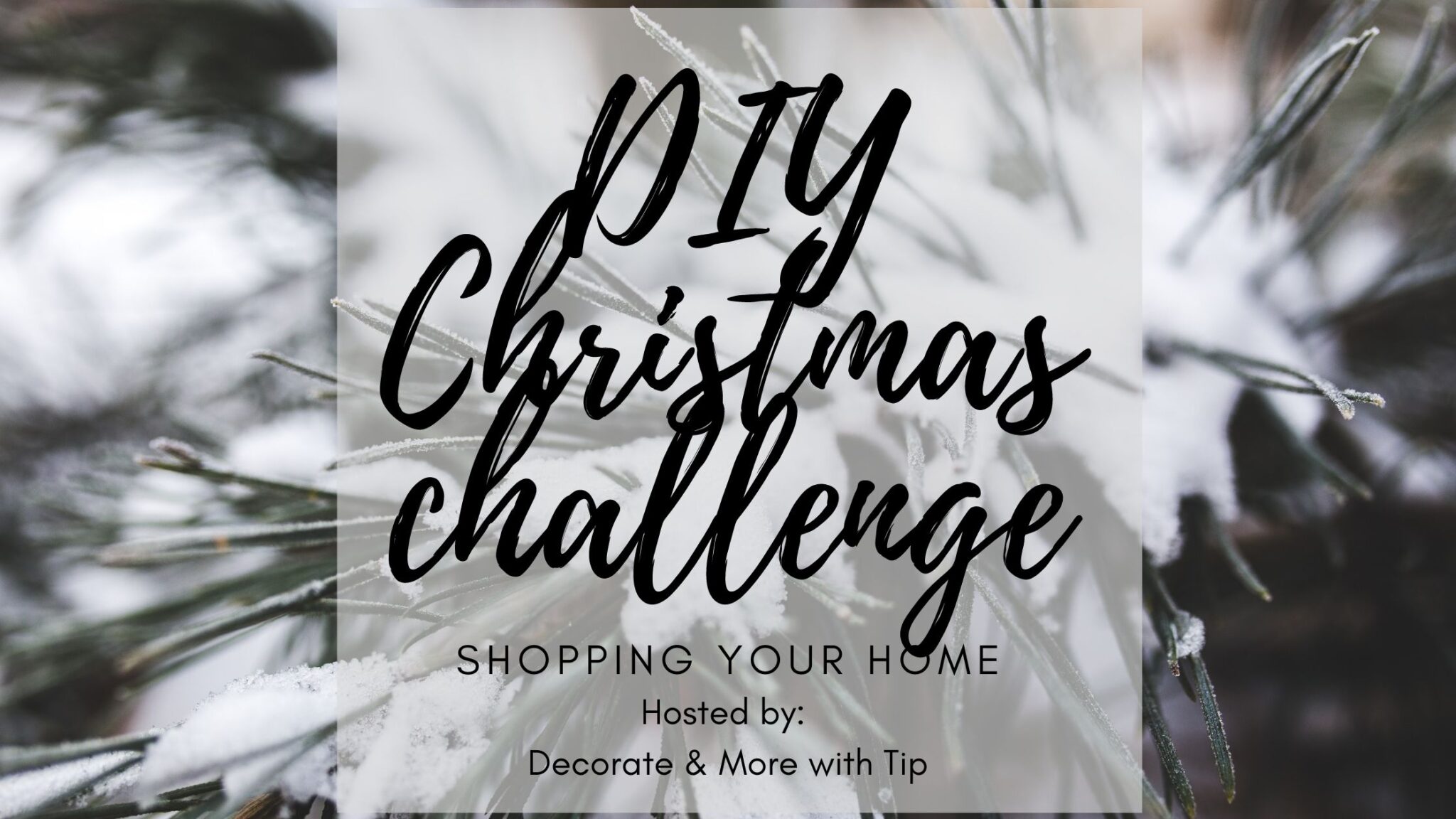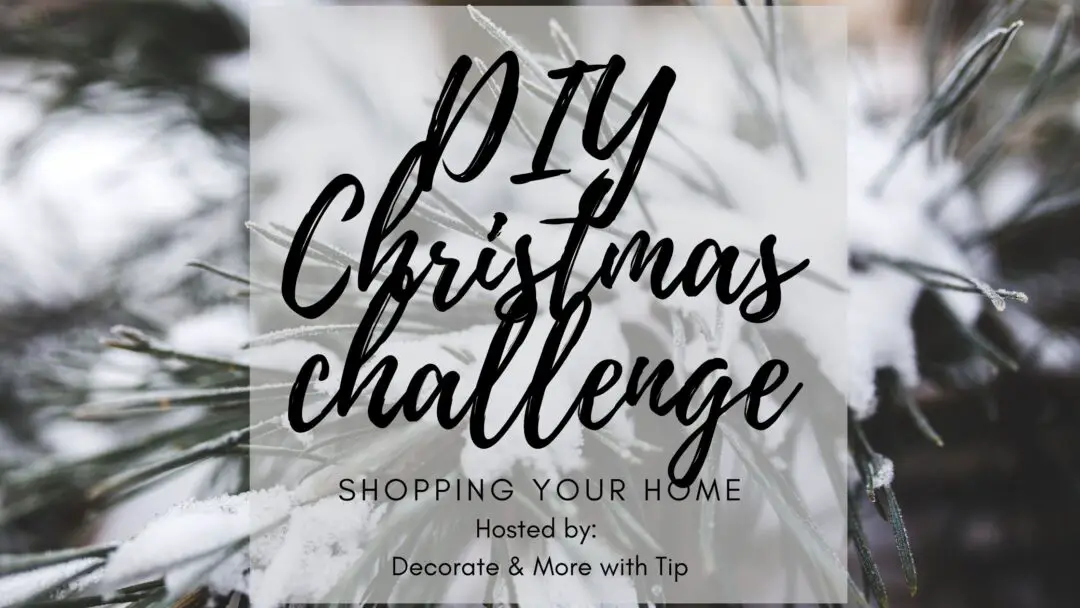 Welcome to the November DIY Challenge, hosted by Terrie at Decorate and More with Tip. (You can see my past DIY Challenges here.) If you are coming over from Pallet and Pantry, welcome! Wasn't her wreath amazing? This month we were challenged to make a No Spend Christmas Home Decor DIY, using materials we already had on hand. wine bottle christmas diy
hmmmm, I thought. What the heck can I make? We happened to have finished a bottle of wine the other night and the bottle was just sitting on the counter (and I had 2 others saved). I made these DIY Christmas Wine Bottles a few years ago and thought, BINGO, a wine bottle Christmas DIY it is! Here is how I did it…
Step 1 in my wine bottle Christmas DIY…
Drink wine.  Lots of it! Or at least three bottles. Save those bottles (and corks too – for other projects).  Take off the labels using soap and water, Goo Gone, coconut oil and whatever tools necessary. I have one of these mini razor blade scraper thingys and it rocks.  I use it all the time.  It is especially good on our flat, electric stove top and for getting sticky stuff off our floors, but also is great for getting wine labels off of bottles.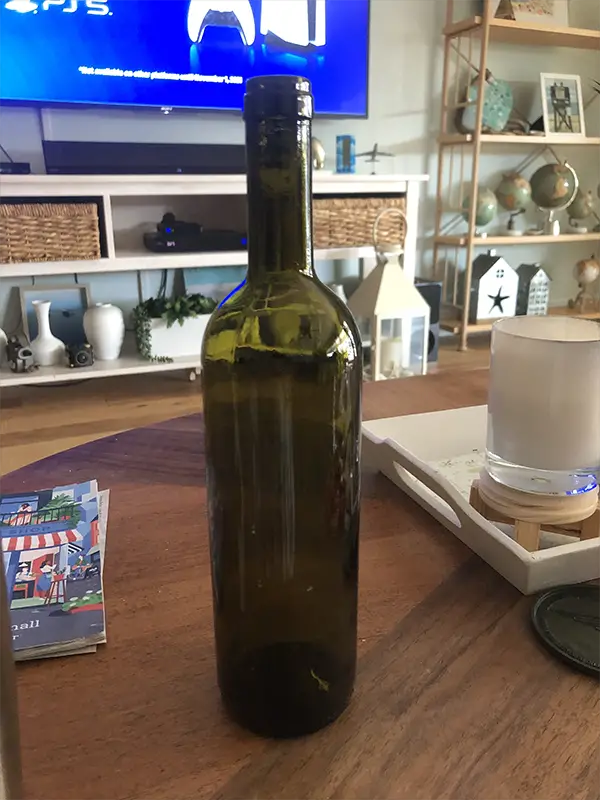 Step 2 in my wine bottle Christmas DIY…
Spray paint.  I wanted to give these bottles a Coastal Christmas vibe and had some white spray paint on hand so I used that to paint all three bottles. Home Depot sells a Rust-Oleum Metallic Silver that I have used in the past and is awesome.  Or, you could use gold, red or any color you like.  Wait for it to dry until moving onto step three. Generally, spray paint dries pretty fast.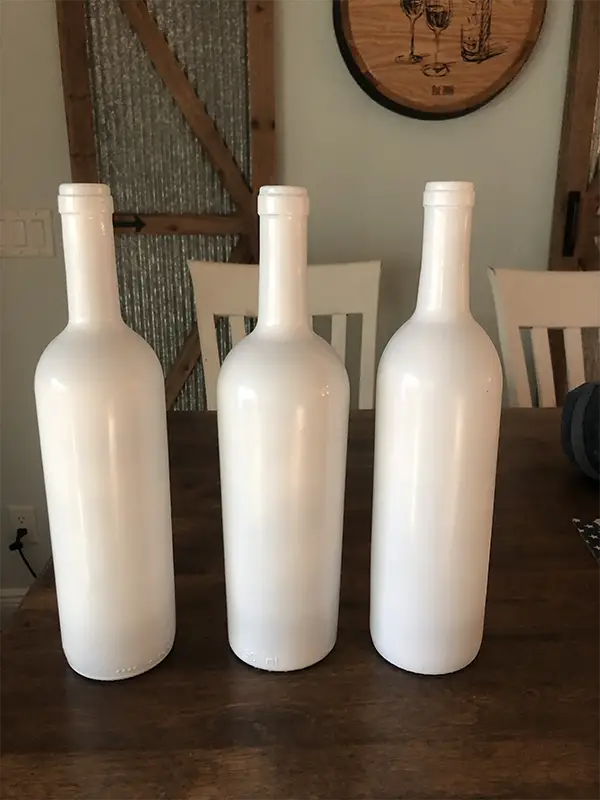 Step 3 in my wine bottle Christmas DIY…
Decorate. Since this challenge was supposed to be a no spend challenge and we were to use stuff we already had, I searched my house and all my craft supplies to see what I could find. Here is what I had….
Dollar Tree red and white bakers twine (this comes in a set of three colors, I used the blue twine to make these)
a package of wooden letters
sand dollar
glue gun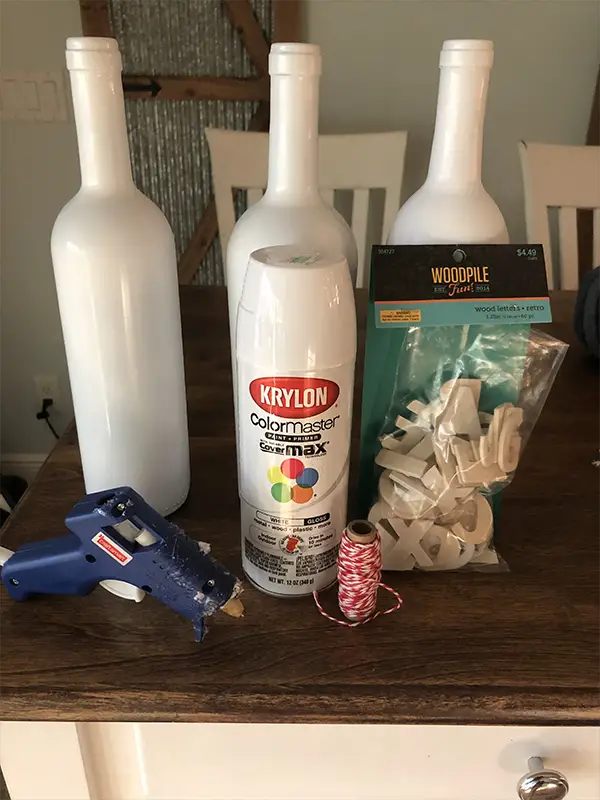 I started by gluing the red ribbon around the necks of the bottles.
Luckily I had the letters J and Y in the package. I spray painted them white. Once they dried I glued them to the necks of the bottles and used the sand dollar as the O. That's it! How cute is this??? You could spell out Noel, Peace or anything you want, depending on how many bottles you have. You could also put some sort of greenery or flower in each bottle, I just didn't have anything appropriate on hand and I liked the simplicity of them without anything in them.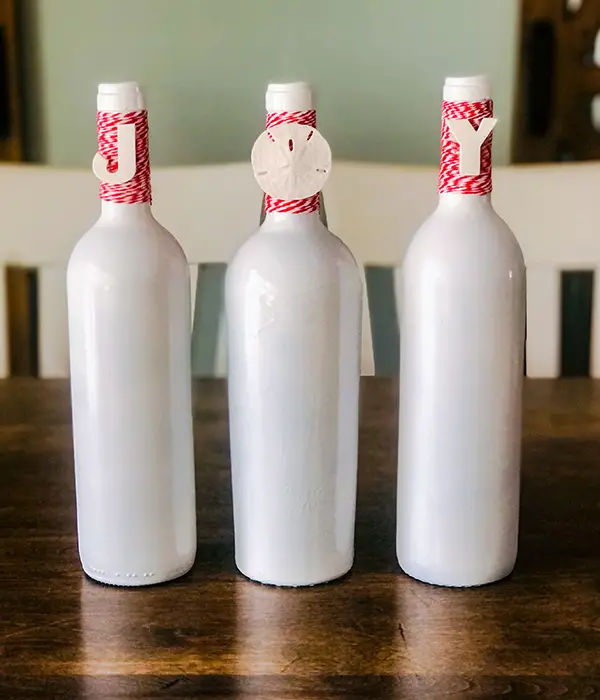 I ended up putting them on my dining room table as part of a centerpiece. I'm not sure they will stay here, but I like how they look for now. I filled in the tray with mini red, white and gold ornaments I bought a few weeks ago at Dollar Tree. These bottles would look great on a Holiday buffet table or bar area, on a mantle, shelf or anywhere really.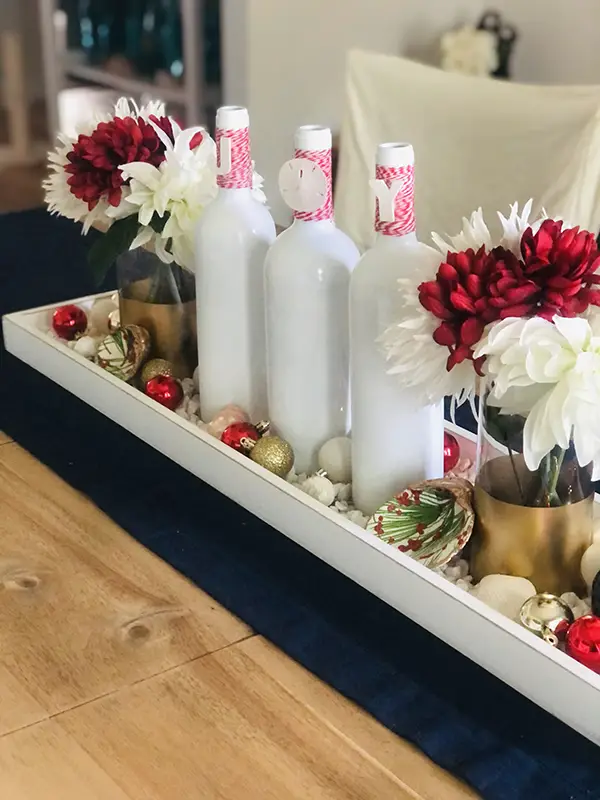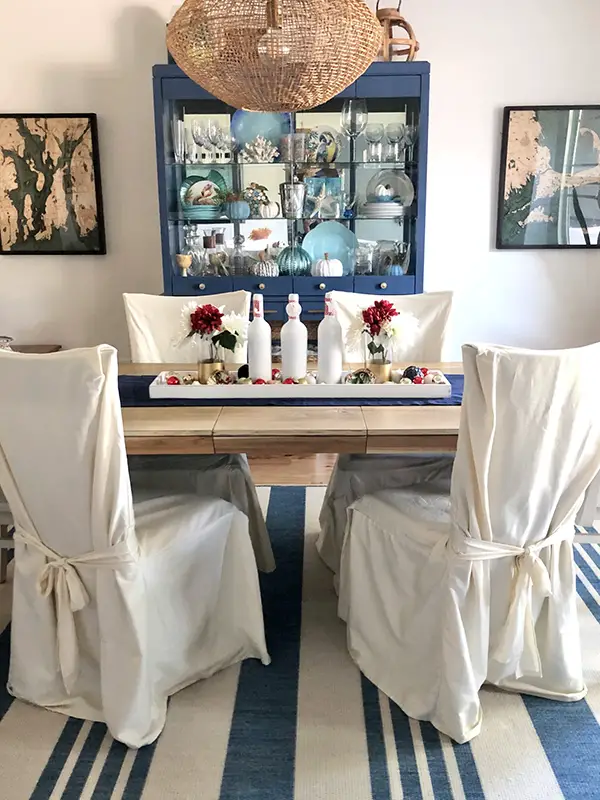 And there you have it. Very simple, very easy and they look really pretty!
PIN FOR LATER…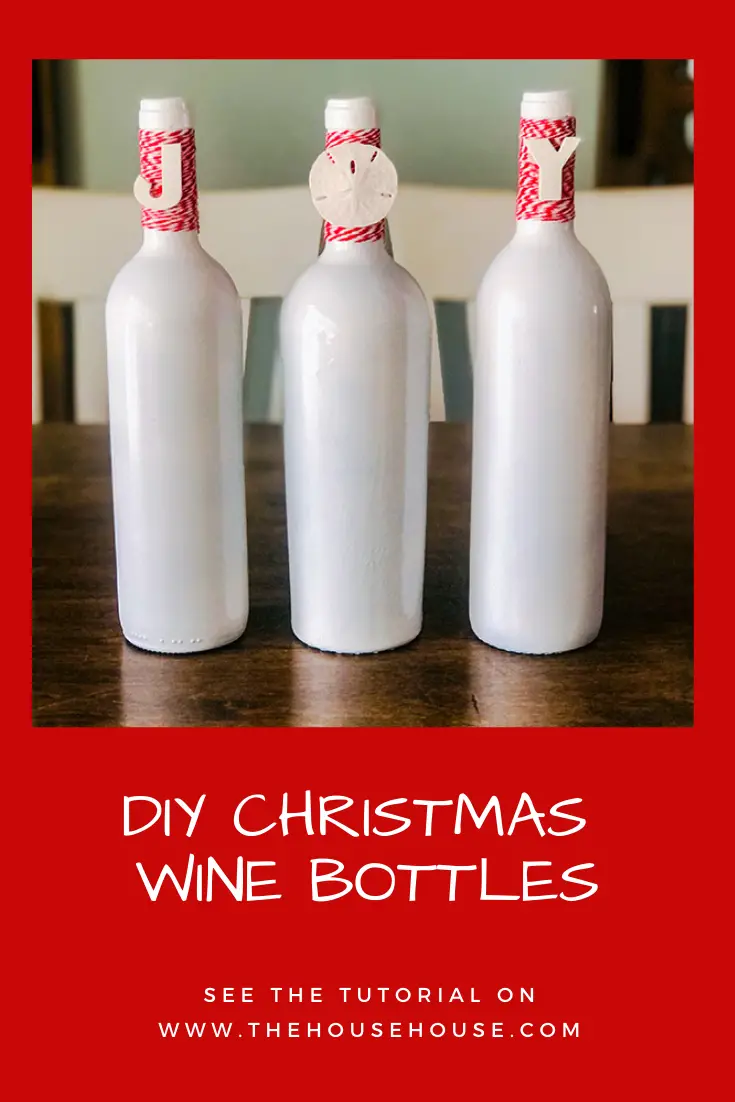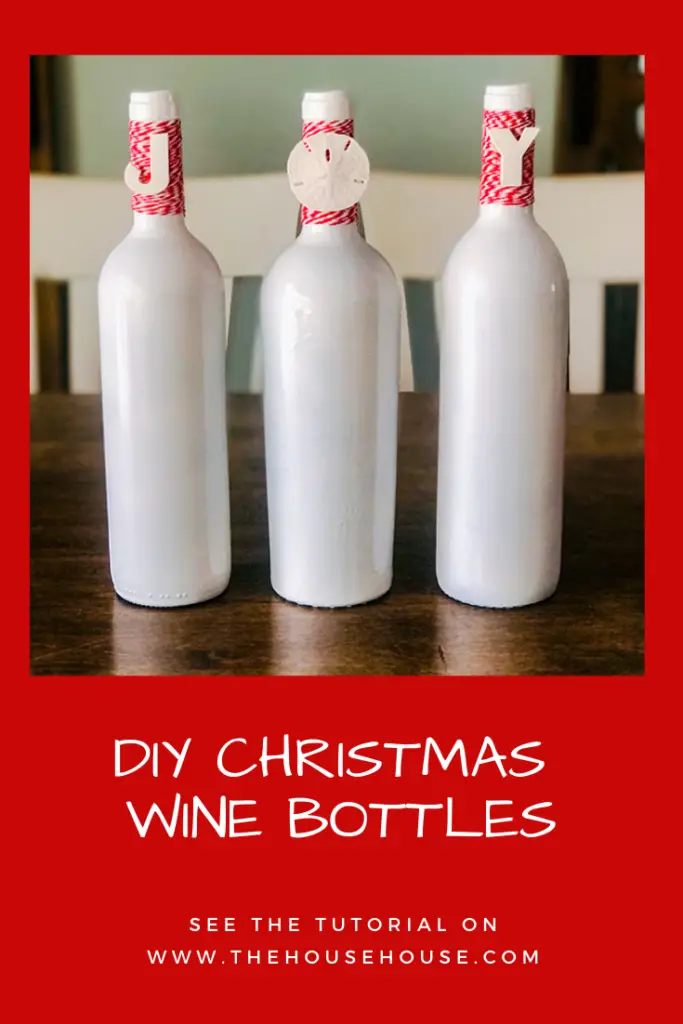 Check out Liberty at B4 and Afters next or check out the entire list of participants below.
You don't want to miss all the fun projects my bloggers friends came up with this month. Check them out here….