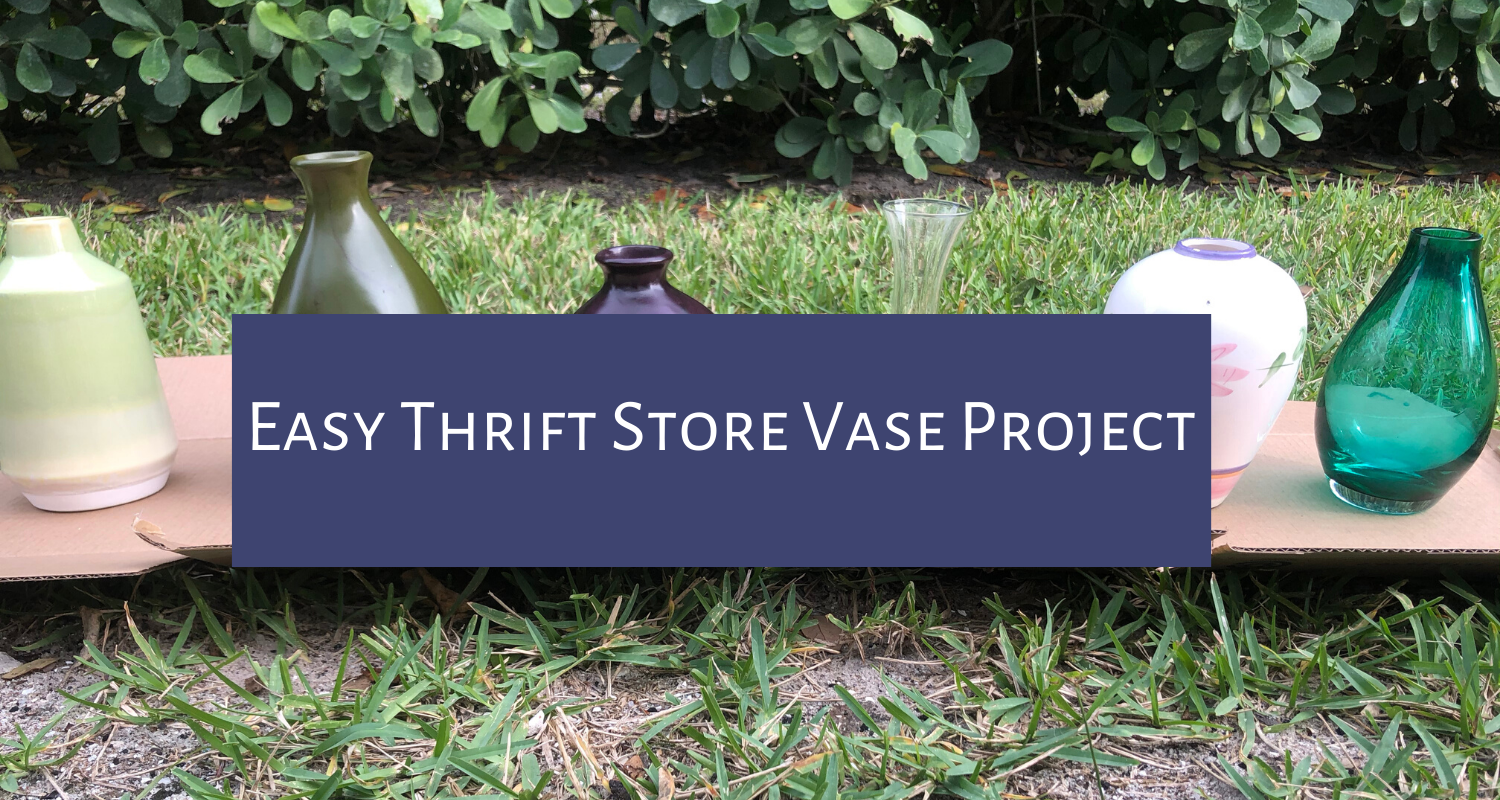 Thrift Store Vases and Planter Project
This DIY Thrift Store Planter and Vases Project ended up to be a 2 part project.  Does that ever happen to you?  You start one project and then it leads to another?  Tell me I'm not the only one! Anyway, keep reading to see what I mean…
Thrift Store Planter…
While shopping at my local Goodwill last week, I spotted this white planter for $3.99.  Oh Hello, cute little planter. 🙂  I quickly scooped it up and bought it.
This planter is pretty large at 11 1/2 inches long x 6 inches high.  The ideas in my head immediately started flowing.  What should I do with this cute thing, and what kind of plants should I put in it?  Herbs?  Succulents?  Flowers?  Hmmmm….what to do?  I remembered I had some faux succulents and some floral foam at home, so figured I'd stick with that to keep my costs down.  However, once I started assembling it I realized I didn't have enough succulents, so I did have to purchase some more from Michael's.  Thankfully they were all 50% off, so I spent less than $20 on 6 different succulents.  Here is what I bought…
(When I made this succulent monogram garden project, I bought all of the succulents at the Dollar Tree.  I checked there before I went to Michaels but sadly, they didn't have them anymore! At least not at my Dollar Tree. 🙁  You can buy them in bulk on the Dollar Tree web site.  They come in a box of 48.)
Anyway, to make this arrangement, I just added some floral foam to the container and started placing the greenery in until I was happy with the way it looked.
And ta-daaaaa!  Here is the finished product.  I put this in our console TV stand.   hmmmm…..it looked ok, but needed something more….
…in other words, this lead to another DIY…
DIY Thrift Store Vases…
This next DIY Project might as well be called the easiest DIY project ever.  As I said above, once I put the planter in my console table the rest of the decor looked a little blah and I was looking to streamline it and make it look nicer.  Here is what I ended up doing….
This post contains some affiliate links for your convenience (which means if you make a purchase after clicking a link I will earn a small commission which helps keep my blog up and running but it won't cost you a penny more)!
Materials Used in this Project
Various Vases from your home or thrift store/garage sales etc
Floral Foam
Step 1 – DIY Thrift Store Vases, Collect Some Fun Shaped Vases
Back to the thrift stores I went in search of vases.  I wanted a total of 6, and was looking for them to have similar shapes.  Luckily I was able to find ALL of these on the same day, at 2 different thrift stores in my area.  (One vase I already owned).  Thrift stores are full of these items!   Prices ranged from $1-3.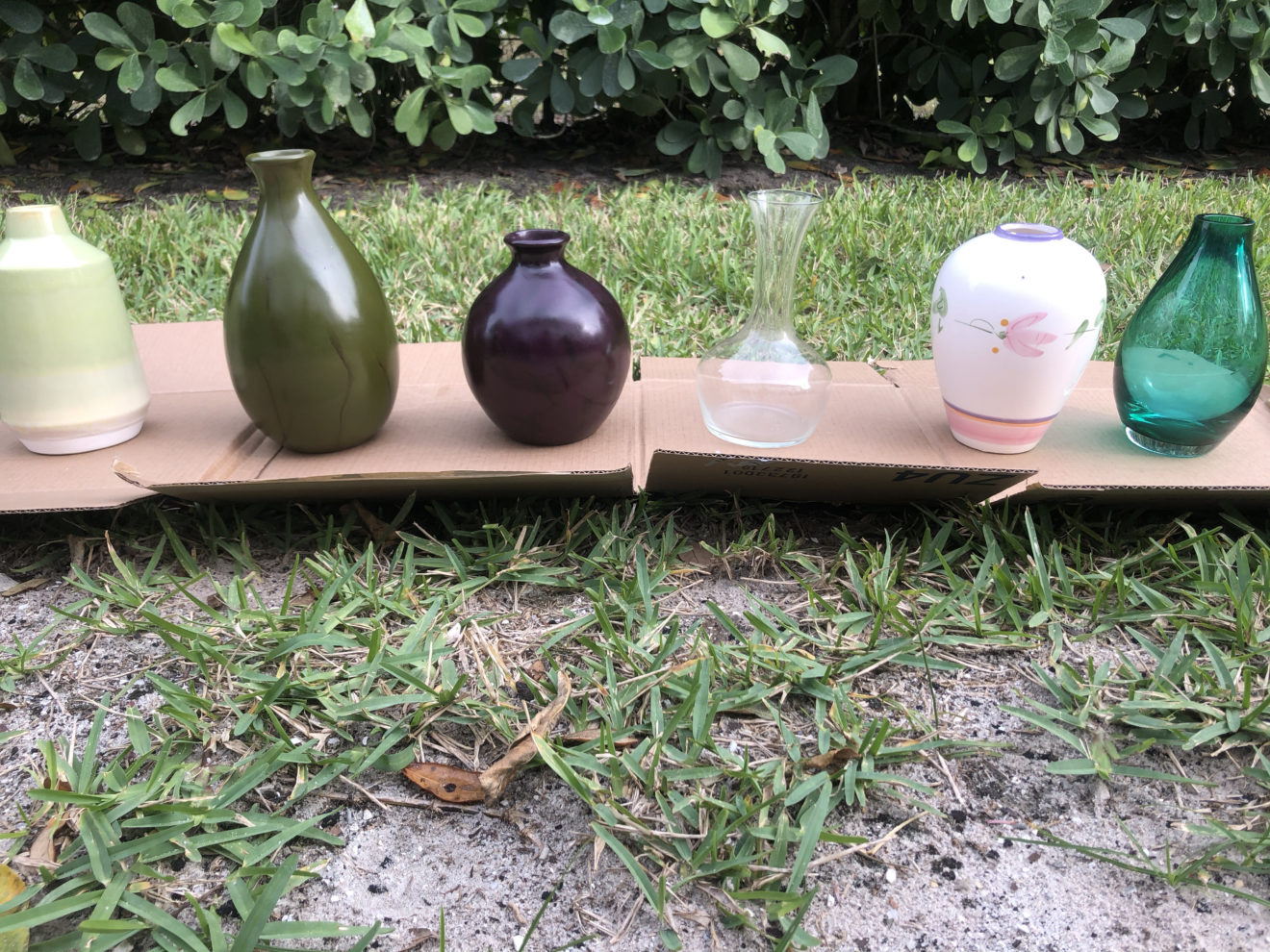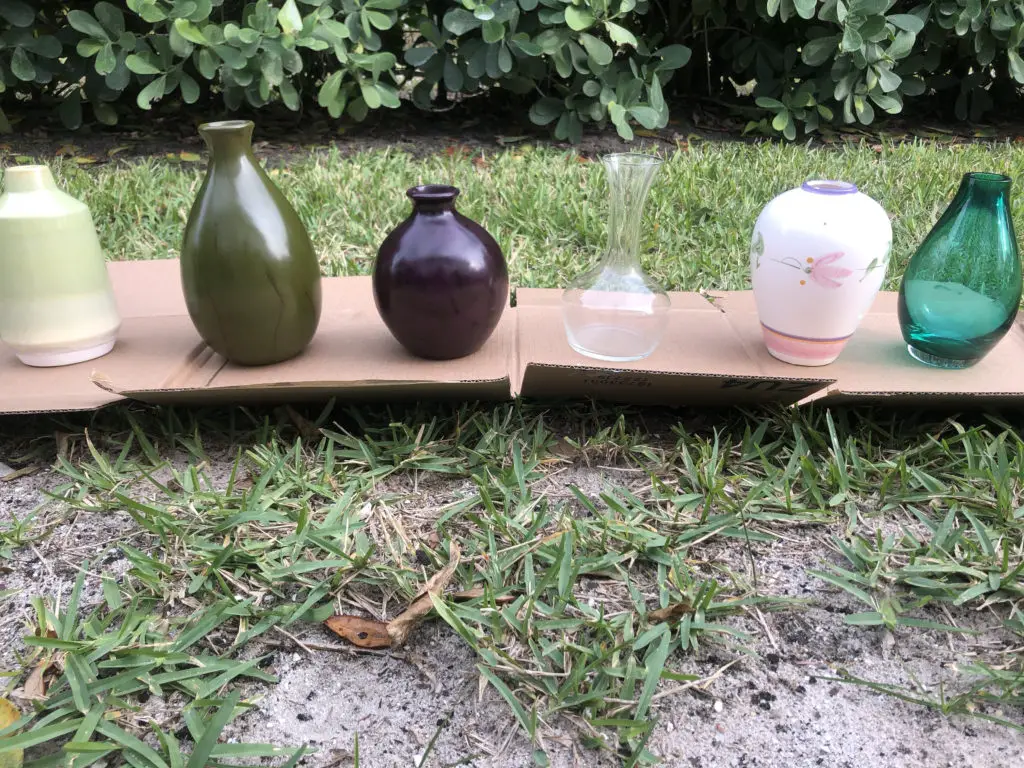 Step 2 – Spray Paint
I had a half a can of this spray paint (in white) in my garage, but went ahead and bought another can at Home Depot because I thought I'd probably need it.    (You can also buy it on Amazon.)
First, I cleaned up the vases by wiping them down, and taking off any price stickers.  Then, took them outside and spray painted them.  I ended up using the 1/2 can I already had plus the entire can that I bought (so I was happy I bought the extra can!!).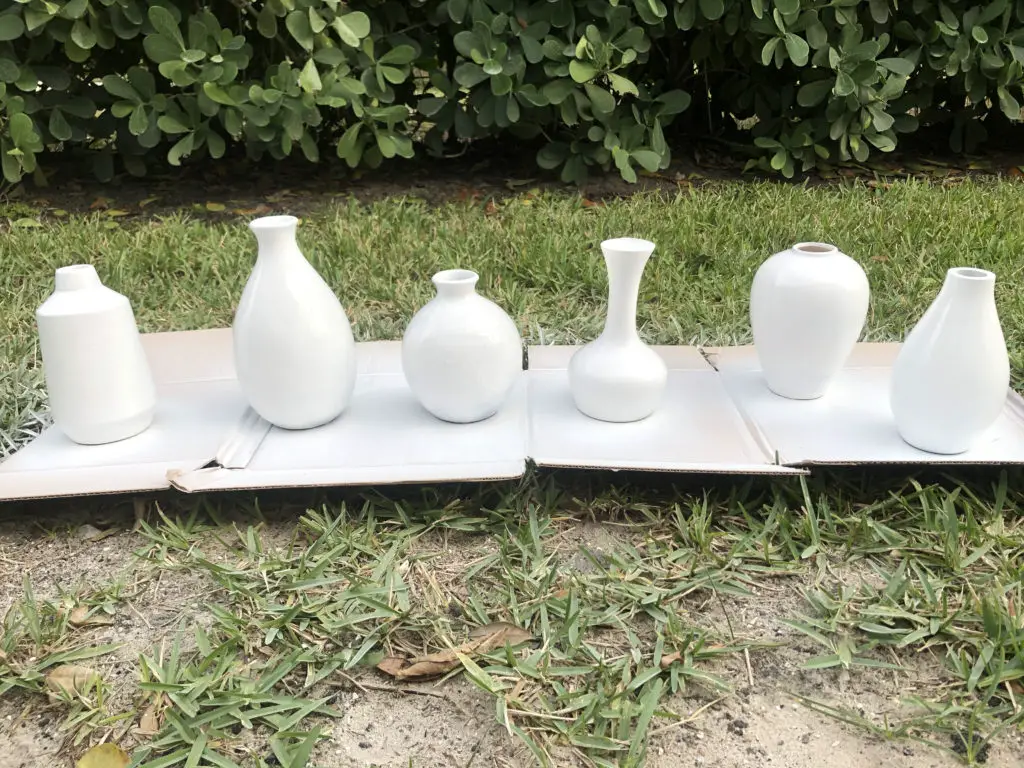 NOTE – I made this similar project during Christmas time with wine bottles, and also these DIY Sea Glass Bottles.  Both are so easy and they look beautiful.
Step 3, Styling them…
After the paint dried, I put them in the console table with the planter and YES that looked MUCH better and now they blend in nicely.  PS – the paintings behind the vases hide all the wires so I am keeping them there.
In conclusion, this project was so simple, didn't cost a ton of money, and looks fantastic.  What do you think?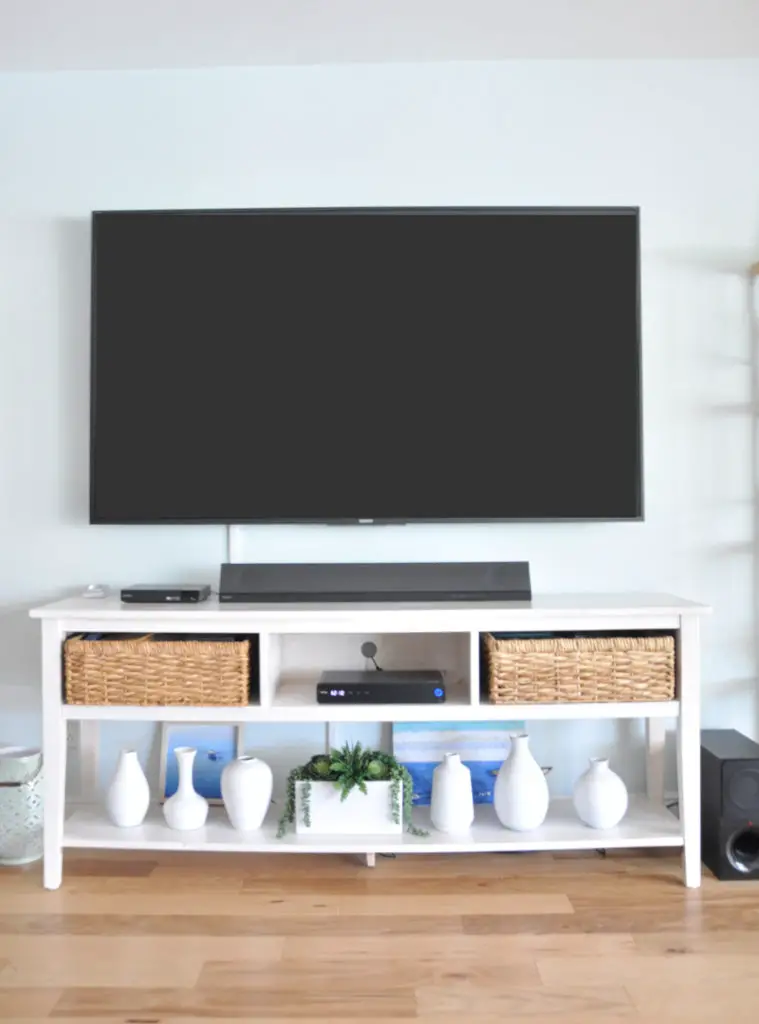 They also look really nice between my new Amazon shelves which display my collection of globes and vintage cameras.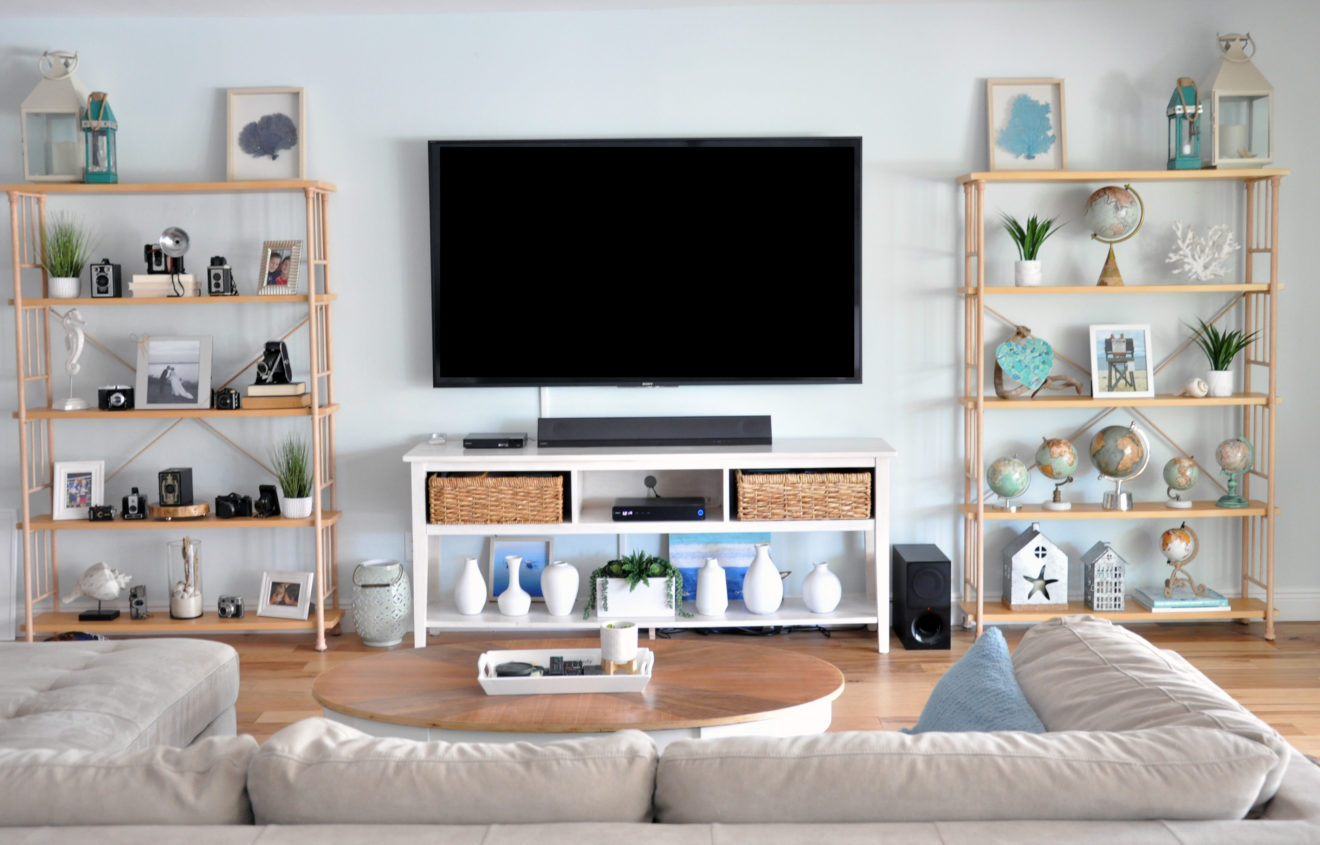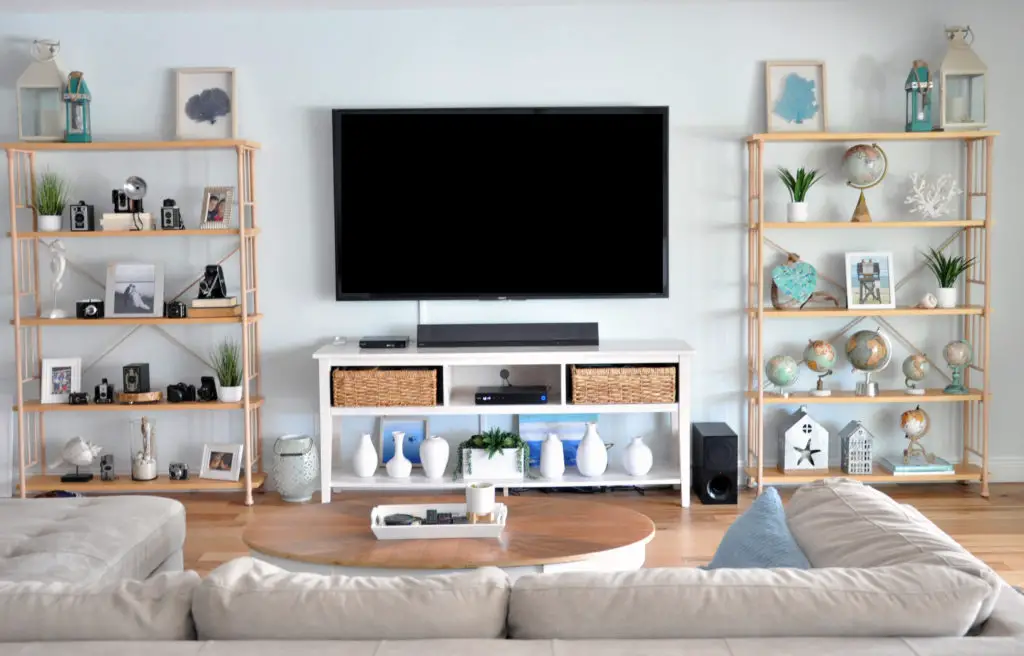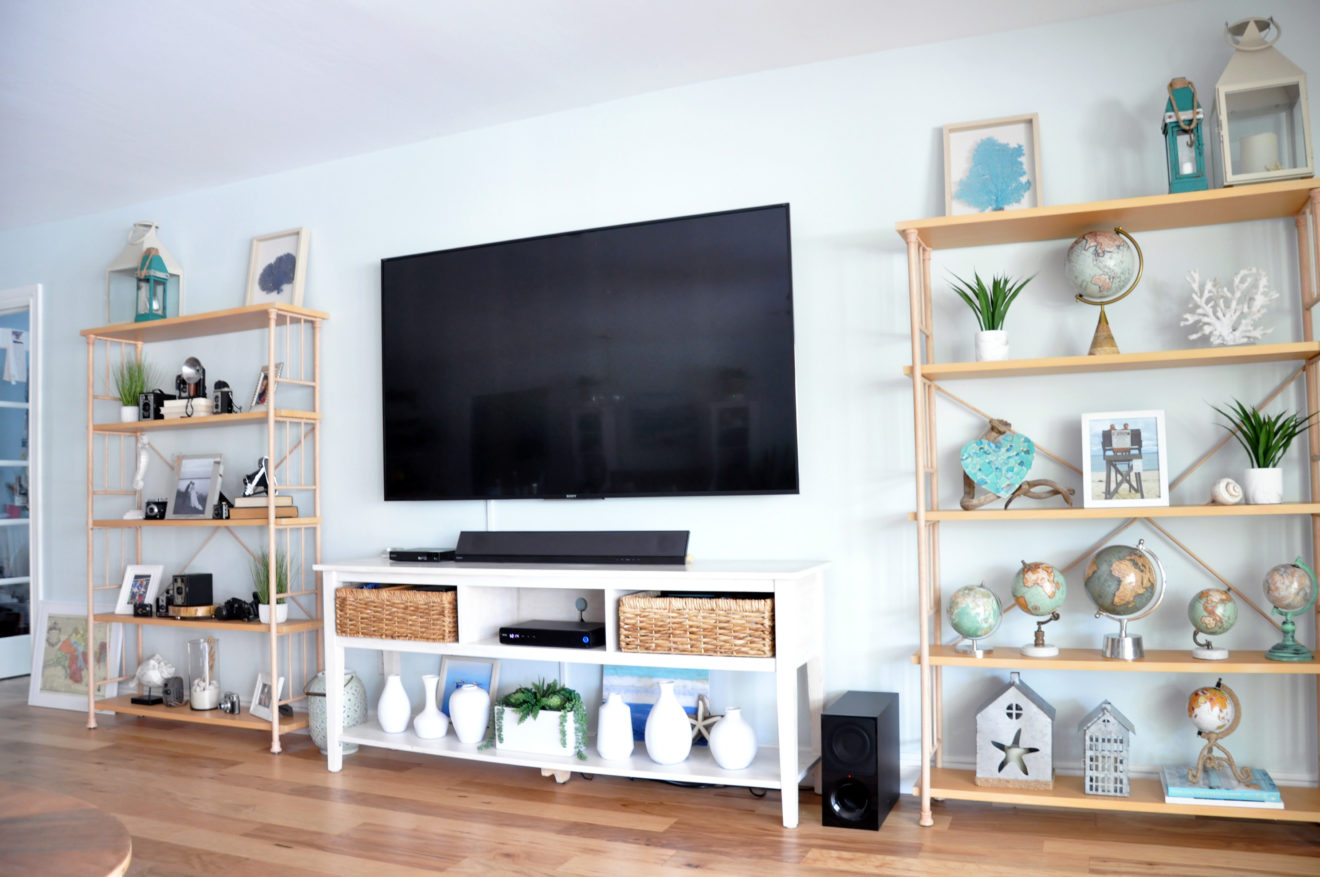 PIN FOR LATER…