Reader DIY Upcycled Coffee Bar!
My friend (and neighbor), Amy Anstead, sent me this fun project to share.  Amy and her husband Tom are both very handy.  They've done all sorts of DIY projects around their house including building a pretty awesome swing set/playset for their 2 young girls!   Amy is also super smart.  After being diagnosed with breast cancer and going through chemo she developed an all natural, aluminum-free, paraben-free deodorant that actually works called Fantabulous.  Please check out her web site!  The stuff is great, not to mention smells incredible.  I was one of her first 'testers' and the stuff rocks.   I use it every day and can truly feel good about the ingredients I am putting on my body.
Anyway, check out her upcycled, DIY Coffee Bar.  Good job Amy!
"Below is the dresser we used for our project. It came with a bedroom set we bought for my daughter's room. The set wasn't very expensive, but this dresser was really rickety from the time we got it (and put it together). After my daughter decided to climb on it to get something off the shelf and it toppled over onto the open bottom drawer, it needed a new life and home. (I know, I know, I should have attached it to the wall. Luckily she wasn't hurt too badly.) Here it is in the kitchen where it will have a new home. Note the whiteboard—our command center (which will be moved), and the "Music and Sound" classic 1989 intercom, radio and cassette tape player that doesn't work—that's gonna go too.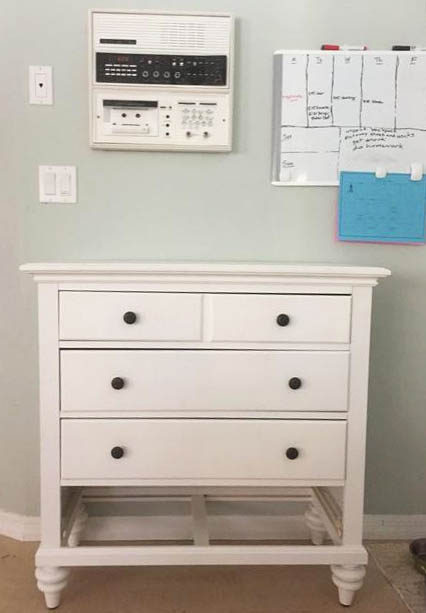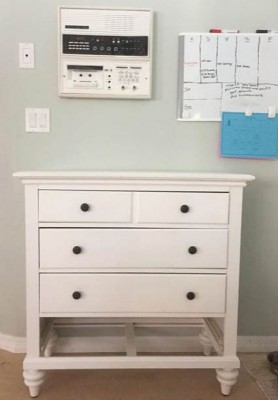 I wanted to do this project on the cheap, so I used paint we already had in the house. I felt like this would keep the palette working with the colors we already had in the house. We're going for a beachy look.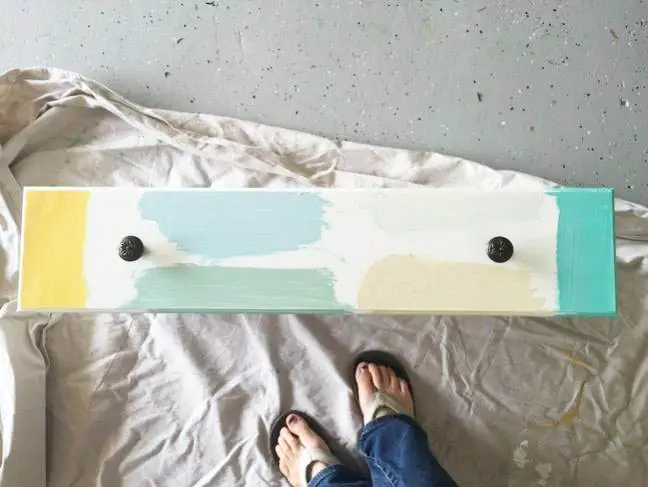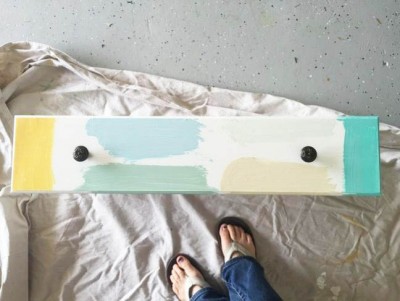 Here's my husband painting the dresser and the drawers. Thank goodness he's always on board with my projects.
The painted dresser. We removed the bottom two drawers and added an oak floor (we did have to purchase this nice oak).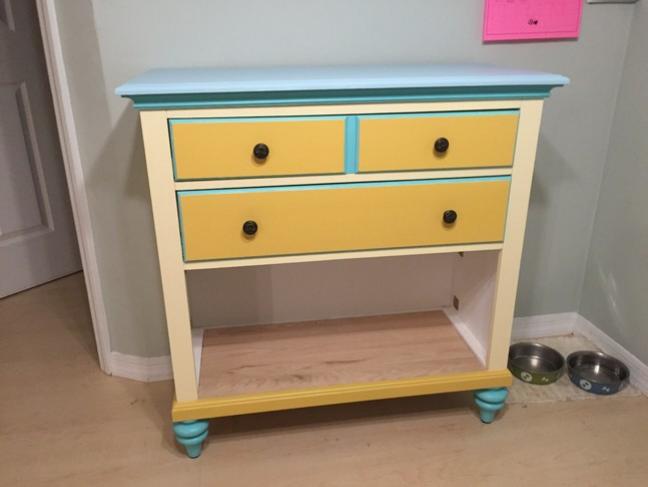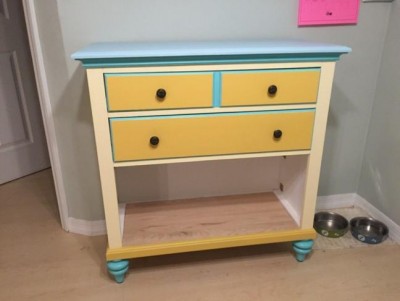 We got some helpers to paint the inside areas.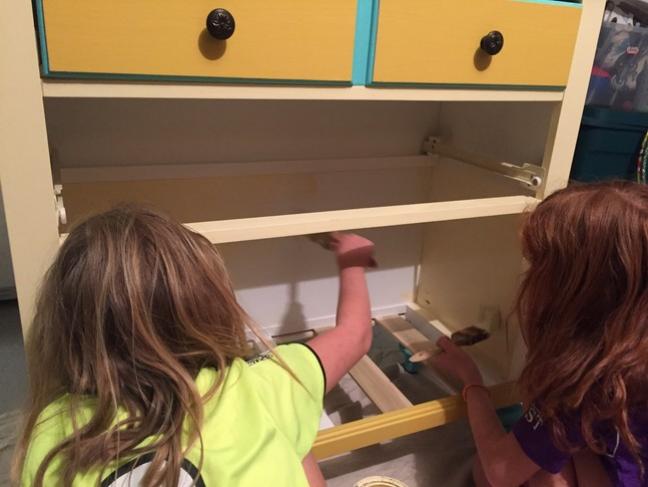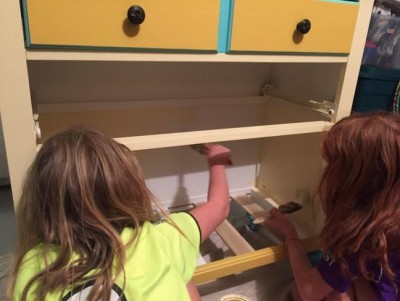 I found these baskets on clearance at Target. We may spray paint the metal a black, but we'll see. Notice that the "Music and Sound" is gone—filled in with wall board and spackle.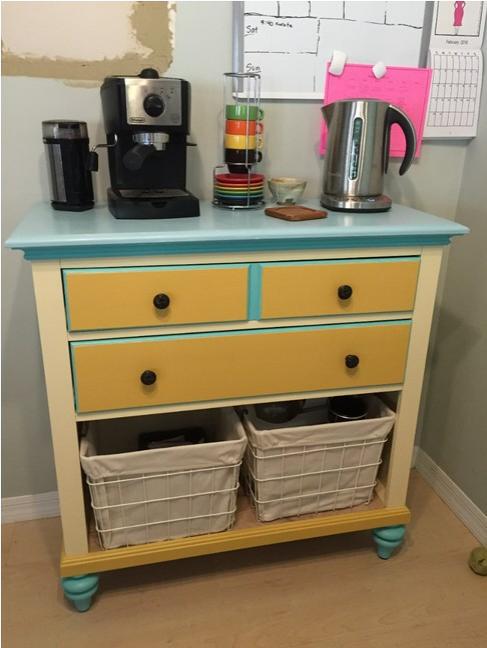 We painted a rectangle with chalkboard paint and added a shelf (again from Target).  And got another piece of wood from Home Depot and 6 hooks from World Market to make this hanging rack.
Viola! Our coffee bar!  It's been great to have a place to put these appliances and free up some space on our kitchen counter. I think we were all in for about $70."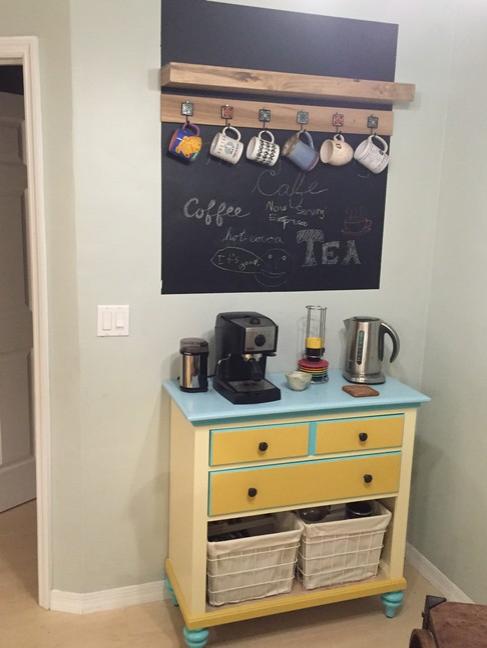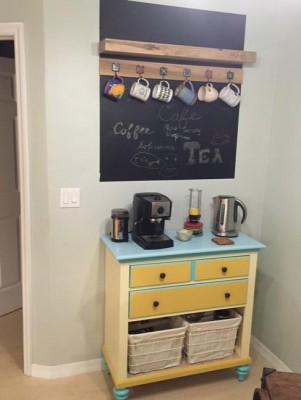 Thank you Amy for submitting your awesome project.  It looks so cute!  When are ya having me over for coffee?  🙂
Do you have a fun project to share?  Contact me!