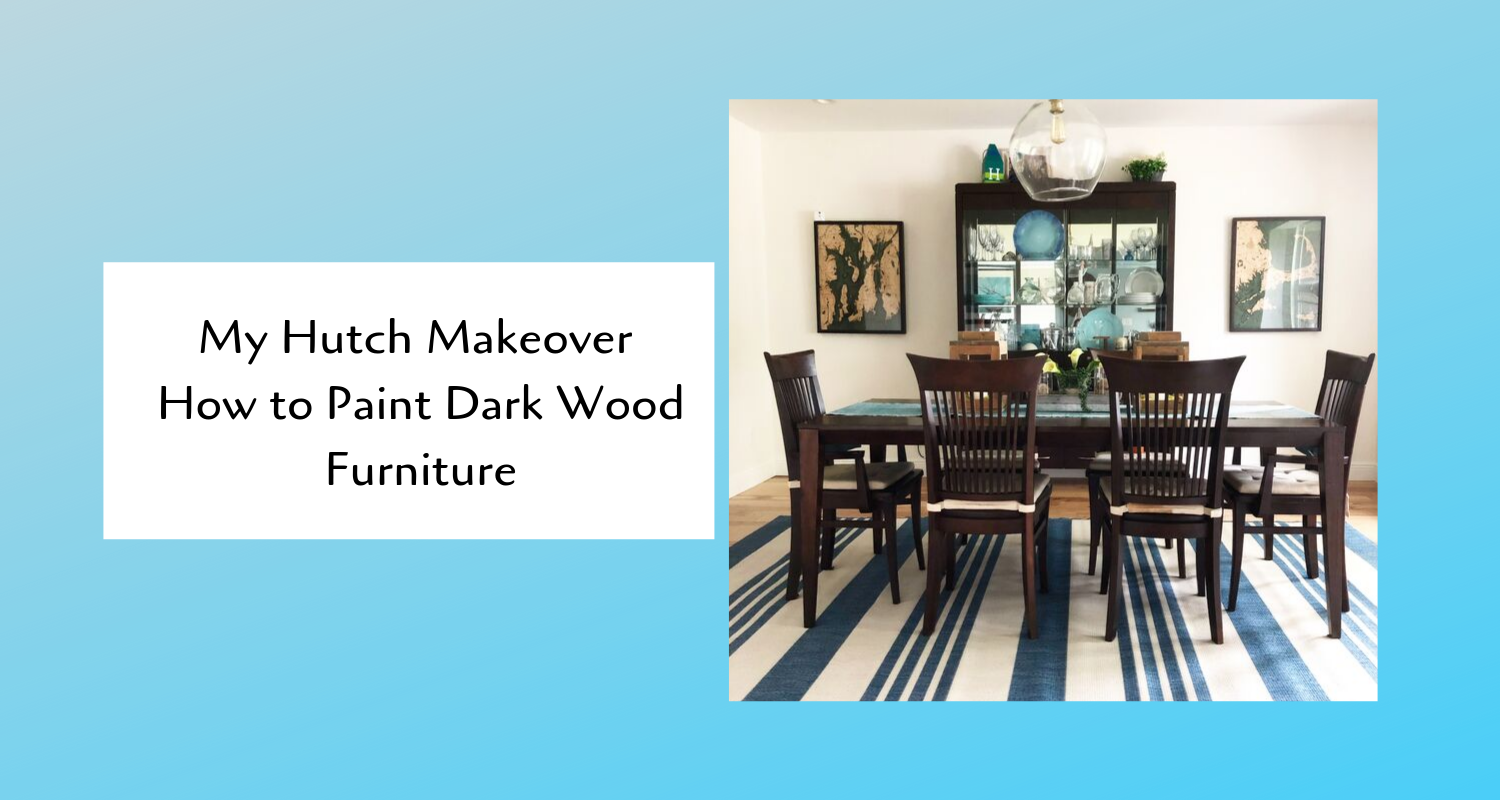 How to Paint an Old Dark Wood Piece of Furniture
We've had this dining room set for a LONG time.  We bought it when chocolate brown furniture was all the rage.  I still love it's clean lines and all the storage it offers, and the fact that I get to display all my 'pretties'.  After re-doing this Thrift Store Find a few weeks ago, it really made my old dark brown hutch stick out like a sore thumb in my dining room.  Soooooo, much to my husband's chagrin I painted it blue to match my more coastal taste and decor (and now I need to re-do the dining table too.)  Here is the piece BEFORE.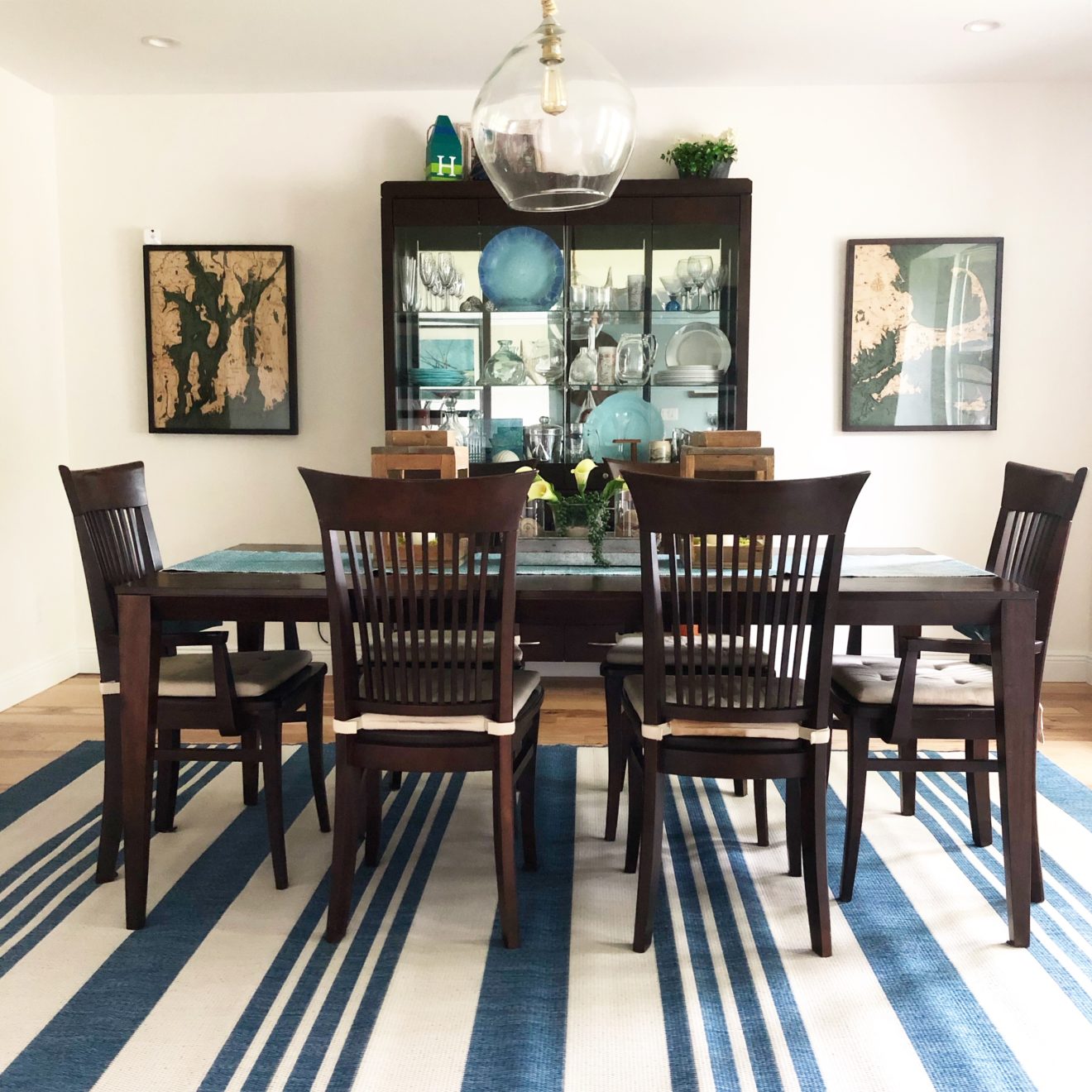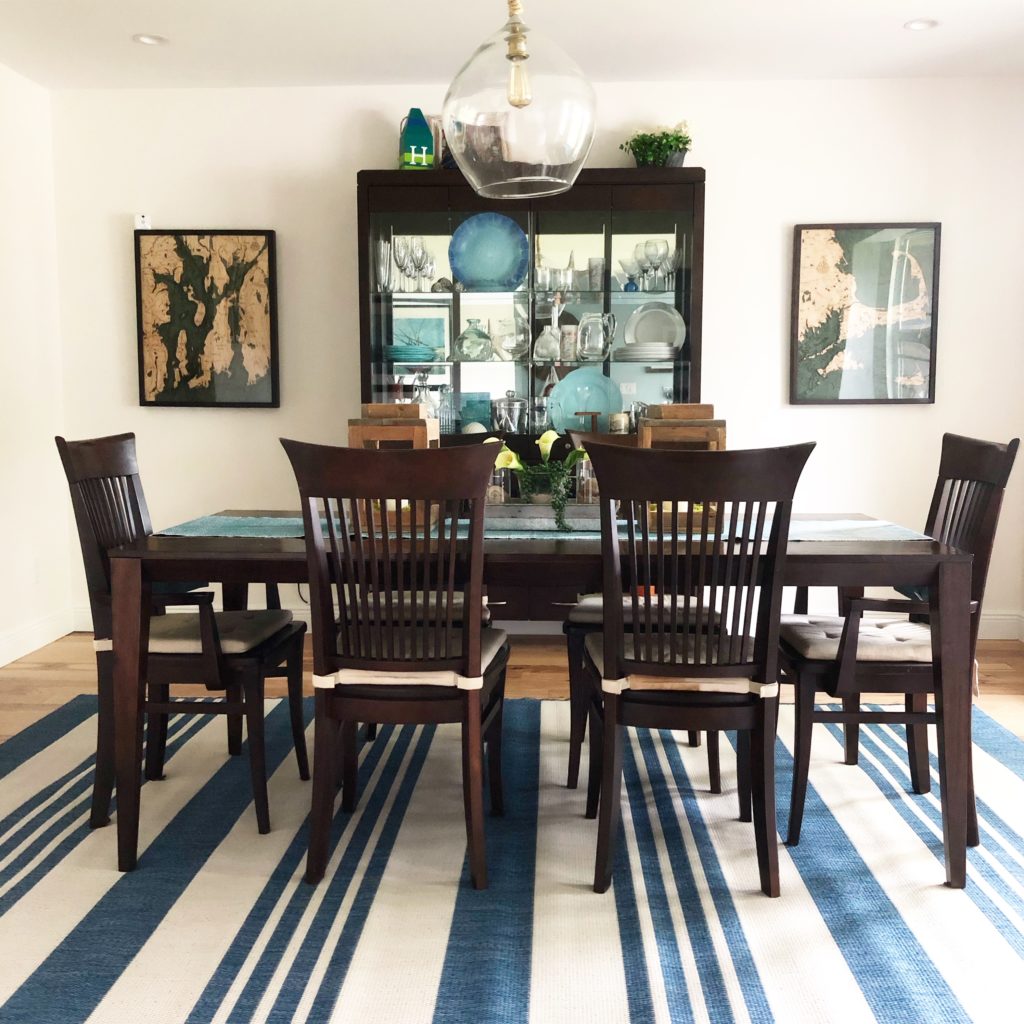 Here are the material used and the steps I took to paint this old dark wood piece of furniture.
Step 1, Purchase Paint and Supplies
Last month I scored this thrift store piece for only $19.99 at my local Goodwill and painted it English Channel.  I really loved the way it came out so I planned to paint the hutch the same color.  There was still a half a can of paint left so started with that.  I did need to purchase another quart size and now have 1/2 can of that left over, so basically it took 1 quart size can of paint to complete this project.
Painting furniture is all about using the correct products.  Chalk Paint is a great option.  I have used chalk paint on many pieces, including this one, and this one.  For this piece I used Behr Stain Blocking Paint and Primer in One.  This stuff is pretty awesome too and did not disappoint.  I used a Satin sheen which is best for kitchens, bathrooms, cabinets & trim.  Other supplies I used were, Tack Cloths, and rollers for my small paint roller from my last project to use.
Step 2, Clean and Prep…
I decided to just paint this piece right in the dining room!  My husband helped me move it a little bit away from the wall, and then I put a tarp down under it, promising myself that I would be super careful (and I was!!!).  This thing is heavy so I didn't feel like moving it to the garage or outside.   Before I began, I took everything out of it and took the knobs and handles off too.  Then I gave it a good cleaning and tried to make sure I got all the dust.  I did not sand first.
Step 3, Paint…
As stated above, I did not sand this piece at all.  I just painted right over the dark brown.  It took about 3 coats.  I used my roller on the big pieces, and a paint brush when needed on the smaller areas, and a very small brush for the smallest lips on the doors.  This whole process took about 4 hours total.
After I was done painting and it was all dry, I applied two coats of this Minwax Satin Polycrylic Protective Finish.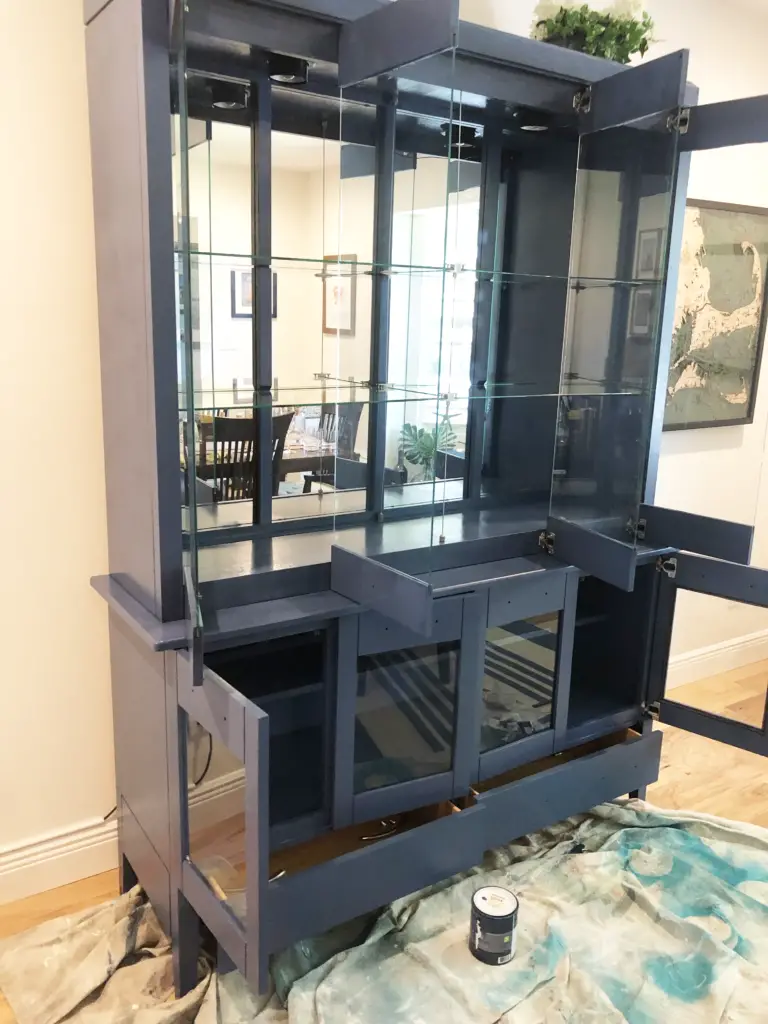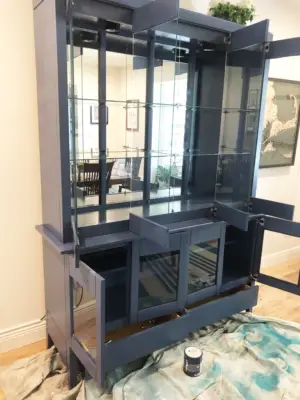 Step 4, Styling…
I made sure to wait until the top coat was completely dried before I started putting the knobs and handles back on, and then started putting everything back inside.  It was fun to restyle it with all my 'pretties'.   Now I need new lighter baskets for underneath.   Also, I contemplated getting some new fun knobs and handles, but the ones it came with are pretty nice so I plan to live with them for a bit and decide later if I want to replace them or not.
Re-doing the Dining table is UP NEXT.  I do not plan to paint it blue.  I will be sanding and staining this piece to lighten it up.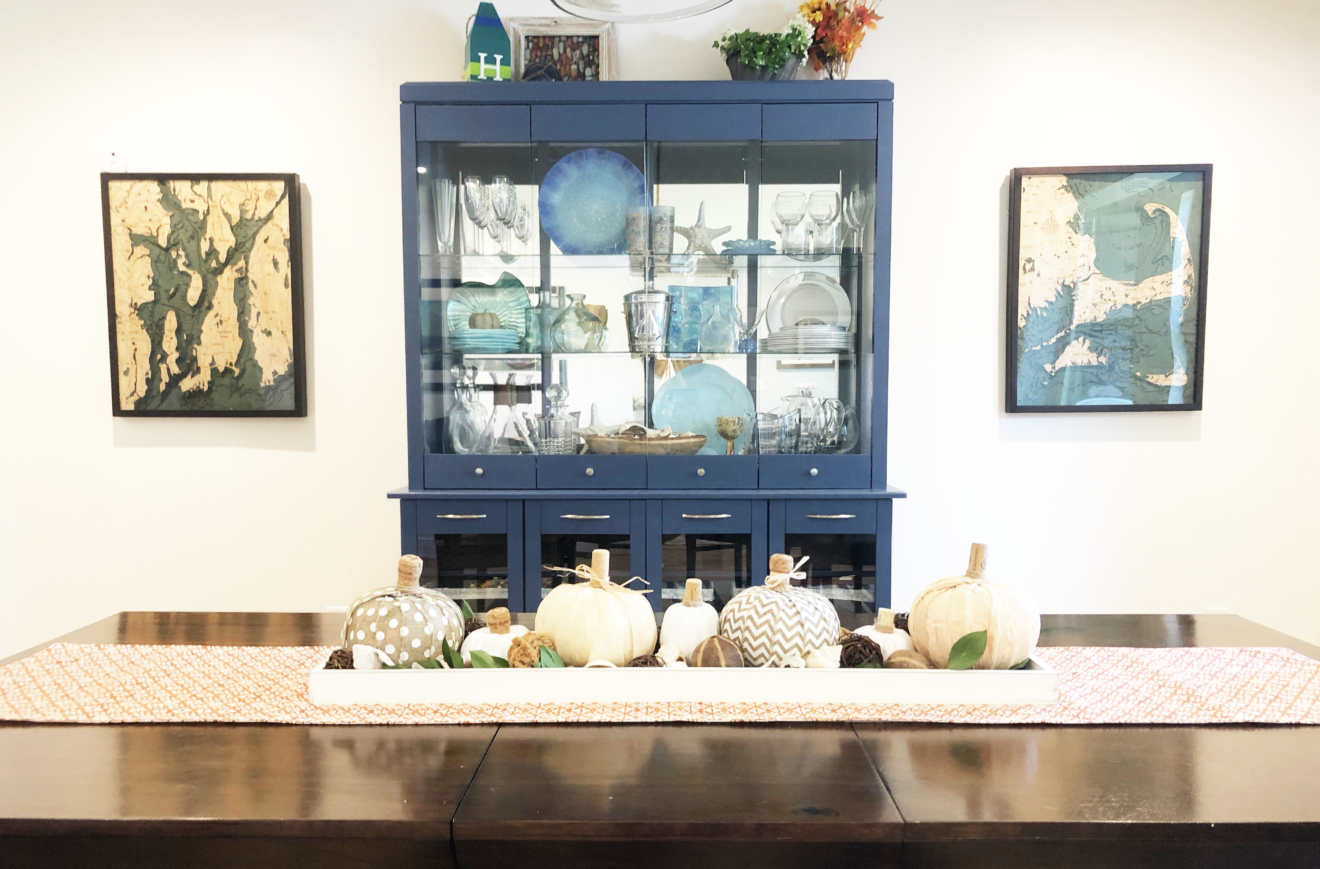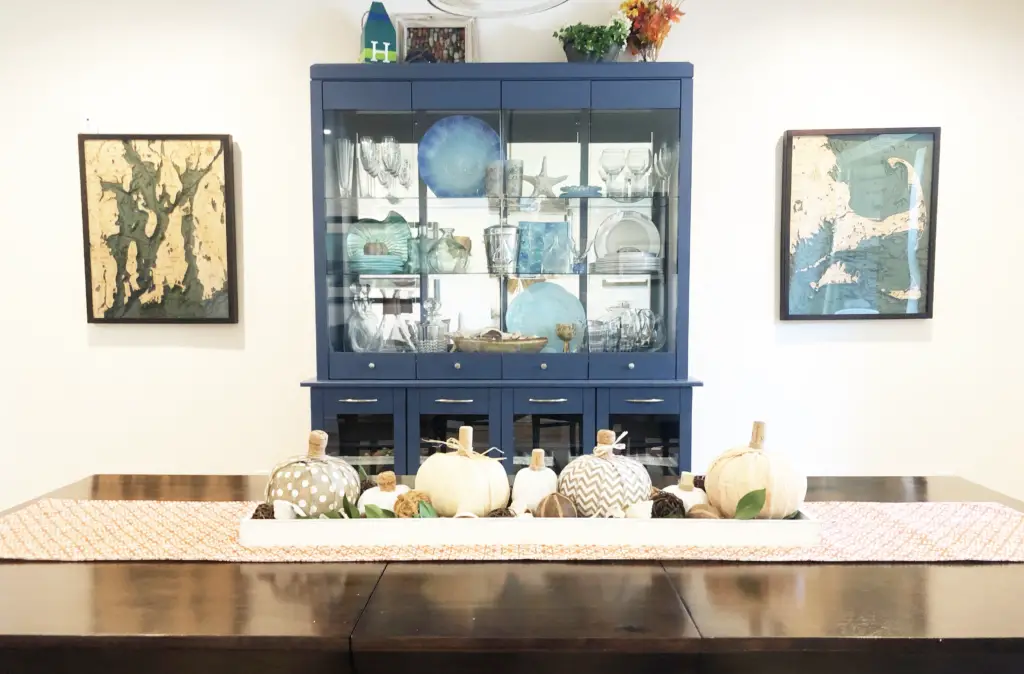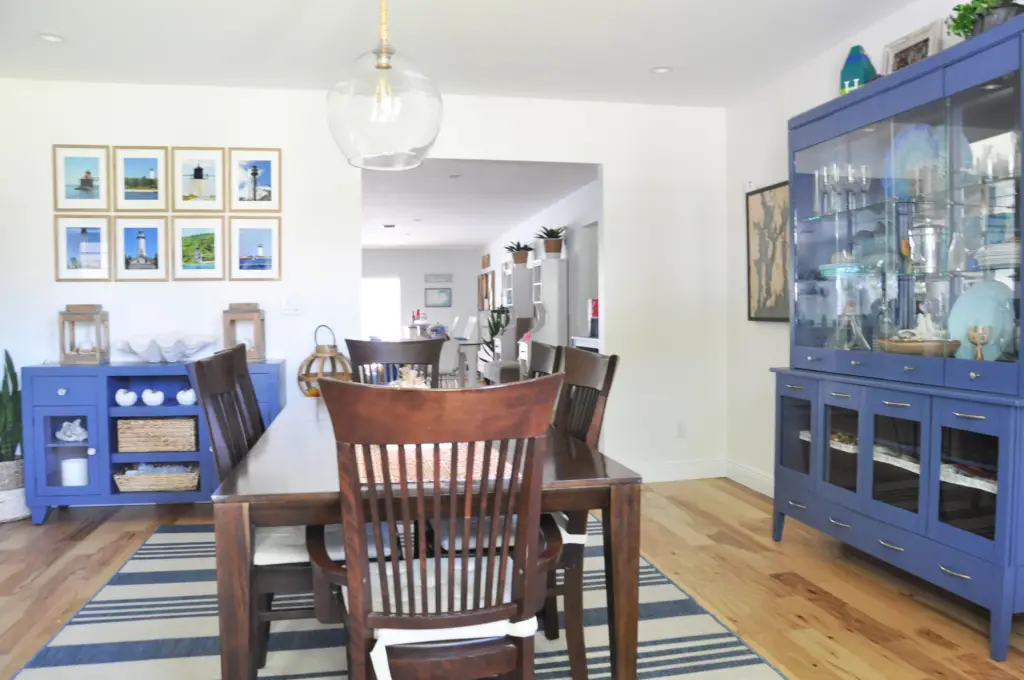 After living with it for a few weeks I decided to change out the knobs and handles.  I found these brushed gold knobs and these brushed gold handles on Amazon and thought I would give them a try.  Verdict:  I love them.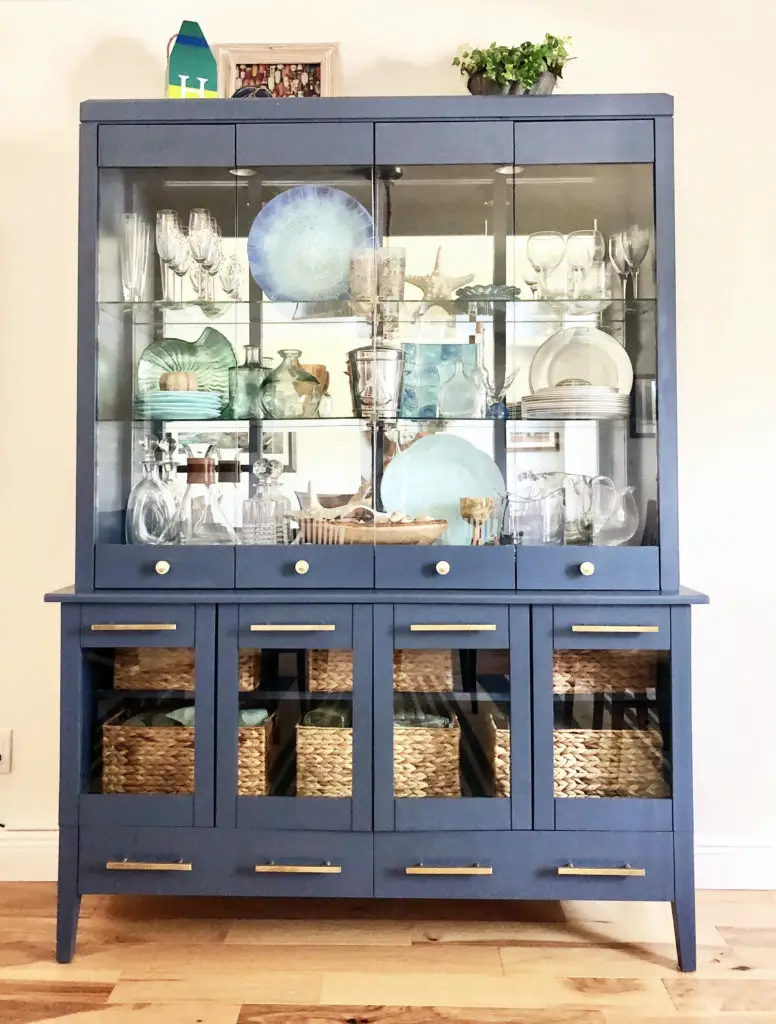 And now I will work on re-doing the table!
Pin for later