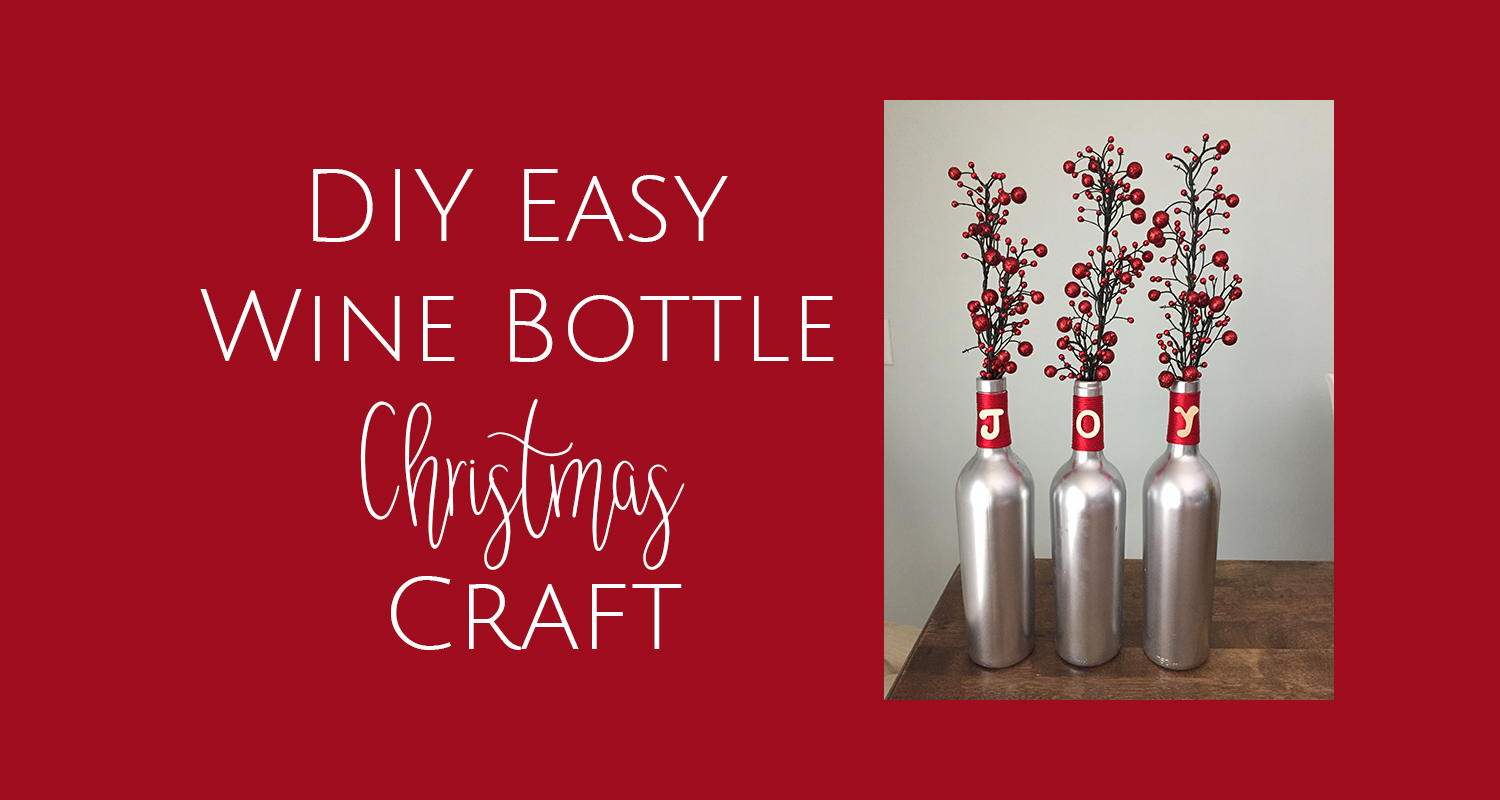 DIY Easy Wine Bottle Christmas Craft
DIY Wine Bottle Christmas Craft…
I posted this DIY wine bottle Christmas craft idea on social media and had a nice response so I thought I'd write up a quick tutorial on how I did it, even though it is probably pretty self explanatory.  These only took me about 1/2 hour to make (not including waiting for the paint to dry).
By the way, if you like these tutorials, and my blog in general, please sign up for my email list.  Thank you!
Step One – Drink wine.  Lots of it, or at least three bottles. 🙂  Save those bottles (and corks too – for other projects).  Take off the labels using soap and water, Goo Gone, and whatever tools necessary. I have one of these mini razor blade scraper thingys and it rocks.  I use it all the time.  It is especially good on our flat, electric stove top and for getting sticky stuff off your floors, but also is great for getting wine labels off of bottles.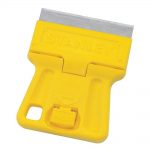 Step Two –  Spray paint them.  I used this Valspar Metallic Spray Paint from Lowes and it is amazing.  Home Depot sells a Rust-Oleum Metallic one in case you don't have a Lowes near you.  Or, you could use white for a more beachy look or red or any color you like.  Wait for it to dry until moving onto the step three. This stuff dried pretty fast.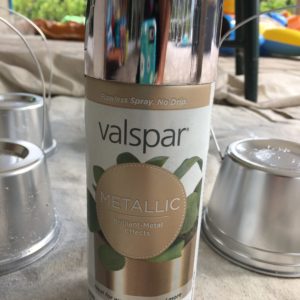 Step Three – Decorate.  I went to Hobby Lobby and found the red string and the Christmas holly.  I used plain red, shiny string, but they had red and white stripped string that would have looked good too (like a candy cane). Or you could use plaid or red or green ribbon or thin rope for a beachy look. Use your imagination. They had tons of different kinds of holly and leaves, etc too.  I liked these because they were shiny like the spray paint.  If you do not have a Hobby Lobby near you, try Michael's or Joann's or any craft store.  Lucky for me, we have all three of these in our area.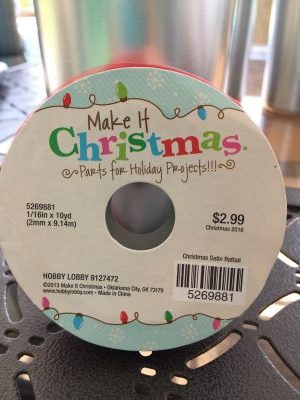 Step Four – Glue string around the bottle top.  I used my glue gun but if you don't own one, I think just using any glue (probably even elmers) would work to get the string to adhere to the bottle.  Make sure your glue line is in the back.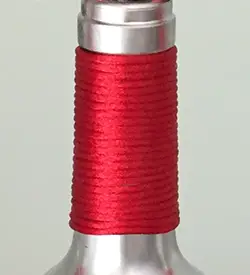 DIY Wine Bottle Christmas Craft
Step Five –  Glue letters to the string.  I used these cursive ones, but they also had 3 or 4 other styles.  You might choose to spray paint these too, but I kept them natural.  Also, you don't have to use the word 'Joy' you could spell out whatever you want depending on how many wine bottles you have (you lush – haha just kidding, I won't judge).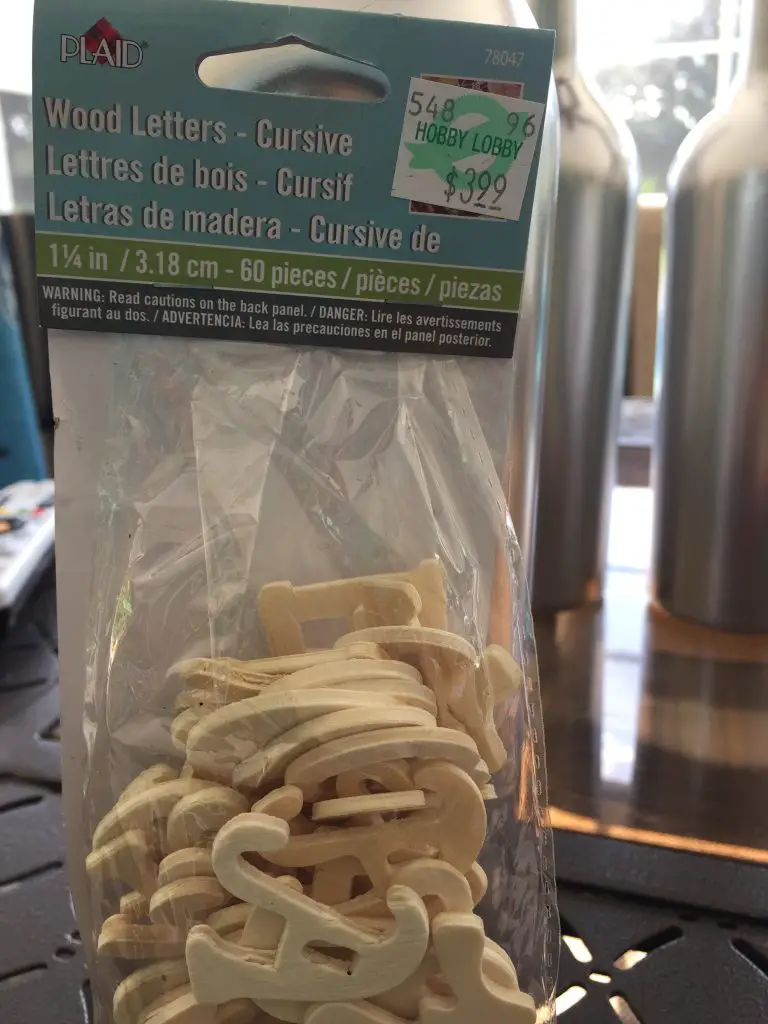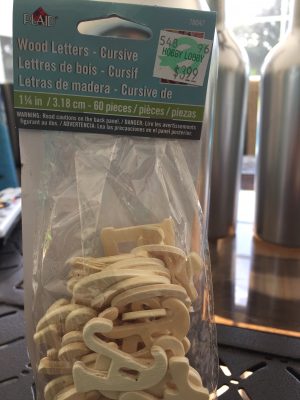 Step Six – Put the holly or whatever you bought into the bottles and set out for decoration.
So there you have it.  Easy Peasy!  You could also do something similar with mason jars, which you can pick up at any craft store for fairly cheap.  Paint, decorate and then put a tea light candle in it.  That would look great too.  Please let me know if you make these.  I would love to see!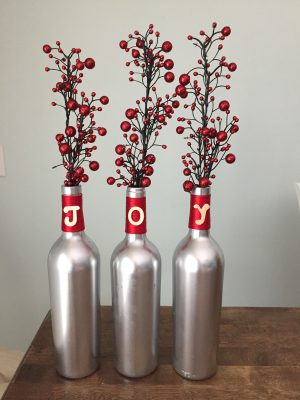 I also made these using the same technique, just different colors…
PIN for Later…