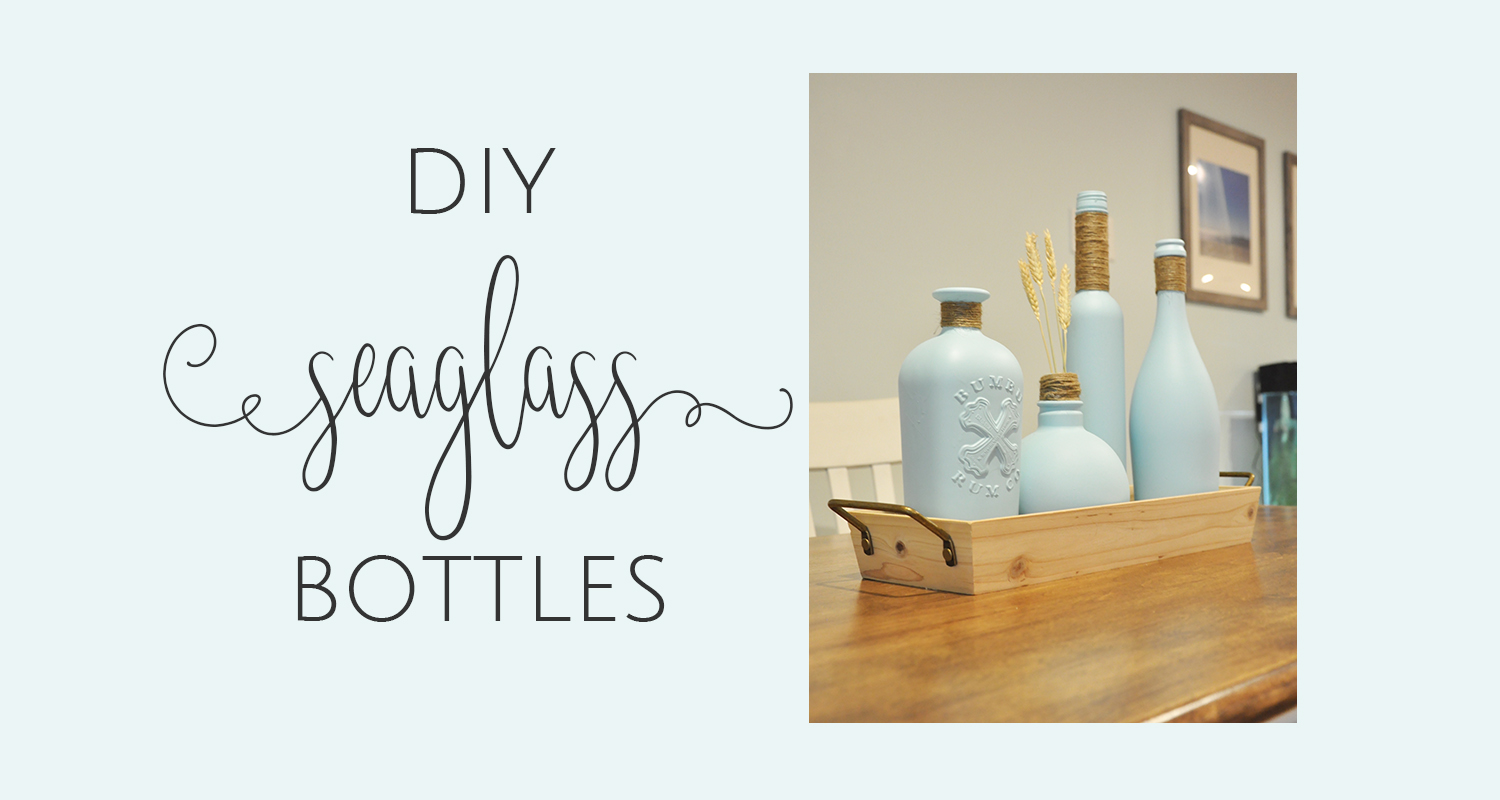 These DIY Sea Glass Bottles might as well also be called the easiest DIY project ever.  I did a similar project around Christmas time with wine bottles and it is so easy and they look awesome.  Keep reading to see the full tutorial.
This post contains some affiliate links for your convenience (which means if you make a purchase after clicking a link I will earn a small commission which helps keep my blog up and running but it won't cost you a penny more)!
Materials Used in this Project
Bottles from your pantry/fridge/liquor cabinet
Glue gun
Step 1 – DIY Sea Glass Bottles, Collect Some Fun Bottles
I've been collecting different, interesting looking bottles for a while.  Whenever I had a good one from the grocery store, or liquor store and we'd finished with whatever was in them, I'd store them under the kitchen sink.  In this collection I have a tall olive oil bottle, 1 wine bottle and 2 interesting looking (but empty) bottles of rum (only 1 is shown below).  My husband likes rum so people buy him these cool looking bottles for birthday and Christmas gifts.  Then we drink them and I save them thinking 'what the heck am I gonna do with these'.  Well I finally got sick of looking at them under the sink and decided I needed to do something with them…. hence this tutorial! Anyway, soak the bottles in water to get the lables off, or use Goo be Gone and a razor blade tool to get them off.  Then clean thoroughly making sure there is no label remnants left on the bottles.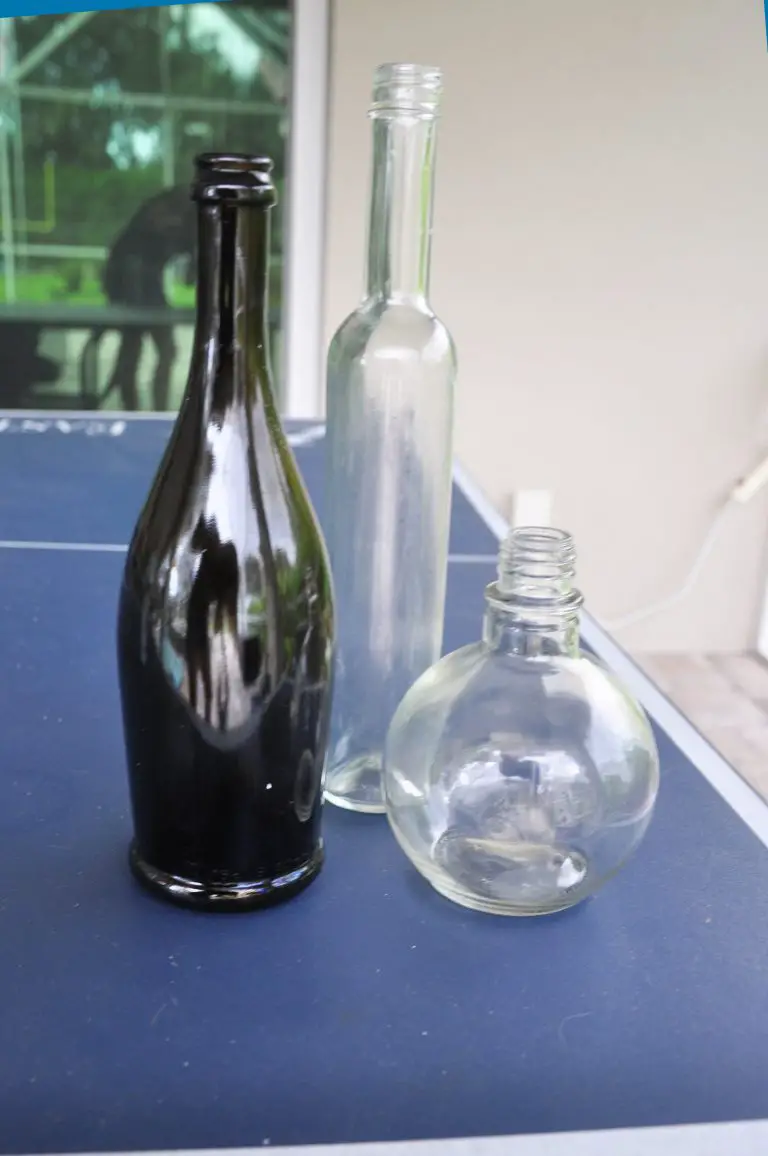 Step 2 – DIY Sea Glass Bottles, Buy Spray Paint
I went to Lowes (Home Depot doesn't have this color) and bought this spray paint from Krylon in a color called, Matte Aqua.  You can also buy it on Amazon.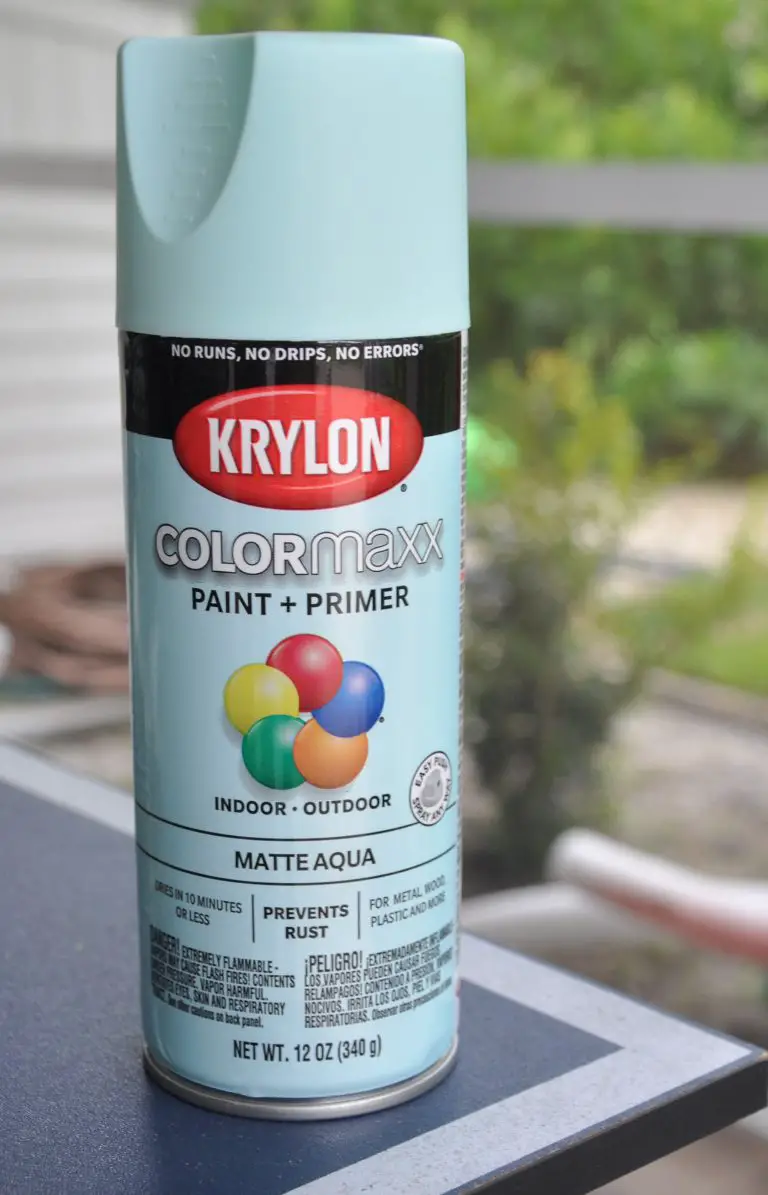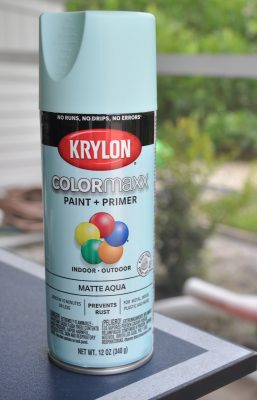 I then spray painted the bottles.  I did 3 coats, or until I thought they looked good and there was no glass showing.  This stuff dries so fast that this step didn't take long at all.  Below right is the other rum bottle.  Isn't it cool?
Step 3, DIY Sea Glass Bottles, Finishing Touches
I went to Hobby Lobby and bought this cute tray and some decorative twine.  I glued some twine to the bottle necks using my glue gun, and then placed them in the tray.  Viola!
Here are some pictures of them inside and outside by the pool.  Cute, right?  And soooooo easy and only cost a few bucks.
Hope you enjoyed this super easy DIY Project that anyone can do.
PIN FOR LATER…