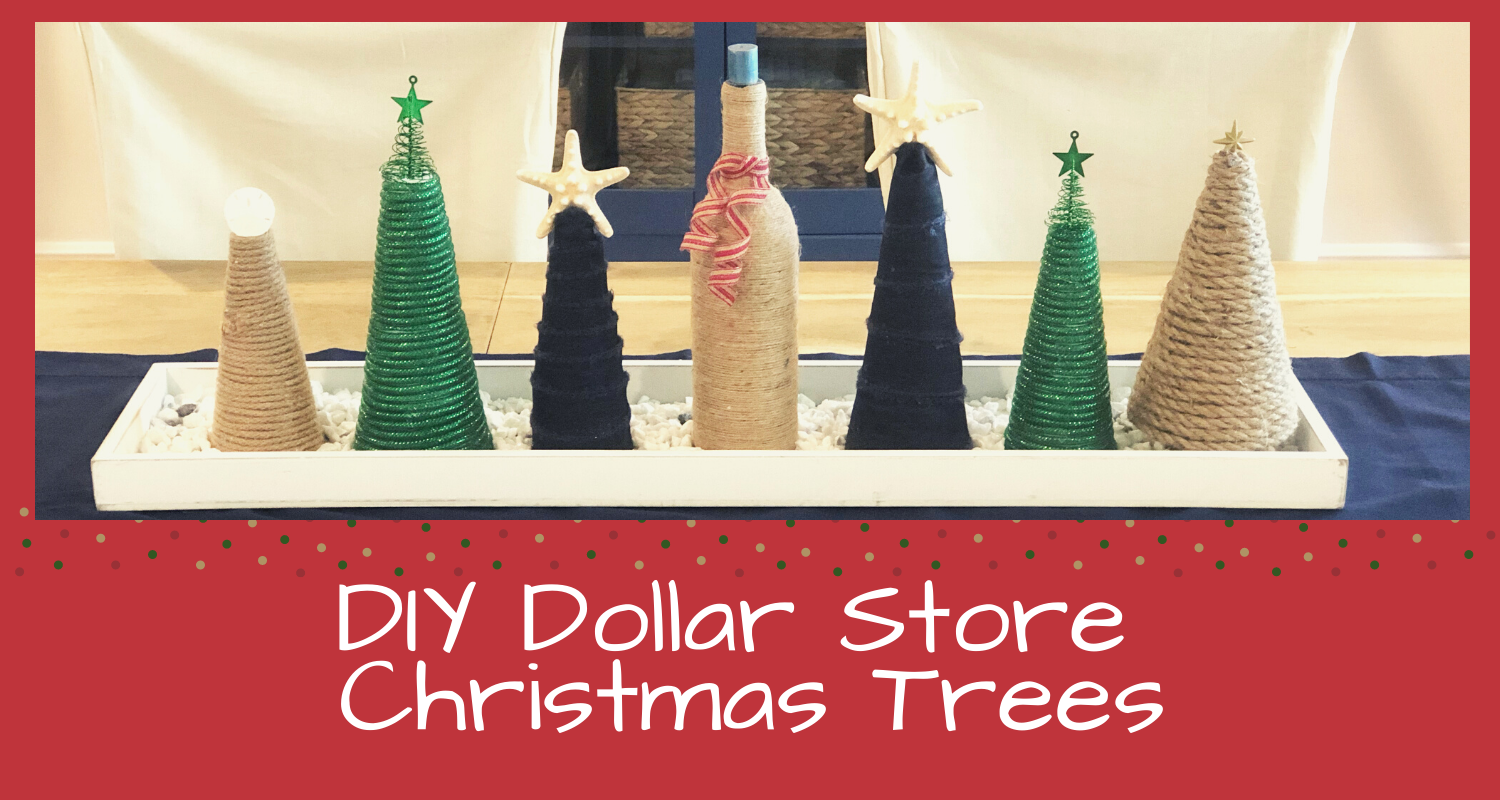 DIY Dollar Tree Christmas Trees
Christmas Craft…
It is time to start thinking about Christmas!  Our neighborhood goes all out during the season.  Each house tries to 'out do' each other with the decor and people come from all over town to check  out the lights.  It is not uncommon to see tour buses, trolleys, trucks, cars, even those bicycle pedal pubs full of people driving through here on any given night in December to check out the lights.  Most residents rent golf carts for the month (if they don't already own one) and decks them out with lights, and has bonfires in their yards or driveways all season.  It is unlike anything you've ever seen and is a lot of fun!
Anyhooooo, onto my DIY Dollar Tree Christmas Trees…
We deck out the inside of our home too, and I am always looking for craft ideas that are super easy and inexpensive to share with you.  While in the Dollar Tree the other day I spotted all kinds of fun Christmas things, and it got my creative juices flowing.  I bought the following;
5 foam cones
Green tubular garland (1 package)
glue for my glue gun (2 packs)
nautical rope (2 packs)
2 green foam pot inserts (to make a few of the trees taller)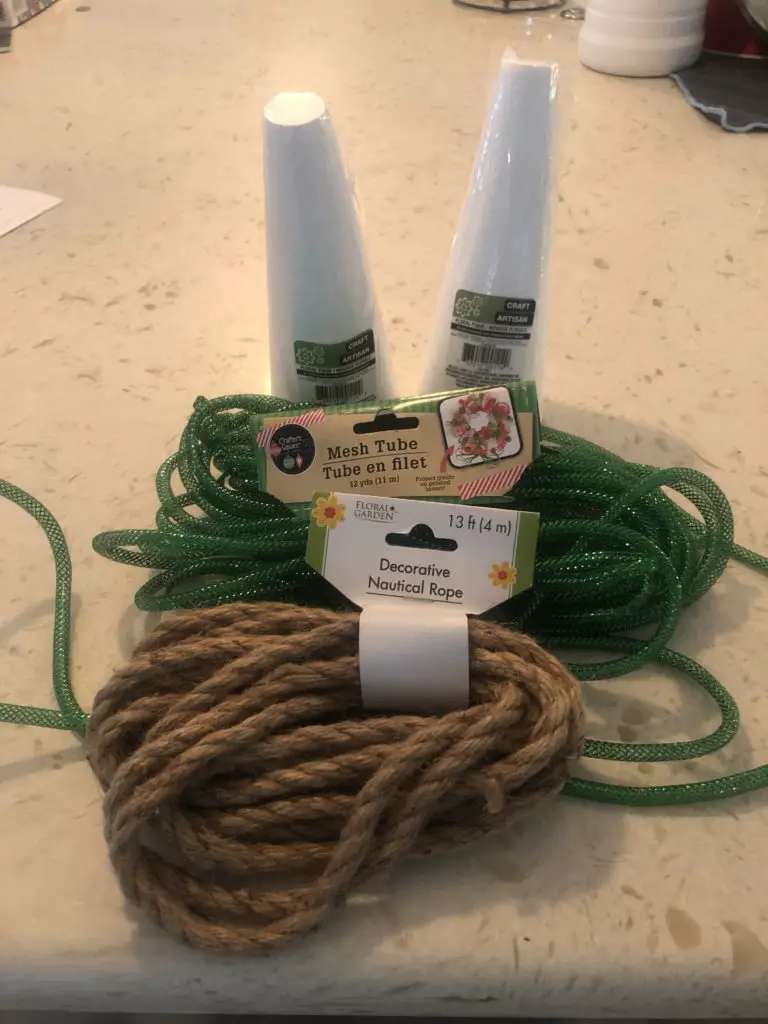 I also had this Christmas tree that I found at the thrift store and some navy blue ribbon left over from another project that I planned to use as well.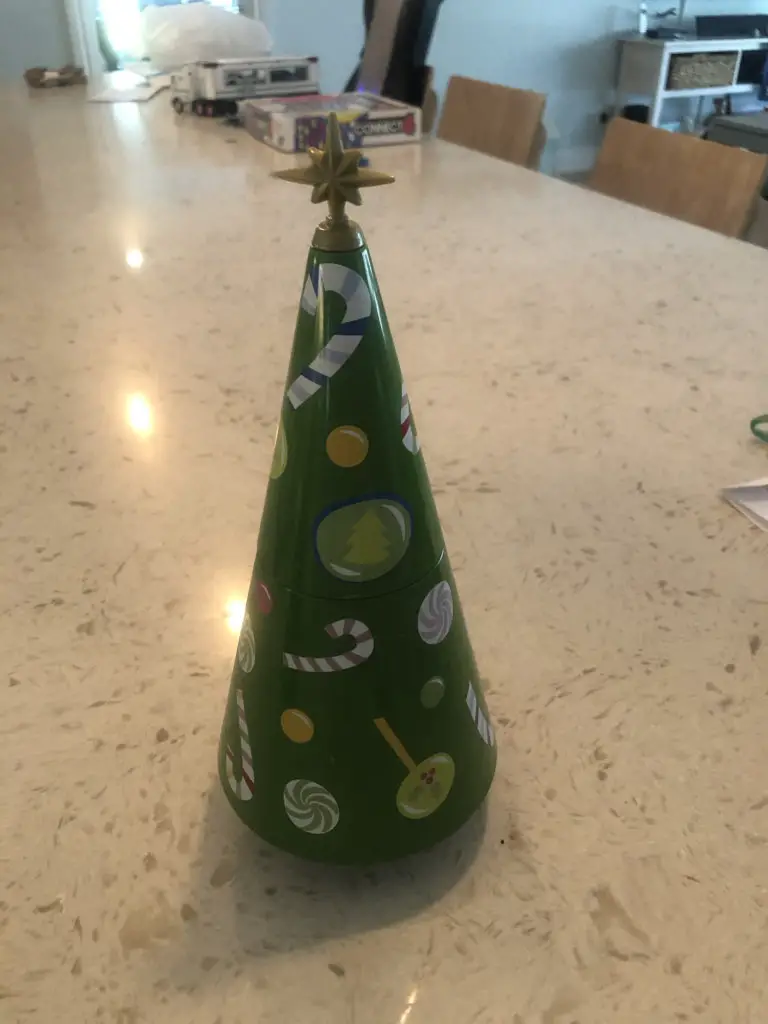 Steps on Making DIY Dollar Tree Christmas Trees…
This project is very easy and pretty self explanatory, but I'll explain how I did it anyway.  All you have to do is glue your rope, garland or ribbon of choice around the foam pieces.  You just put down a strip of glue with your glue gun, stick the garland/ribbon/rope to the side, hold it for a few seconds and move on.  Continue gluing until it covers the entire piece.  For 2 of the trees, I used some green foam pot inserts to make a few of the trees taller.  All you have to do is glue it to the bottom of the white piece of foam.  In total I made 2 green trees, 2 rope trees, and 2 with the navy blue ribbon.  You definitely use a ton of glue sticks, so make sure you have plenty on hand.
Here they are after gluing….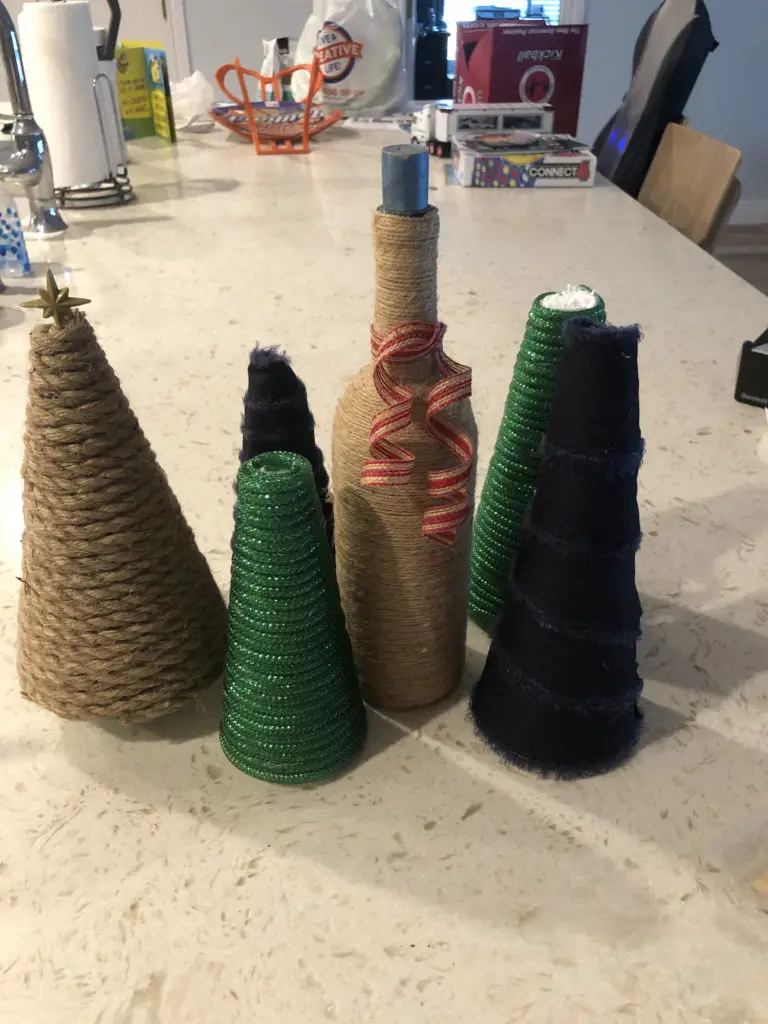 I found these ornaments at the Dollar Tree to use as toppers for the green trees.  I had to take the red bell off first, then I just stuck them right into the foam.  For the navy trees I glued a star fish to the top.  Lastly, I used a sand dollar for the smallest rope tree.
I arranged them in this big white tray that I found on clearance on my newly refinished dining room table.  (I already had the wine bottle in the middle which I found at the Goodwill.)  I was going for a nautical look, but you can use any sort of material you want.  This green garland also came in gold and red so you could make a few in each color.  Or you could glue beaded garland or any ribbon you like.
To finish off my look I used 2 packages of white rocks, also from the Dollar Tree, to use as snow.  This is such an easy project, was fun and really didn't take me all that long to complete.
Here they are…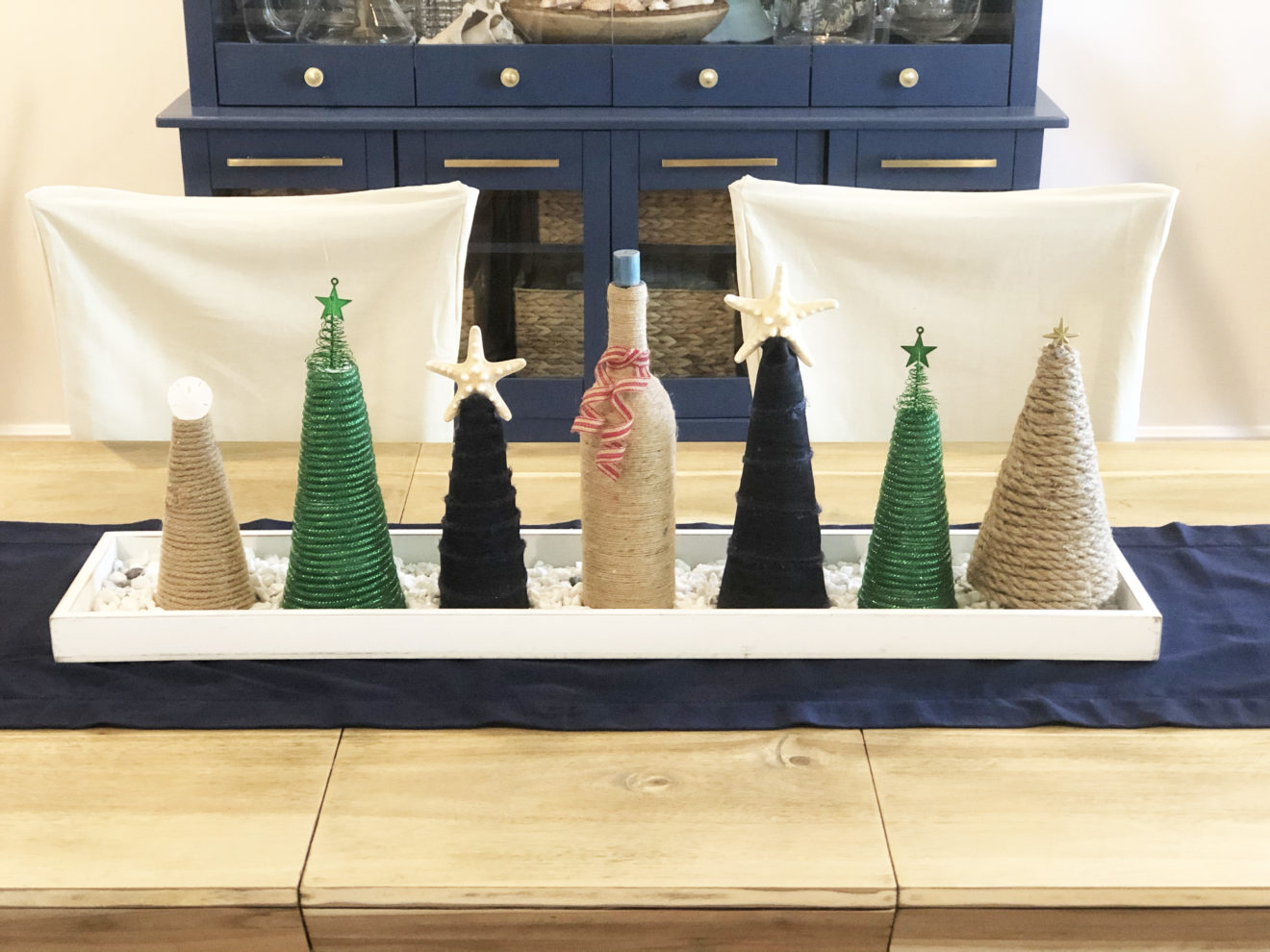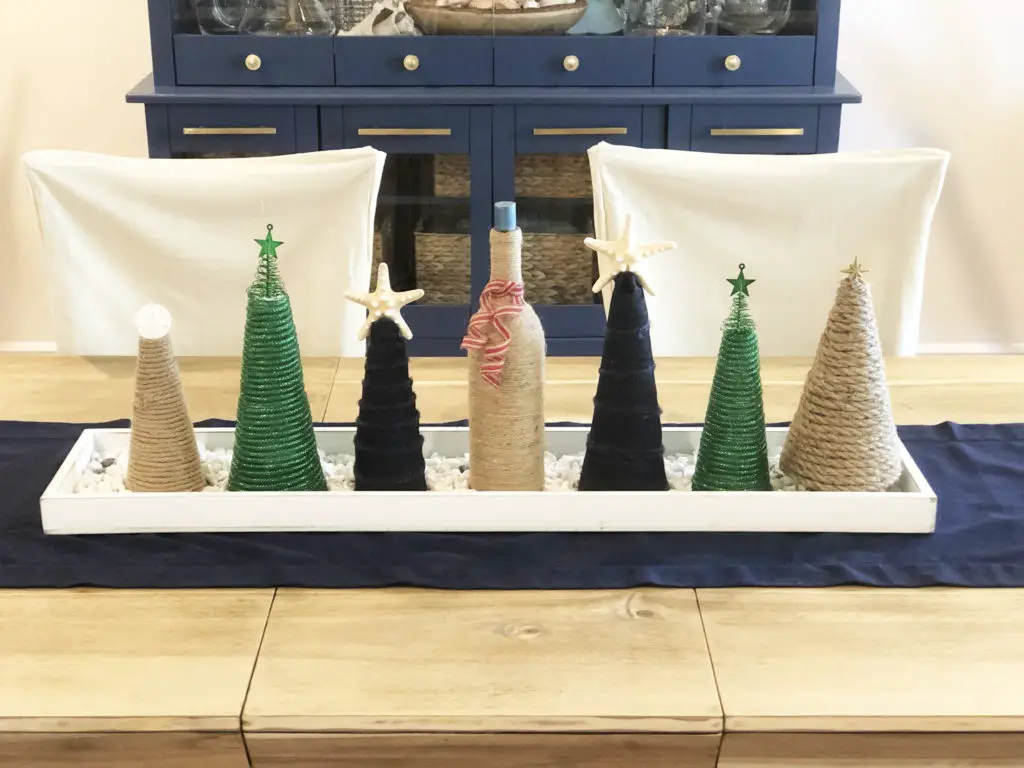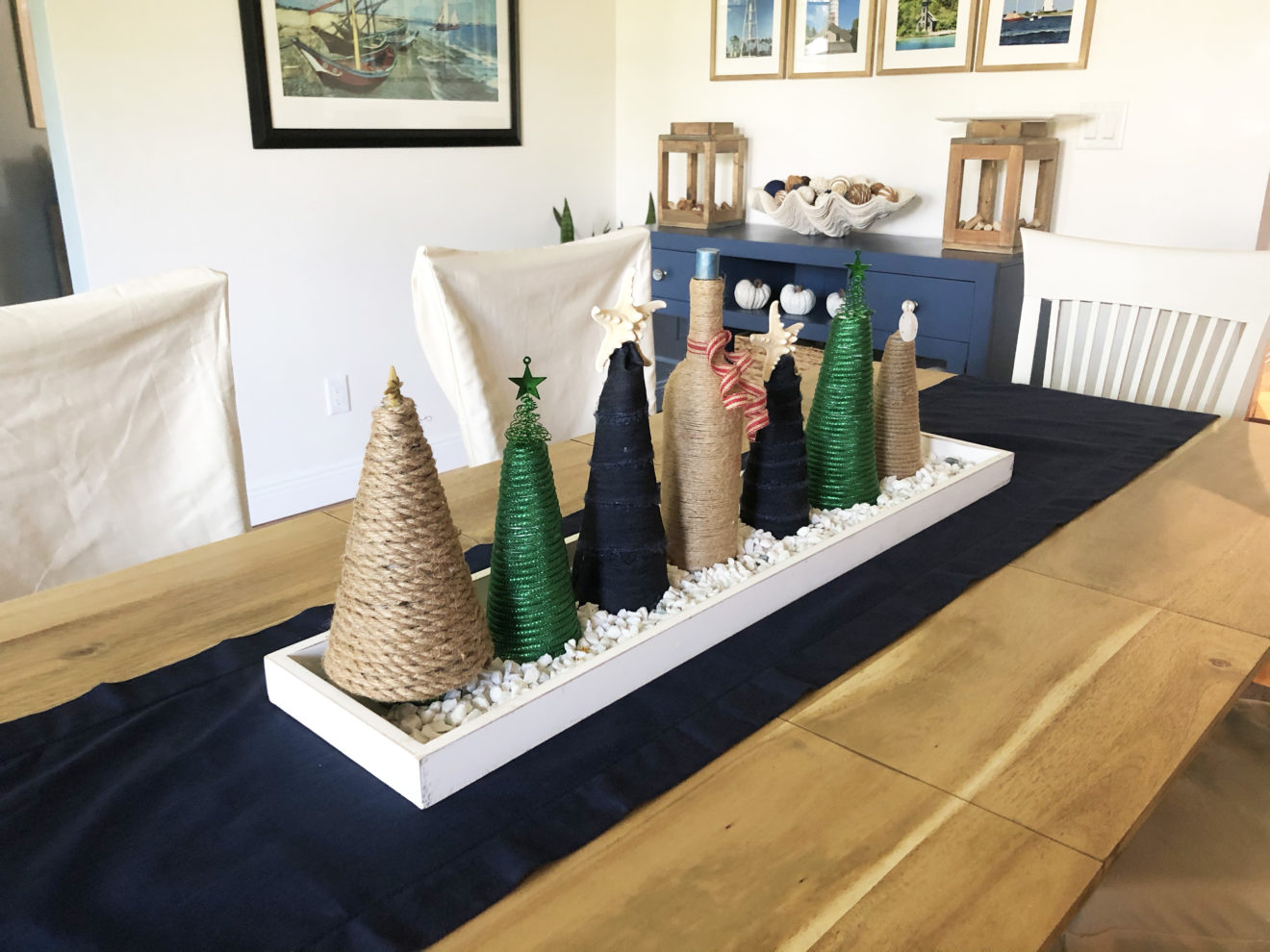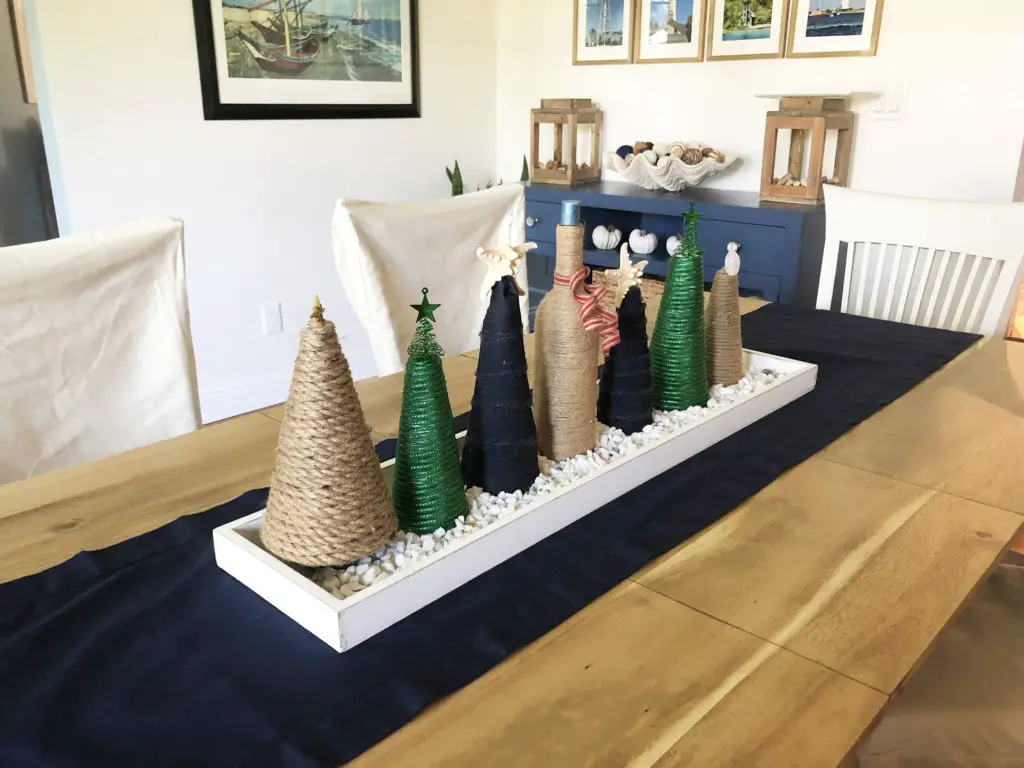 What do you think?  Do you have any Christmas crafts you'd like to share?
PIN for Later….