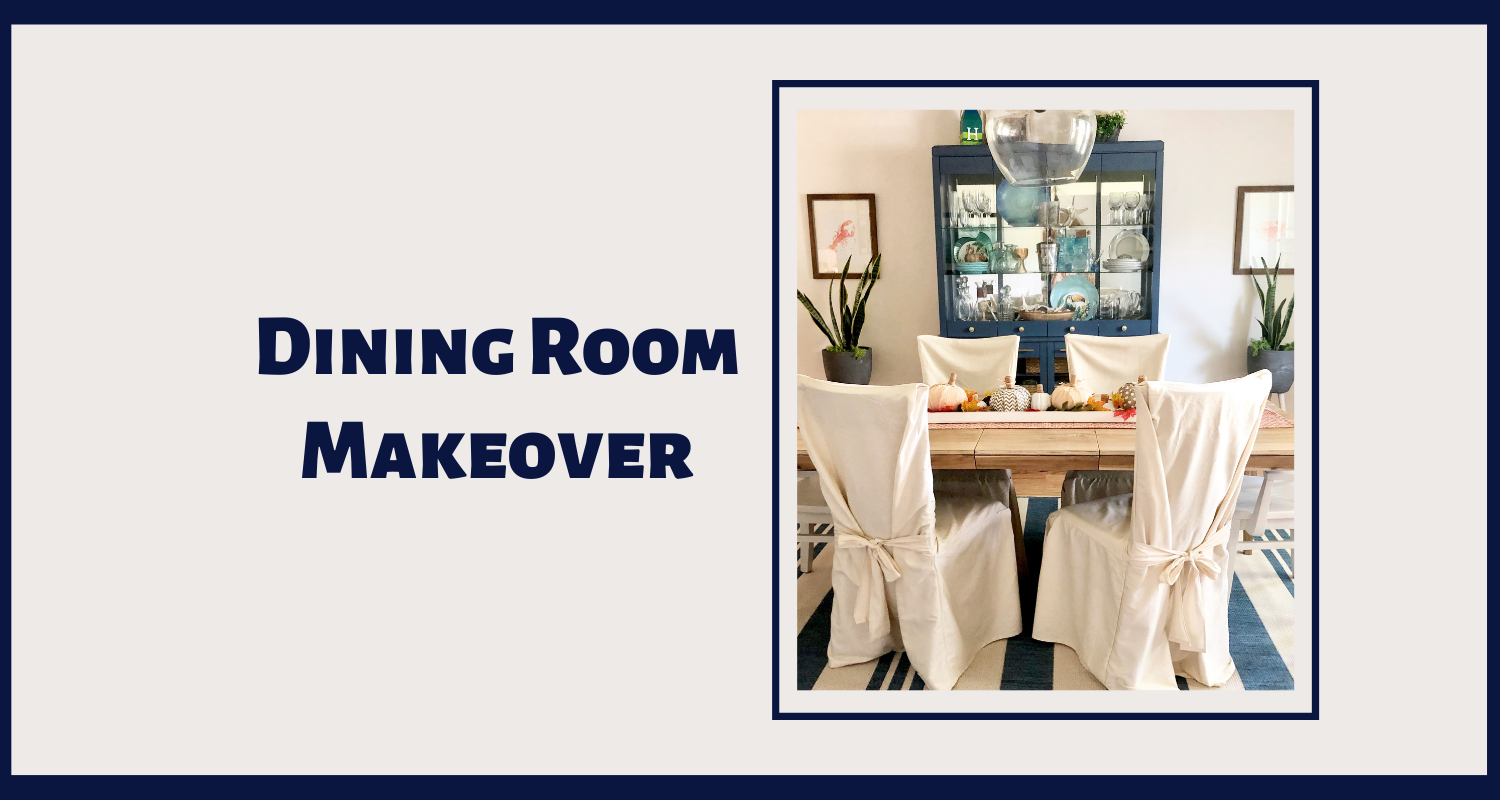 I recently made some changes to my dining room and it made such a BIG DIFFERENCE.  It's been a complete dining room refresh. Admittedly, we don't use this room very often.  However, it is the first room you see when you enter the House house.  It is just to the right of our entrance way, so even though we don't use it, I always want it to look nice.  Afterall, it is the first impression a visitor gets to our home.
When we first remodeled our home 3 years ago we had this room painted blue.  A color called Rain by Sherwin Williams. I loved this color but it was just to dark for this northern facing room that doesn't get a ton of natural sunlight.  I had been wanting to paint it for a long time.
Dining Room Refresh…
But first I added this Lighthouse Photo Gallery Wall using photos I had taken over the years.   That is when I realized the blue walls finally had to go.
So I finally painted the walls white.  Once I decided to paint it white, I then had to decide which shade of white.  Did you know there are about one zillion different shades of white to choose from and that you also need to consider which way the room faces?  For example, this is a northern facing room, which means it gets pretty dark in there despite the fact that it has a huge bay window, and that certain whites may make a room appear even darker because of the way the shadows hit the paint?  Sounds crazy and confusing, doesn't it?  After researching a bunch, I ended up using Antique White which has undertones of yellow (a warm color vs. tones of blue – a cool color) and is meant to make a northern facing room somewhat brighter (or so I read on the internet!).  Plus, I've used this shade of white before in the One Room Makeover Challenge in our Guest Bathroom and already knew I liked it.
After I painted..
Well, after I painted the walls things just sort of snowballed and I ended up re vamping the entire room.  Oops!  The dark wood furniture wasn't working for me anymore.  I knew I needed to start refinishing and/or painting it all.  And that is exactly what I did.
I also added this new fantastic rug, and this fun thrift store piece that I painted this pretty blue called English Channel.  Then I had to paint my old brown hutch English Channel too and added new knobs and handles.
Then I tackled the biggest project of them all, the dining table!  This took forever but was so worth all the hard work.  You can read all about the steps I took to refinish it here.
Check out all the before and after photos below as well as a shopping guide.
Do you ever do that too?  Make one change to a room that leads to an entire makeover?  Tell me I'm not the only one.  LOL!
Shop This Room…