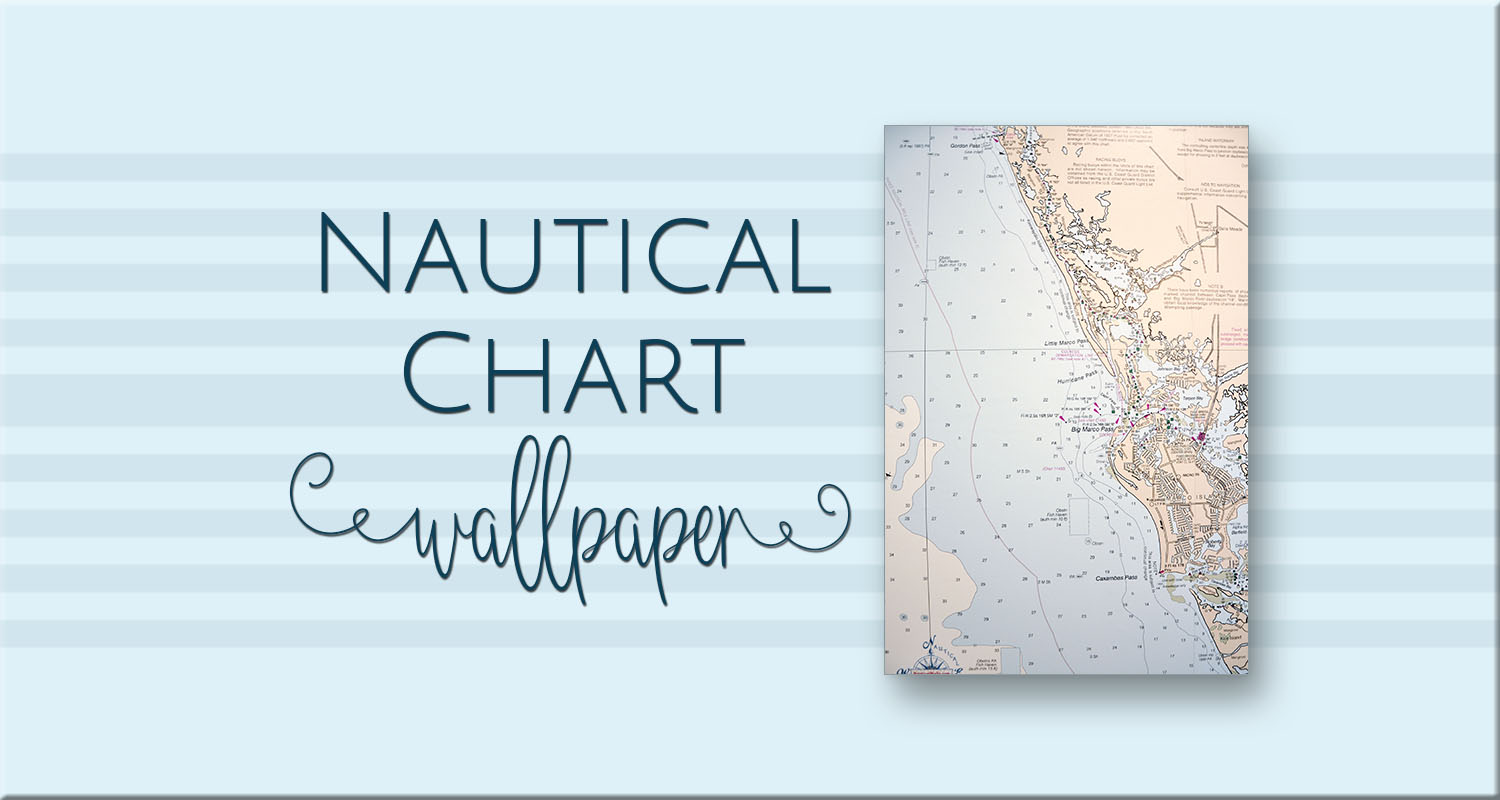 Nautical Chart Wallpaper!
I posted this picture recently on social media of this amazing nautical chart wallpaper that I saw on Instagram and on HGTV's Big Beach Builds.  I knew I needed to have something similar in the House house and Steve from Nautical Chart Wallpaper agreed to work with me on making this happen.  I am so happy with how it turned out.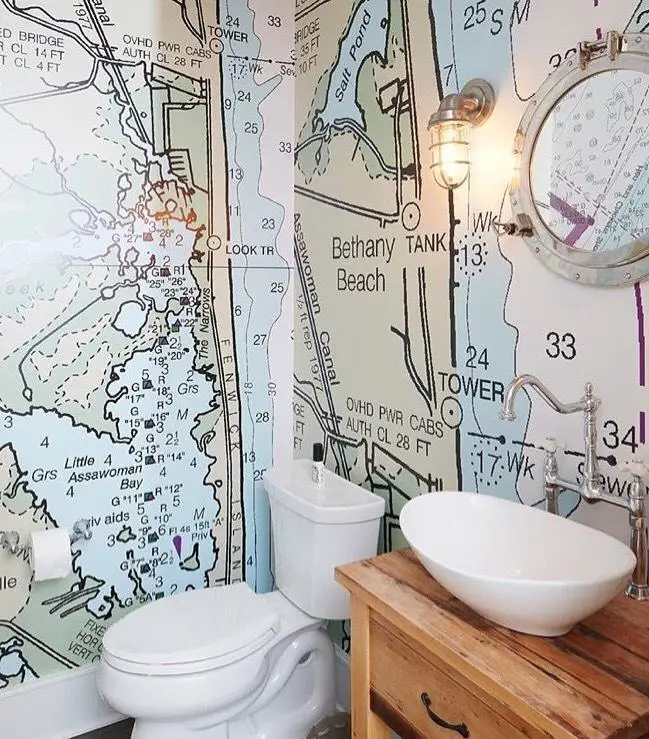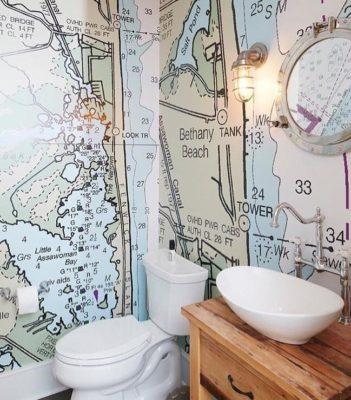 *The following is a sponsored post but all opinions are my own.

Getting Started…
I worked with "Skipper" Steve Morris at Nautical Chart Wallpaper and had an amazing experience.  I thought it would be fun to wallpaper just one wall in my half bathroom.  I knew it would make an awesome conversation piece, not to mention would be something fun to look at while sitting on the loo. 😉
Skipper was easy to work with and was so helpful and knowledgeable in all things maps, charts, and wallpaper!  He is also an extremely nice and very patient guy.  I was looking for a nautical chart of Naples, since that is where we live and boat, and he was able to find the perfect one.  The design process was easy and the turnaround time was quick.  He emailed me images to review.  We went back and forth a few times making changes and edits until we were both pleased with how the chart would look on my approximately 6 foot x 8 foot wall.   He made suggestions that I hadn't thought about, but were perfect.  Here is the final chart we agreed upon and the bathroom in which it would be hung (on the wall with the photo gallery).
Installing the Wallpaper…
The wallpaper arrived, just a few weeks after I approved the final design, packaged perfectly. It arrived in 2 sheets all rolled up and protected in a cardboard holder.  I noticed right away that the quality of the paper was amazing.  It is a vinyl surface, but a matte finish, therefore washable with a moist cloth making it simple to clean up.  I couldn't wait to put it on my wall!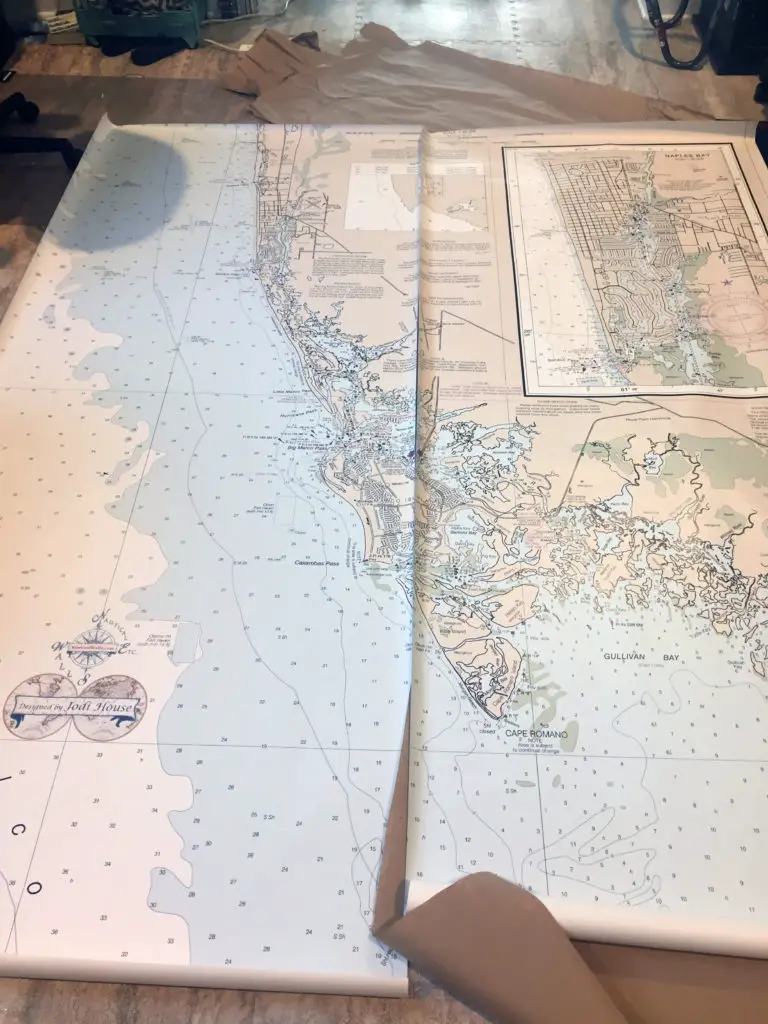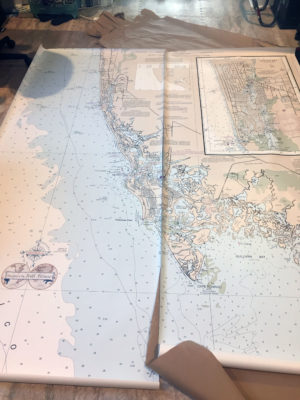 My husband and I are big DIY'ers, as you may know if you read my blog regularly.  However, some things are better left to the professionals!  We'd never installed wallpaper before and I was nervous that we'd mess it up.  This is why we decided to hire an expert to install the wallpaper for us.  It took a while to find someone available to do it, and at a reasonable cost.  We finally found Malcolm Porter from M Porter Paint and Wall Coverings, a local Naples area painter/decorator and wallpaper installer and couldn't have been happier.  He was able to install the paper in just a few hours, compared to what would have probably taken us much, much longer and definitely would not have looked as good.  If you are local and need any of his services, give him a call at 239-776-4638.
Here are some before, during and after photos…
Finishing Touches…
As an added special touch, Skipper even included this cartouche on the wallpaper giving me credit for the design (although I have to say he helped me A LOT).  Another fun conversation piece!
It is really hard to get a full frontal view of the map since the bathroom is pretty small!   Here is a panoramic photo to attempt to show you how the entire room and chart looks.  I absolutely love how it turned out!  To keep with the Naples theme, all the pictures in the photo gallery were all taken somewhere in Naples.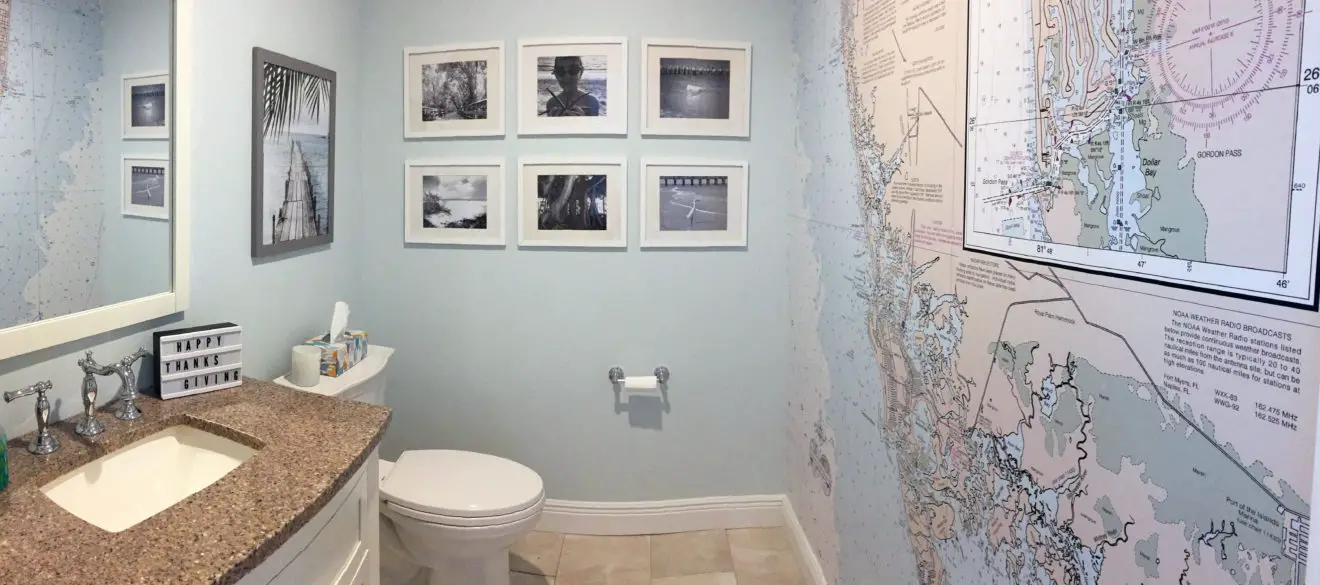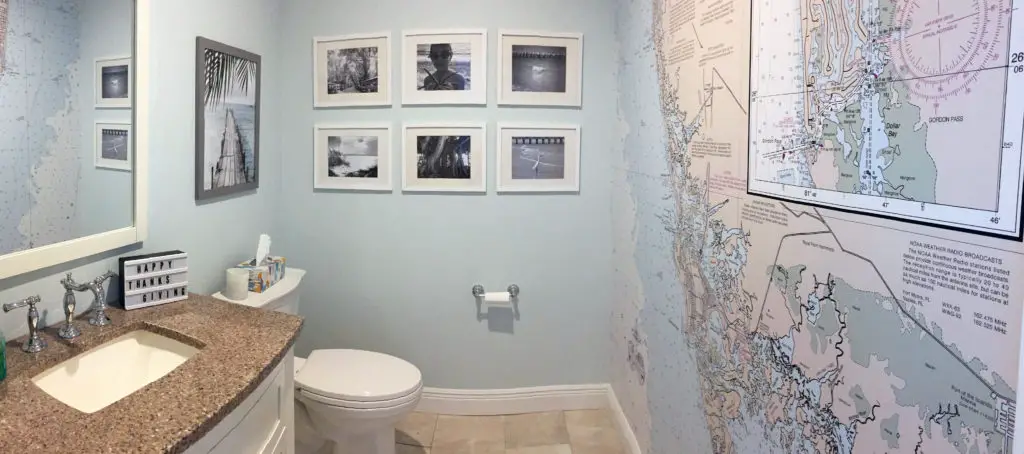 And here are some close ups of the map…
Other Services….
If Nautical Charts/Maps are not your thing, Skipper Steve can work with you on road maps, topographical maps, blueprints, scenic photos, or even family pictures!  His web site is full of ideas and tips on how to find the perfect wallpaper for your needs.
Another thing he is able to do, for a small fee, is to change the chart/map to match your wall paint color.  See his web site for more details and lots of photo samples on that too.
Check out his web site for more ideas and a full gallery of past jobs.