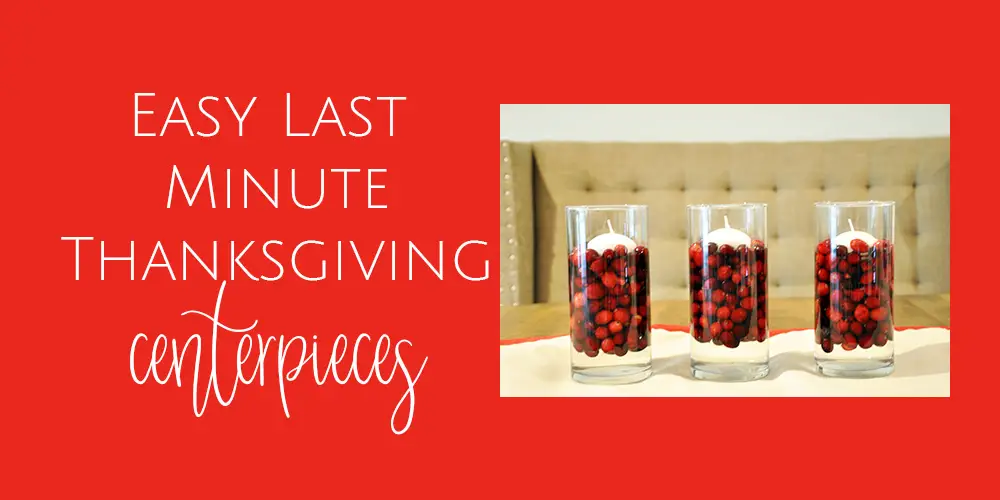 Last minute EASY Thanksgiving Centerpieces
I am hosting Thanksgiving this year. It's only 7 people, but I still want my house to look nice!  Are you are hosting too and want your house to look nice but feel like you are short on time?  It is not to late to put together a gorgeous but Super Easy, Last Minute Thanksgiving Centerpiece, using stuff from the grocery store and the dollar store, or maybe even your own cabinets!  I made one centerpiece and bought one centerpiece from Trader Joe's.  Here is what I did.
I bought 3, approximately 8 inch tall vases at the dollar store and a package of 3 floating candles (you could also use vases you already have in your cabinet or mason jars).  And while I was at the grocery buying food to make my feast, I picked up a bag of fresh cranberries.  I filled each vase about 3/4 full of cranberries and added water and a candle.  That is it.  Couldn't be easier.  The cranberries float so it creates a cool effect.  You could also add a bouquet of fresh flowers to each vase, along with the cranberries, or some fresh herbs, or a bunch of wheat, or eucalyptus,  Use your imagination. These would also work for a Christmas/Holiday centerpiece.   Looks pretty though, doesn't it?
And here are a few more super easy centerpieces you can whip up in minutes if you are feeling crafty.
Same idea as above only use acorns, popcorn or layers of a few different things.
I went to a dinner party at a friends house a few years back and she had made one of these and it looked amazing.  Just carve out enough room for a vase full of flowers and viola, done!  I found these images online and they are stunning.
If you have a tray or a small long bowl like these, simply fill them up with pumpkins and greenery.
And if all else falls and your don't have time for any of this nonsense,  you can buy one.  Here is the pretty arrangement I bought at Trader Joe's for $14.99.  So worth it.  This will go on my dining table.
Regardless of what you do, I hope you have an amazing, love filled day with family and friends!