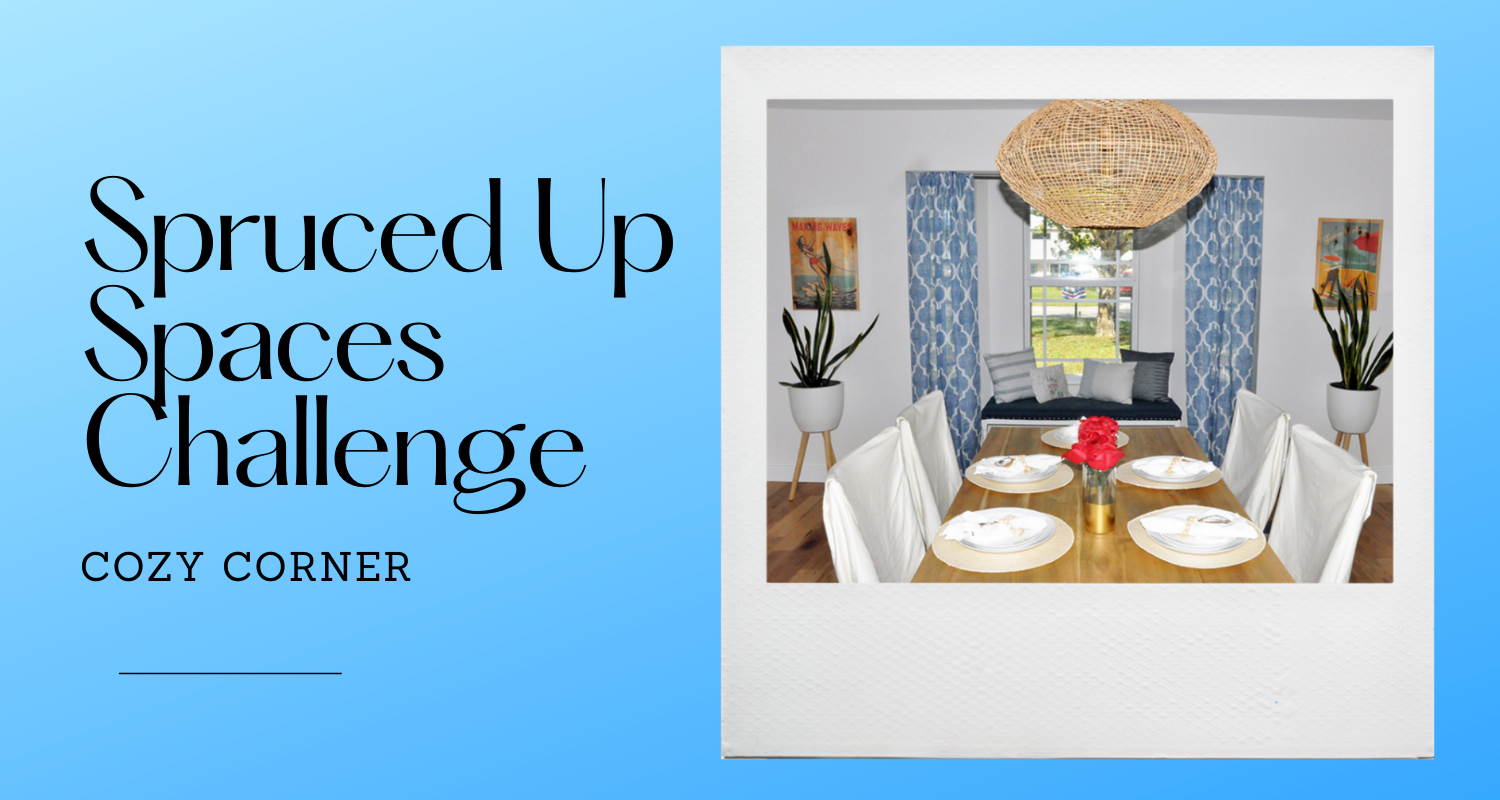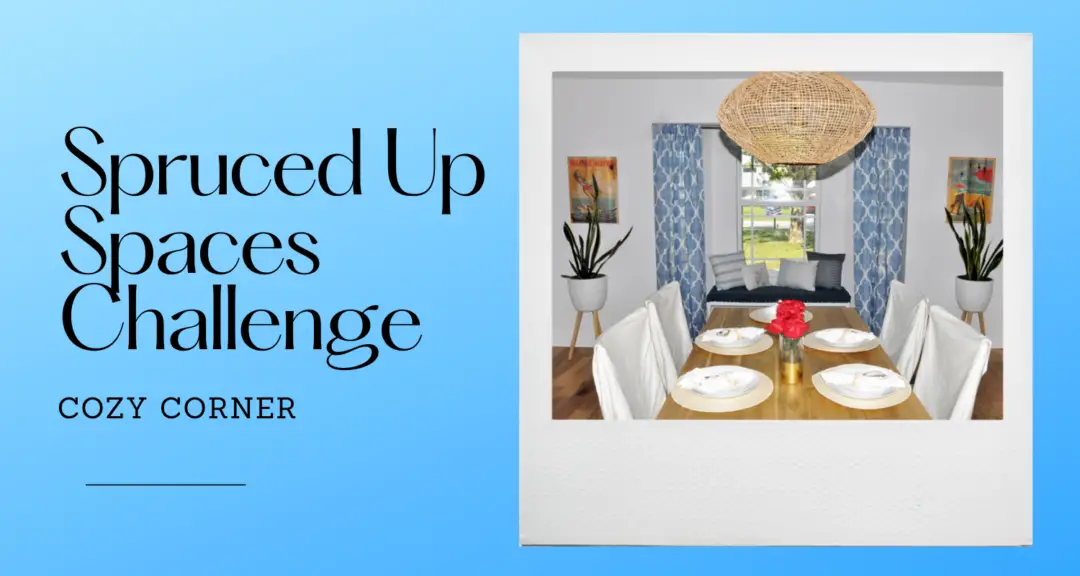 I am a part of an Instagram challenge called Spruced Up Spaces. We are a group of home decor bloggers and Instagrammers. The challenge was to Spruce Up a Cozy Corner in our home. The winner of the challenge wins a $50 gift card to www.sprucedsurroundings.com. I will let you know if I win. Wish me luck.
Give me a follow on Insta if you want to see all the participants spruced up spaces. You can find me @thehousehouseblog
I didn't really have a 'corner' to spruce up. Instead I chose to do a bay window refresh. This window is in our dining room. This is a really a cozy space where my cats like to sleep, although I do sit here too from time to time. This space was a disorganized, cluttered mess and needed some definite sprucing up. Here is how it looked…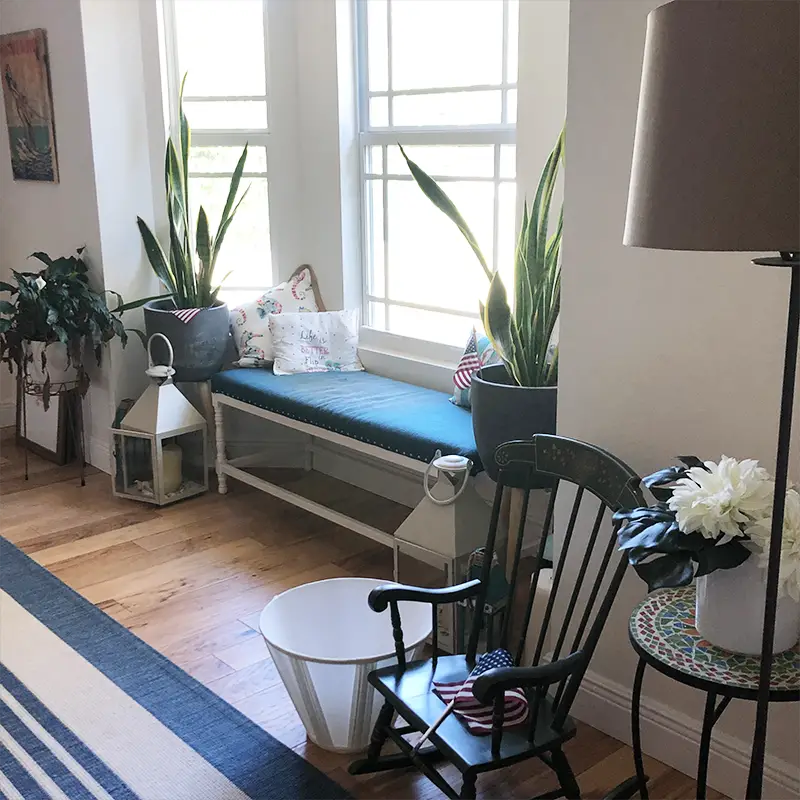 The bench in this spot was a project I completed a few years ago when a friend of mine gave it to me. You can see that before and after here. It is much different than when I got it.
First Things First…
First, I started by getting rid of and organizing things didn't belong in this space. I moved the 2 large lanterns to another spot in my house and got rid of the old lampshade and other things that have been meaning to be brought to Goodwill. And I cleaned the area as well.
Paint…
Next, I painted the planters. These were purchased several years ago and I love them, but was never really feelin' the concrete. Using some paint from the garage, I gave them a few quick coats of white and viola, they look much better.
What to do with the Windows…
Lastly, I had to address the windows. My husband has been bugging me to add some window treatments to this window for years. He hates that people can see right into our home at night, especially during Christmas time when we have endless visitors to our neighborhood to see the Christmas lights. This window is in our dining room and we don't use this room very often. But still, he didn't like us being so exposed. However, I could never decide what to put in this space. Blinds? Shades? Plantation shutters? I finally settled on curtains (or at least trying to see if I liked them). I found a tension rod big enough to fit in between this area and some curtains from Tuesday Morning. However, when I put them up I decided I needed some color. Don't you agree? It was looking a little to bland for my liking. Once I put these up I moved the planters out from behind them and put them on either side of the window.
It was Amazon to the rescue. I found these and thought they were perfect. Also, the price was right at $29.99 for a set of 2. I shopped my home for the pillows that are normally in the guest bedroom. They look perfect in this little cozy area. These curtains might not block out much, but they are better than nothing and I actually love how they look. Brings some much needed color to this wall.
Final Reveal…
Here is it. The Final Reveal of my Bay Window Refresh. It doesn't take much to refresh a space and make it look a lot different. I hope you enjoy it. Our cats sure seem to.
SHOP THIS POST…